The 3 Best Marketing Moments of February 2021
•
March 5th 2021
•
4 minute read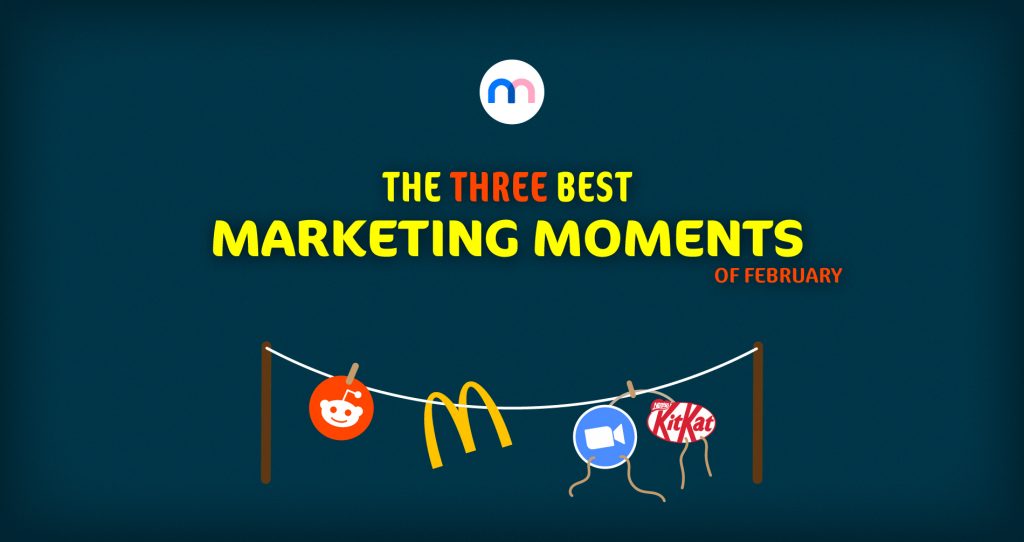 February was shorter than other months, but that did not stop it from delivering the same amount of exciting marketing moments as any other. From the newest food ads to the Super Bowl, these are our favorite marketing moments.
1. McDonald's Rainbows
McDonald's is no stranger to good ads. Last year, the British agency Leo Burnett London put up some billboards that featured a list of ingredients. These make up some of the restaurant's iconic products, including the Egg McMuffin and the Big Mac.
Even though the ads featured no logo, it was apparent to everyone what they symbolize. Everyone knows the McDonald's font and color palette.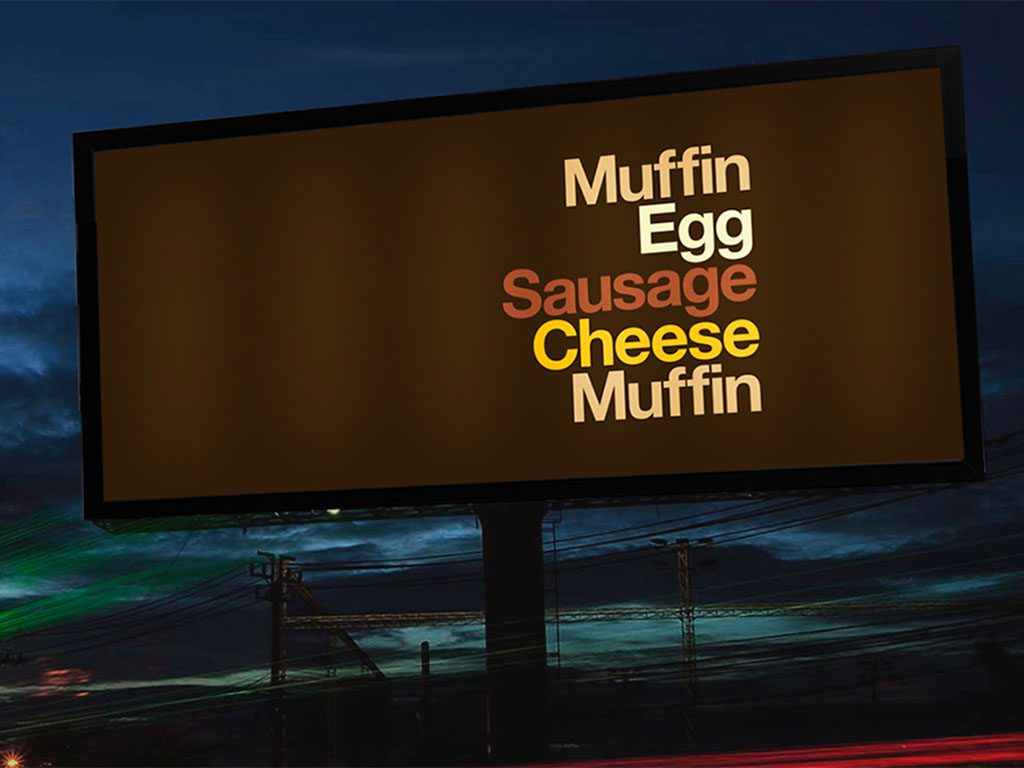 Now the agency is back at it again. Using the same concept of not disclosing the brand's identity directly, the new campaign reinforces the iconic golden arches that normally make up the 'M' in the logo.
The "McDelivery Lights On" campaign consisted of three outdoor ads where the famous logo acts like a rainbow over buildings. This ad was meant to promote McDonald's home delivery service while the UK continues nationwide lockdown.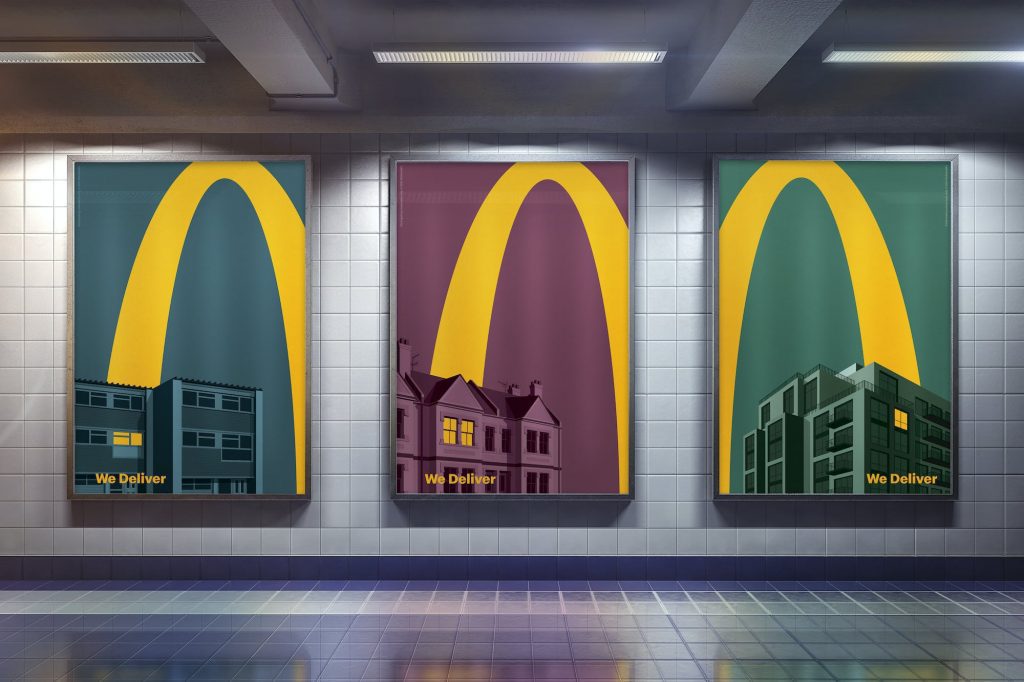 This is a great example of the fact that simple and meaningful design is often more successful than visually-demanding ads. It also highlights the importance of a good logo that will create an association with your brand in less than a bat of an eye. If you want to give it a shot, check out Mediamodifier's easy-to-use online design tool to convey your ideas into visuals.
2. KitKat's Zoom Meeting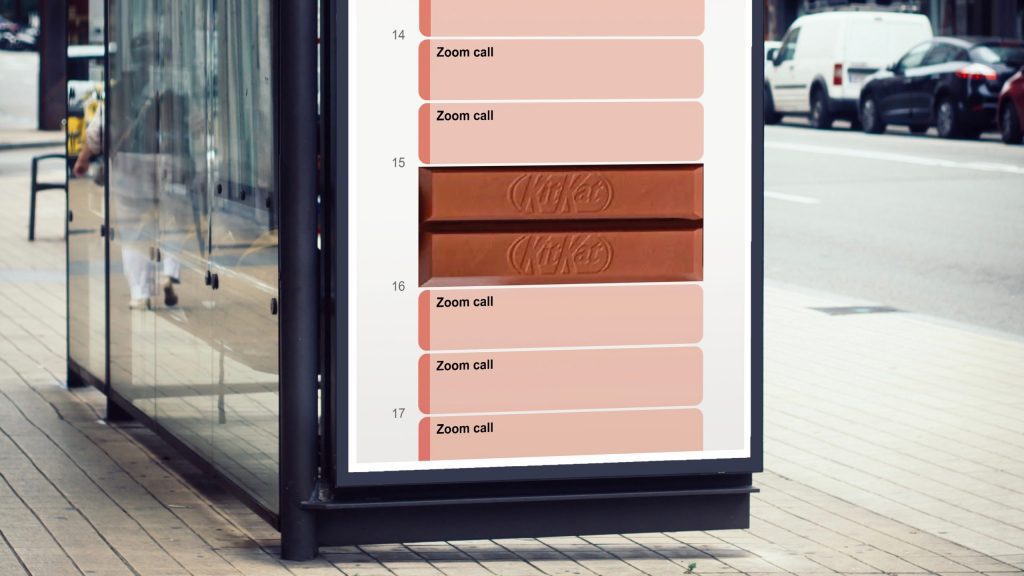 You probably have already seen this ad on social media. It went viral last month, especially on LinkedIn, and rightfully so. Using the iconic chocolate bars to replace the break slots in a Zoom-filled calendar, it's arguably one of the most creative ways to visualize the brand's slogan "Have a break, Have a KitKat!" Funnily enough, it wasn't even created by KitKat themselves.
British illustrator Sam Hennig submitted the concept via One Minute Briefs, a creative platform that calls for quick responses to advertising briefs. Sometimes these are on behalf of a client, and other times a challenge is created just for fun. This case was the latter situation, reports Adweek.
The ad is another example reinforcing the fact that a good design does not need to be overly explained. Perhaps without the context required to understand it, it might seem random. But most people know the famous slogan and can understand the reference.
The virality of this picture brought a lot of attention to its author, but it also generated a lot of buzz around KitKat, bringing an enormous amount of free publicity. One thing is for sure: creativity never has a break.
3. Reddit's Super Bowl Ad
Super Bowl is known for its highly expensive ads and a 30-second ad can cost $5.5M. Even though in recent years specialists have begun to question whether or not they are worth it, 2021's edition of the event did not forget to deliver.
Among the many ads that were presented this year, Reddit turned out to have a rather creative and successful approach. The platform claims to have spent its entire marketing budget on one single ad this year – at five-second clip, the shortest Super Bowl ad in history.
The ad was just a screenshot of a Reddit post, definitely unreadable in the brief time it aired live. The platform was smart to capitalize on its recent moment in the spotlight, created by the GameStop situation.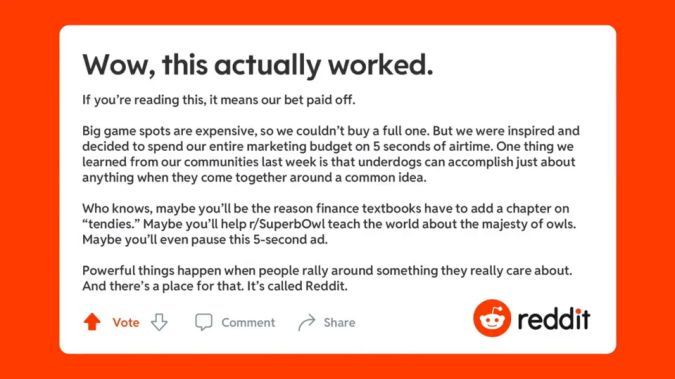 As if this was not already smart enough, Reddit's ad starts with a moment of car footage before cutting to the text. Live viewers wondered if this was all just a glitch, which generated even more talk about it online.
If you were not sure about just how big of an impact Super Bowl is believed to have, take this: The Weekend didn't get paid a cent! In fact, he put $7 million of his own money into the show, considering it a good investment for his career in terms of publicity.
For many companies, spending millions on Super Bowl ads can be a gamble, but this one surely paid off. And with less than a million dollars!
Make sure to follow Mediamodifier on Instagram so you do not miss next month's marketing moments recap.
Visualize your design Use a product mockup to showcase your design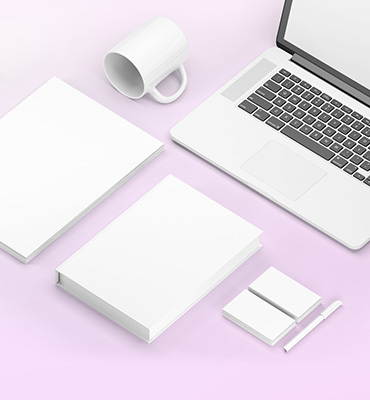 Create your design Use our templates to create delightful designs for any medium