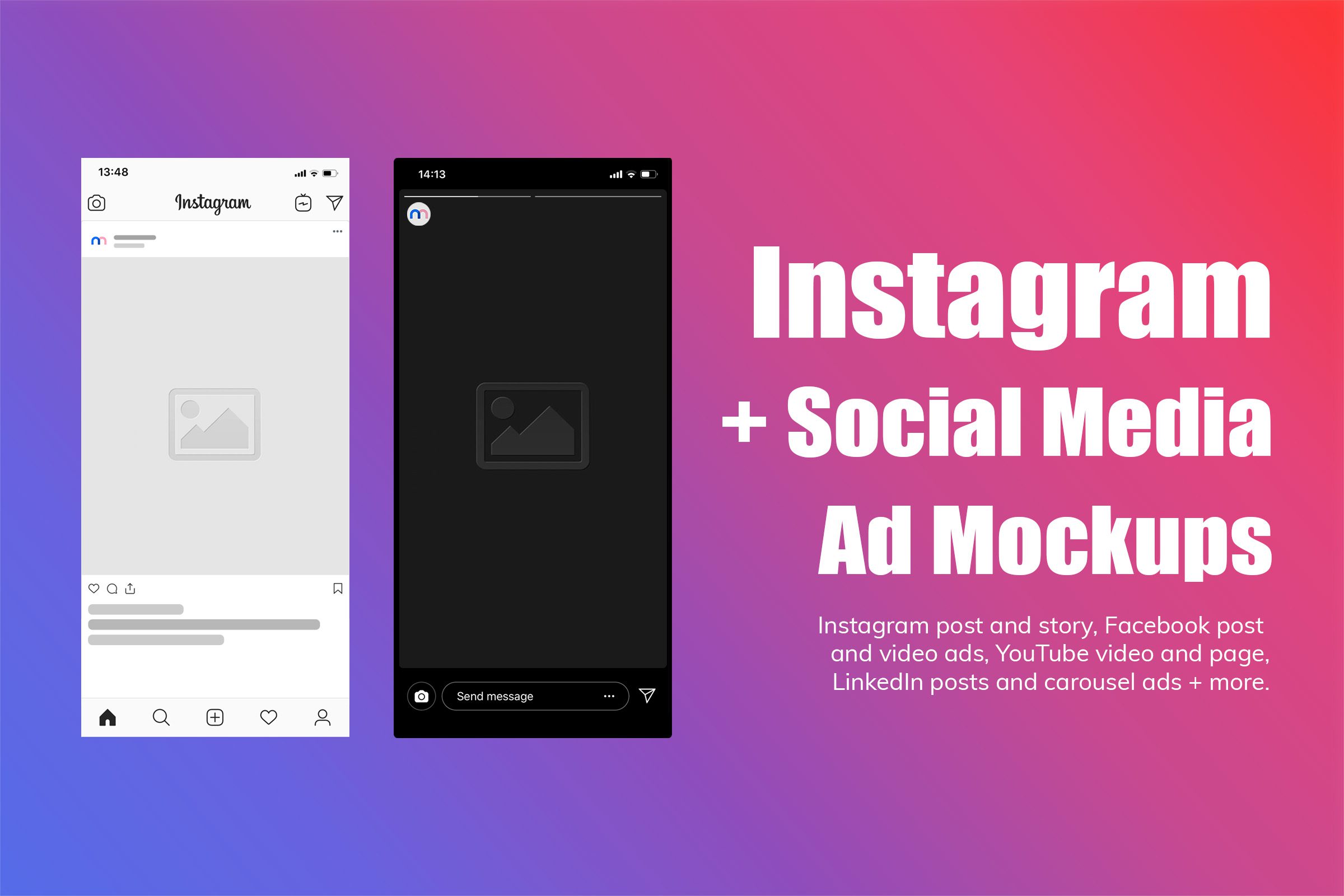 Getting noticed on social media is a difficult task and with the organic reach going down down down… it's almost impossible to run a social media campaign without spending a dime.
In order to stay more efficient, then using social media mockups like these can be a great way to plan your ad campaigns or pitch your marketing ideas to potential clients.
Use these mockups to quickly (and I mean real fast) visualize your social media concepts for Instagram, Facebook, Twitter, YouTube, LinkedIn or TikTok and never sweat for a social media mockup again.
Each mockup is directly customizable online, and for our annual subscribers, also available for download as a Photoshop PSD template.
1. Instagram Post Mockup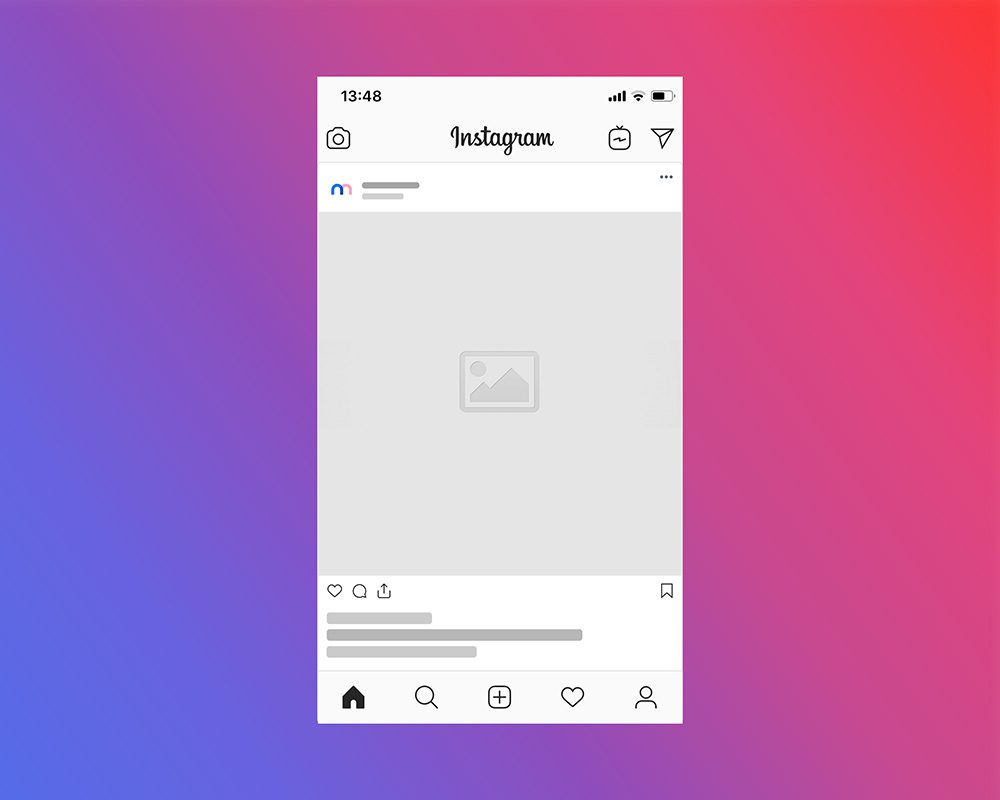 Use this Instagram Mockup template for previewing your post idea viewed from a mobile device. The template features a mobile Instagram screen on colorful gradient background with no text.
---
2. Instagram Mockup for Post and Story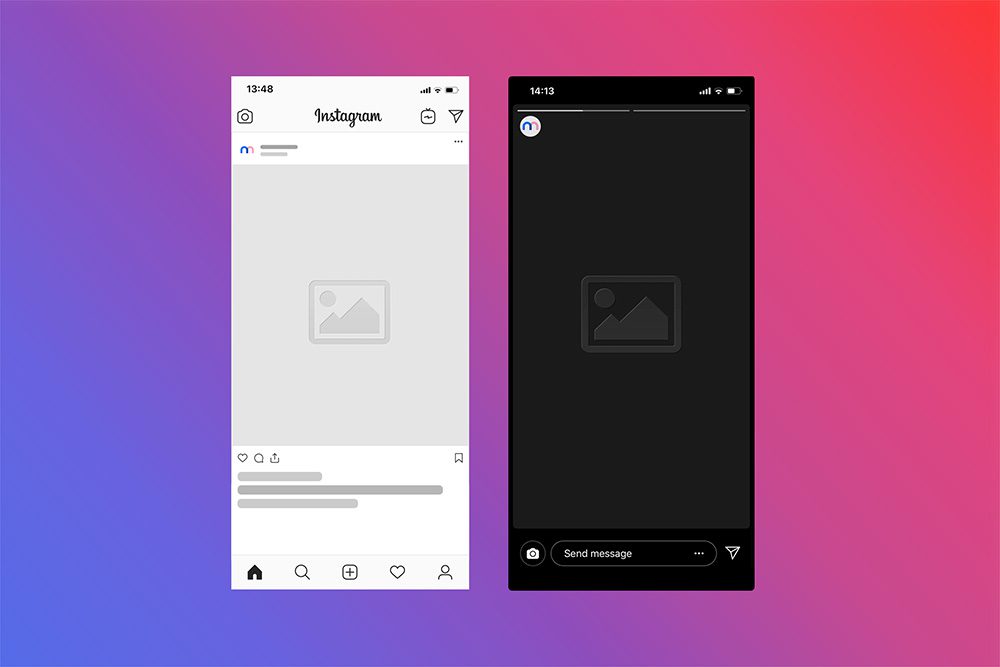 Instagram isn't the same without stories… this mockup features an Instagram post next to an Instagram Story. Add your own images into the placeholders and visualize your Instagram marketing ideas. Don't have the content yet? Use our Instagram Post or Instagram Story Maker to craft a perfect visual in minutes.
---
3. Instagram Story Mockup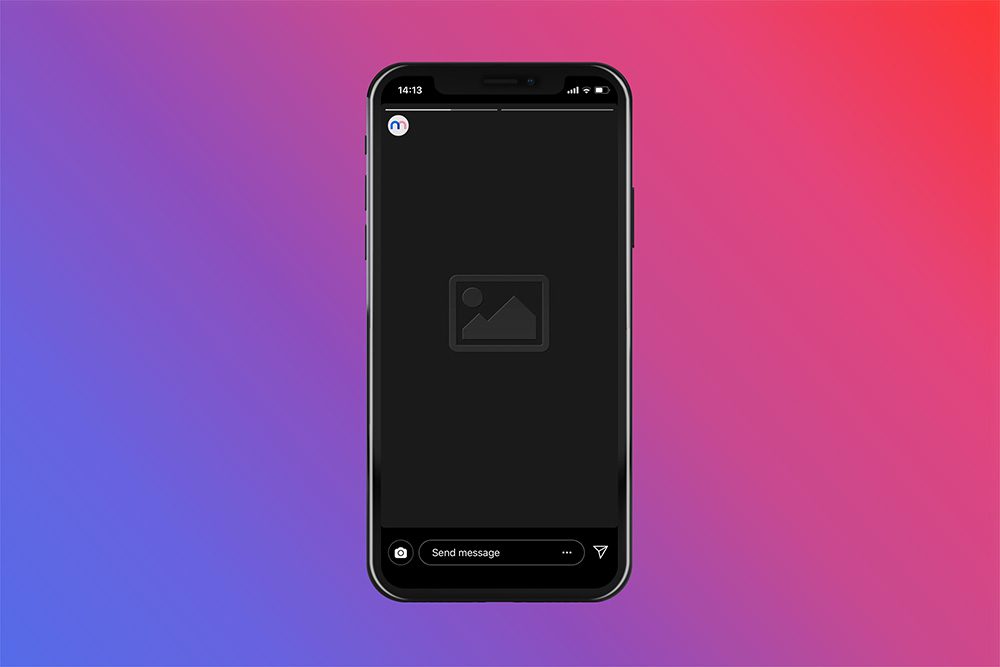 So what's the story? This mockup features an Instagram story on an iPhone screen. Place your content idea onto the screen to visualize your Instagram marketing concept in no time.
---
4. Instagram Mockup for Mobile Post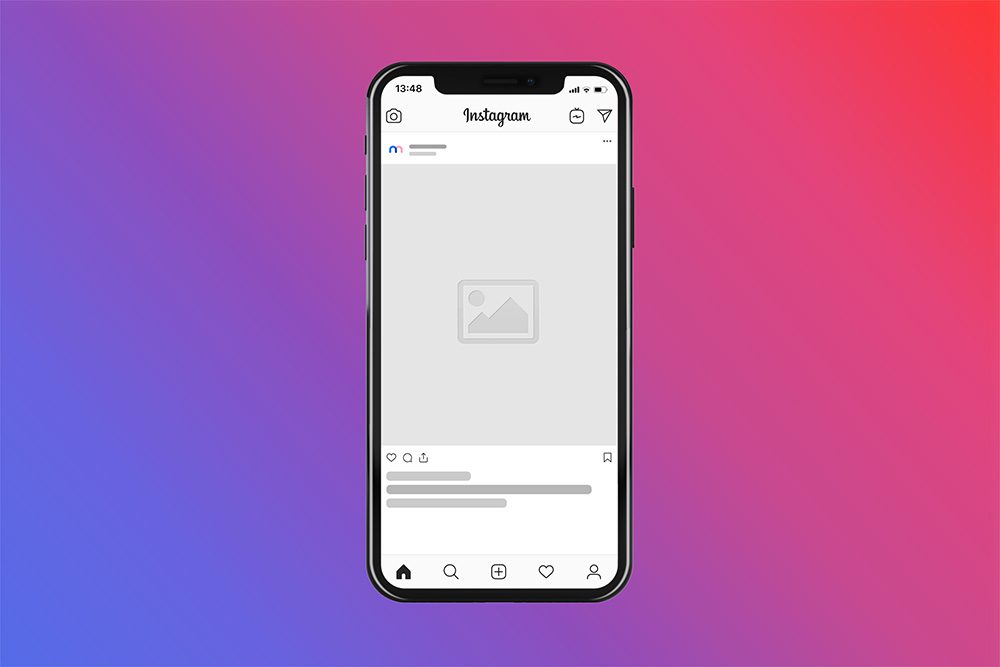 Are you on your way to becoming a social media influencer or helping someone else do it? Templates like this Instagram Post mockup can help you save time by quickly visualizing and validating your content ideas, before you actually post them out.
---
5. Desktop Instagram Profile Mockup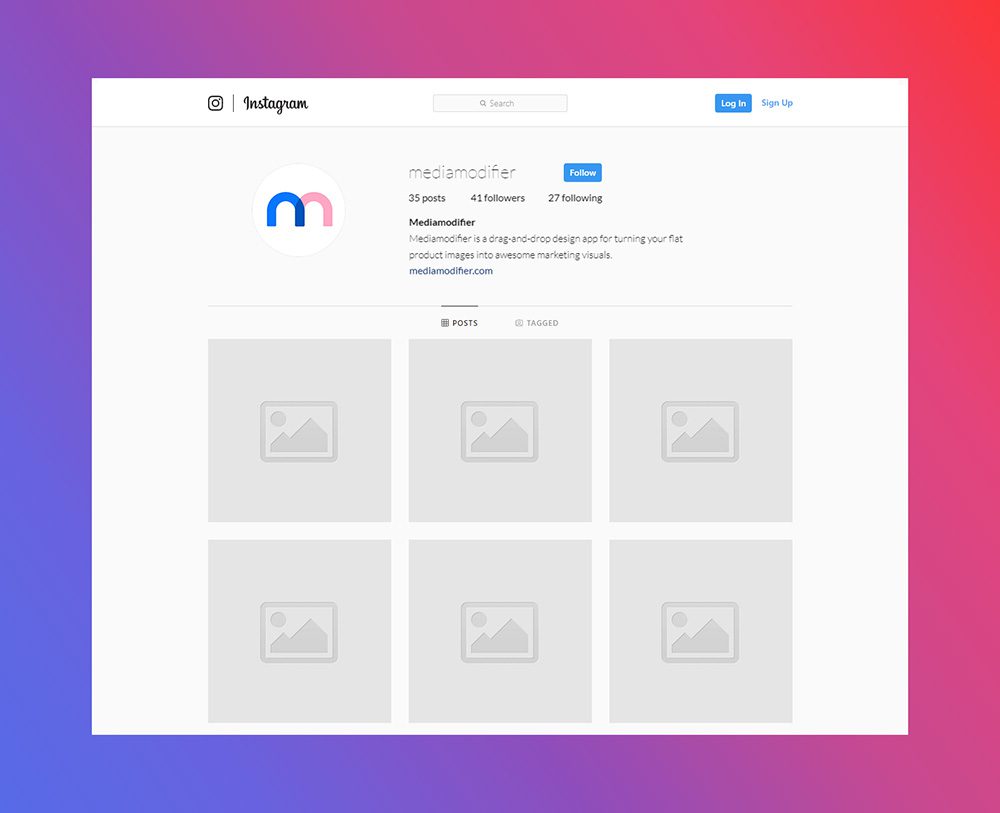 You can't do digital marketing these days without Instagram! Use this Instagram Profile page grid mockup to preview your ideas for a new refreshing profile and latest feed post designs. The template features the Desktop version of the Instagram profile grid and the classic Instagram Background with 6 latest images in the feed. Head over to the social media mockups category for more Instagram Mockups.
---
6. Mobile Instagram Profile Mockup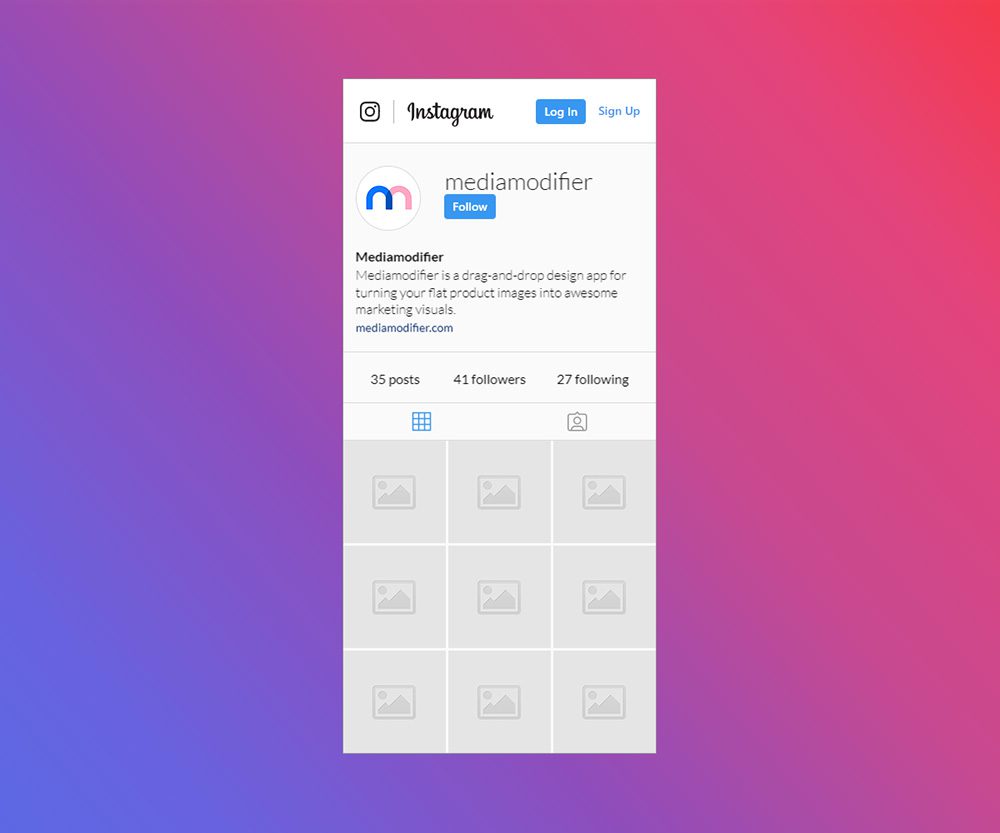 Crafting a beautiful brand takes a lot of effort. That's why it's important to carefully plan each detail. Use this Instagram profile grid mockup generator for visualizing your idea for a new Instagram account profile and feed content, as viewed from a mobile device. Head over to the social media mockups category for more similar templates.
---
7. Instagram Desktop Post Mockup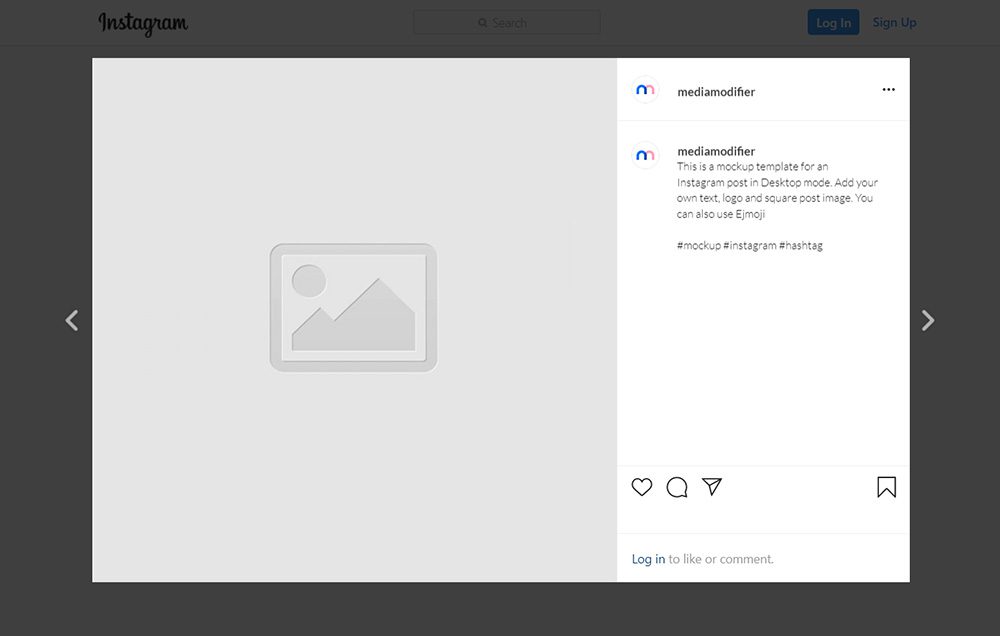 Smartphone addiction is a a serious issue, however you can also browse Instagram from a Desktop device 🙂 Use this Instagram post mockup for previewing how a post or social media ad would look like on the Instagram Desktop website.
---
8. Instagram Video Post Mockup (Desktop)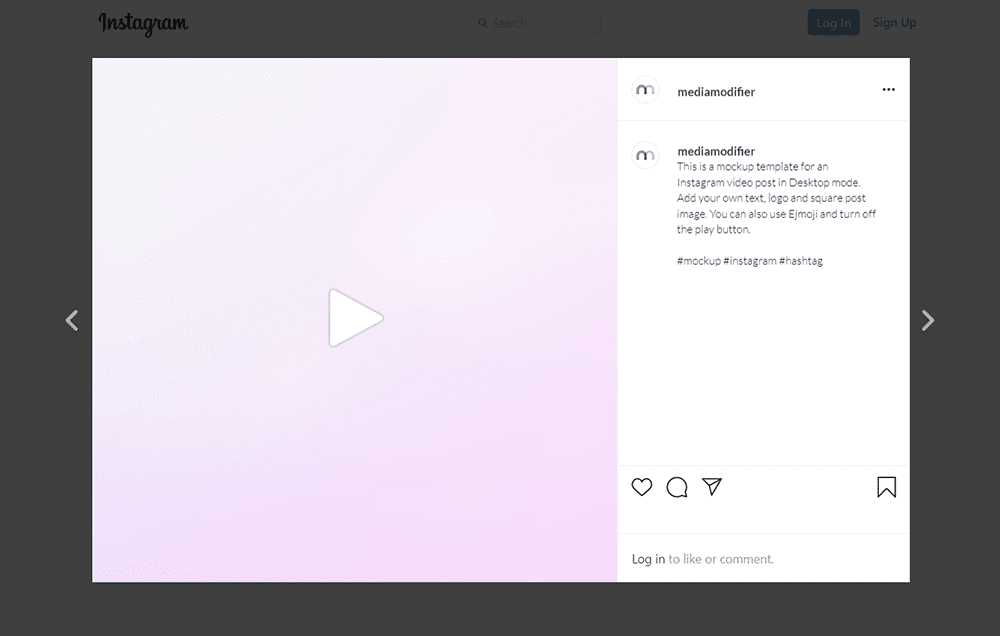 Marketing on Instagram is all about engaging visual content and catchy videos! Use this Instagram Desktop Video Post mockup and preview your post or ad idea in just matter of seconds.
---
9. Facebook Mobile Post Mockup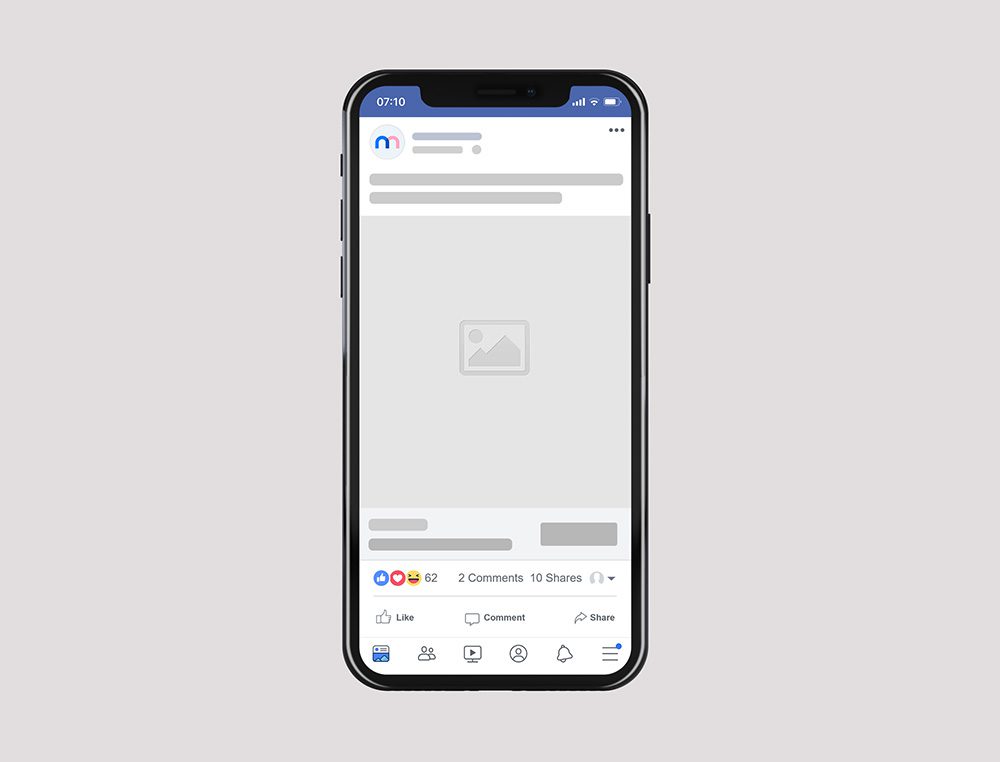 Facebook is not dead yet! Use this mockup template for previewing your content inside a Facebook mobile post on an iPhone screen. The template uses minimal visual style, so the headline and description has been replaced with illustrative boxes.
---
10. Facebook Carousel Ad Mockup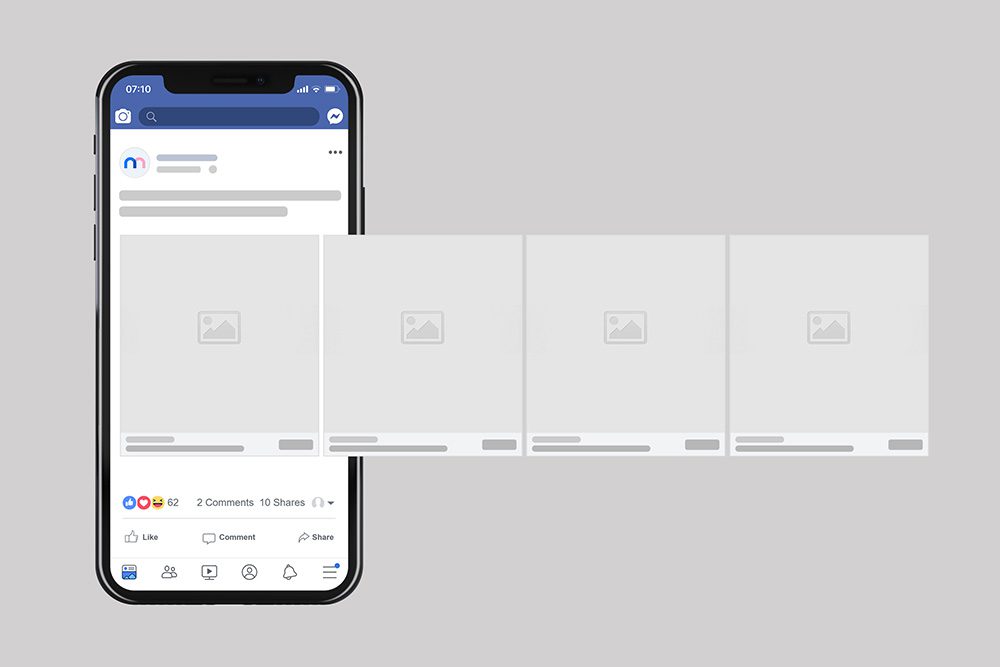 Do you need to plan an awesome carousel ad for Facebook? Use this mockup to help on visualizing your concept. Place 4 separate images into the mockup and see how your would look like.
---
11. Facebook Page Mockup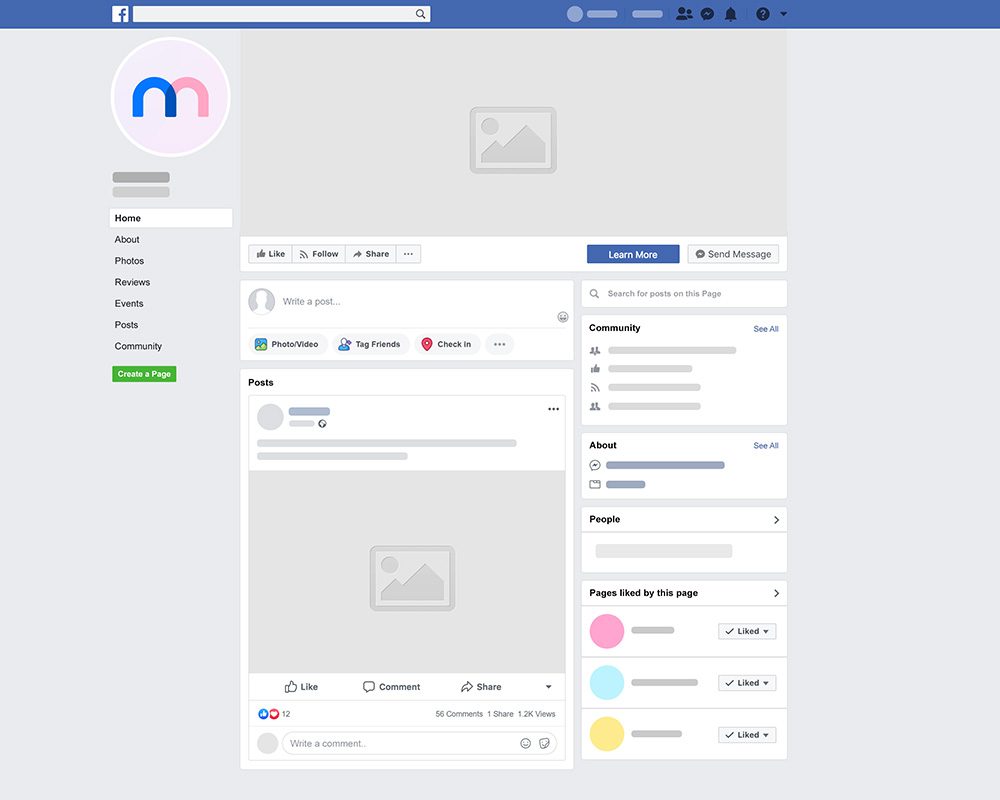 How would your branded Facebook Page look like with beautiful content? Place your images into this mockup and find out without even going to Facebook!
---
12. Facebook Story Mockup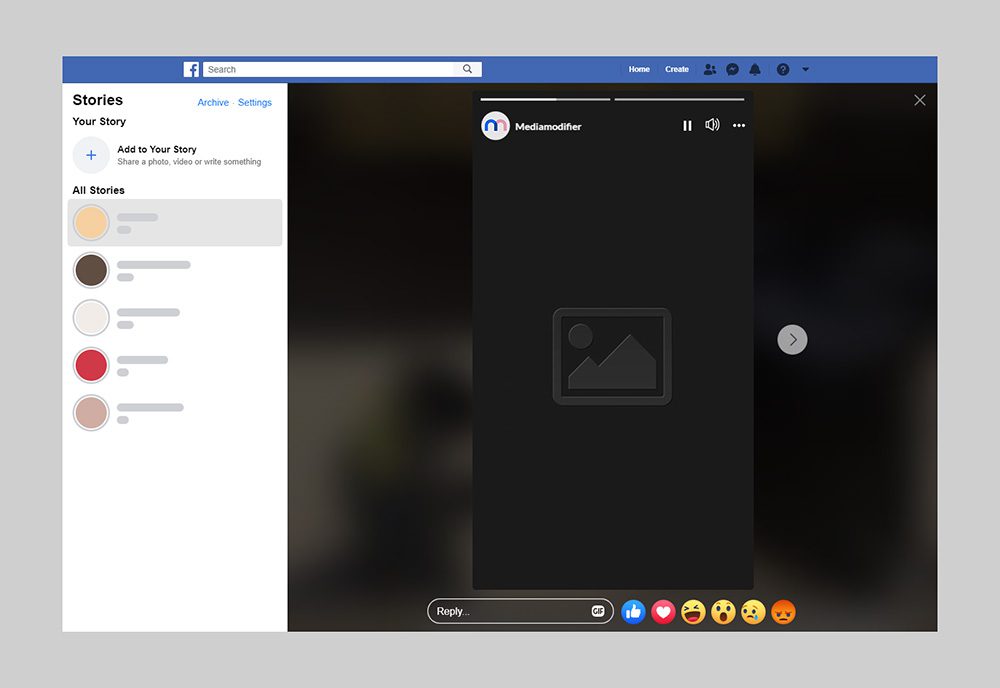 Stop guessing how your digital marketing campaigns would look like and use mockup templates like this for previewing your ideas. This templates features a Facebook and Instagram post viewed from a Facebook Desktop website. Hop into the social media mockups category for more Facebook mockups.
---
13. Facebook Desktop Post Mockup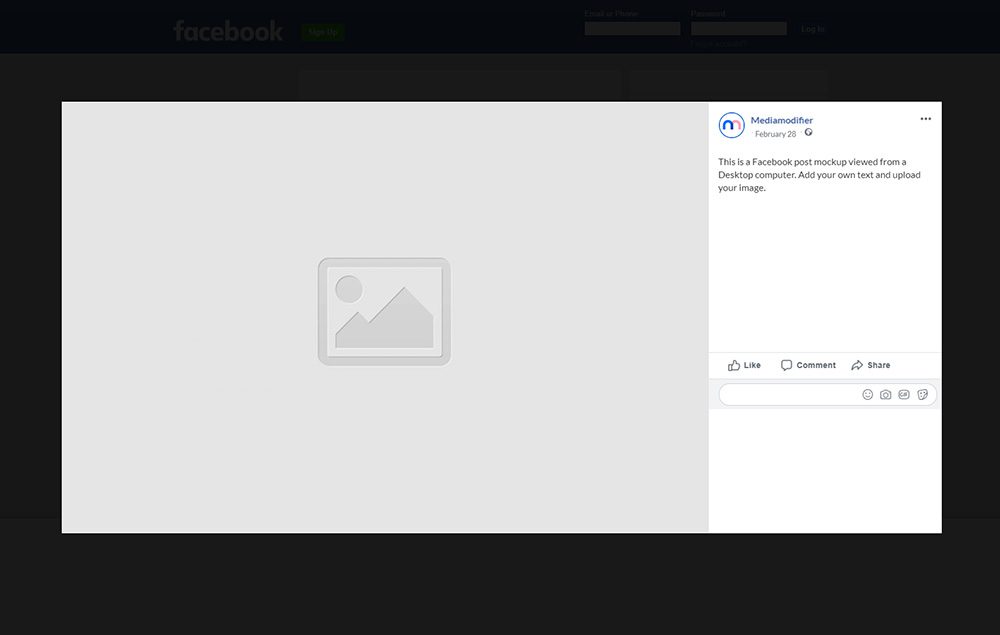 A Facebook mockup generator template for creating a quick preview of your Facebook image post. Drag and drop your image onto the placeholder and add your own post text. NB: emojis are also supported!
---
14. Facebook Post Mockup (No Text Version)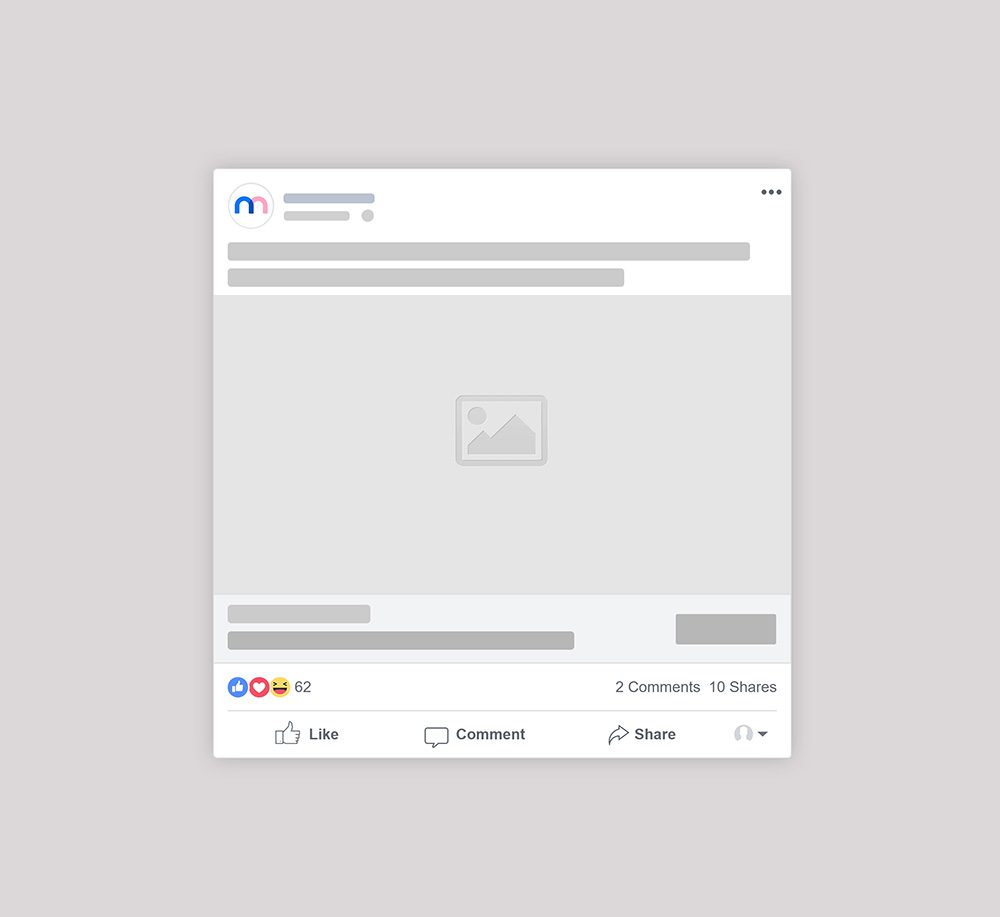 This useful Facebook Post mockup (desktop version) is great for making a quick preview of your ad idea. The templates features a minimal style without headline or description texts, and is only focused on the visual side.
---
15. Facebook Mobile Post Ad Mockup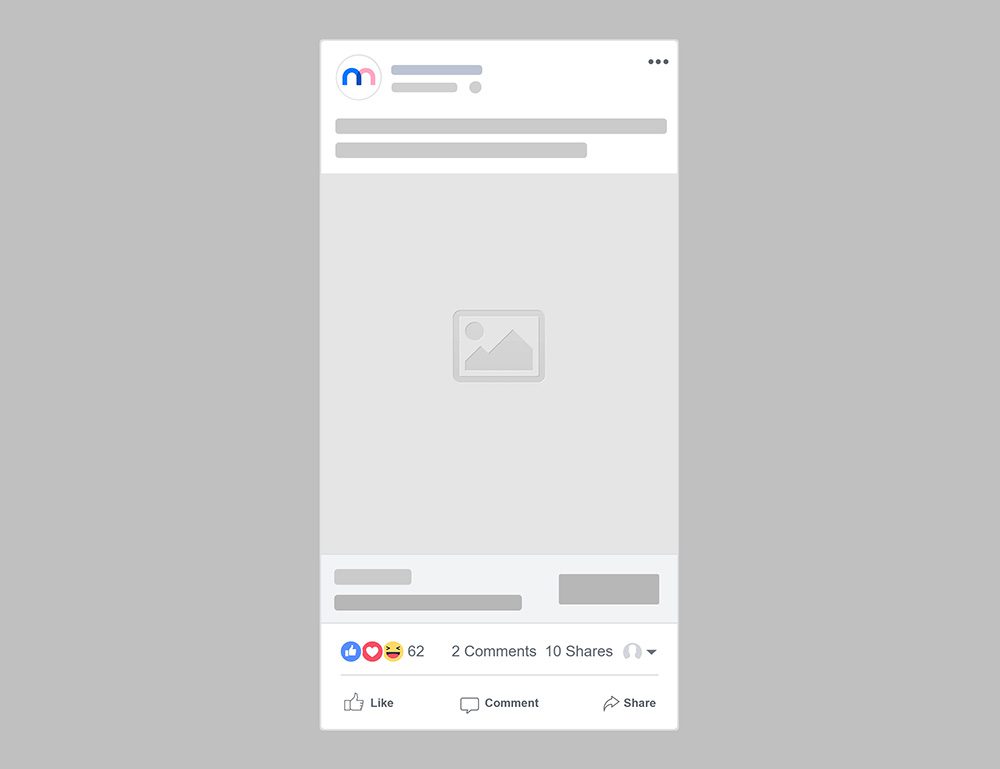 The same as previous template, however this Facebook Post Mockup is focused on the Mobile version. It's perfectly sized to fit an iPhone X screen while browsing on Facebook.
---
16. Facebook Video Ad Post Mockup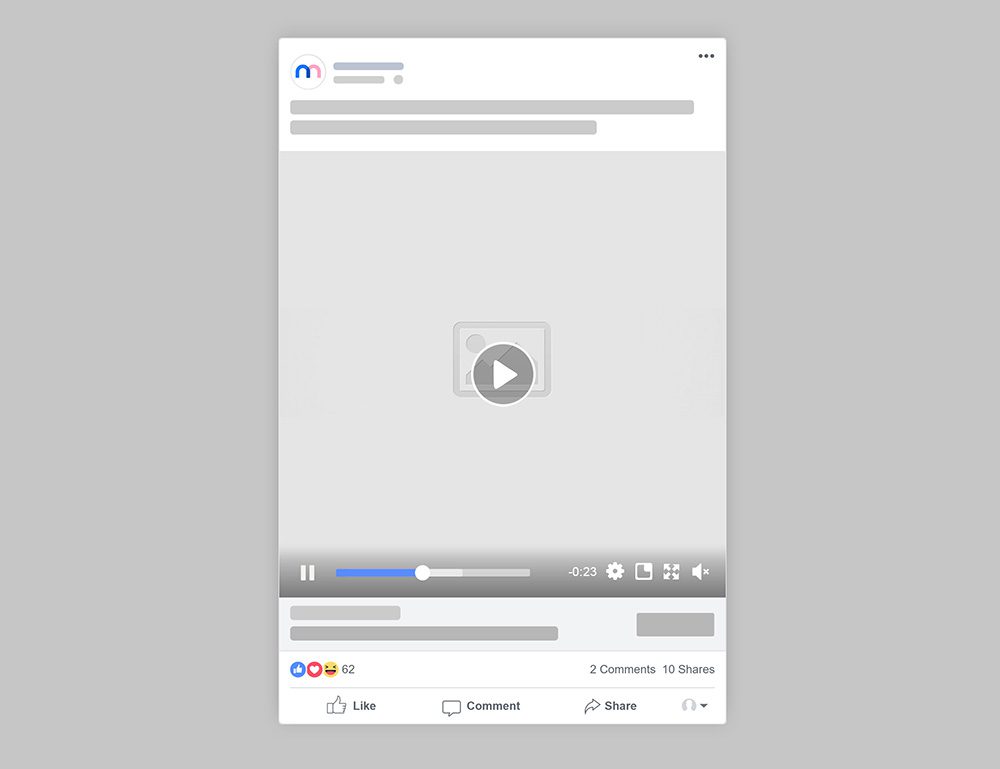 Video is the uncrowned king of social media. Use this Facebook Video Post Ad Mockup for previewing your thumbnail image, which is almost the most important part of your post, if auto-play is turned off.
---
17. Facebook Video Ad Mockup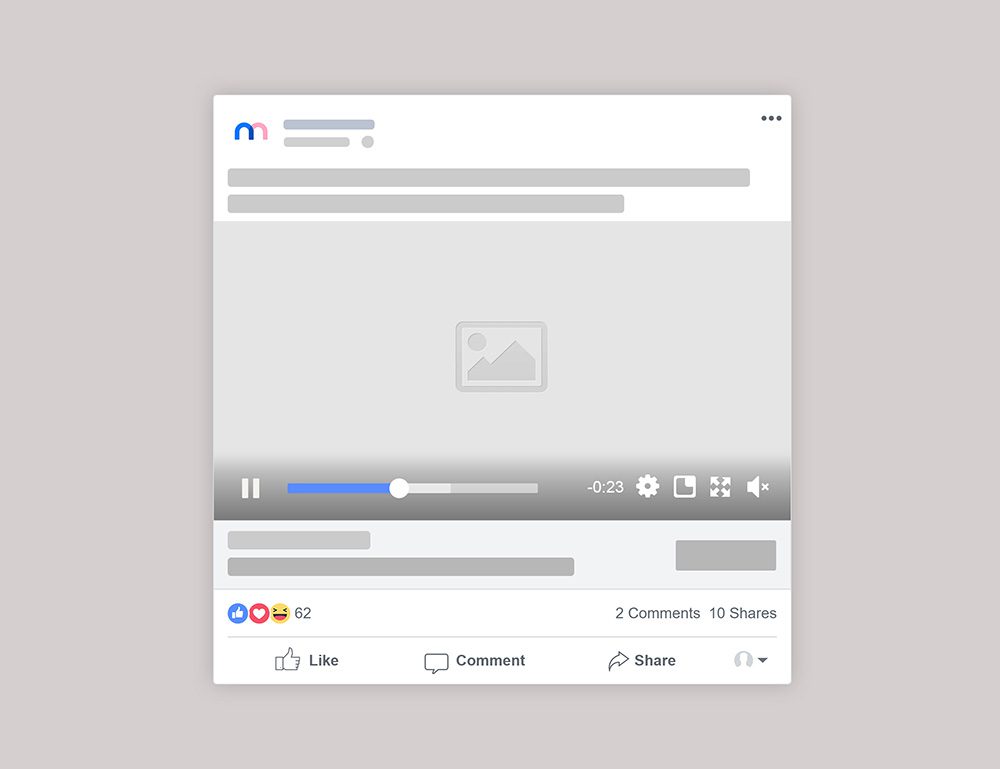 Your video can be awesome, but first the video thumbnail needs to be catchy in order for people to notice it! Use this Facebook Video Post mockup for making a preview of content.
---
18. YouTube Player Mockup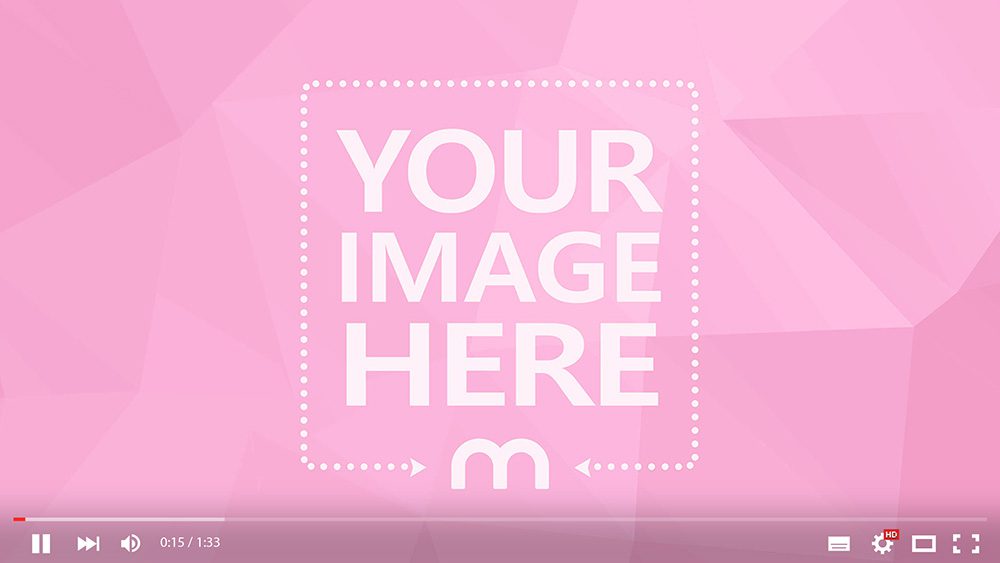 Video is the king in 2021! Use this YouTube Player mockup and place your image inside a fake YouTube player. It's great for making a thumbnail image which you can use on your website instead of the heavy embed code.
---
19. YouTube Channel Mockup (Desktop)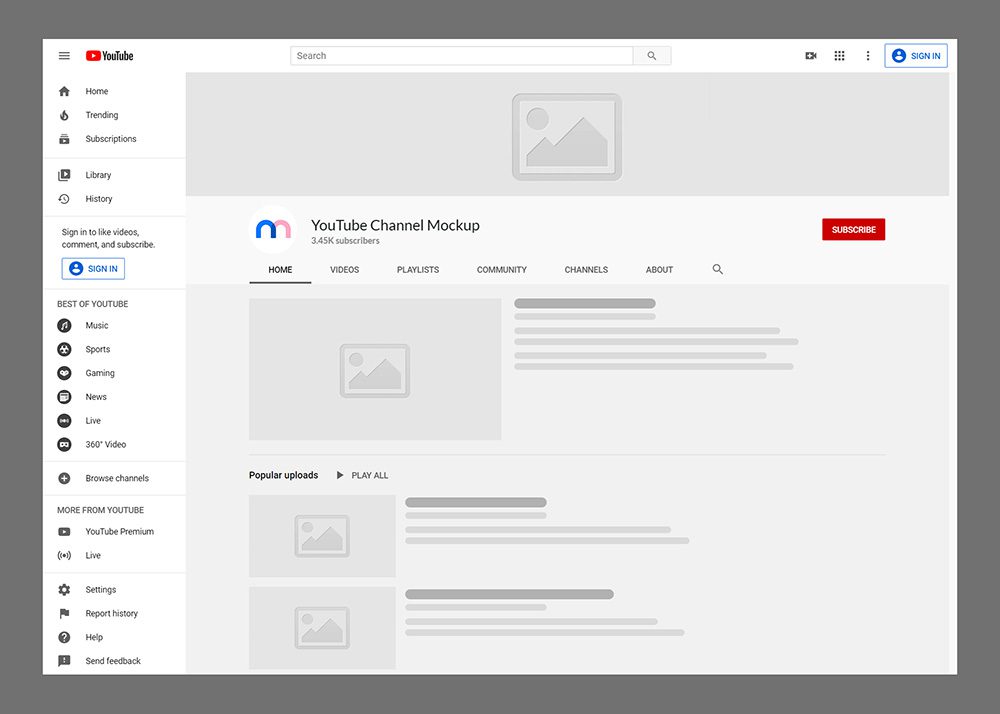 Extreme makeover YouTube edition! Use this mockup generator template for previewing your idea for a new branded YouTube channel design. Add your channel title and upload video thumbnail images into the placeholders.
---
20. YouTube Channel Mockup (Mobile)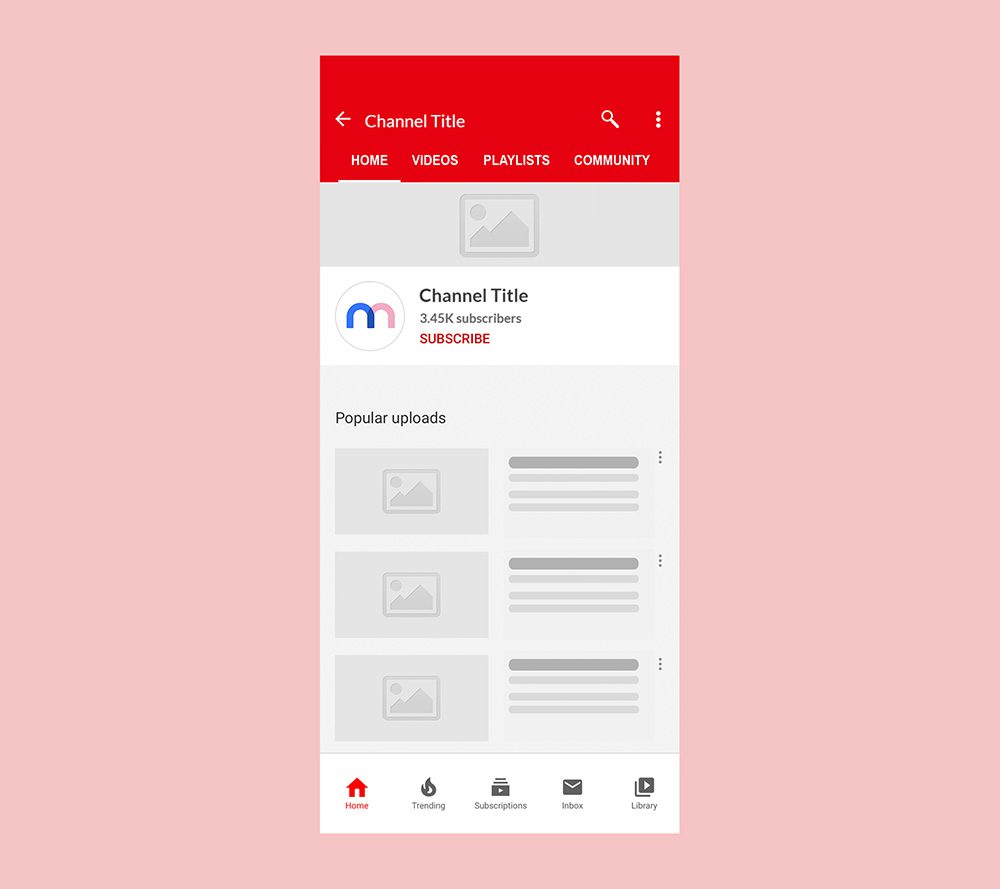 Every business and brand wants to look good! Use this Youtube mockup template for visualizing your idea for a new channel design. Customize the colors, change texts and upload video thumbnails into the placeholders. Need more social media mockups? We have templates for all popular social media platforms!
---
21. YouTube Story Mockup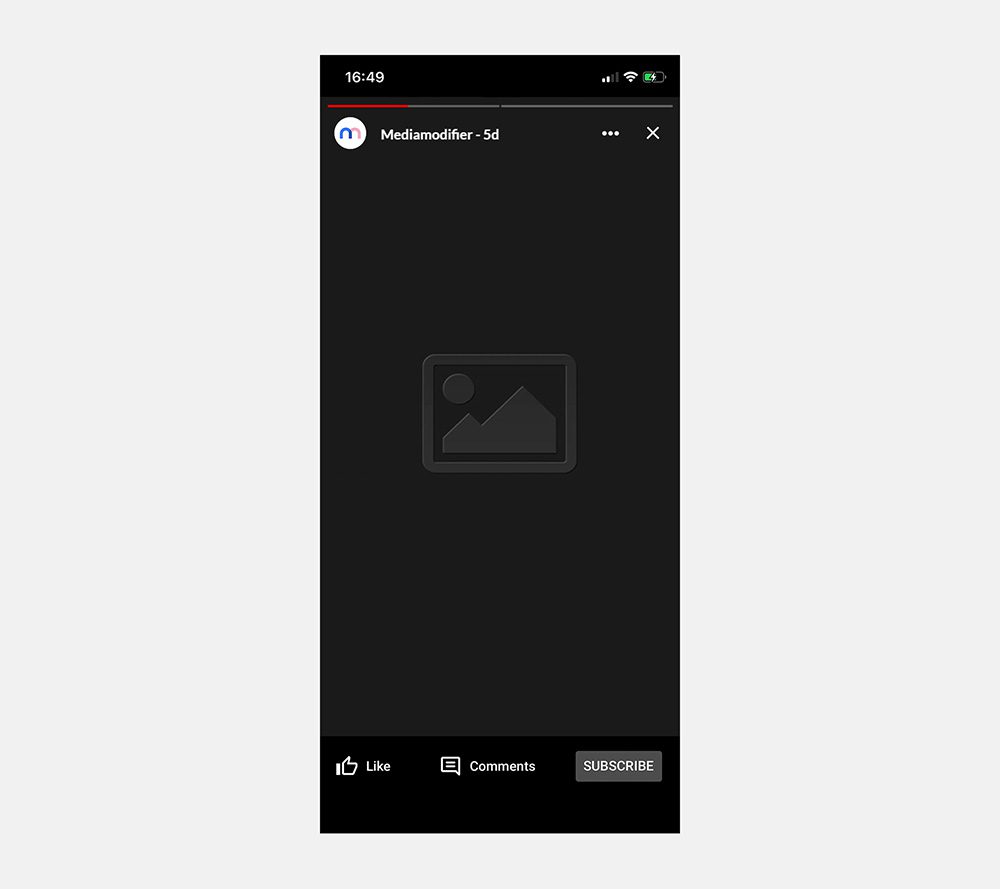 I didn't know YouTube had stories? It seems like this feature is only available for some heavy YouTubers with over 10K followers. You can still use this mockup… even if you don't have 10K followers yet!
---
22. YouTube Video Page Mockup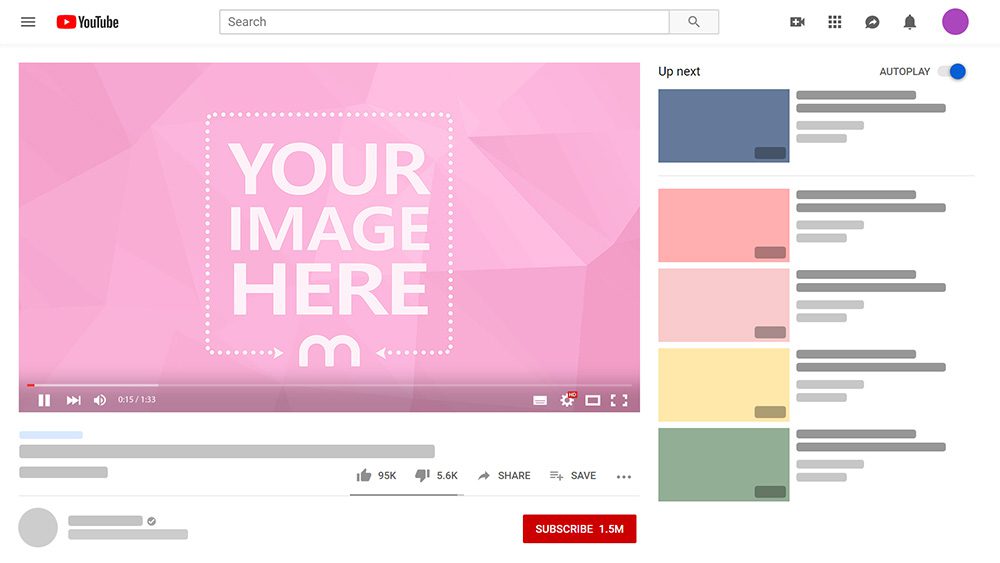 Use this YouTube mockup template for creating a preview of your video page. Insert a thumbnail into the video player page which is decorated with minimal design elements.
---
23. Twitter Post Mockup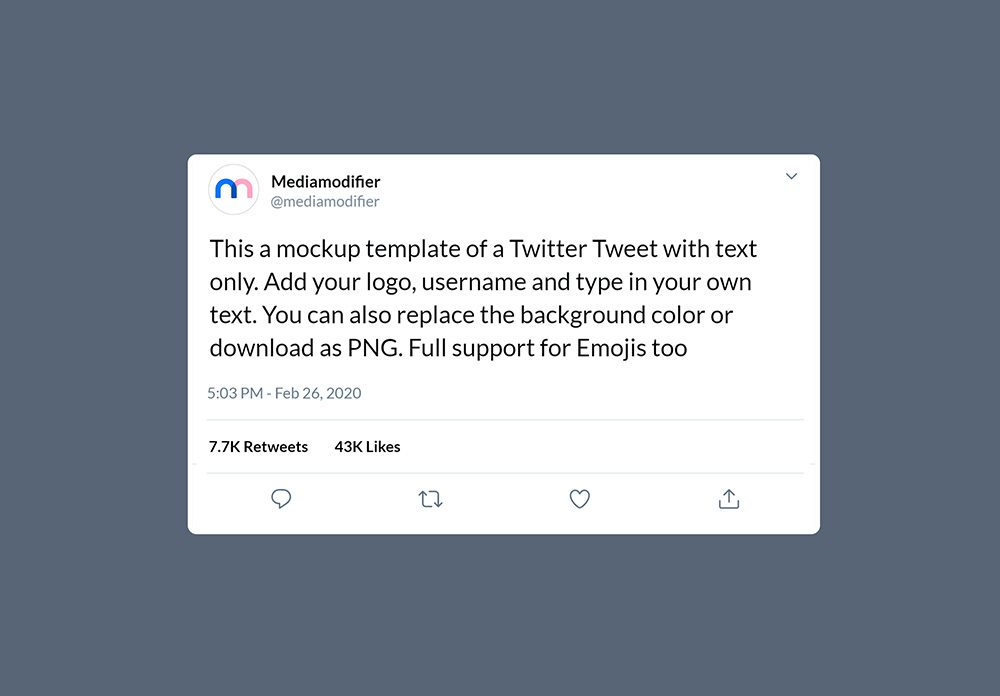 Need a quick way to mockup a Twitter post? Use this handy template for creating your very own fake Tweet within seconds. It's great for visualizing your social media ad idea and seeing how it would look like on Twitter, without actually posting.
---
24. Twitter Image Post Mockup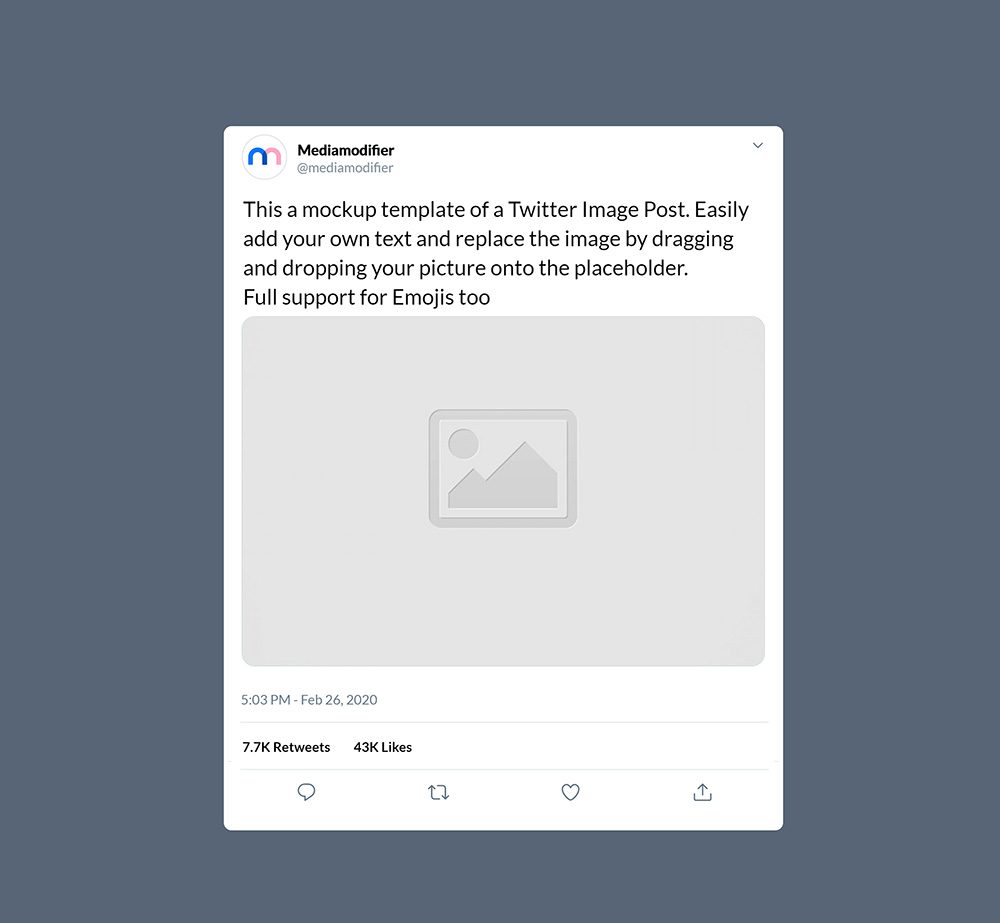 A Twitter Tweet mockup generator for quickly creating a preview of how your image post would look like. Drag and drop your image onto the placeholder and add your account data. Browse more of our social media mockups for similar templates.
---
25. Twitter Profile Mockup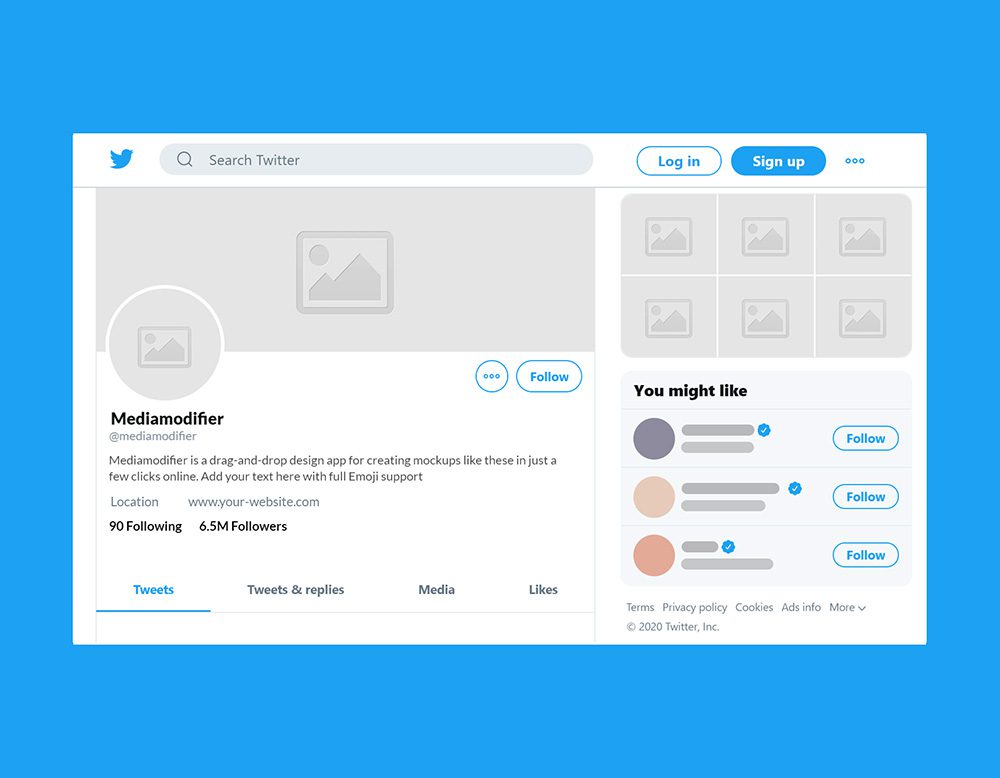 Use this handy mockup template for visualizing your design idea for Twitter user or a brand channel. Add your own text, images and make a fake Twitter account in seconds.
---
26. Facebook Post Mockup (Text Version)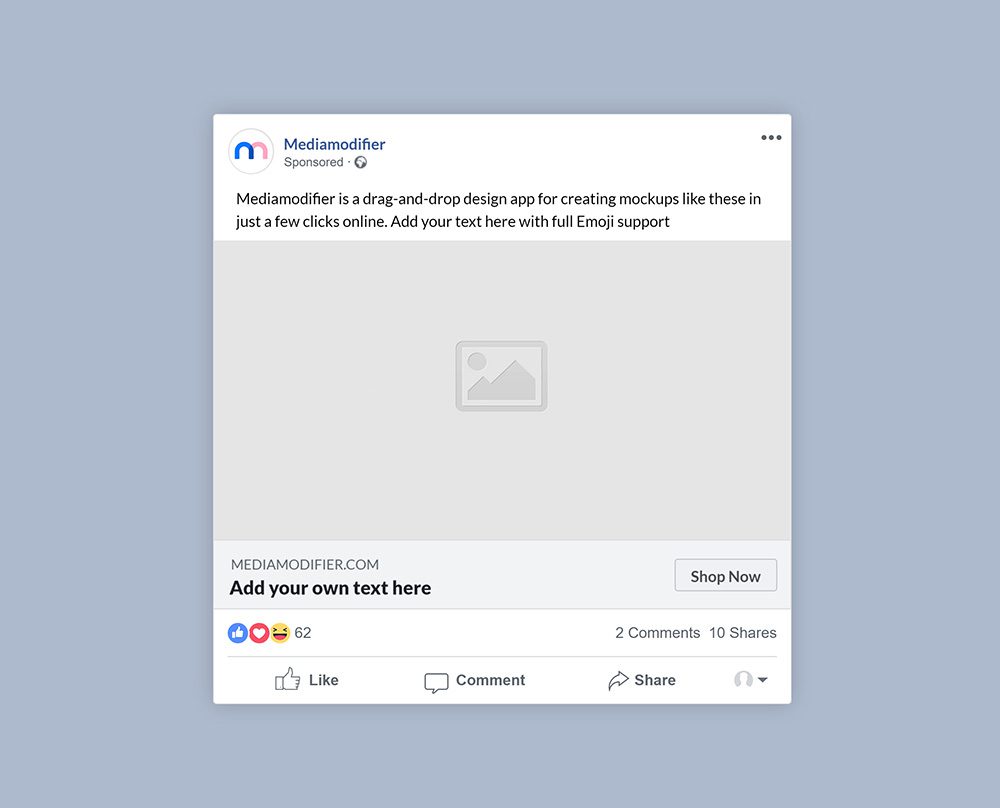 A Facebook sponsored post mockup template for visualizing your social media ad ideas. Easily drag and drop your image into the placeholder and replace the post texts with just a few clicks. Previewing your online ad campaign ideas for social media will not get any easier than this!
---
27. Social Media Laptop Mockup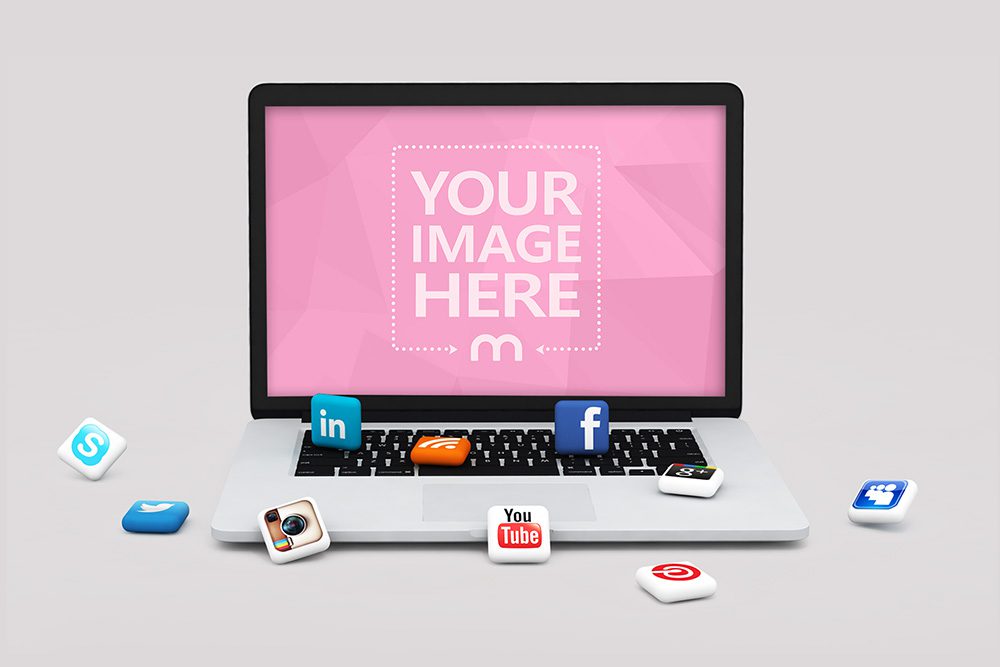 Social media is all over the place… this mockup template can be used to showcase your website related with social media or an ad campaign idea which is launched on popular social media platforms.
---
28. TikTok Mobile Profile Mockup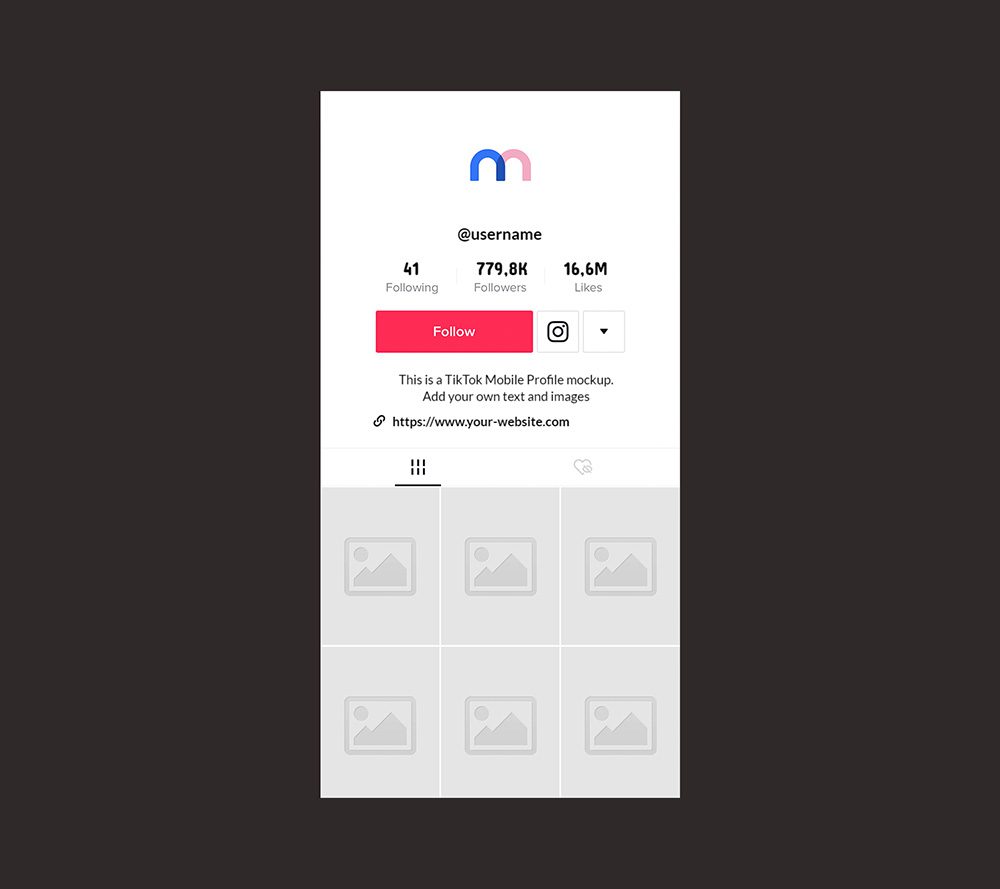 TikTok is hot and trending among content creators and advertisers. Use this mockup template for previewing your idea for a TikTok profile makeover! The template features a TikTok User account viewed from a mobile device. Simply drag and drop your images onto the video preview placeholders and add your channel data.
---
29. TikTok Video Mockup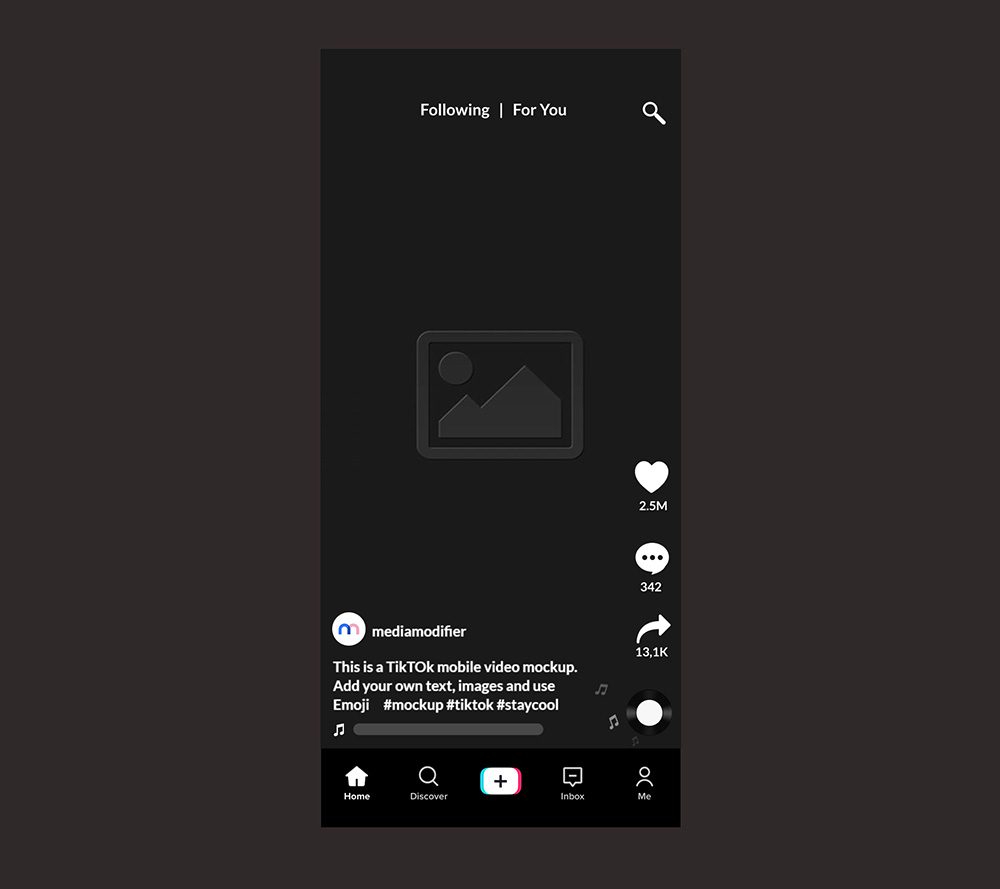 This tiny app screen has taken over the world… and now it's your turn! Use this TikTok mobile screen mockup for creating a fake Tiktok video thumbnail. It's great for quickly visualizing your TikTok Ad campaign or creating an image link to your video.
---
30. TikTok Desktop Post Mockup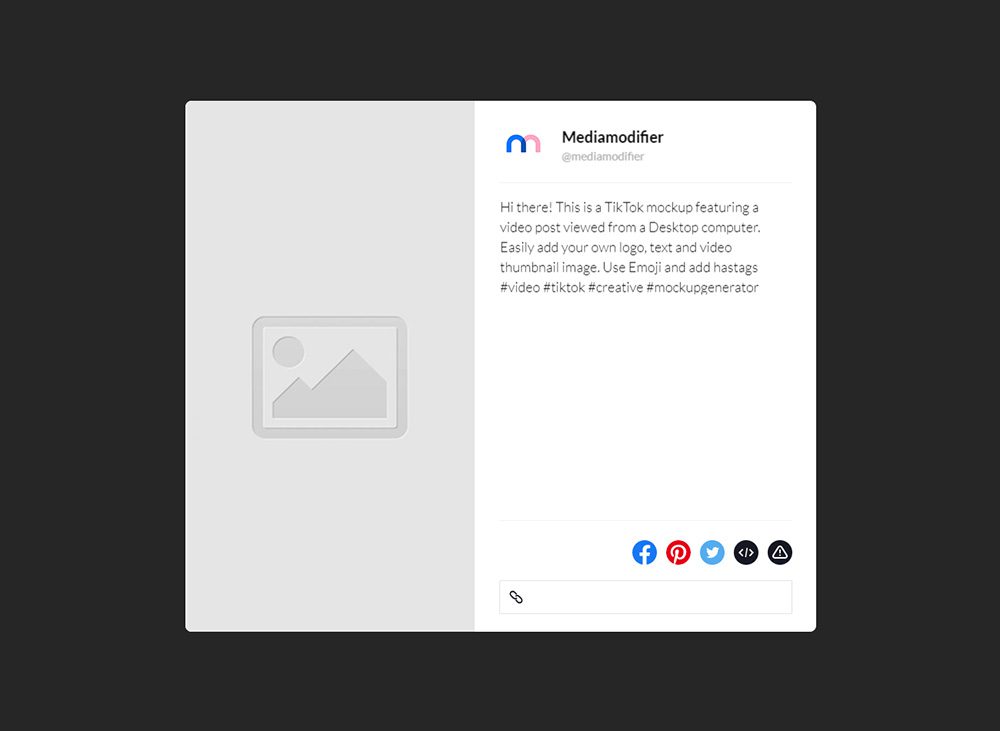 TikTok is all about mobile content, however many people don't know it is also accessible via the regular web. Use this TikTok mockup template for previewing how your video thumbnail or post would look like from the Desktop website. Browse more social media mockups for more TikTok mockups.
---
31. TikTok Profile Mockup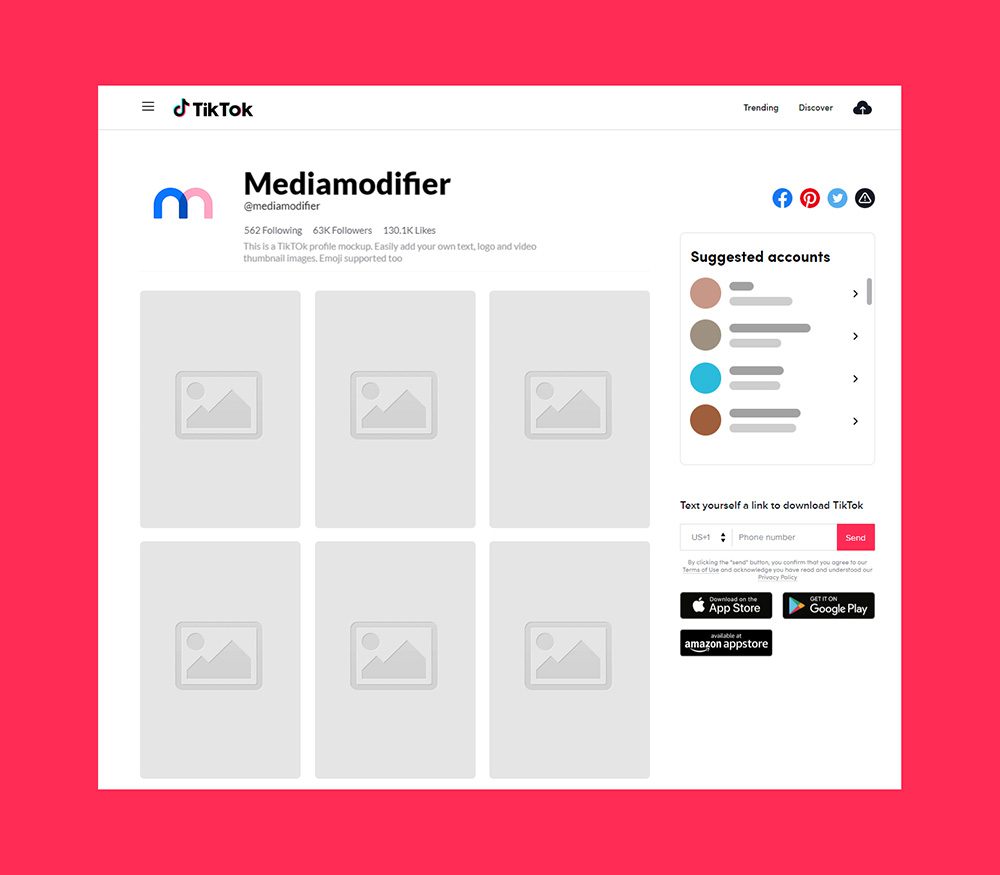 Are you on your way to building a brand or influencer account on TikTok? Use this handy TikTok profile page mockup for previewing how your account would like like from a Desktop device. Add your own TikTok username and insert 6 first video thumbnails into the feed. Need more templates like this? Visit our social media mockups category for more!
---
Conclusion
This collection of Instagram and other popular social media mockup templates including Facebook, Twitter, YouTube, LinkedIn and TikTok will help you ease the pain of preparing or launching your ad campaign.
Social media marketing and especially influencer marketing on Instagram, Facebook and YouTube is still a red hot topic in 2021.
Tens of billions of dollars are spent of creating compelling social media campaigns with the figure growing tremendously each year.
Would my ad look good on Instagram, Facebook or YouTube? That's a question you no longer have to ask… simply create an Instagram Post in minutes and place it in a mockup even faster!
Didn't find a mockup you need? Submit your idea through the contact form, or publish it to our feedback forum and we'll get on it right away!