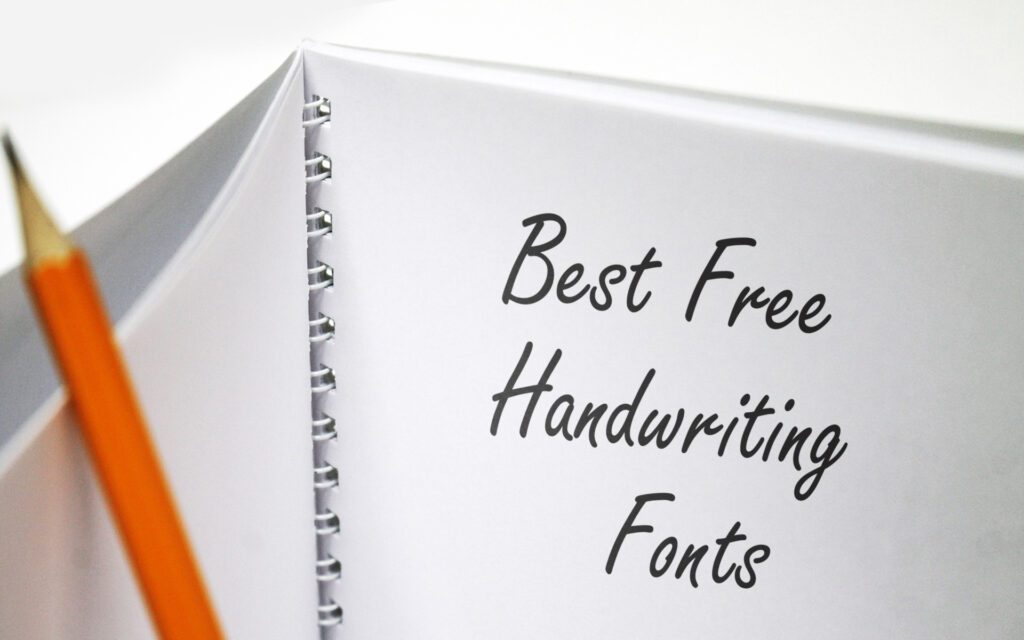 Fonts play an important role in a brand's typography design, but choosing the the best handwriting font can be tricky.

Post summary:
What is a handwriting font?
Top Google handwriting fonts
Other free best handwriting fonts
Concerning web fonts, should you use a Google handwriting font, more adept for web text and design?
How do you make your brand easily readable while conveying its uniqueness?
Using the right adds to a brand's individuality in some way.
Designers, social media influencers, e-commerce stores, and digital marketing managers favor handwriting fonts because of their ability to help impact their brand message.
So, Mediamodifier has selected our customers' top, not-to-be-missed handwriting fonts in 2021.

What is a handwriting font?
A handwriting font is a particular size, weight, and style of typography, in which the font is synonymous with how the handwriting style appears in digital mediums.

Top Google Free handwriting fonts
Google Fonts offers both plenty of variety and cons at the same time. Designed to be functional and readable, they sometimes lack some panache when using them for a brand's individual style.
Here are our 15 favorite handwriting fonts.
1. Berkshire Swash
Berkshire Swash is a traditional, yet somewhat classy font. The serifs have charming yet subtle flourishes. The readability is surprisingly clear, although the thicker glyphs are best suited to more significant headlines, and at larger sizes. The thick strokes are pretty impactful while remaining subdued yet considered.
2. Waiting for the Sunrise
Waiting for the Sunrise is a versatile font, with readability being pretty high at any size level. The varying stroke widths give some personality, perfect for shorter headlines and paragraphs.
3. Yellowtail
Yellowtail is reminiscent of the older, 1930s handwritten sign fonts. Its right-leaning style means it is only suited for right-to-left (RTL) web languages. Plus, it's thick strokes make it a tough body copy to read, so best keep for large headlines.
4. Qwigley
Qwigley has some enormous flourishes and variations in its stroke widths, meaning the script is excellent for those within arty, creative industries. It's fun, yet subtle, and pairs well with a smaller, more narrow sans serif font.
5. Stalemate
Stalemate is a creative script font with considerable variation in the stroke widths. Unlike Qwigley, the design is not so art inspired yet more for writers.
6. Permanent Marker
Permanent Marker is a nonsense font. It is used for more robust aesthetics or a lighter tone. Permanent Marker compliments a narrow, small sans serif font. It also tilts RTL, yet unlike Yellowtail is not so hard to scan, making it ideal for punchier text.
7. Oleo Script
Oleo Script appears to be a favorite of our customers, and it is easy to see why. With both upper and lower case variations, a solid-looking font and bodes well with most industries. Strokes are deep yet not overbearing, have a minor tilt presenting a good all-round classy and mature font.
8. Niconne
Niconne has excellent readability, minimal decoration and can be used at various parts of an online website. Its smooth flow as a small tilt, adding some elegance to the topography.
9. Rock Salt
Brash, bold, messy, this is Rock Salt. Despite its relatively thin strokes and scribbling effect, Rock Salt makes for ideal headlines and subheadings of an influencer, a blogger, or an online shop selling some serious attitude.
10. Short Stack
Occasionally, you need a childish font. Short Stack is a spacious, no-nonsense style with high readability. Perfect for those websites that need bright, concise, and distinct lettering, like those in teaching, education, or children's toys, appealing to a younger demographic.
11. Chewy
Chewy strikes a delicate balance of fun, energy, without being too childish. Its handwriting font characteristics are highly readable at all sizes. Chewy is more condensed, with close spacing and tiny letters to be more functional.
12. Pompiere
Pompiere is a low contrast condensed serif font, it's functional, versatile, readable, and succinct. The subtle variation in the strokes gives a light natural and natural appearance. The beauty of this Google handwriting font is that it works as both large and small headlines and in the body copy.

13. Arizonia
Mature, classy, containing some sweeping strokes, welcome to the Arizonia font. This sturdy font is perfect for large headlines but not so good for small text, as it can be challenging to read.
14. League Script
League Script is a delicate and elegant font, making it a classic choice for those in the wedding, events, and flower industries.
15. Mrs. Sheppard
Mrs. Sheppard is a homage to inter-war New York. It is both readable and impactful. With its wild strokes, it's ideal for businesses that offer classical greeting cards and gifts.

Other beautiful best handwriting fonts
We all love the personal touch handwriting brings to our mockups, designs, and products.

The below collection may not necessarily be a Google handwriting font. Still, our clients love them to brand their businesses, whether as a social media influencer or e-commerce store using our mockups.

From cursive to casual to formal, we list the 15 best handwriting fonts below (numbered 16-30 for the sake of this article list).

16. DK Lemon Yellow Sun
DK Lemon Yellow Sun is free if used personally, so businesses will need to purchase a license. It's a spacious handwriting font that is fresh and readable, even websites that target a child-age audience.

17. Porcelain Sans Serif
Porcelain Sans Serif has a subtle texture that gives off a personal touch, ideal for projects requiring a handwritten feel. Porcelain Sans Serif is great for social media posts, especially as an overlay for those brand influencers who offer cooking recipes online. Note though, it is only for personal use.

18. Seascape script
Seascape makes your text's thicker characters stand out. Seascape feels as if the reader is writing a diary or a blog combined with freedom. This handwriting font would be ideal for creating social media quotes.

19. Little Day
Little Day has a 'back-to-school' theme. A font is a suitable match for types of kids design projects, especially for nurseries and kindergartens. The best part? Not only does its style say, schoolchildren, it is free for both commercial and personal use, meaning you can use it any time, anywhere.

20. Norquay
Want a rustic, wooden, but timeless vintage look for your brand? Then Norquay is a warming sans serif font for you. The free font contains a premium license that allows both commercial and personal use. Brands selling tools, outdoor grilling, food, or even coffee Instagram images, then Norquay compliments well.

21. Selima Script
Another paint brush-lettered and calligraphy style font, Selima comes with beautiful irregular baselines and shapes. Selima is ideal for inspirational social media quote posts or those businesses who have artistic products to sell.

22. Balqis
A feminine calligraphy typeface, Balqis is a high contrast and easily readable font that speaks volumes of womanhood. Balqis is perfect for weddings, greeting cards, or book covers or products targeting a female audience.

23. Deepo
Deepo is a handmade font with medium-sized strokes that appear edgy yet highly impactful. With all the necessary glyphs and characters you'd expect, it conveys a street-design feel, great for e-commerce websites selling clothes or as t-shirt mockup. Its depth and versatility make an ideal, modern handwriting font that appeals to all demographics.

24. Basfar
Basfar is a well-designed font that offers a gentle, office-worker impression yet with a handwritten personal touch. Basfar is free to use, so social media managers can use this handwriting font to write clean and bright social media posts. Influencers will find it perfect for quotes, branding, and online products.

25. Livingston Font Trio
Livingston is a trio of modern fonts, including Serif, Sans, and Script. Its handwriting script has a feminine take on it. At the same time, the other Sans and Serif fonts are both elegant and reminiscent of 1920s New York. Livingston is free and even contains multilingual characters making it ideal for global brands appealing to fashion, boutique, hotels, lifestyle, and influencer industries.

26. Herbarium
Herbarium's strokes are intended to convey nature and happiness, making it ideal for food, coffee, cards, and Millennial-targeted industries. Online shops will adore its versatility to go on products and look great on websites selling the products. A brilliant all-rounder.

27. Marhaban
Marhaban adds a dash of panache and style to images, perfect for brands selling boutique clothing or other millennial apparel brands. Also, Marhaban has a plethora of alternate glyphs, discretionary ligatures, ligatures, and even an extra swash font. Once again, a varied font like Herbarium that will instantly impress.

28. Calorie
Calorie is a casual signature font that is very popular amongst our social media influencers who use Mediamodifier. A combination of rustic, textured script combined with a swoosh-like feel of the brush strokes makes this an engaging design for a female Instagram audience. Also, Calorie is brilliant for photographers as an overlay on their profiles.

29. Brandon
Brandon feels almost like a 1950s Americana-style script. It's retro, counter-culture feel makes an ideal font for male audiences. It comes with two font types, Brandon Smith Regular and Stamp. Throw in stylistic alternates, multiple alternate glyphs, and multilingual support, Brandon Smith Monolime is the choice for male-influenced e-commerce stores or products.

30. Simpletune
Last but not least is Simpletune. It has a casual, modern design that has a signature element that will work on social media posts and online products.

Conclusion
Know of any other handwriting fonts that should be added to our list or 2021? Let us know in the comments!