Mockup Generator Comparisons | Smartmockups, Placeit, Printful, Mediamodifier
•
April 7th 2020
•
7 minute read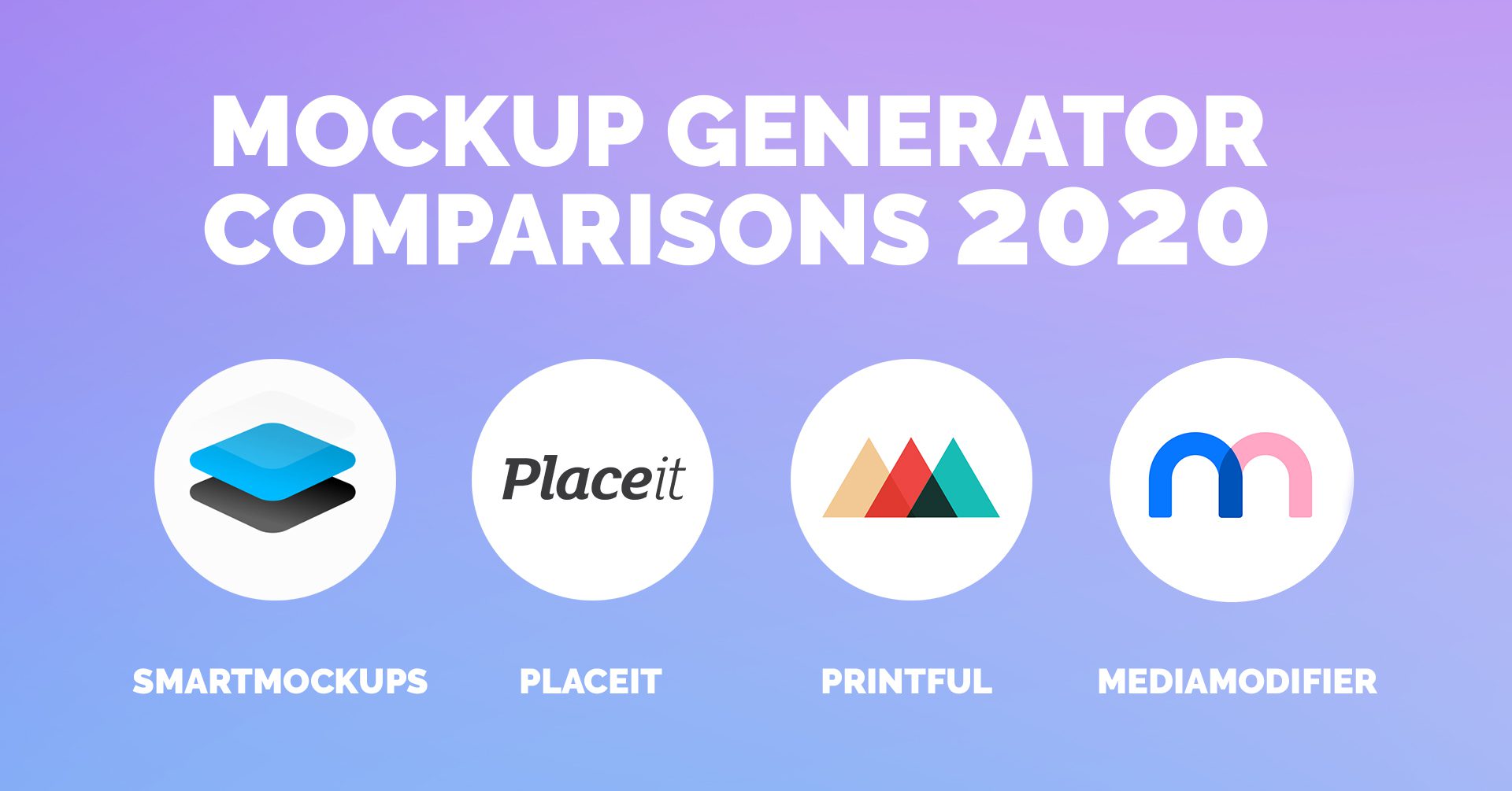 Post summary:
What is a mockup generator?
Smartmockups, Placeit, Mediamodifier or Printful?
Main differences between them
Using video and imagery to sell a brand is evident. Businesses and influencers cannot ignore that having first-class visual content is imperative for their brand, to reach more of their target audiences.

Having the best visual content means producing enough of it, fast and to a high professional standard. Unfortunately, not all businesses, social media managers, and social media influencers can afford an in-house content team.

Mockup generators remove any complicated design steps, even equipping the most amateur graphic designer, marketer, or brand influencer to create sumptuous visuals.

Mockup generators provide a design shortcut, so you only have to spend time filling in the critical details about your brand.

However, which is the best mockup generator software?
What is a mockup generator?
A mockup generator is a useful tool to help create stunning & high-resolution screenshots of real products. They can be used by design professionals, influencers, social media managers, or business owners to create high-quality marketing images quickly and efficiently. It's the fastest way to produce professional visual content in today's business brand environment.
Smartmockups, Placeit, Mediamodifier, or Printful?
Smartmockups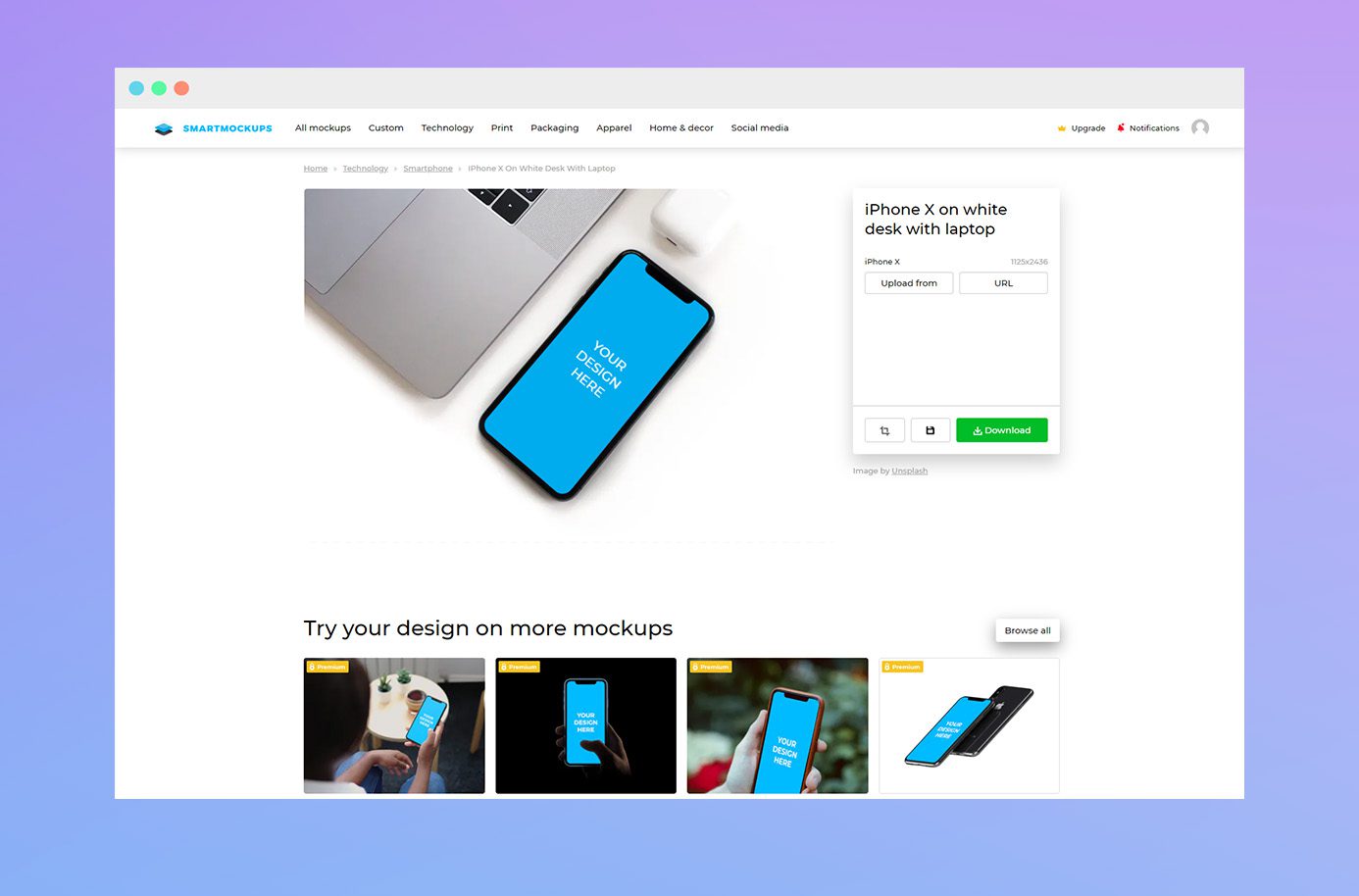 Smartmockups is a popular mockup generator launched in 2016. Smartmockups offer a 7-day trial, although all images are watermarked.
Integrations
Smartmockups integrates with Dropbox and Canva, Dropbox, allowing existing images stored within those sites to be used without requiring to upload to Smartmockups.

Customized templates
Smartmockups provide tools required to construct custom templates based on user-provided images. With this nifty feature, users can custom create a logo to be placed on almost anywhere.

What's better, as a customized template feature, the images created are the highest for any mockup generator. Plus, these pictures can be cropped before they are downloaded, removing the need to have additional image editing tools.

Auto-save
Smartmockups have a neat feature where it automatically saves all the templates that you modify within your designs – but only if you have the Pro version. For those users using Pro, they can rest assured that if they lose online access, they will be saved from the last point of the edit.
The plans
The difference between the free program and that of the subscription means the user needs to pay a minimum $9 monthly fee to access all their mockups. The free version only has 200 available. Users who need to use video and branding mockups, plus autosaving and customized ones, will need to pay for the Pro package costing $19.

Templates
Even with the paid plans, the number of templates offered is about 2,000+ mockups. This could be somewhat lightweight for users searching for niche style mockups, however the technology category has most of the popular devices. Smartmockups probably want users to make their customized mockups instead.

Pricing
Smartmockups have several package options, yet with most mockup generators, users would need to be paying for the packages to get the full benefits. For testing the software, the free plan only offers 200 mockups.

Smartmockups has a useful Premium packing costing $9 a month, with the Pro version at $19.
Placeit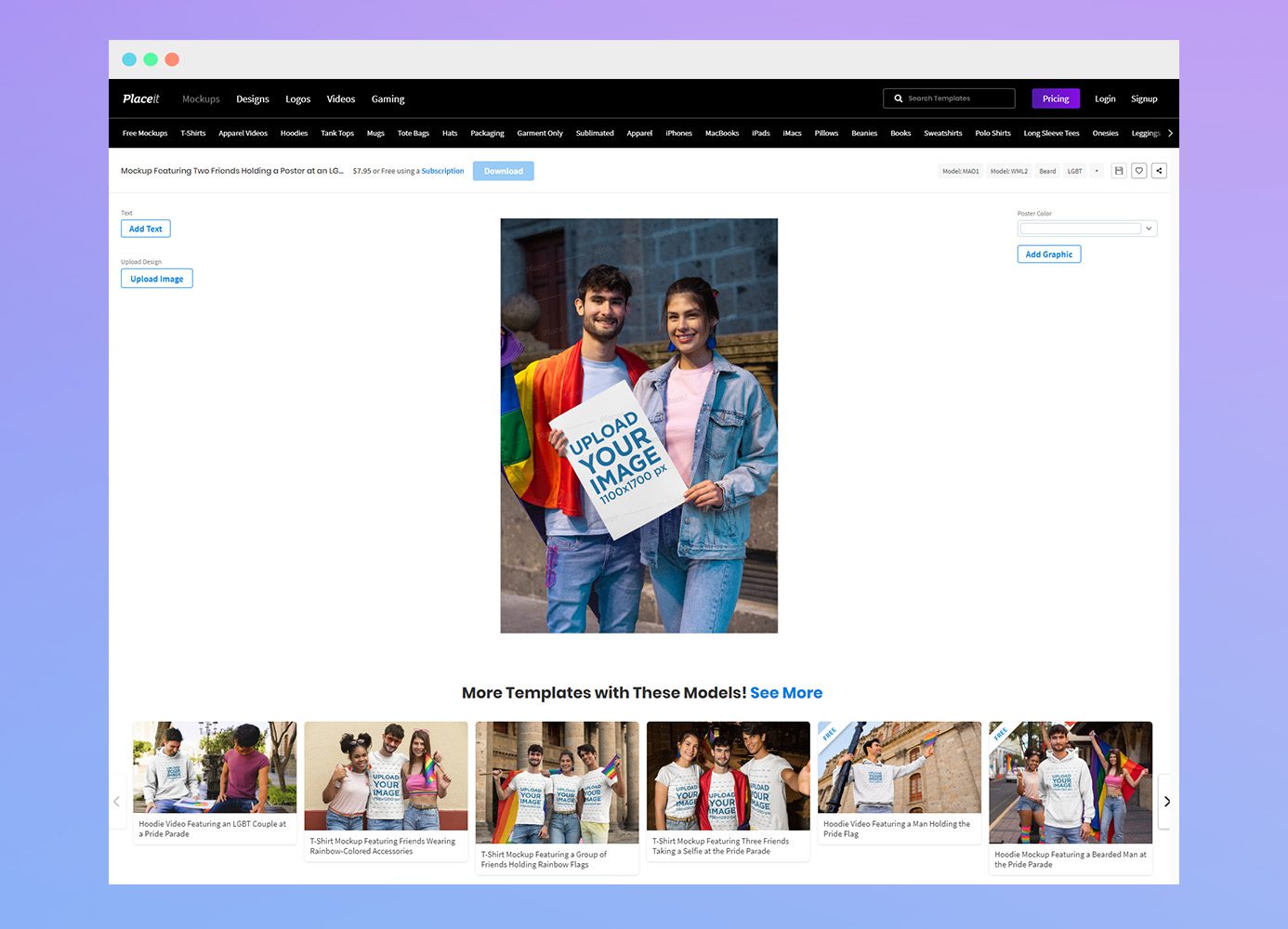 Placeit is an online mockup generator tool (aquired by Envato in 2018) with a whopping 25,000+ mockup templates based in Australia and Mexico.
A plethora of templates
Placeit has templates for clothing, mugs, phones, Macbooks, iPads, iMacs, pillows, hats, bags, business cards, flyers, banners, and packaging. And with the pre-designed image templates, the site also offers template videos and even Logo designs with professional quality.
Too many templates?
Since its inception in 2013, Placeit has accrued too many templates, and it appears to have subsequently not removed any either. Placeit has mockups that are outdated, for example, the iPhone 6.

The company appears to be obsessed with Apple and all things in the USA. There are only a handful of Windows computer mockups yet hundreds of Macbook and iPad templates, and only images for sports popular in the USA. However the ethnic diversity on mockup photos is very good.

Pricing
Users can use all offered features on Placeit $14.99 per month, including all their templates, designs, videos, and logos. While that may seem good value, logos cost $39.95 each, with a 50% reduction for those with a subscription.
Mediamodifier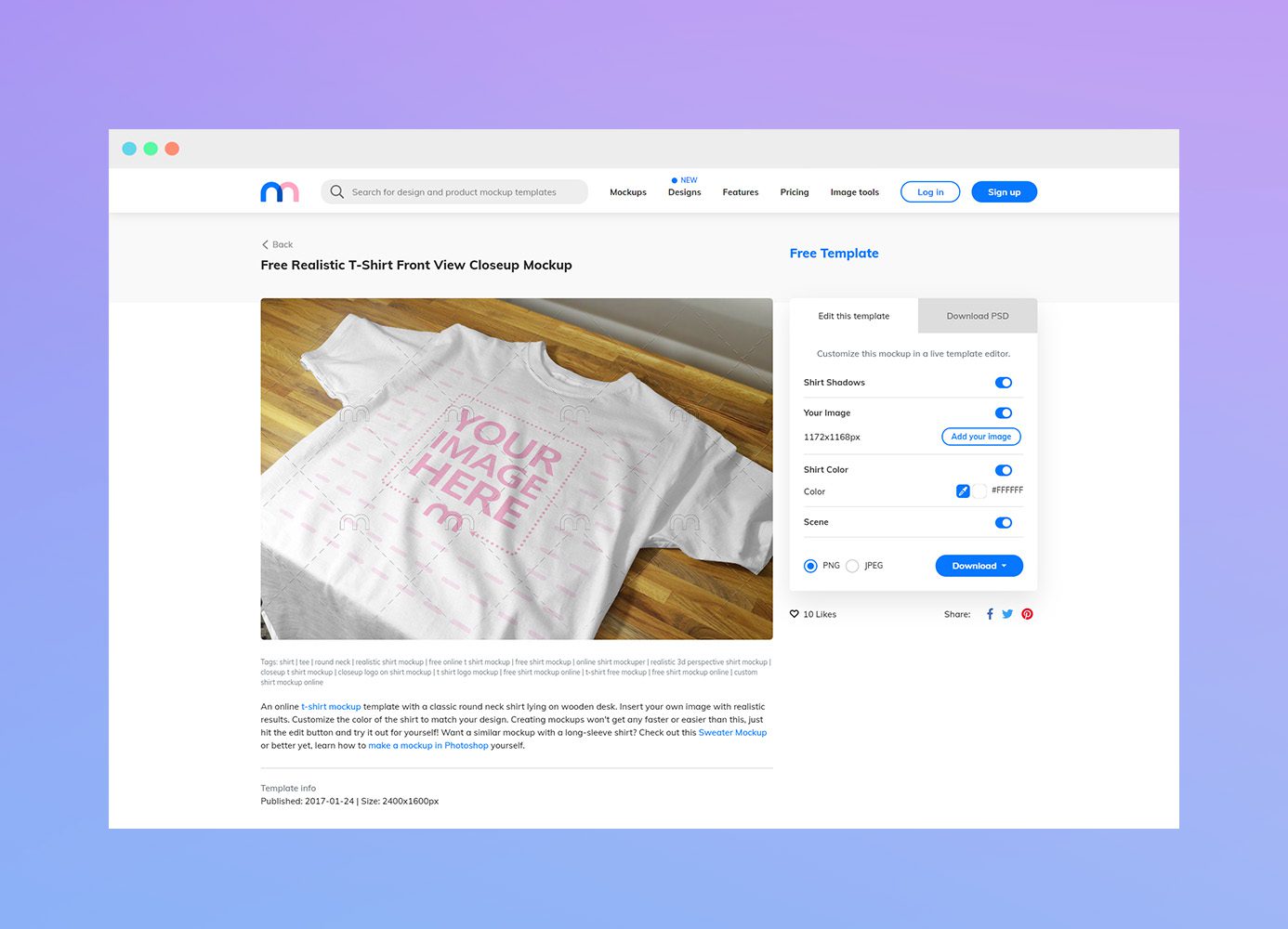 Hailing from the heart of the Baltic Silicon Valley, Mediamodifier is made for marketers, entrepreneurs, bloggers, social media influencers, or anyone who needs a creative solution for their visual content projects.
Downloaded as a PSD
Each mockup template can also be downloaded as a PSD file, which no other mockup generator tool currently does. (Included in the annual subscription)

Unlimited Full Size Preview Downloads
Another unique feature only Mediamodifier has to offer – each mockup can be downloaded in full size for preview purposes, even without signing up.
The preview includes a small watermark but the image itself is in full quality. This way you get to see every template with your content inside, not just in the small preview window, but as a full size image download.
Drag and drop
Mediamodifier has an excellent drag and drop feature, vital for novice graphic designers and influencers. Users can quickly drag and drop and edit layers from business cards to videos to even social media designs for promotional campaigns.

Pricing
Unlike the others mentioned above, Mediamodifier also offers users a 'day ticket' that includes unlimited downloads for 24 hours.
This means that you don't have to lock yourself into a monthly plan or fret about how many videos or pictures you create and download .Ideal for those thinking about the occasional marketing campaign.
Subscription plans work out at $9 a month (paid annually), or monthly for $19.

Printful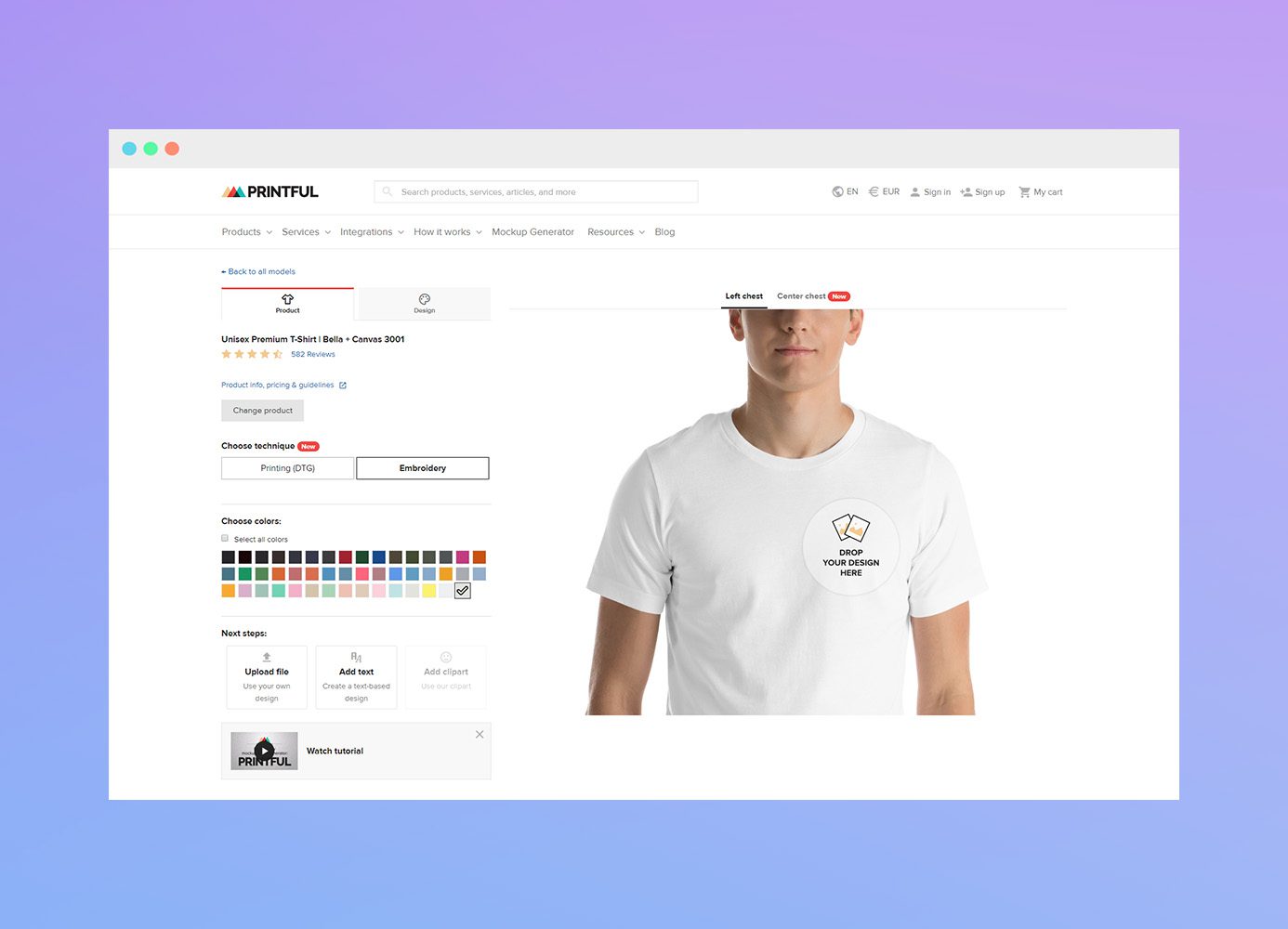 Designed explicitly for fashionistas, artists, and online entrepreneurs who want to utilize a quick and straightforward growth model, Printful offers a much smoother experience for growing online stores.
Niche for PODs
Printful is a one-stop drop shop for those looking to create online shops and require a Print-on-Demand (POD) supplier. The clothes quality and various mockups provided make it a great solution to get started with an online business, fast.

Printful offers free shipping for its samples:

Samples that are sent from the Californian or North Carolinian Printful facilities are shipped for free to all USA states and Canada.
Samples ordered in Europe are sent from their European Printful facility in Latvia, and the shipping is free for all locations in Europe.
Best clothing mockups
From men's, women's, kids, home and living, even hats and sportswear, Printful has mockups and clothing for all. Making Printful the place to go for fashionistas setting up not only their online stores but also their own fashion brands.

Integrations
Printful integrates with eBay, Amazon, Shopify, and Etsy – giving users options to sell their goods online. Other integration options include:

BigCommerce
ECwid
3Dcart
Magento
PrestaShop
Squarespace
Storenvy
Weebly
Wish
WooCommerce
Wix
Pricing
As Printful offers a full dropship service, paying for a monthly subscription is not part of its pricing model. Using only the mockup generator is however completely free, even without creating an account.
Main differences between them
| | | | | |
| --- | --- | --- | --- | --- |
| Software | Smartmockups | Placeit | Printful | Mediamodifier |
| Mockups | 2000+ | 25 000 | 200+ | 2000+ |
| Drag & Drop | ❌ | ❌ | ✔️ | ✔️ |
| Design Templates | ❌ | ✔️ | ❌ | ✔️ |
| Auto-save | ✔️ | ✔️ | ❌ | ❌ |
| Day Ticket | ❌ | ❌ | ❌ | ✔️ |
| Monthly Pricing | $9-19 | $8.33-14.95 | Free | $9-19 |
| eCommerce Integrations | ❌ | ❌ | ✔️ | ❌ |
| Image Crop | ✔️ | ✔️ | ❌ | ✔️ |
| PSD Source File | ❌ | ❌ | ❌ | ✔️ |
| Publish to Social Media | ❌ | ✔️ | ❌ | ✔️ |
| Add Text | ❌ | ✔️ | ✔️ | ✔️ |
| Mobile Editor | ✔️ | ✔️ | ✔️ | ✔️ |
**All prices, features and information are correct at the time of writing. The author nor Mediamodifier LLC is held responsible for any changes made by the information contained.**

Visualize your design Use a product mockup to showcase your design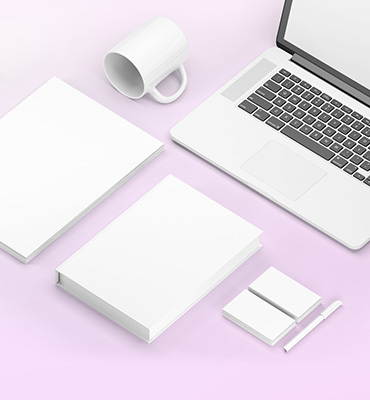 Create your design Use our templates to create delightful designs for any medium