30 Best Magazine Mockup Templates
•
February 18th 2020
•
7 minute read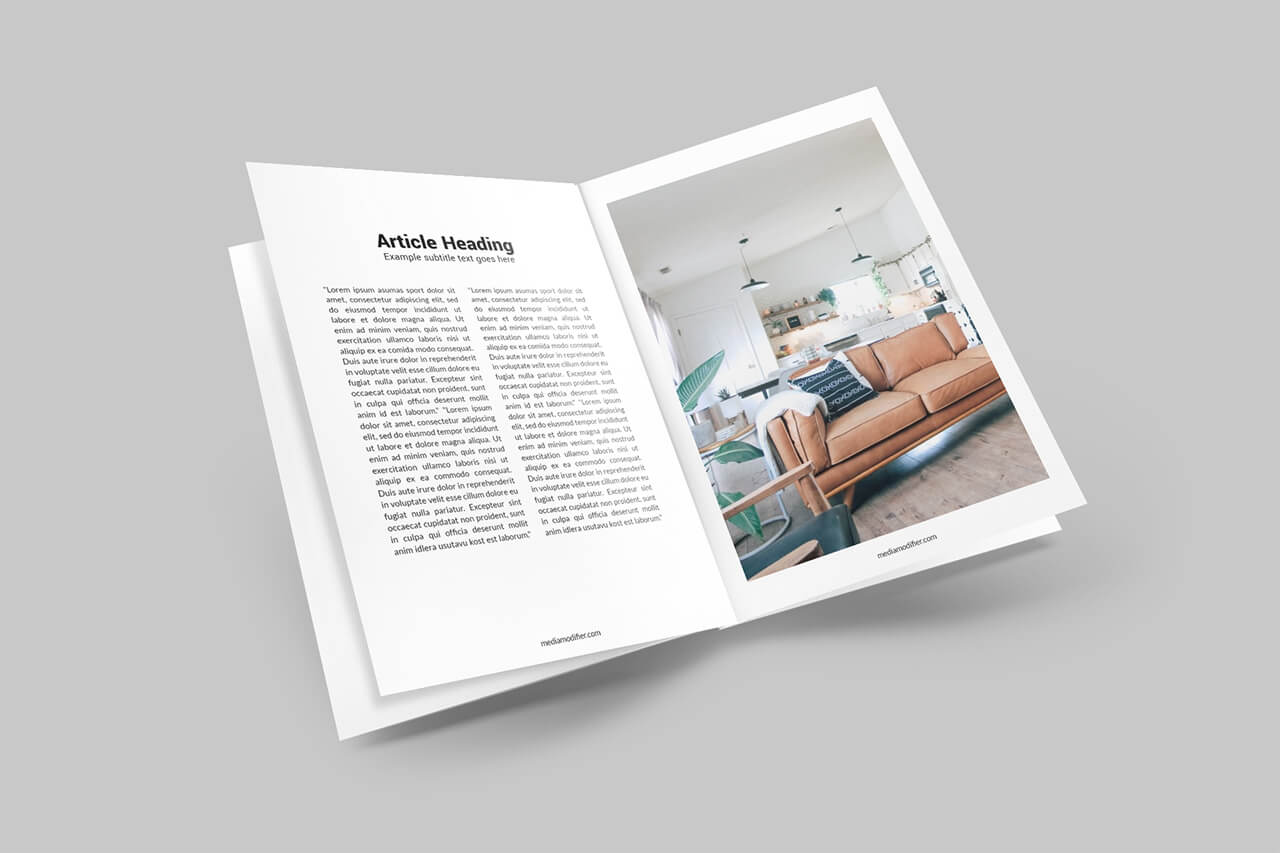 If you're looking for a good magazine mockup to showcase your design then you've come to the right place – this post is packed with beautiful examples.
We've put together a collection of mockups that features the best and most downloaded magazine templates: magazine cover, inside magazine, front and back, flat and 3D magazine, and real versus digital online magazine.
So without delay let's jump into the list and see if there's anything you like! Scroll down and click the Use Template button to generate a free high-resolution preview of any magazine template. No Photoshop is needed here, although all these mockups are also available as PSD templates.
1. Double Magazine Mockup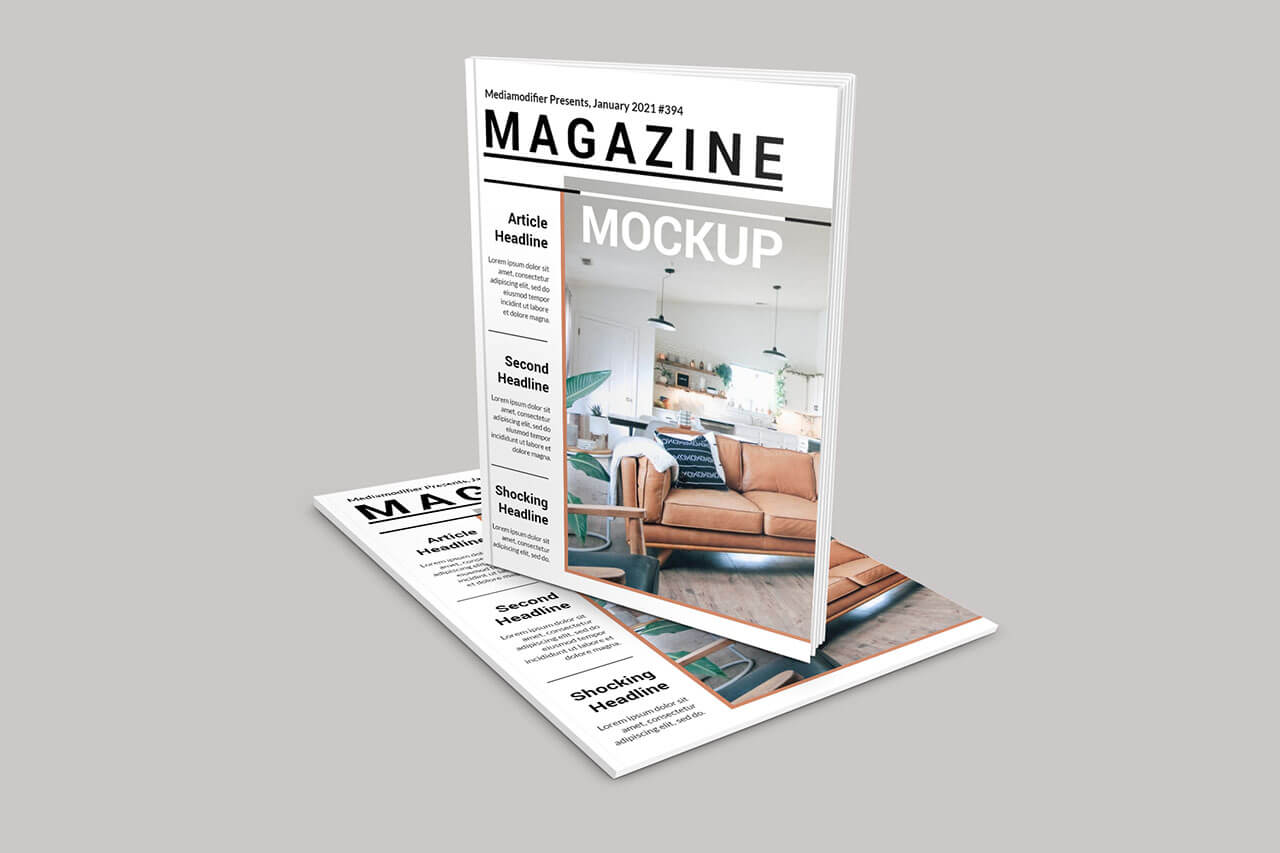 Stand tall with this magazine template featuring 2 magazines on a solid color background. Place the same cover image on both or use 2 different designs.
---
2. Magazine Cover Mockup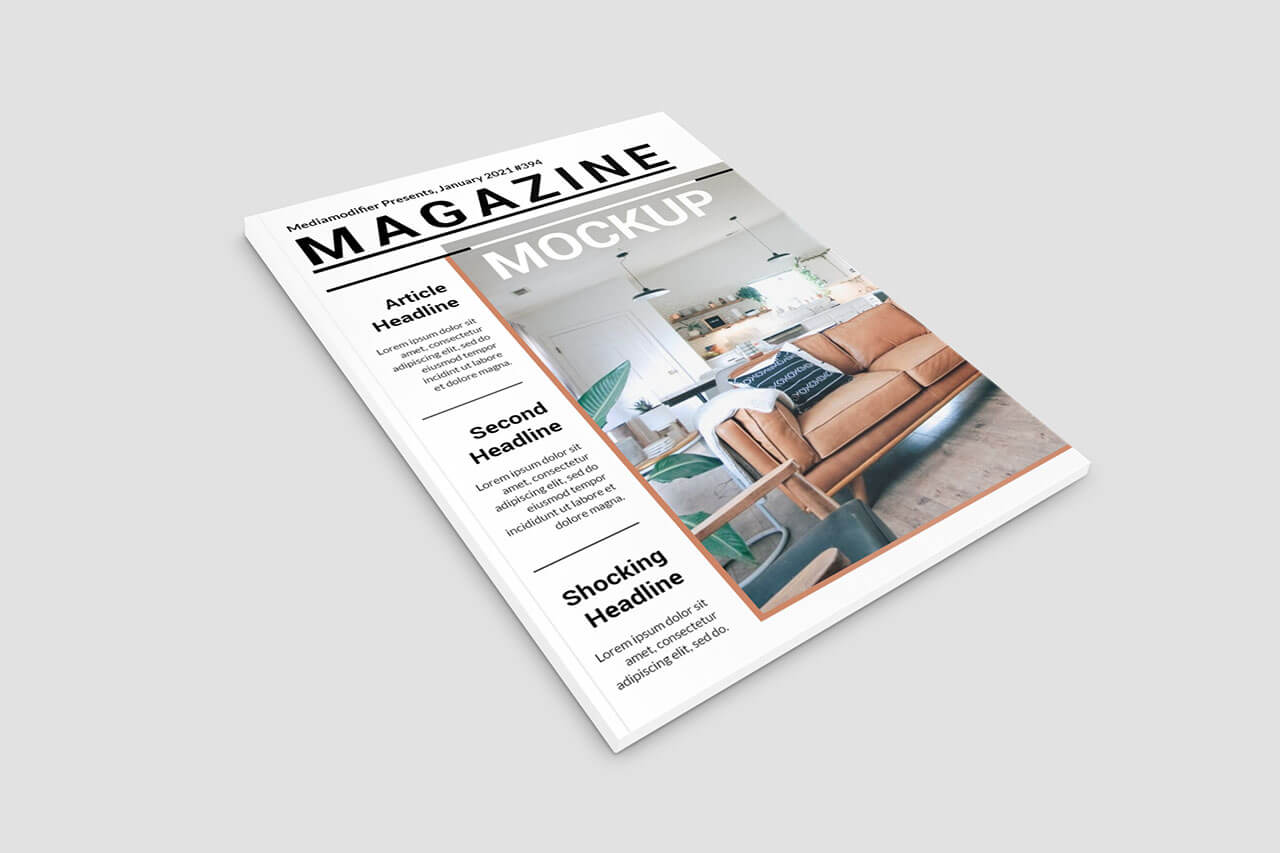 Although this may be a minimal magazine cover then it's still one of the most popular templates. I guess people simply enjoy the minimal look which nicely puts your designs in focus.
---
3. Top View Magazine Cover Mockup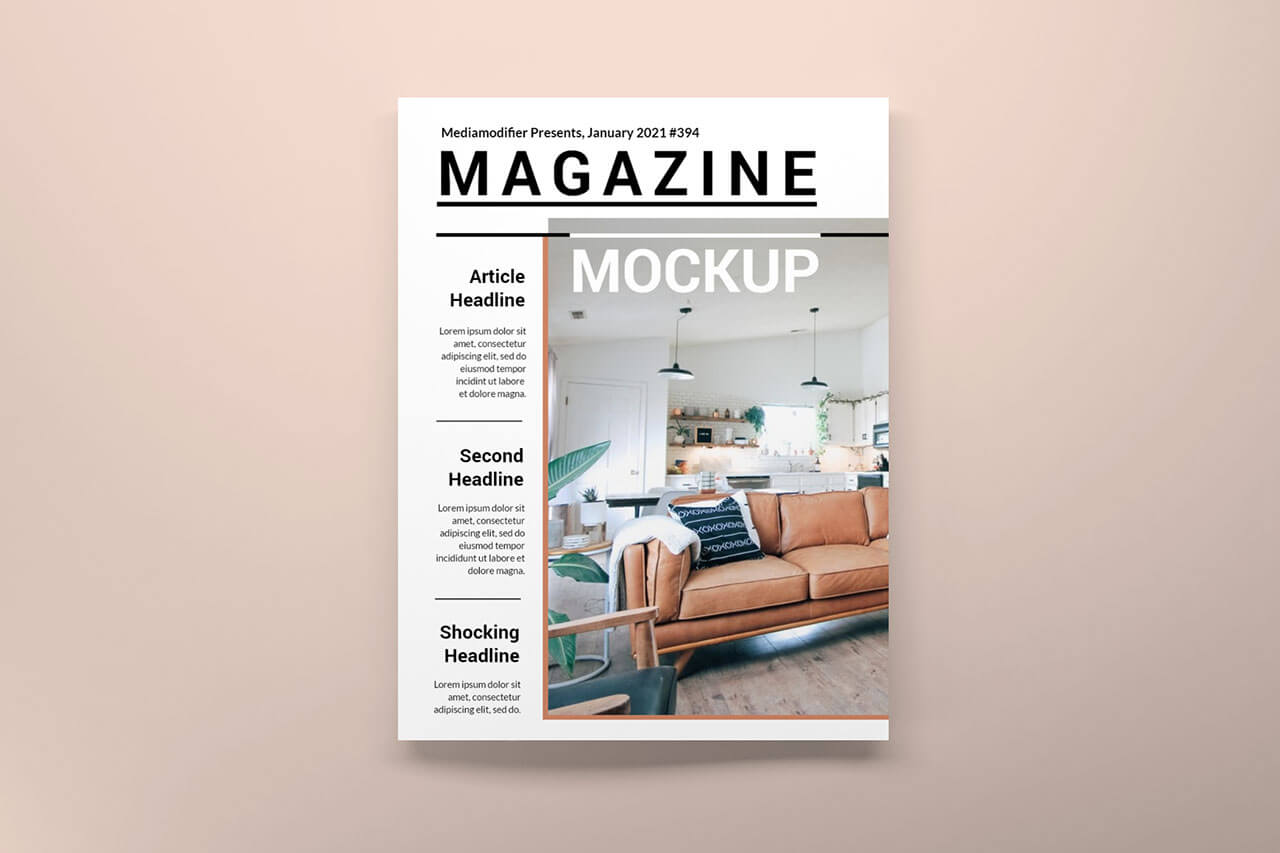 Another brilliant cover template which features a flatly top view of the magazine on a gradient background. The 3D shadows add a bit of realism to the template while not distracting too much.
---
4. Standing Magazine Mockup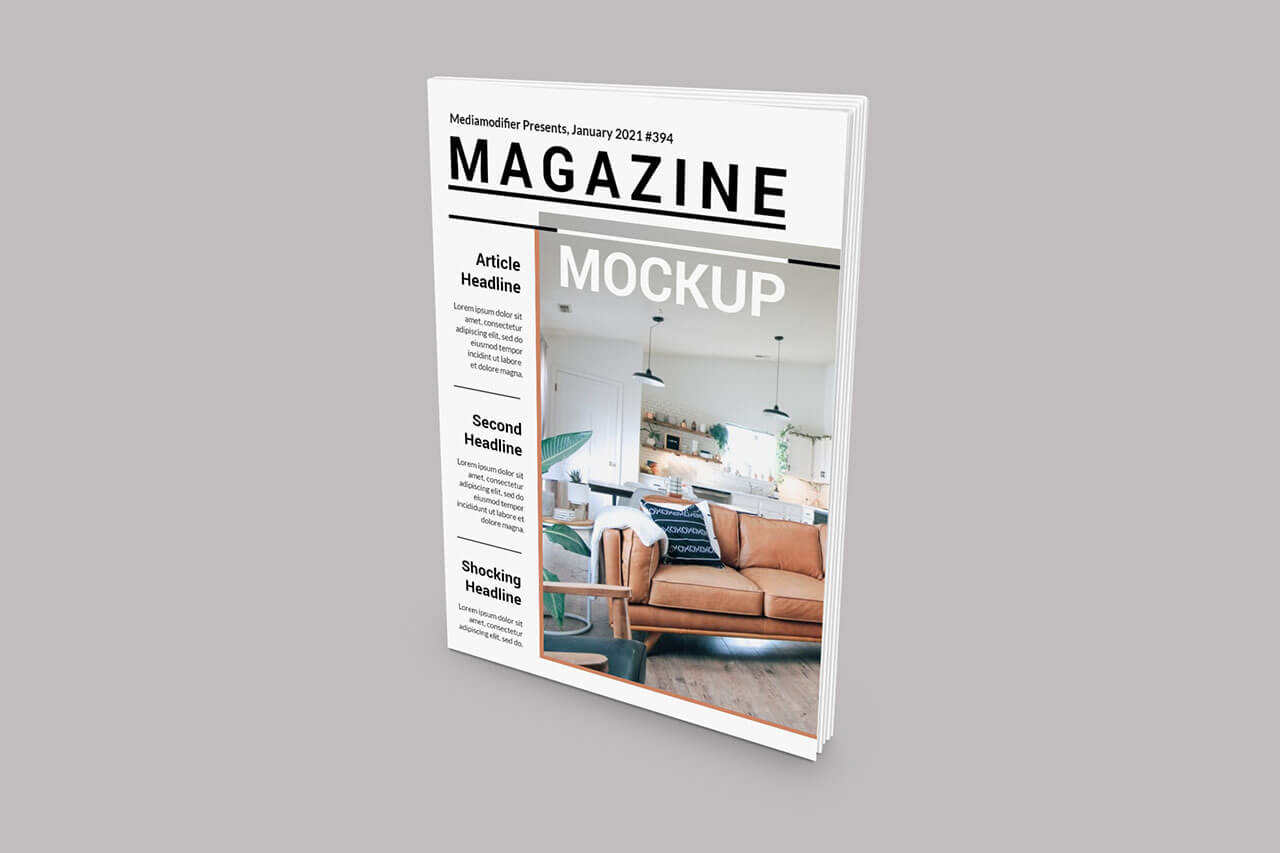 Easily drag and drop your cover image into this standing magazine cover template and instead of messing around with Photoshop, you'll have a nice mockup made in seconds.
---
5. Open Magazine Pages Mockup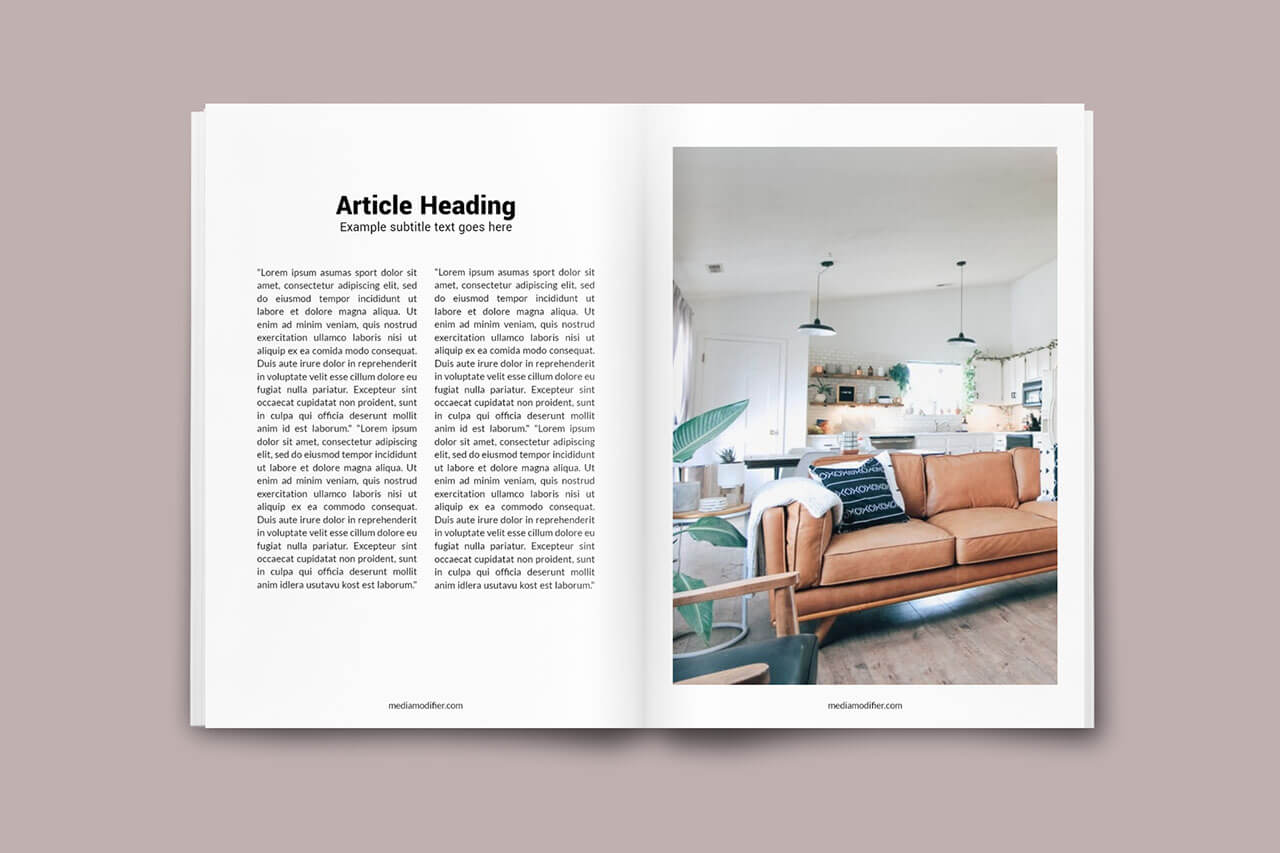 The covers were nice… but it's the inside that matters most! Use this open magazine mockup for showcasing the inner pages of your publication. In addition you can also edit the background color or even save the mockup as transparent PNG.
---
6. Inside Magazine Mockup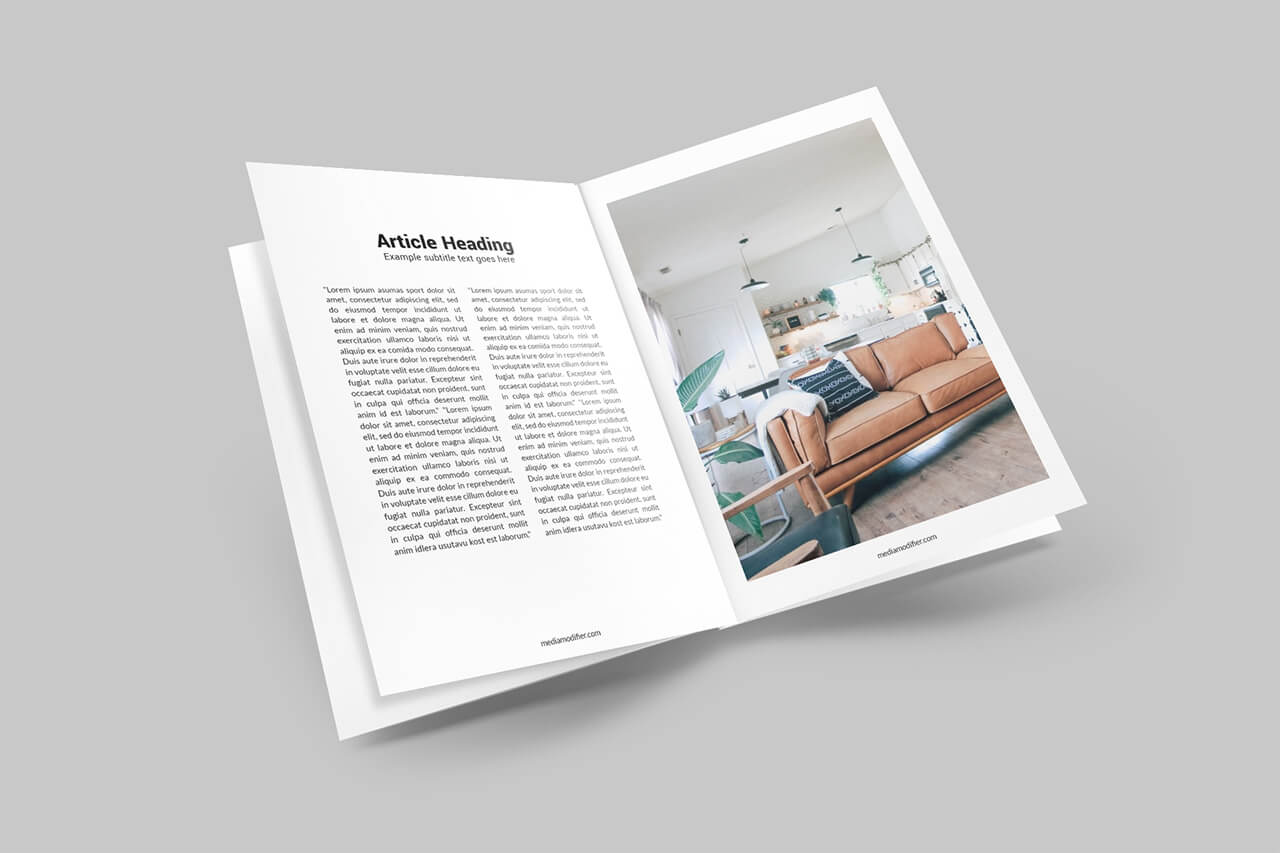 If you think that 3D looks better, then this template is perfect for you! Given that most mockups in this list are flat, then this template will make you stand out!
---
7. Magazine Cover Mockup Maker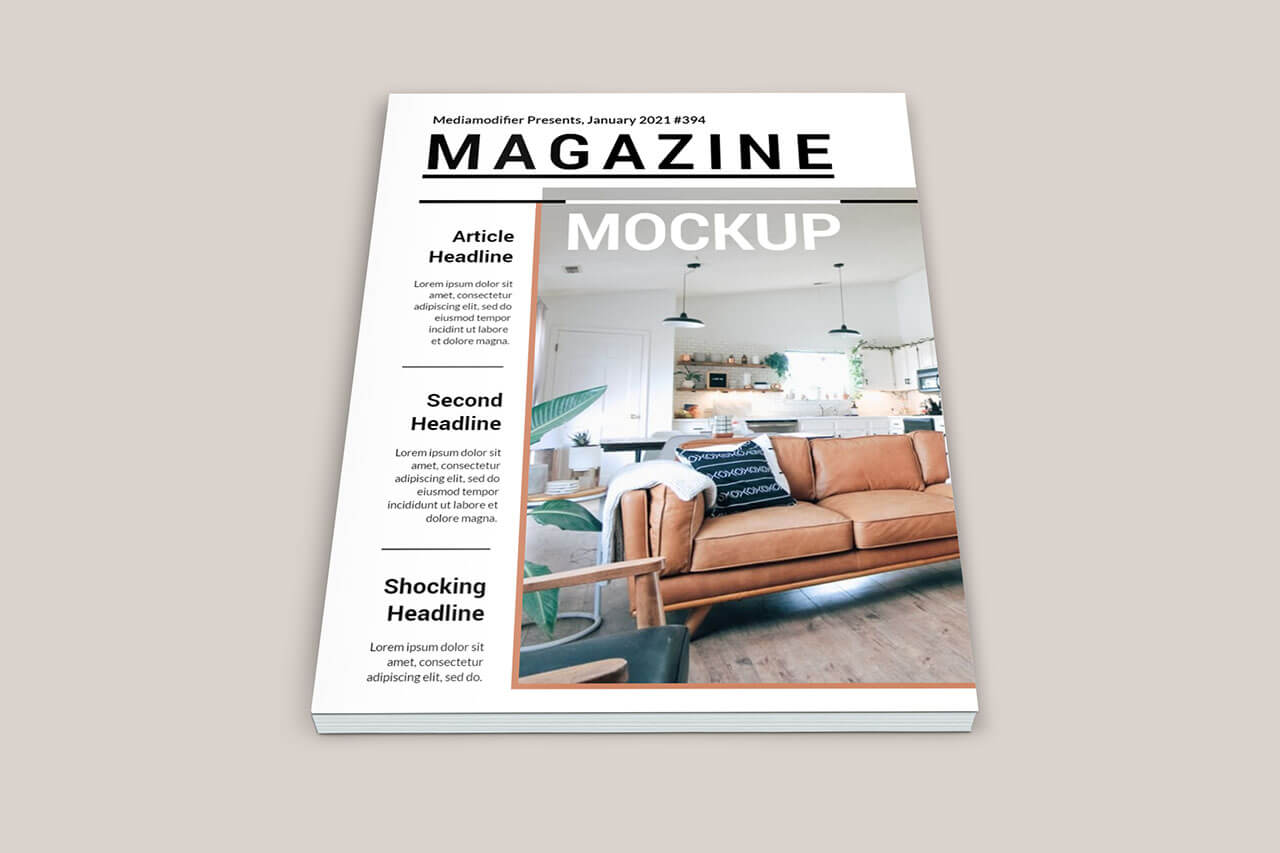 And we are now slowly going back to flatland with this mockup – a minimal design that you can use to showcase the cover design of your magazine. Frontal view of a magazine lying on a solid color surface.
---
8. Magazine Cover Template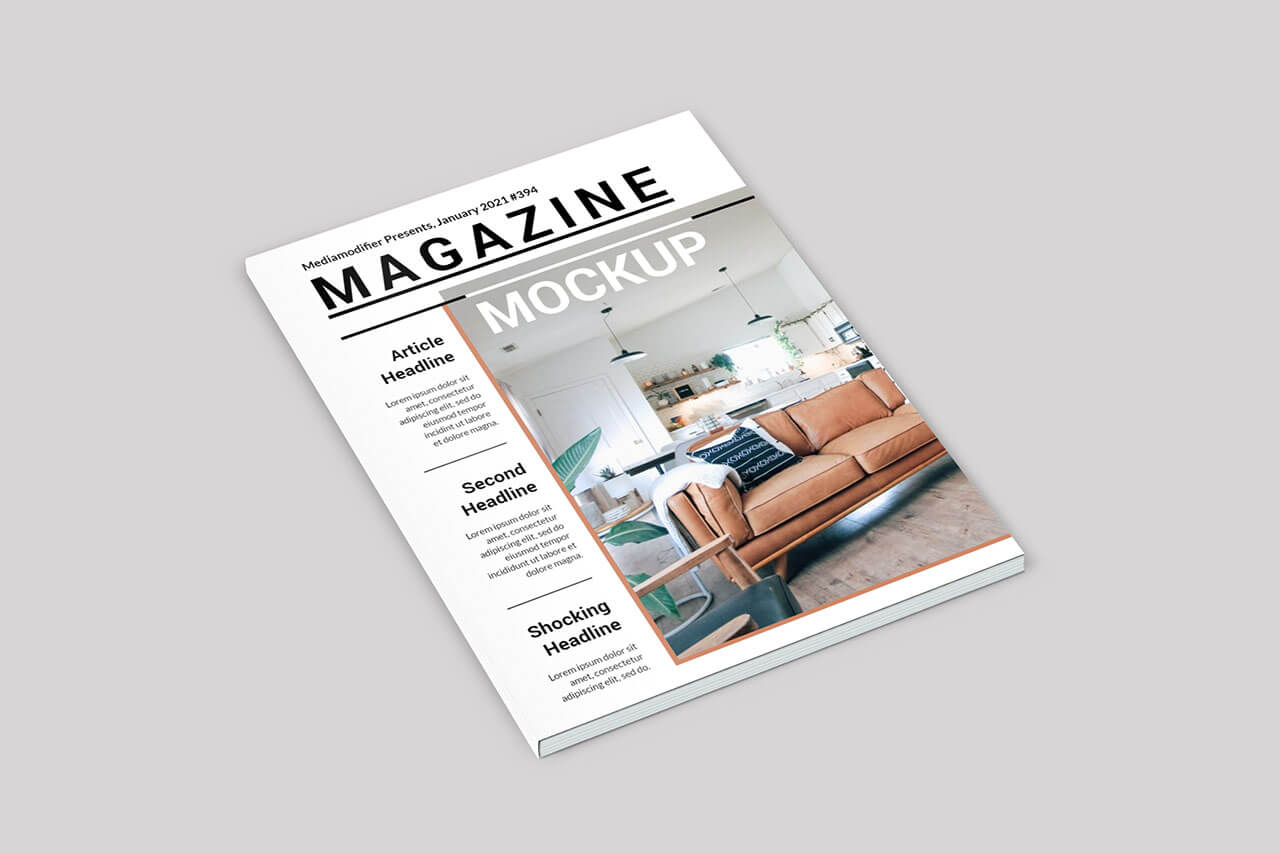 Easily place your magazine cover design into this template and create a handy mockup in seconds. Use the image on your website or share on your social media channel – it simply looks good… it does!
---
9. Open Magazine Template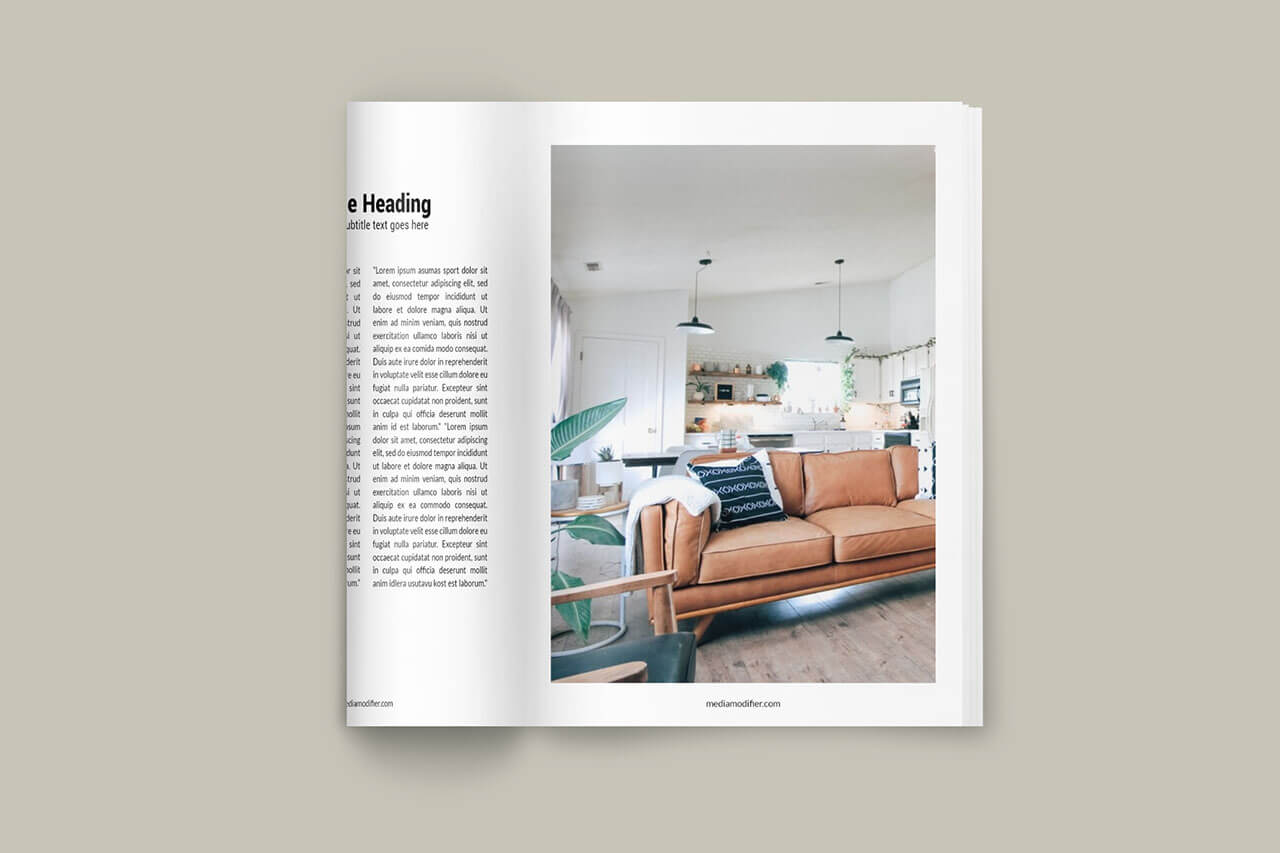 This beautiful mockup features the inside of a magazine. Place your magazine page designs into the placeholders and create a unique mockup with half of the magazine rolled up.
---
10. Magazine on Desk Mockup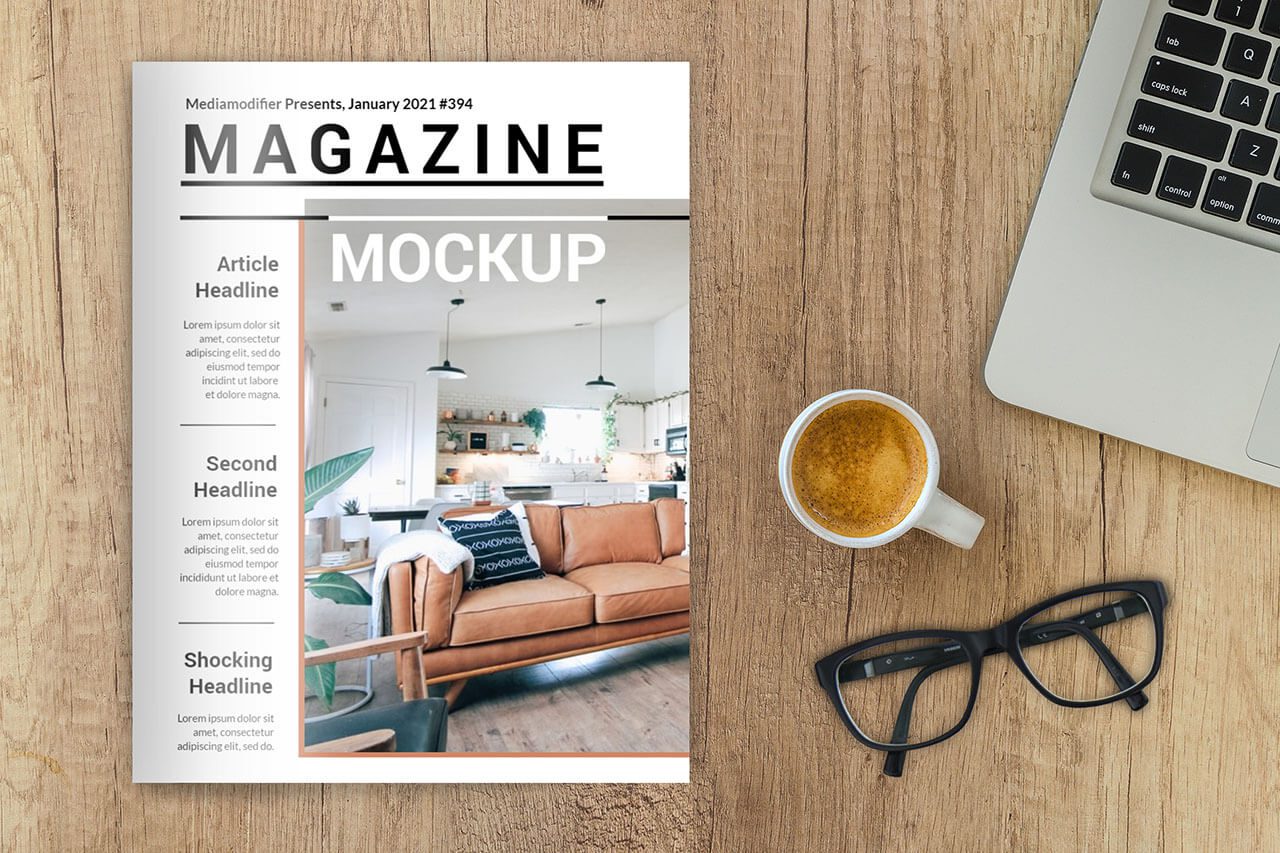 Coffee and a good magazine, I mean what else do you need? Well, reading glasses apparently! A flat-lay template for showcasing your magazine cover design on a wood desk, next to a laptop and reading glasses.
---
11. Woman Browsing a Magazine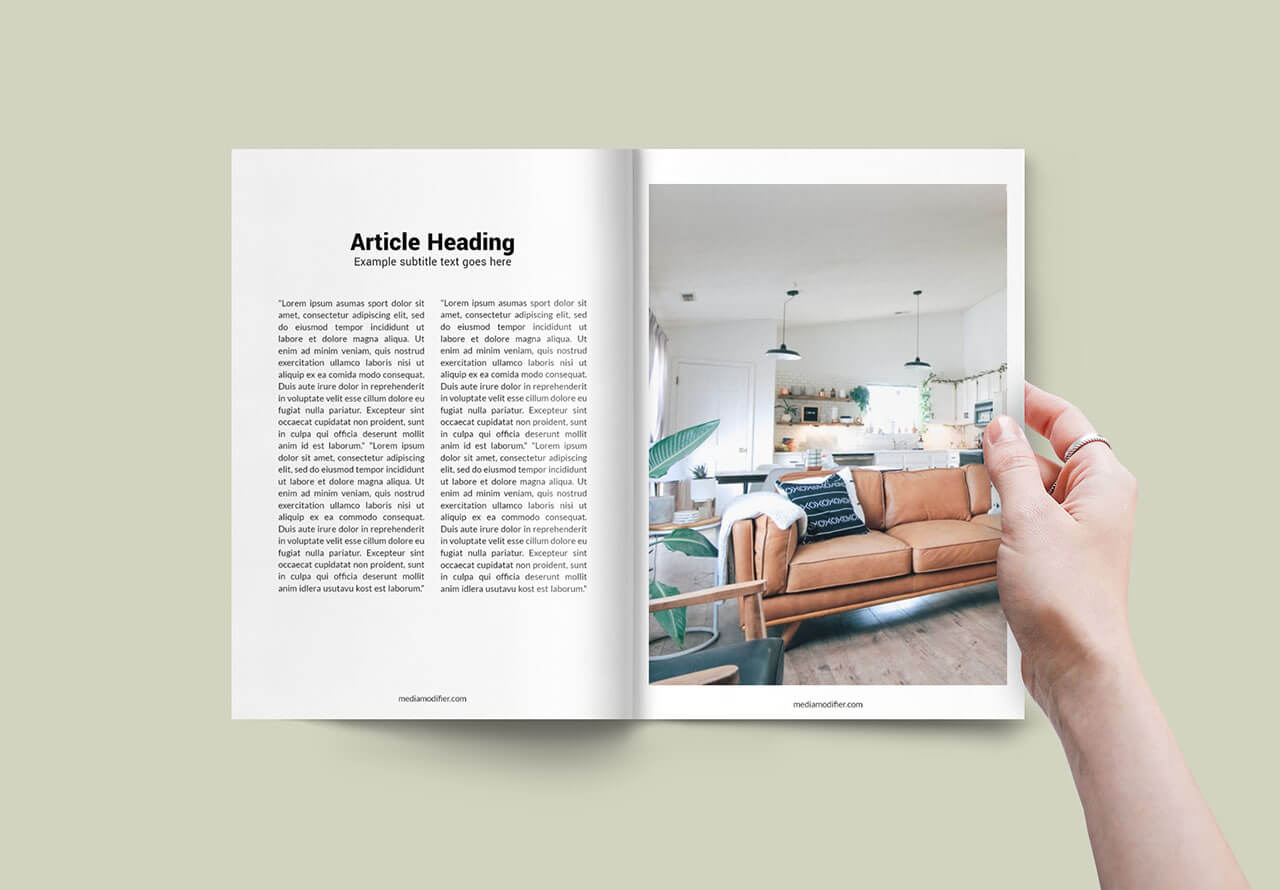 Add a bit of human touch to the scene by using this template featuring the inside of the magazine and a woman turning the page.
---
12. Magazine on Desk Mockup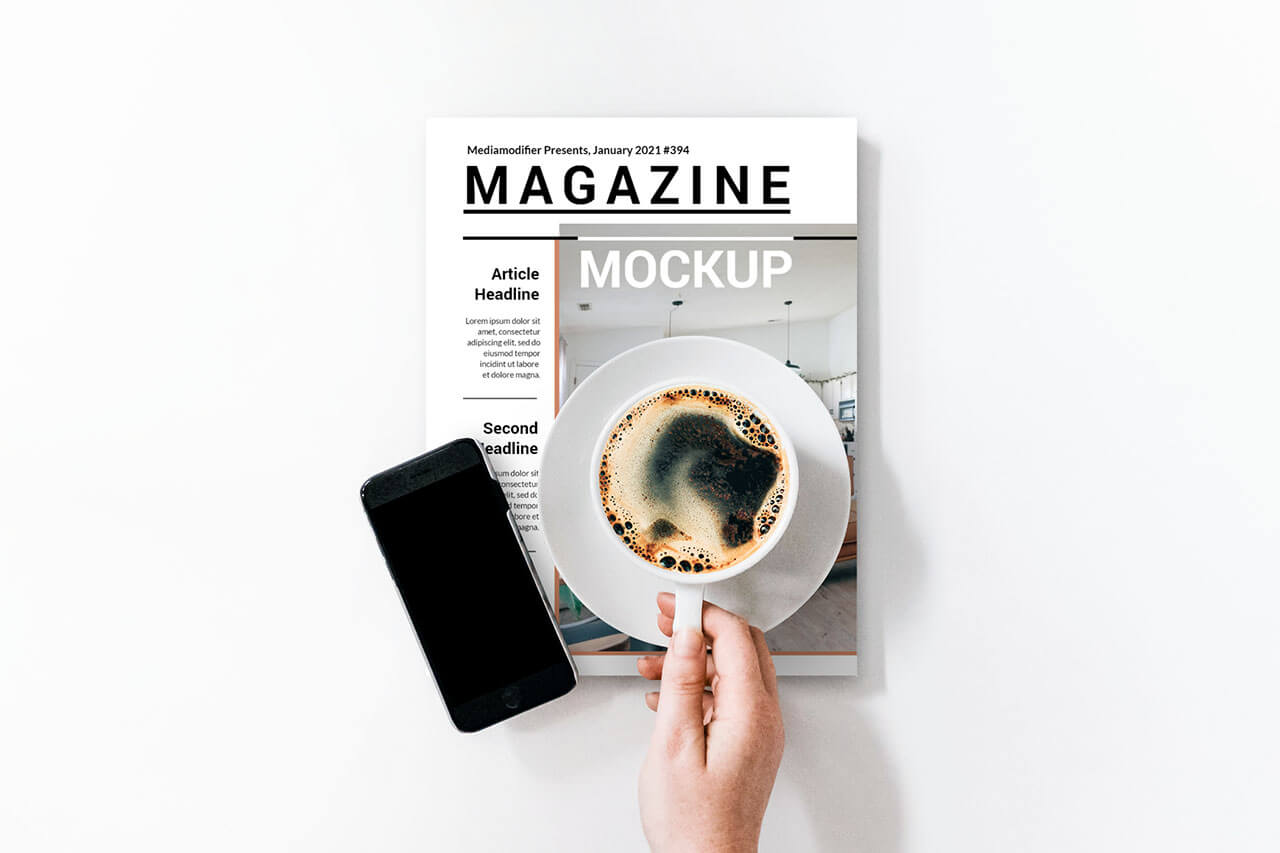 Well I hope you are not offended by the fact that your magazine is used as a coffee tray in this template! If not, then simply place your magazine cover into this template featuring a magazine on a table and a person grabbing a coffee.
---
13. Online Publication Mockup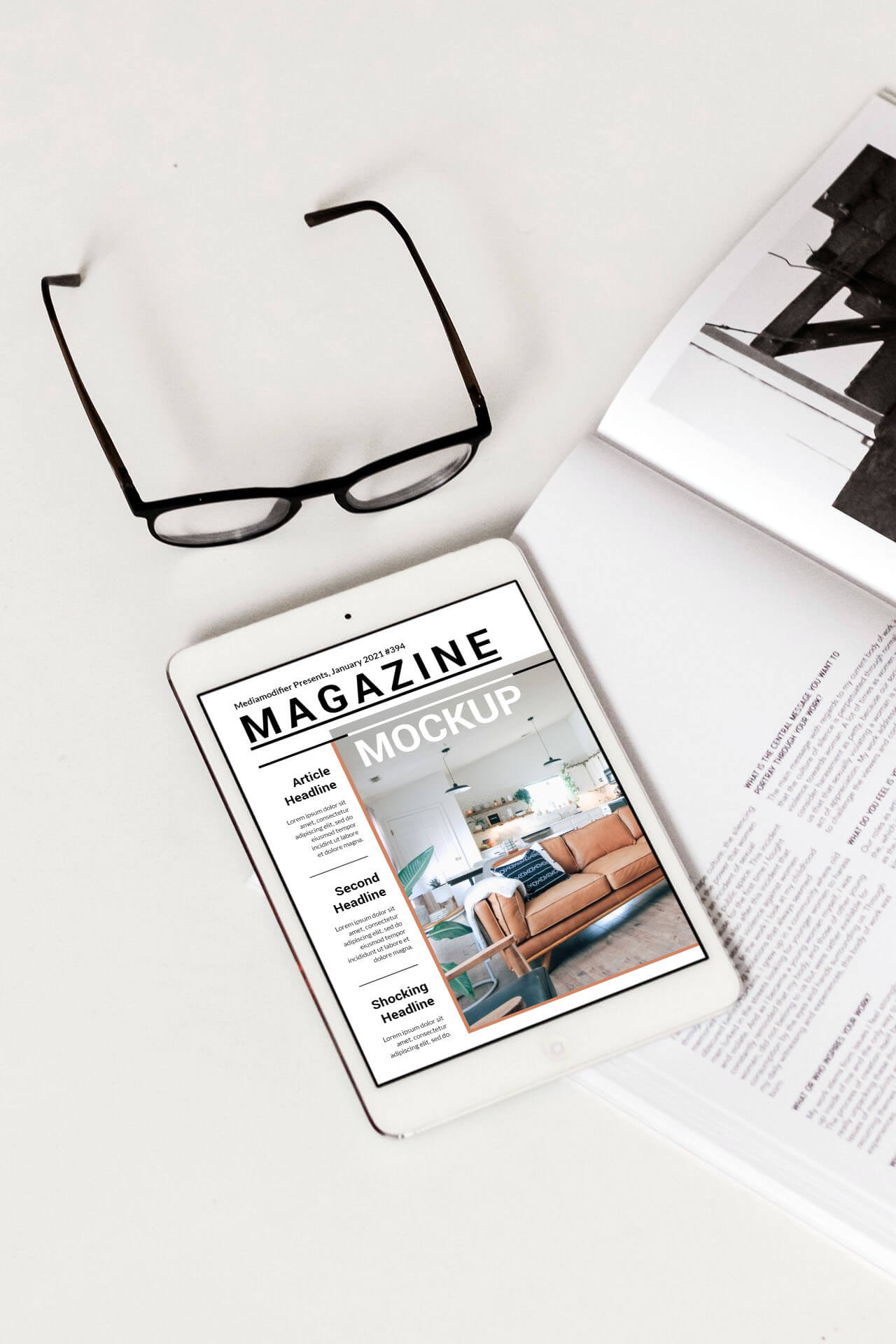 This template is perfect for showcasing your online magazine or magazine-themed blog layout. A beautiful scene with an iPad mini resting on a table, next to a real magazine and a pair of reading glasses.
---
14. Magazine Cover on Bed Mockup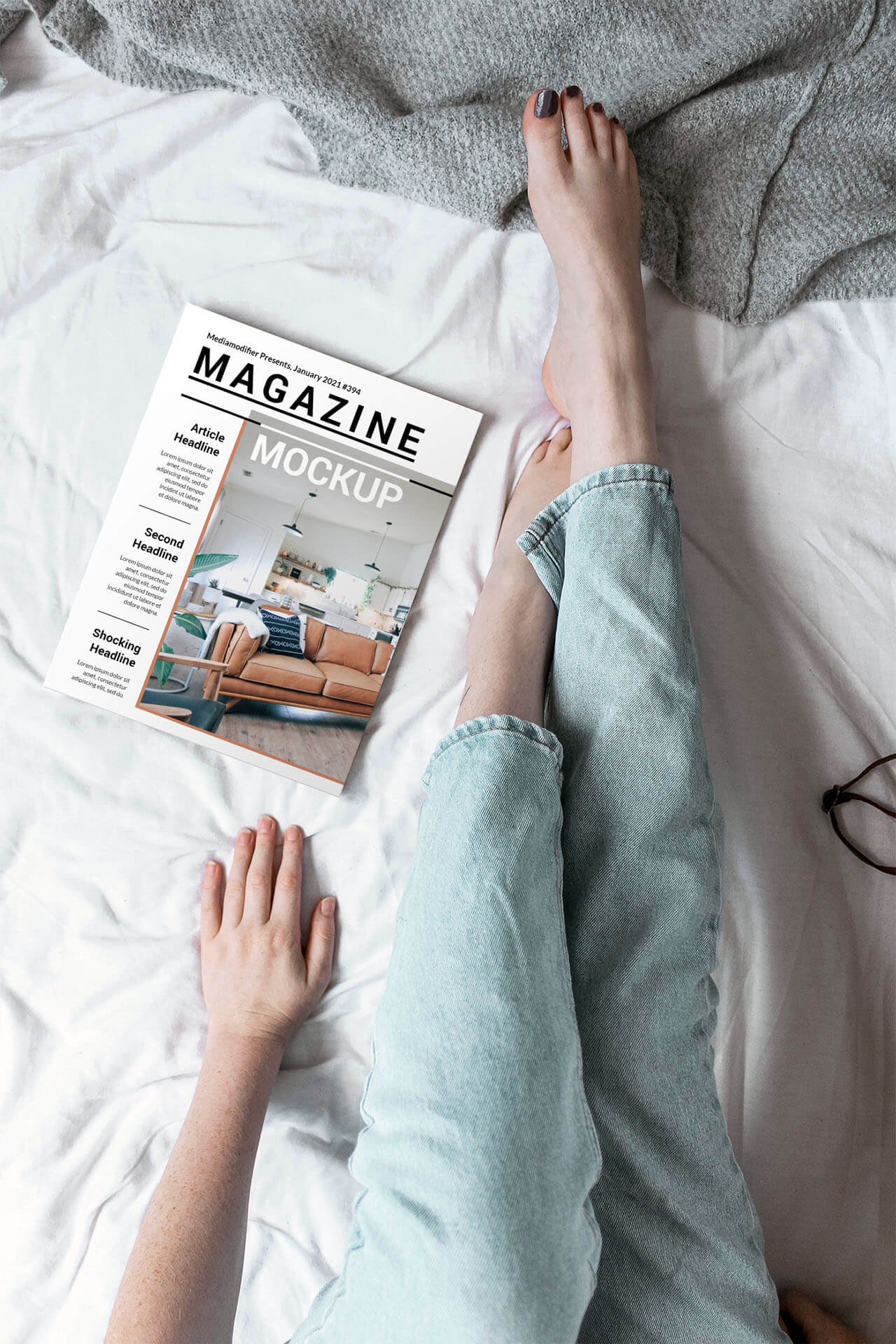 Is your hand too short? Looks like this magazine is out of reach for this woman! A great social-media-share-worthy mockup featuring a woman sitting on a bed and reaching for your magazine.
---
15. Real and Digital Magazine Mockup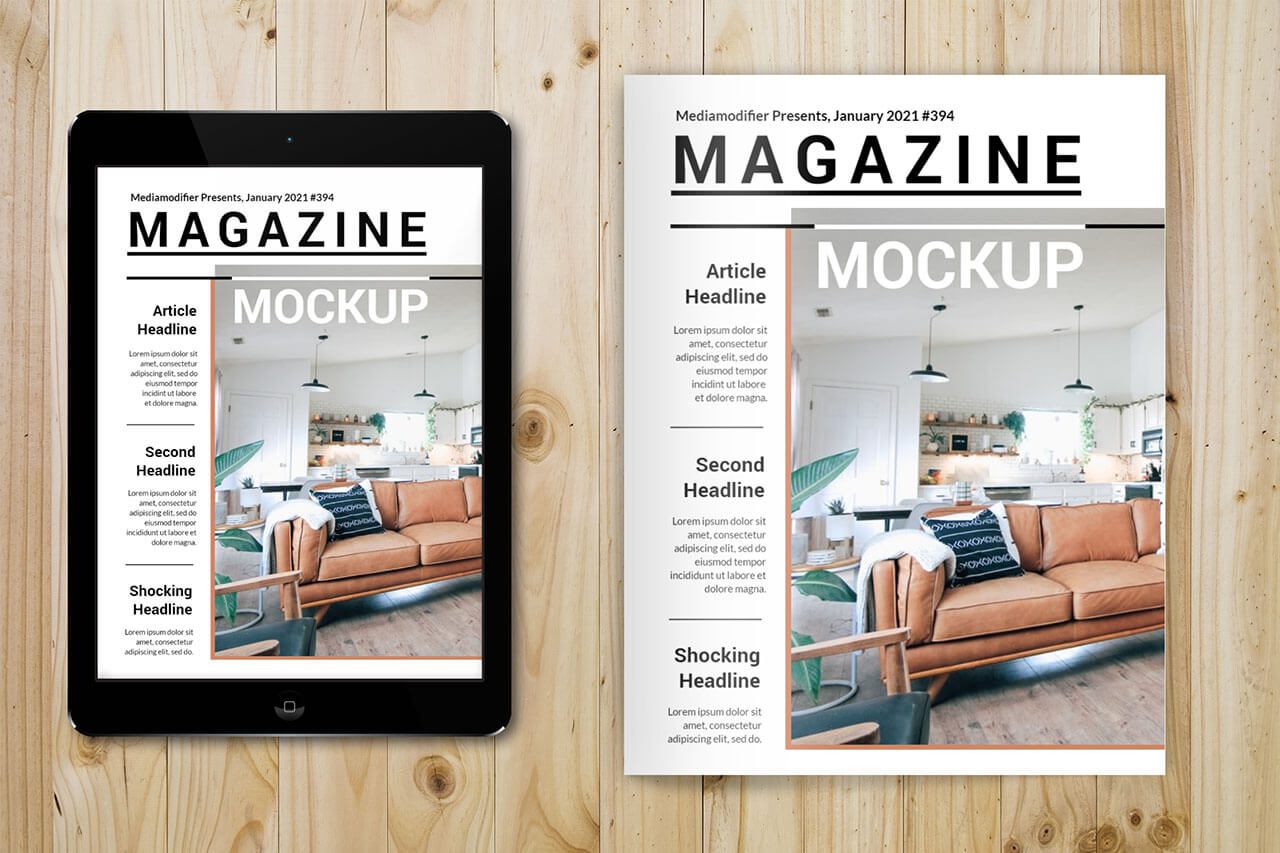 This mockup is perfect for showcasing that your content is available online and also as a real physical paper-printed copy. A magazine and black iPad lying on a wooden desk. The good old battle between print vs digital, or is it?
---
16. Magazine on Kitchen Desk
What's cooking in the kitchen? Does this template feature a top view of a magazine resting on a kitchen table, packed with your delicious cooking ideas and recipes?
---
17. Man Reading Magazine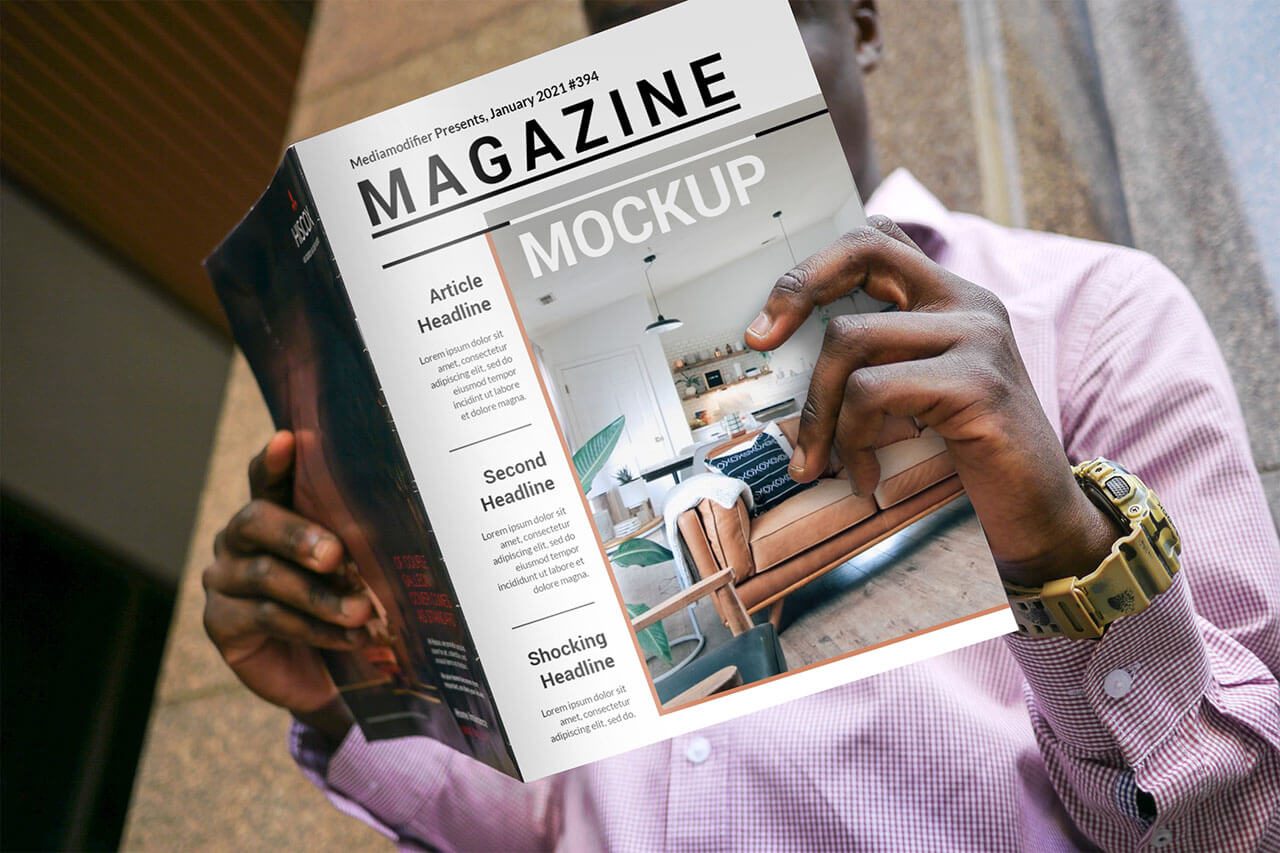 Get the latest headlines and trends with this template, which features a man reading a magazine on the street, fresh from the over.
---
18. Digital Magazine Mockup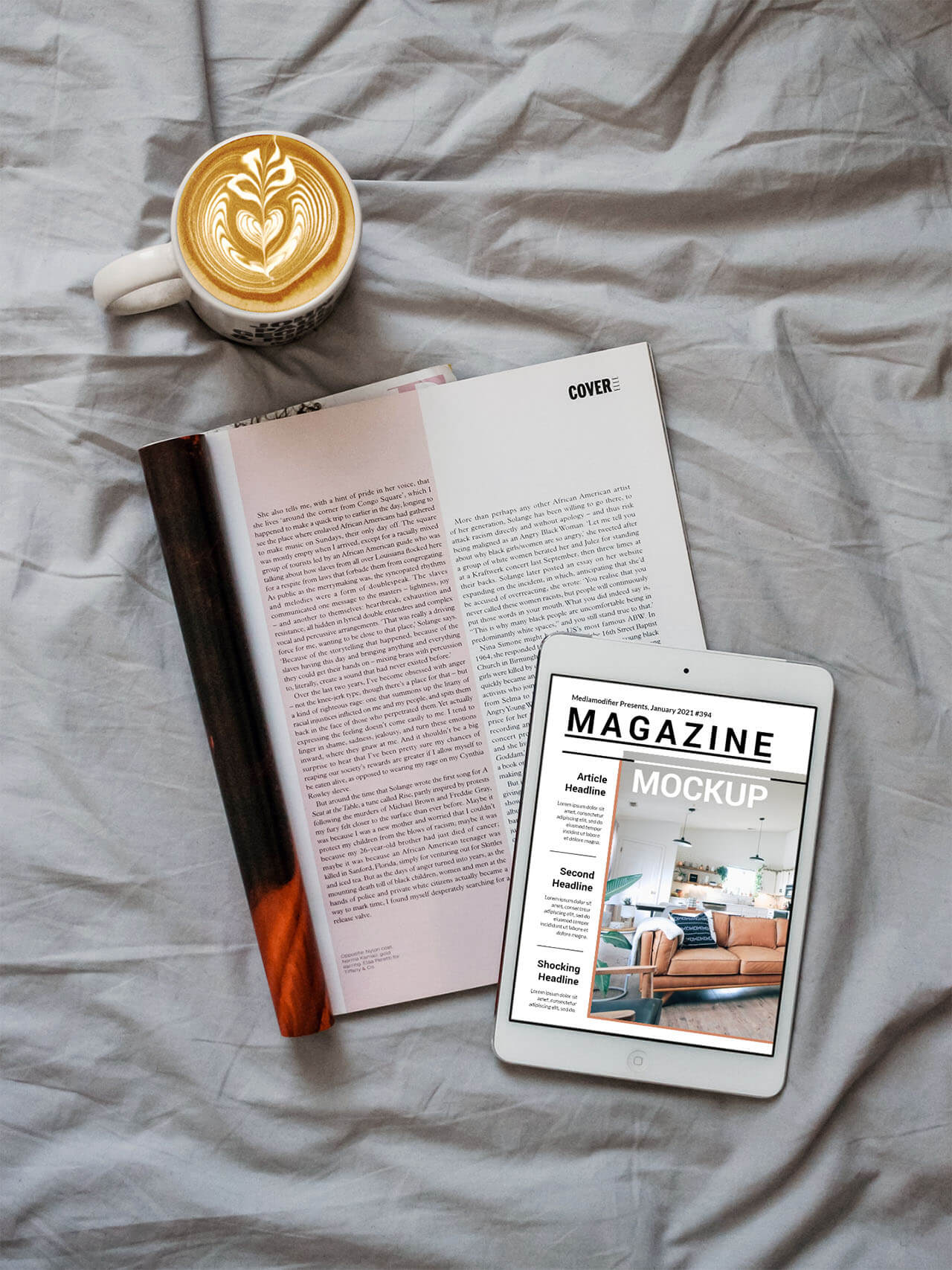 Sit back, relax and enjoy a good magazine is the concept of this template! A beautiful mockup for showcasing your digital magazine cover on a white iPad screen.
---
19. Woman Reading a Magazine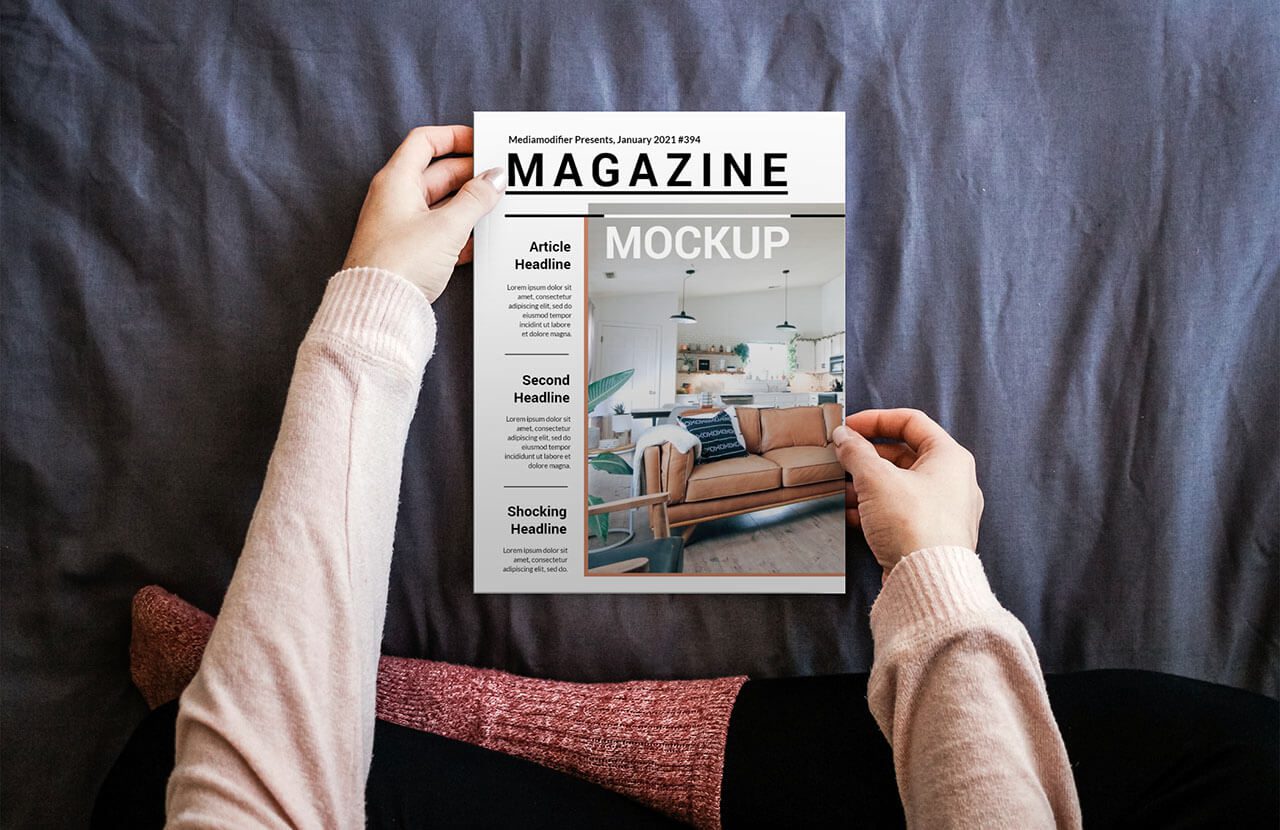 Can't wait to get my hands on this magazine! This creative mockup is great for showcasing your magazine or book cover. Don't forget to post the final image to social media, this image belongs there!
---
20. Open Magazine Pages Mockup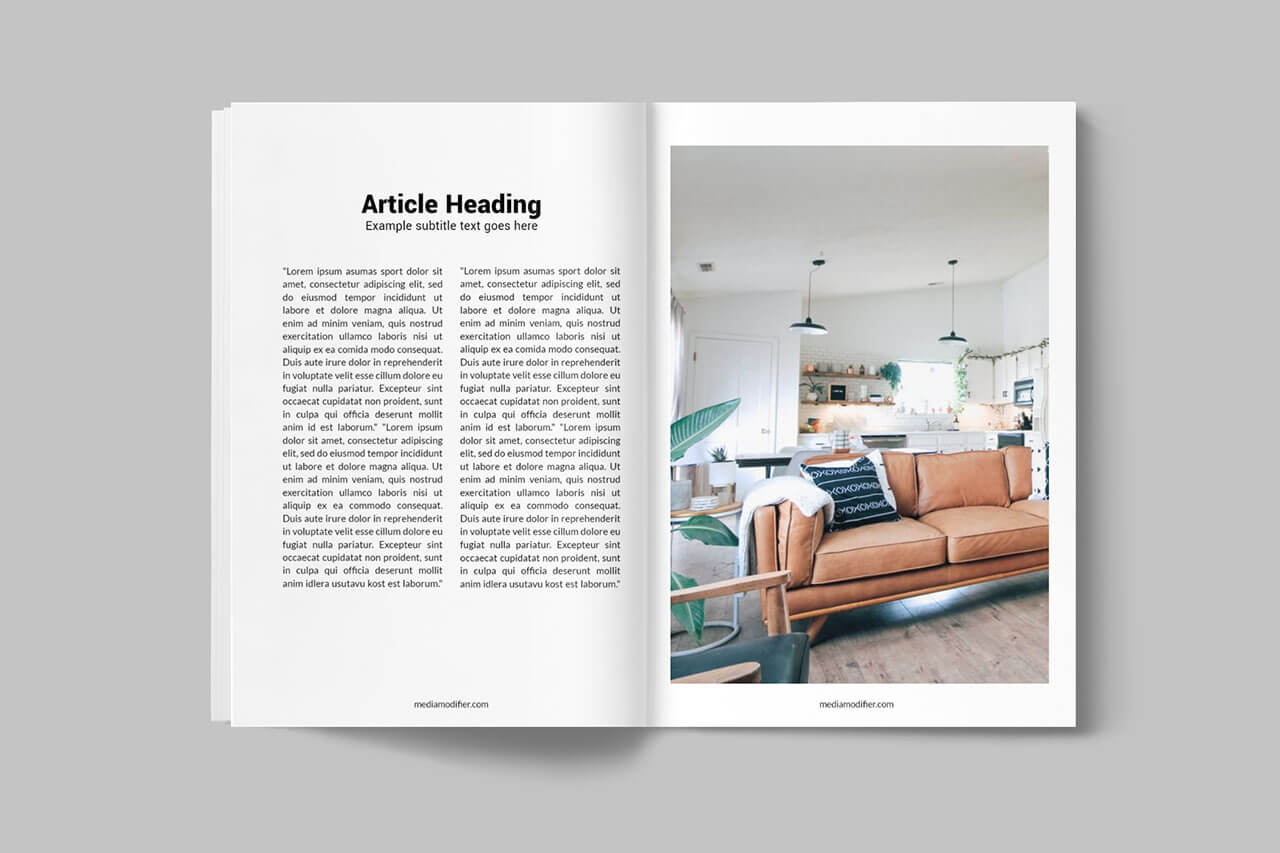 Enough of magazine covers! Use this beautiful template for displaying the inside design of your magazine. Top view of the magazine which is open from the middle.
---
21. Morning Newspaper and Magazine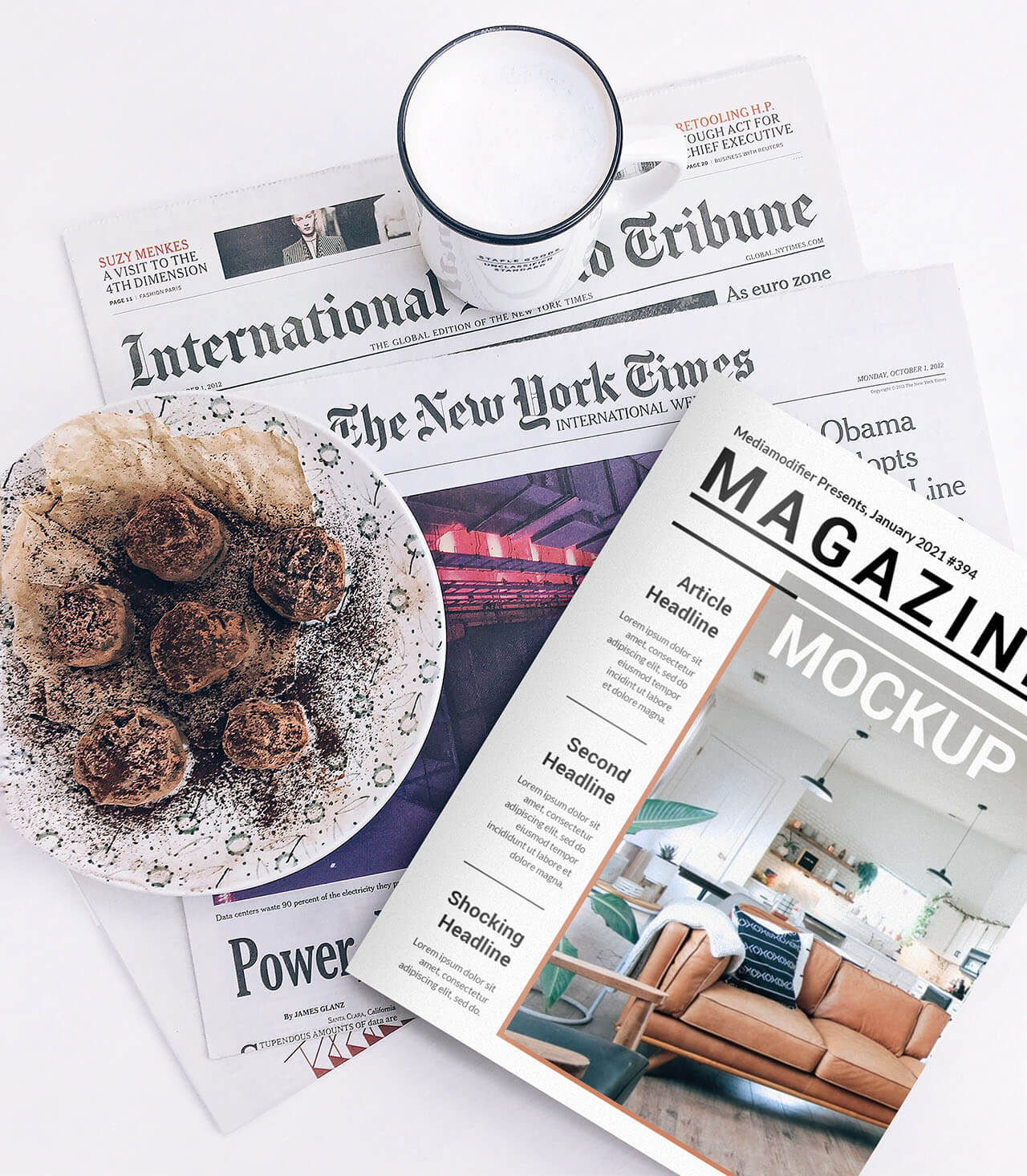 Milk, sweets, morning news, and your magazine! Place your magazine cover into this mockup and add a bit of emotion to your design by showcasing it in a real photo.
---
22. Magazine on Work Desk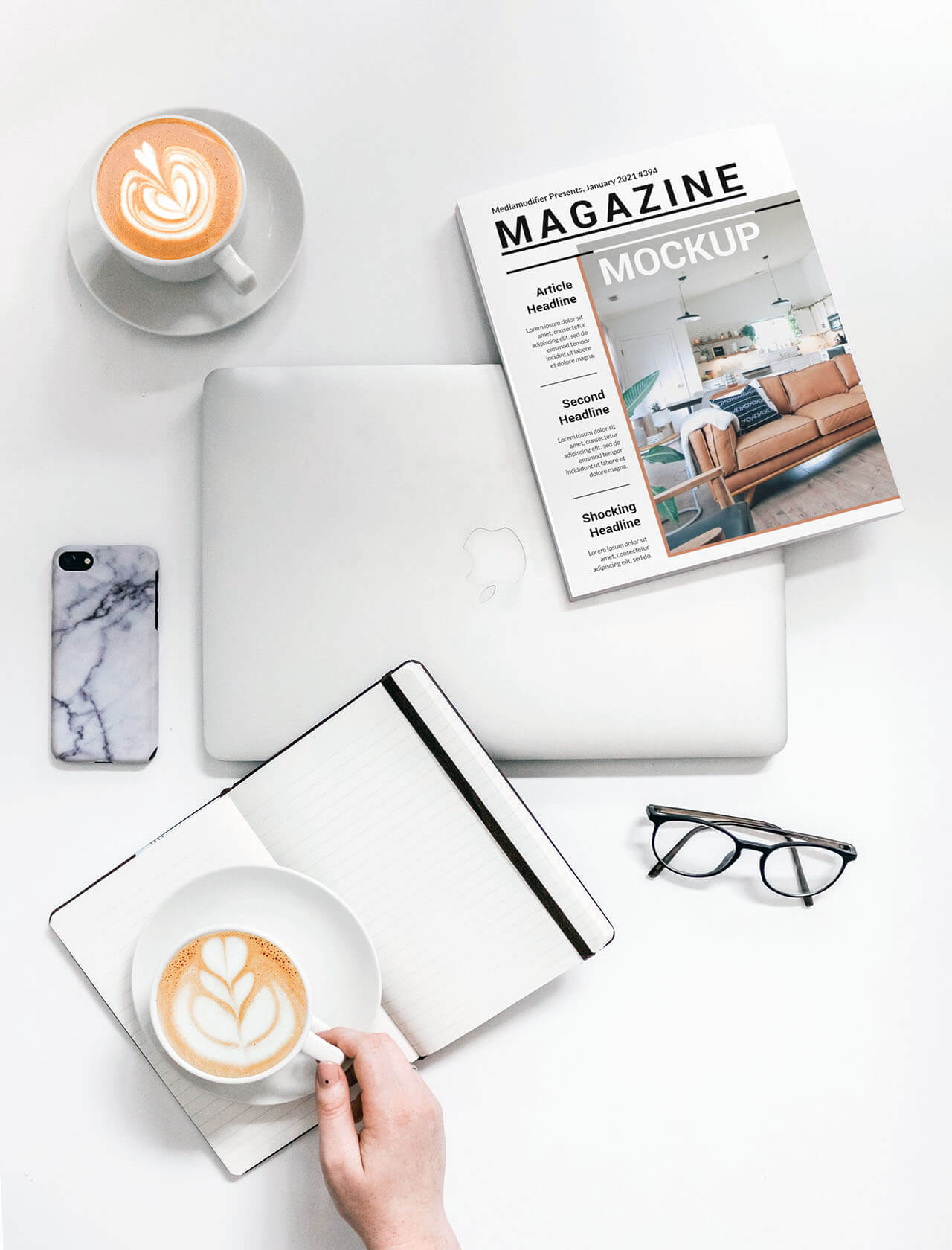 Wait what… 2 mugs of coffee? One for each hand? Place your magazine cover into this mockup template featuring a person battling with a bad memory (where's my coffee… ah well I'll just make another one) or a severe case of coffee addiction.
---
23. Magazine Cover on Bed Mockup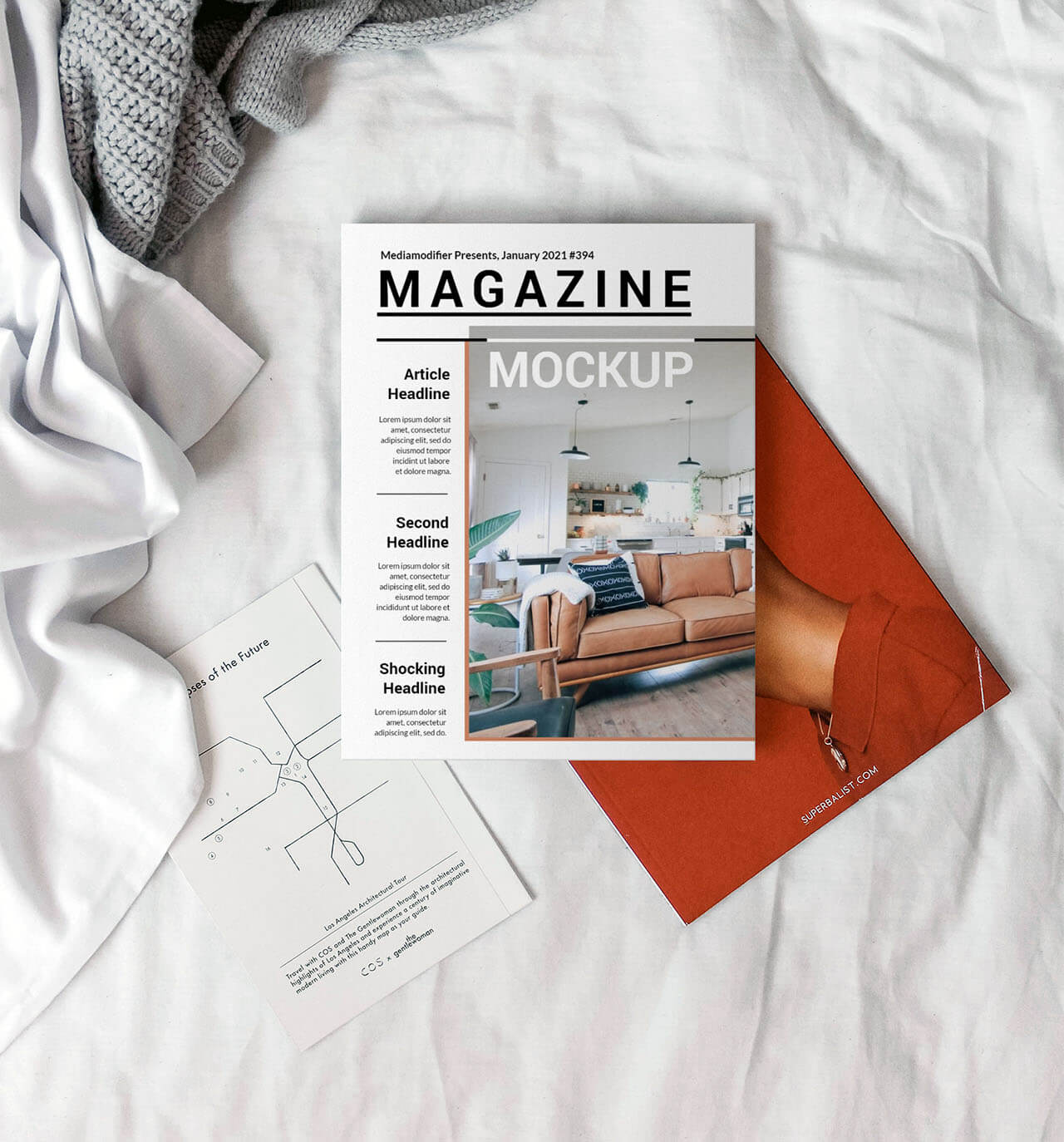 A magazine (or book?) lying on a bed on top of a few other magazines. A beautiful mockup concept for displaying your magazine cover in realistic scenery.
---
24. Magazine Cover Mockup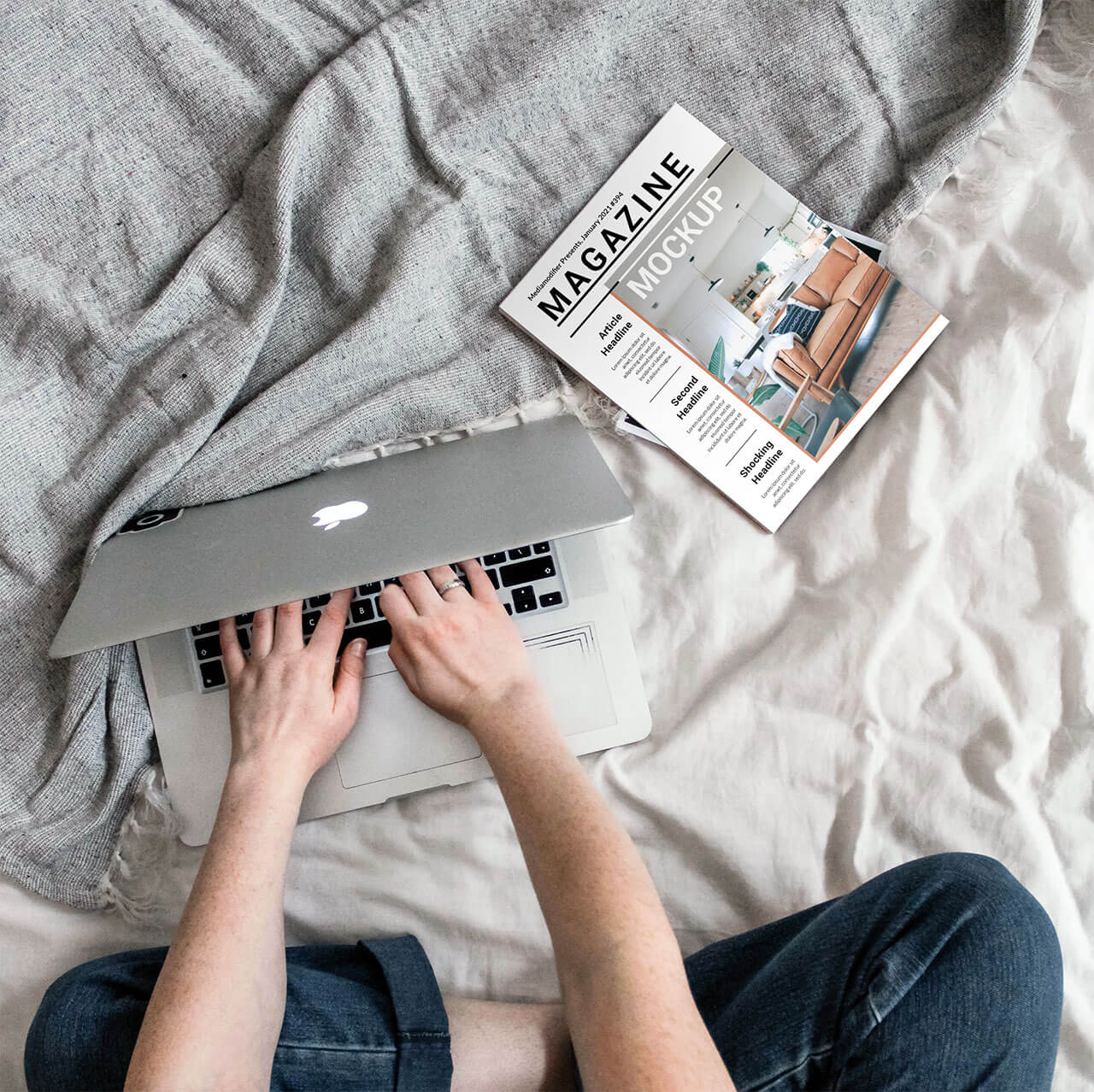 Use this template for placing your magazine cover in a realistic scene. Featuring your design on a flat mockup might be boring, so this template is more suitable for promoting your magazine on social media.
---
25. Woman Reading Digital Magazine on iPad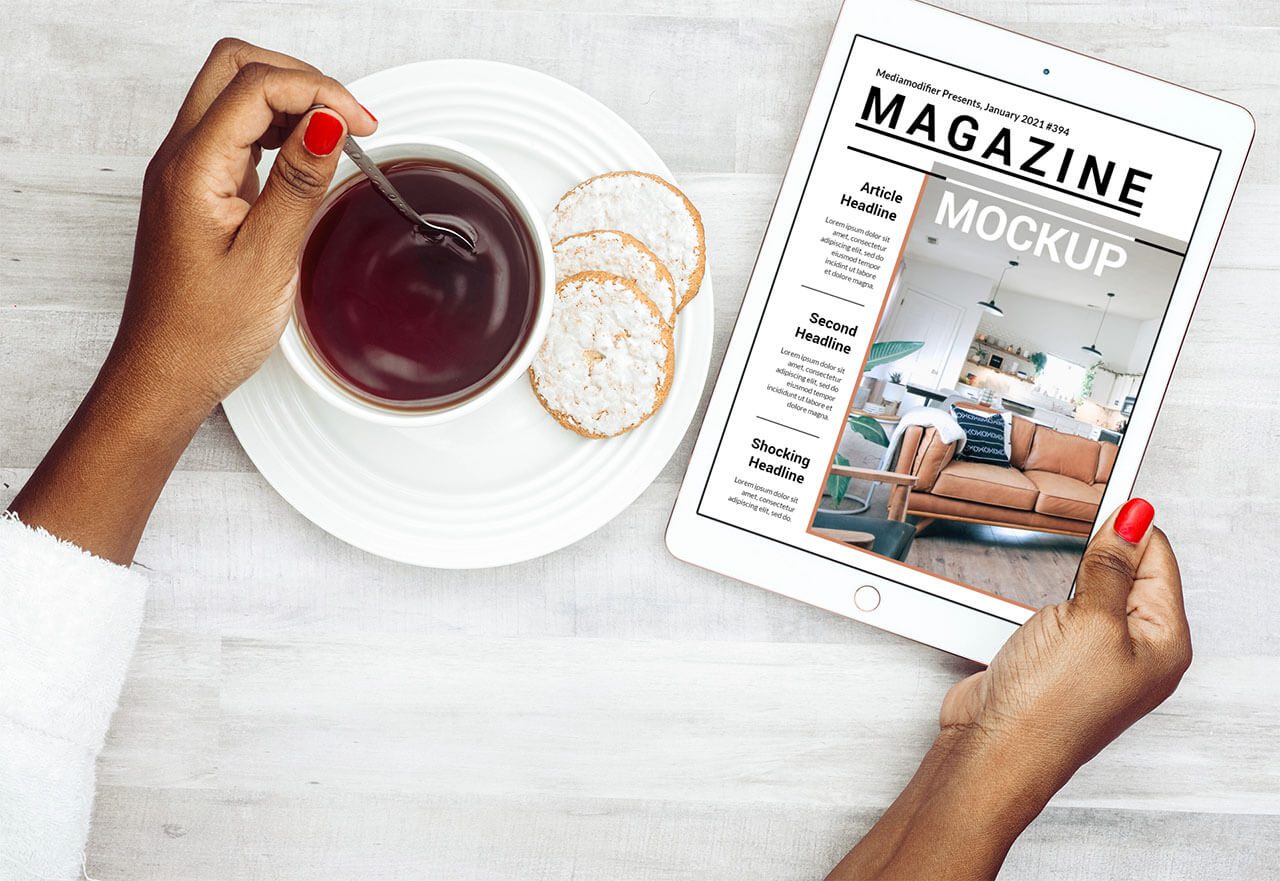 Who said a magazine should be printed on paper? Use this template to showcase your digital magazine or online blog. The features a beautiful scene with a woman drinking coffee and holding a white iPad.
---
26. Online Magazine Mockup
Magazines are not dead! A lot of them have simply online and are present in different forms, such as blog and social media communities. Use this template featuring an iPad mini to showcase your digital magazine or blog image.
---
27. Online Fashion Blog Mockup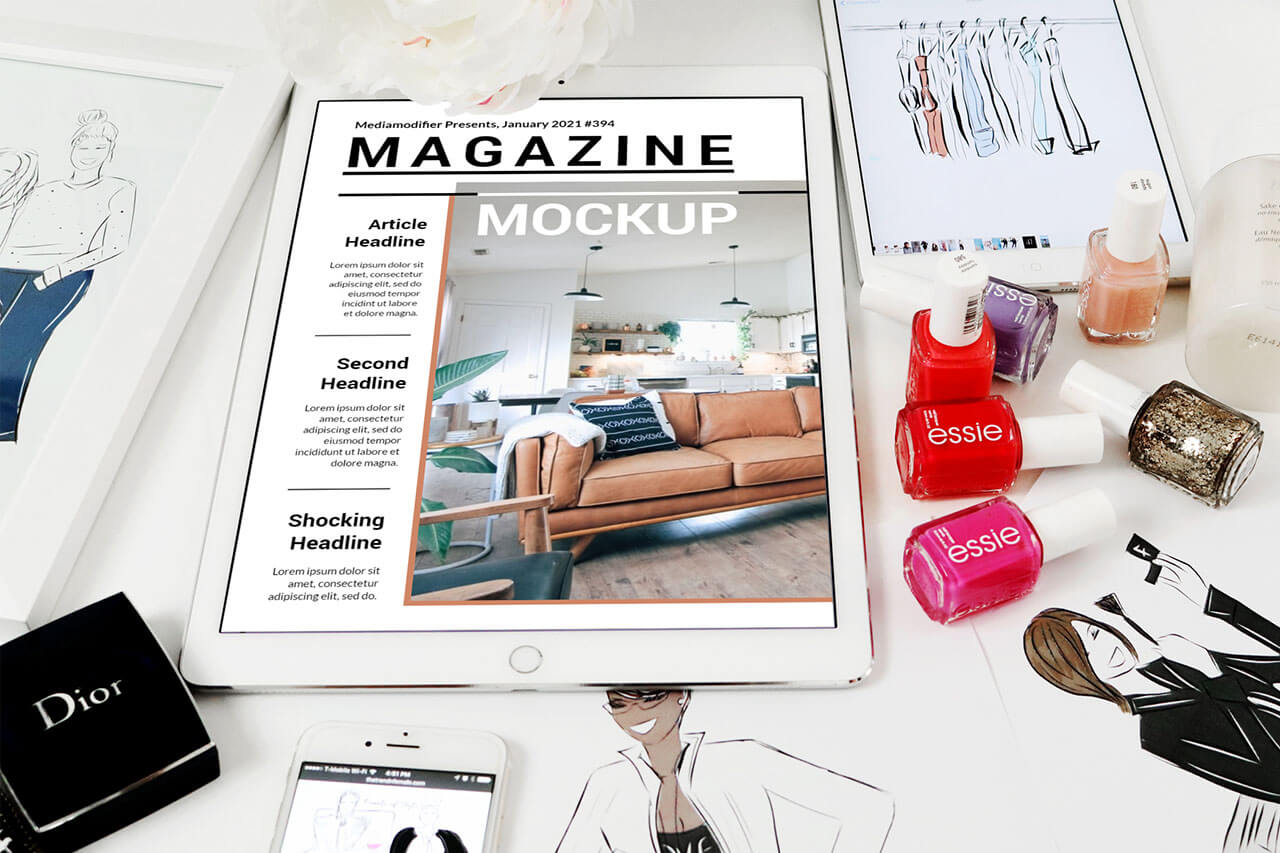 Does your blog or website write about style, fashion or makeup trends? Then this might be a perfect mockup template for you! Place your image into this beautiful mockup scene featuring a white iPad lying on a desk next to cosmetics and fashion-themed drawings.
---
28. Digital Fashion Magazine Template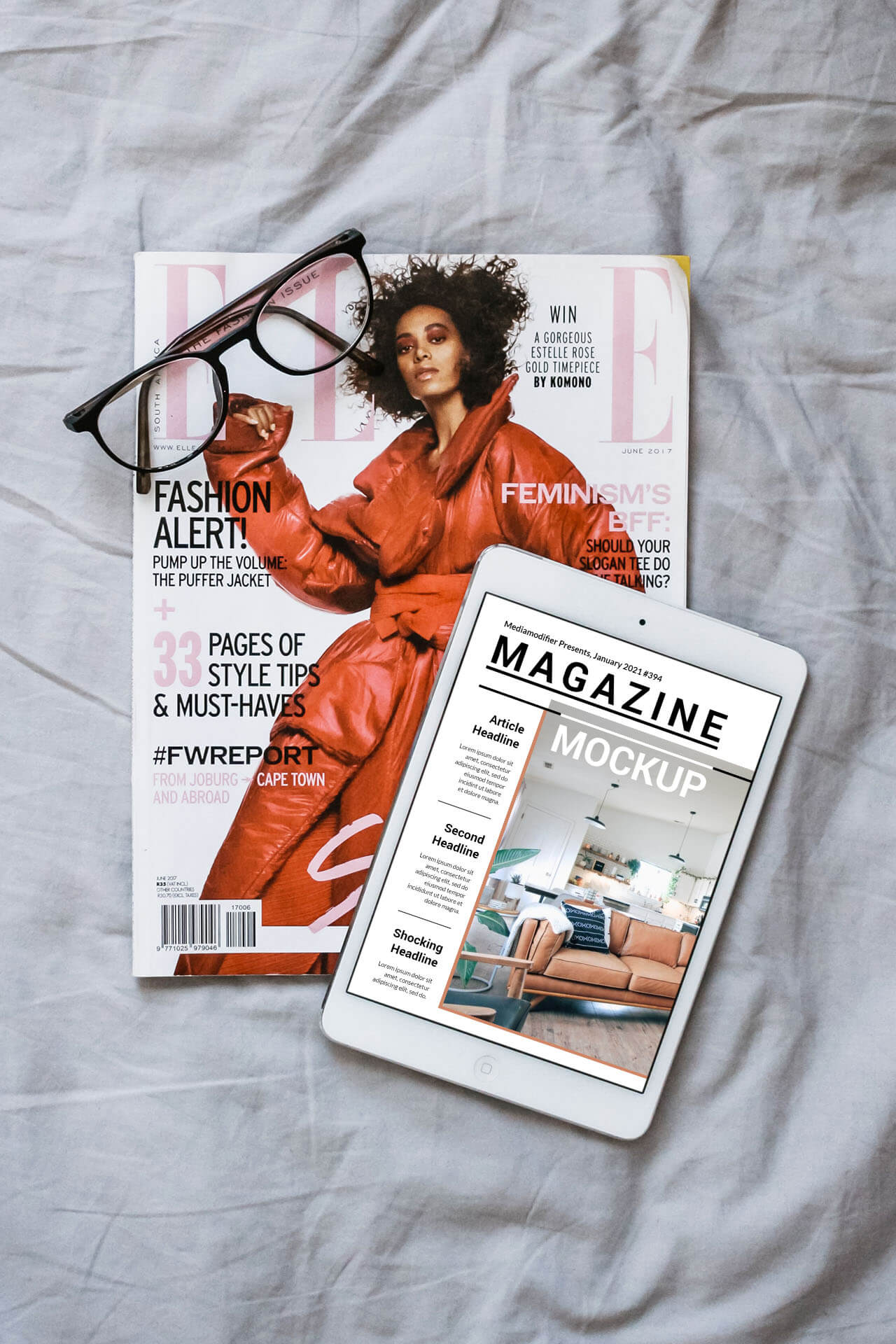 Place your magazine or website image in this template and showcase your design related to fashion and style.
---
29. Magazine Cover on Bed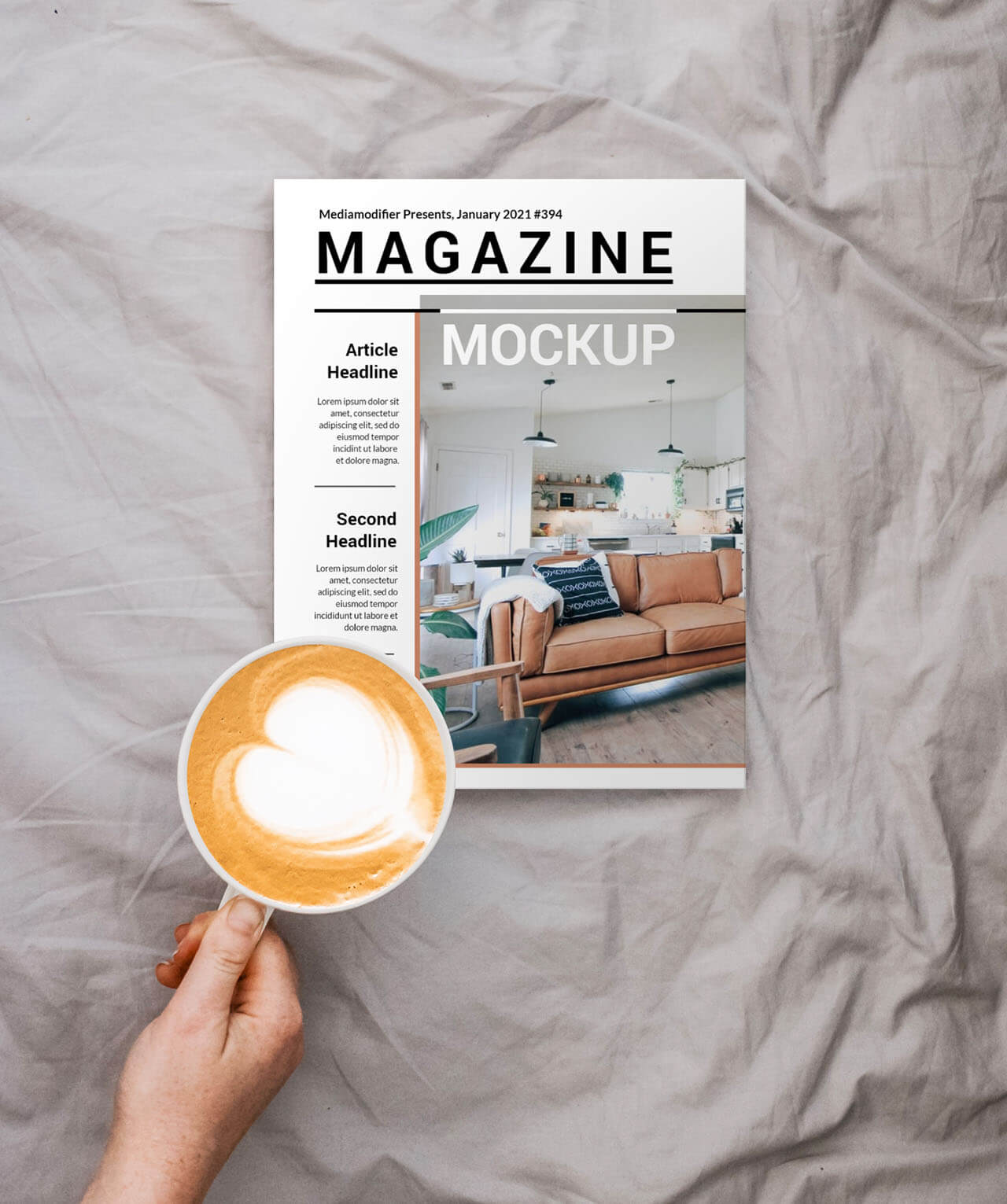 Grab a nice mug of coffee and spill it on the bed? I hope that's not the outcome of this template which features a person holding a coffee mug and a magazine lying on a bed.
---
30. Fashion Website Mockup on iPad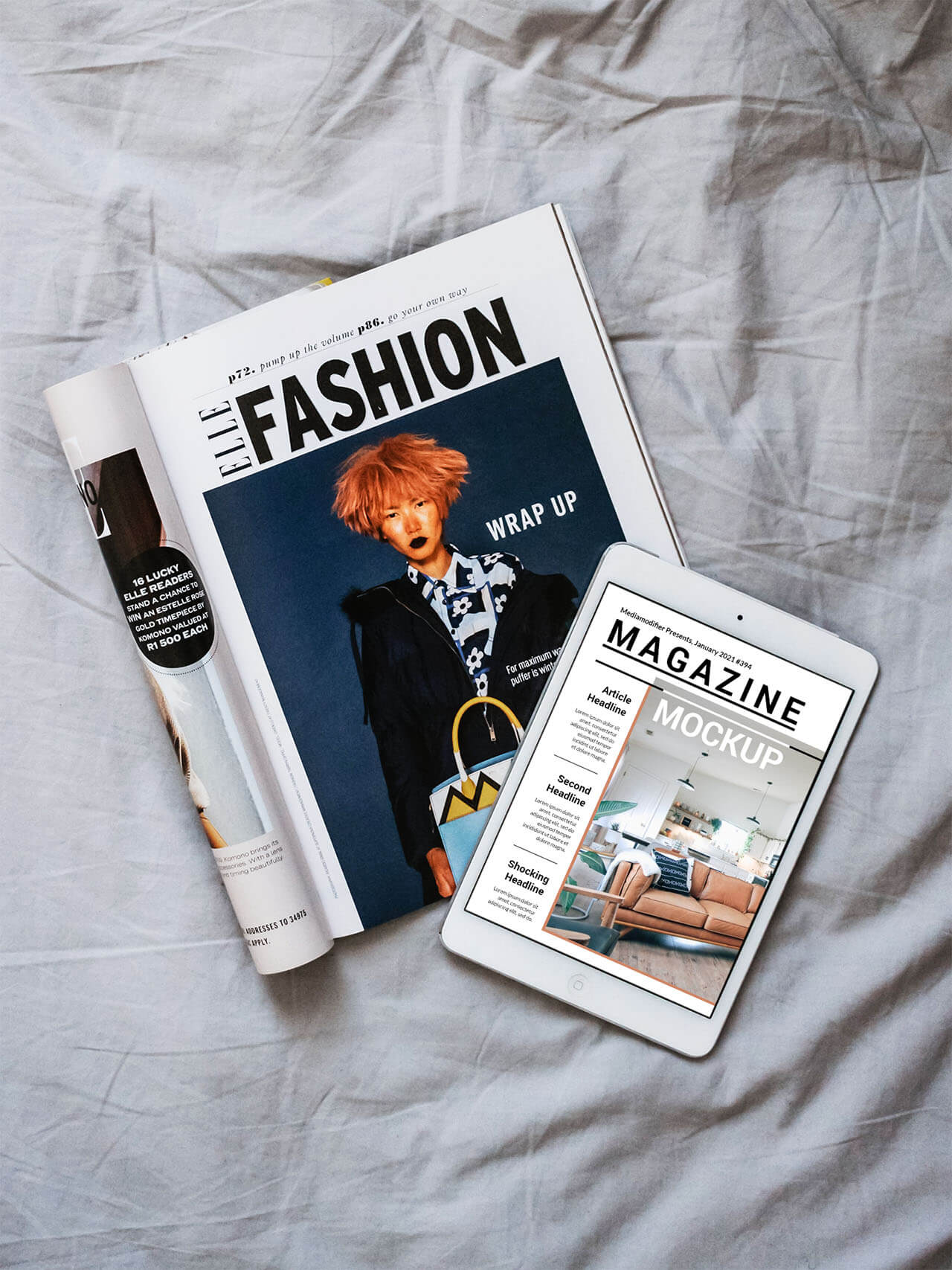 Collision of 2 worlds? This template features a digital magazine on a white iPad and a real fashion-themed magazine on a bed. But wait a sec… isn't this iPad out of fashion already?
---
Conclusion
Whenever you need a magazine mockup, be sure to remember Mediamodifier! We've got plenty of templates for showcasing your book, magazine, journal brochure, or any other print design.
If you didn't find a suitable template for showcasing your magazine design, be sure to let us know in the request forum. It doesn't matter if you're a registered user or a guest visitor – submit your mockup idea and we'll make it into a template for you!
NB: the example magazine layouts displayed in these mockups were all designed in our Online Design Maker app, and are also free to download:
I hope you enjoyed this post and see you again next time!
Visualize your design Use a product mockup to showcase your design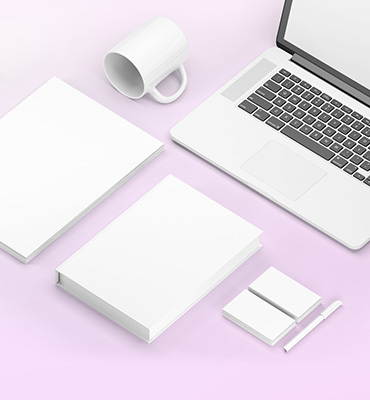 Create your design Use our templates to create delightful designs for any medium