How to Create a Basic Marketing Plan in 7 Simple Steps
•
August 24th 2021
•
7 minute read
Marketing is a word that often seems daunting for small business owners. They often juggle dozens of tasks on their own, and marketing doesn't get the full attention it deserves. Understandably, it's a big bone to chew if you don't know much about it. Where to begin? How much should I spend? What should I prioritize? We're here to help! Here are the first seven steps you should take to create a marketing plan for a small business.
1. Figure out your value proposition
Before we move on to any technical marketing bits, we have to cover the grassroots level. Define what your product or service is and what makes it unique.
There are lots of different tools you can use to do so. For example, the most classic ones are the SWOT analysis, a more detailed PESTLE version, Porter's Five Forces, and a perceptual map. Here's a short overview of these techniques, but we recommend reading more about each to choose one that suits your needs.
Please note there are lots more techniques to use, like the three levels of product, value proposition canvas, etc. You know best what tools are most beneficial for your business and your marketing plan.
SWOT analysis
A SWOT analysis defines your business' current strengths, weaknesses, opportunities, and threats. What works well? Could something be done better? What can help you stand out from the rest? Spend a little time on this, as this will form the base for your marketing strategy.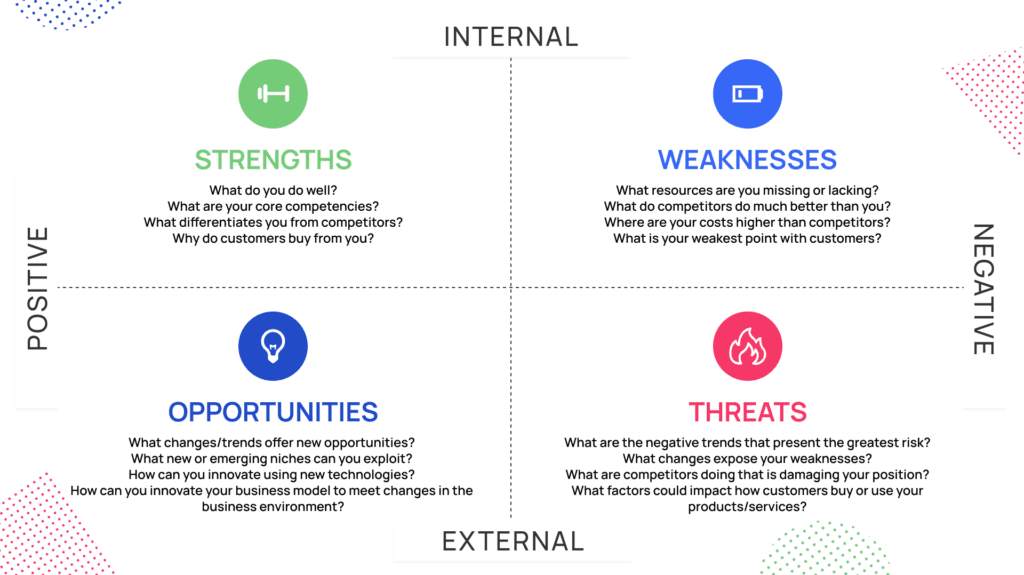 PESTLE analysis
Now that you've covered the internal factors that influence your business using a SWOT, it's time to analyze external factors. You can do this with PESTLE, which stands for Political, Economic, Social, Technological, Legal and Environmental factors.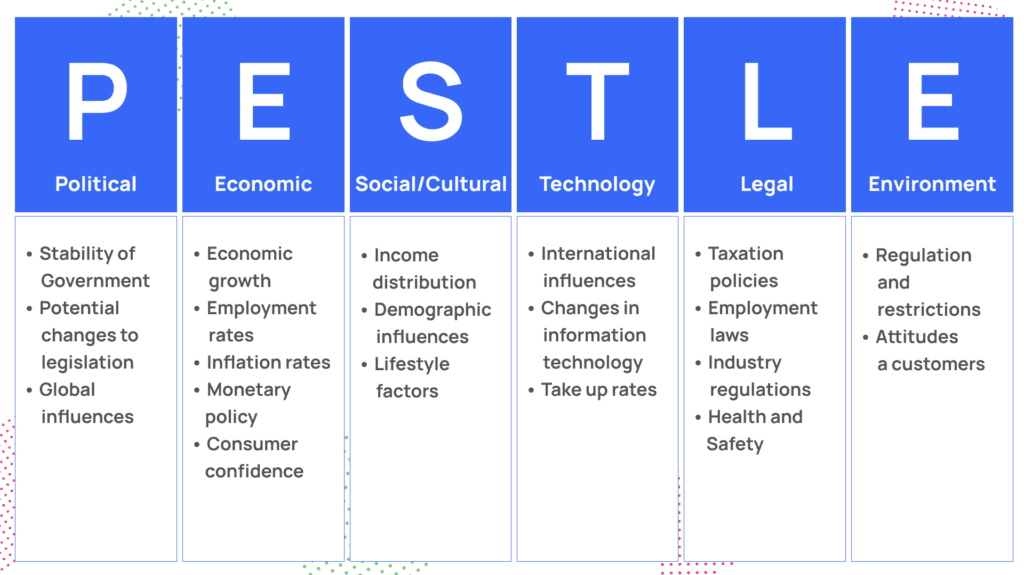 Porter's Five Forces
Porter's Five Forces is an analysis of the industry's competitiveness. Understanding the industry you're operating in will help you position yourself. According to Porter, the four primary forces in play are the number and power of a company's competitive rivals, potential new market entrants, suppliers, customers, and substitute products influence a company's profitability.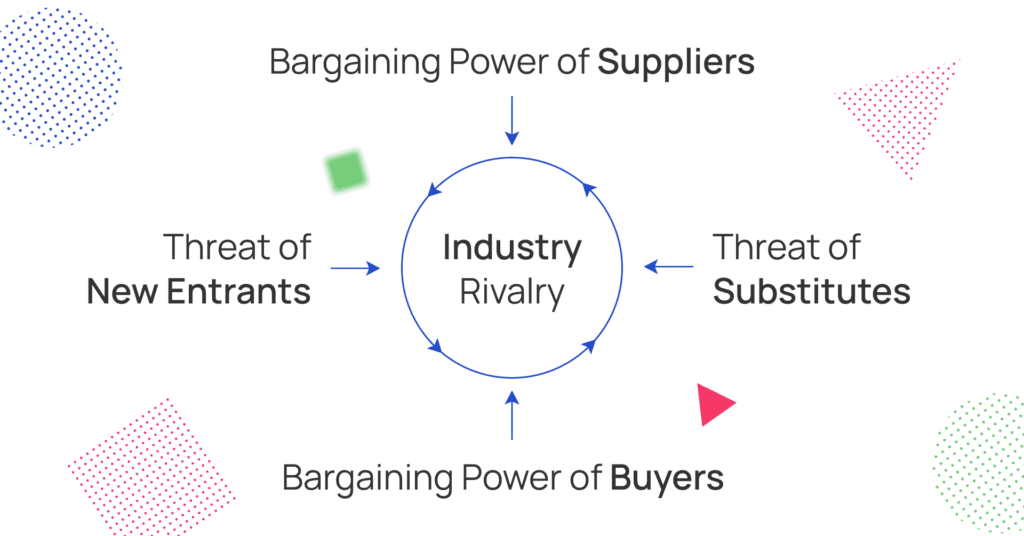 Perceptual map
A perceptual map is also known as competitor mapping. It's a technique where you determine how customers perceive your product or service in relation to your competitors based on core characteristics. By doing this competitor analysis, you might find a gap in the market to position yourself in, or help you price your product just right.
2. Define your target audience
Now that you've determined what your product or service is and how you position yourself, it's time to tackle the next hurdle. Who is your customer? Who is the person who is going to help your business succeed? You need to know your target audience inside and out. How old are they? What's their profession? What do they do for fun?
We recommend starting with creating your ideal persona(s). That means a semi-fictional profile of your dream customer. If you can think of a couple of different personas, go for it, but it's recommended not to create more than 3. Otherwise, you will tear your focus into too many different directions.
There are many tools to help you do that, such as Hubspot's "Make my Persona," UXPressia's Personas Creation, and Xtensio's Persona template. Of course, you can create your own from scratch, either on paper or in the design editor.
Understanding your ideal consumer is thinking about what social media they use, where they get their information from, and where they usually purchase the said product/service.
3. Create your customer journey
A customer journey is essentially the process through which a customer will make a purchase. In a simplified version, this consists of five steps: awareness, consideration, acquisition, retention & advocacy.
What are your business' touchpoints for each of these steps? What channels and marketing techniques will you use to motivate your consumer to move up to the next step in their journey?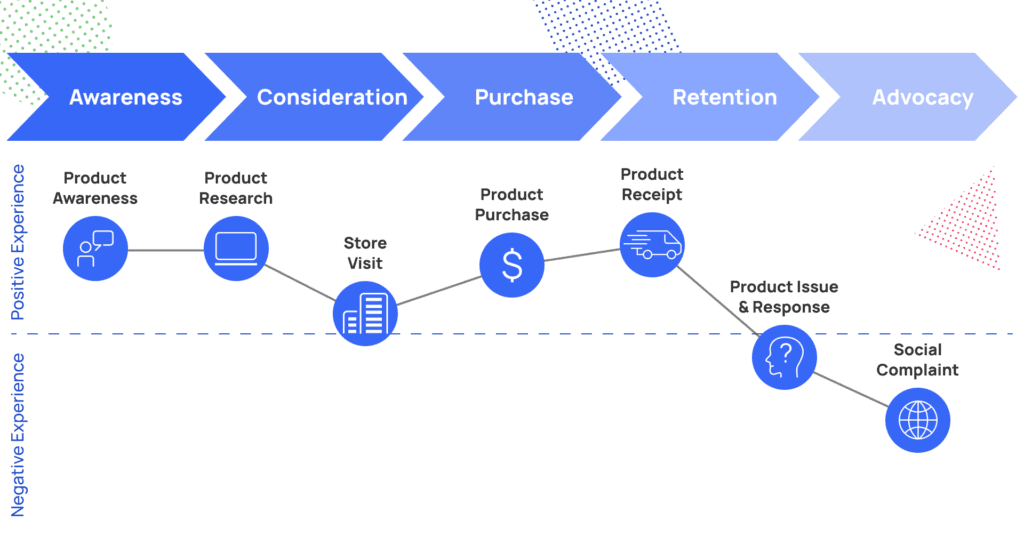 Awareness
Long before someone purchases something, they have to be aware you exist, and you have to solve a problem they have. The most common brand awareness marketing techniques are display ads, Google Search, and word of mouth.
Consideration
The marketing "Rule of 7" states that a person needs to hear about your brand seven times before they decide to make a purchase. Once they become aware of a problem they have & they know you exist, the consideration stage starts. This is where you convince them that they should purchase from you and not any of your competitors. Educate them on your benefits.
Purchase
Woohoo! Congratulations. You secured a purchase. Nevertheless, the consumer journey doesn't end when the money makes it to your bank account.
Retention
It's a lot cheaper to retain a customer than go through all the first steps again, so follow-up, set up retargeting ads, and offer customer support to keep them happy and coming back.

Advocacy
In the best-case scenario, your customer will spread the word as a loyal customer and invite all their friends to purchase as well. Word-of-mouth is one of the most trustworthy marketing and communications methods.
4. Map out the channels you're going to use
When you've mapped out your customer journey, you need to figure out what channels you'll use to help your customer move from one step to the next. These need to match your persona. What platforms do they use most? For example, for 24 to 44-year-old business professionals, you might want to use LinkedIn. For a younger demographic, perhaps you should look at TikTok. Then there's Google Adwords, influencer marketing, WeChat, Viber, print ads, outdoor campaigns, email marketing, etc. Do your homework on your persona. That will help you decide what channels they will use to progress on their journey towards a purchase and beyond.
5. Create a digital funnel

The digital funnel is another scary marketing word that doesn't have to be scary. As previously mentioned, no one will make a purchase based on one ad. If you're doing digital marketing, you should set up a funnel in your marketing plan — one ad for brand awareness, a different one for consideration, etc. Perhaps add a retargeting ad in the mix for those who have abandoned their shopping cart. Don't forget about the people who have already made a purchase! They're just as important as all the millions of potential buyers.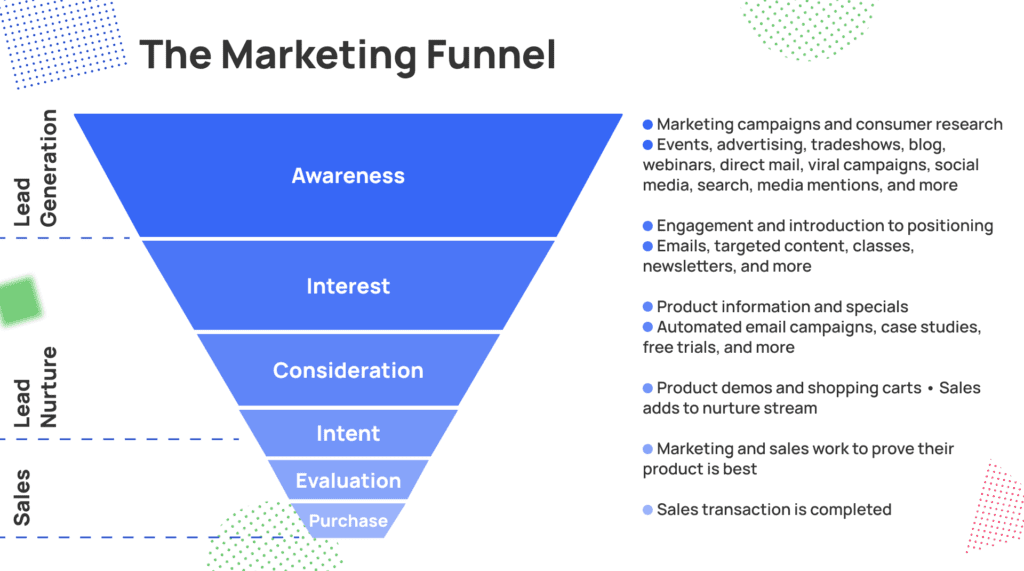 6. Work on your branding & key messages
You know your product, your customer, and you know what channels you're going to use. What next? You're going to need an attractive landing page, stunning visuals & catchy messages to be memorable. You need to think & talk like your persona. How can you present your business in a way that makes their eyes sparkle?
Thankfully, there are tons of tools that help you create gorgeous designs with 0 design skills. From web design to business cards to social media posts, you can use templates, to begin with before investing in massive design updates.
7. Optimize your marketing plan
A large part of your marketing plan is testing and seeing what works and what doesn't. If something doesn't work, for example, an ad is not providing conversions or a cost per click is too high, analyze why. Could your target audience be defined better? Maybe your visuals aren't as eye-catching as they could be. Or your call to action isn't strong enough. If your bounce rate is high, perhaps you could improve something on your homepage.
We recommend running A/B tests at least on Facebook & Google to test different ad variations to see what works best for you. Even if something has been working for you for ten years, it's worth running a couple of tests from time to time to see if your ads really have stood the test of time or if maybe something could be working even better.
That's it! You've taken the first seven steps towards leveling up your marketing plan. What else would you like to know about?
Visualize your design Use a product mockup to showcase your design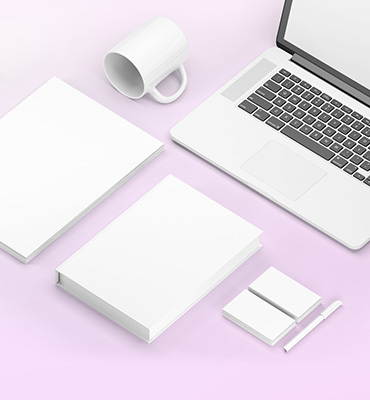 Create your design Use our templates to create delightful designs for any medium