25 Most Popular Android Mockups
•
March 15th 2021
•
6 minute read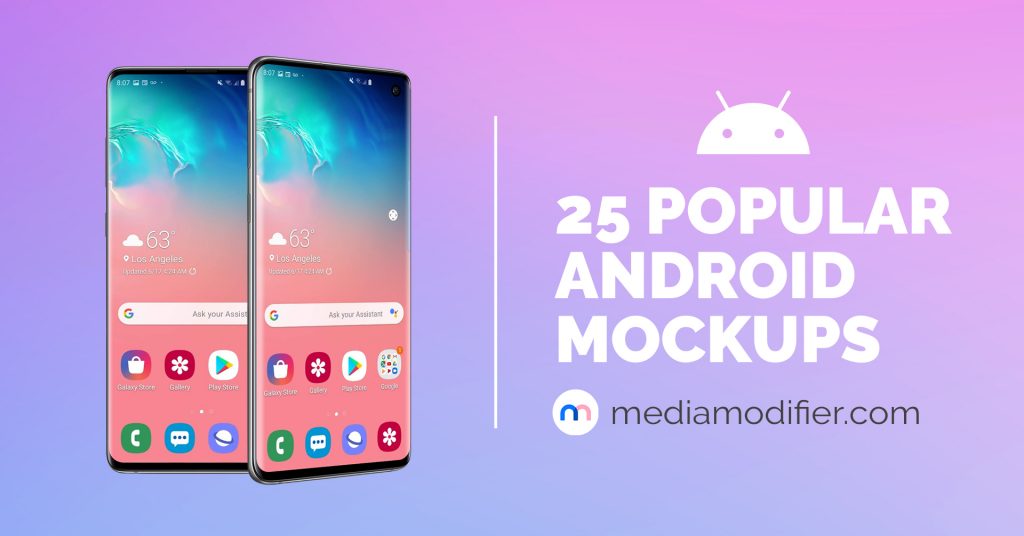 Android phones have by far the biggest market share in the world. According to Statista, 71.93% of all mobile users globally were using an Android device. It only makes sense to incorporate Android mockups into your marketing strategy – they are in the majority after all!
Which model should I create a mockup for?
In absolute popularity, the most used phones are from the Galaxy series, but that only covers a fraction of all possibilities, but there are over 1500+ Android models out there!
To make deciding a little easier, below you can find 25 of the most used Android mockups on Mediamodifier. Remember, they're all customizable so just pick a template and upload your own image. You'll be done in 2 minutes.
1. Softcover and Digital Book Cover Mockup Generator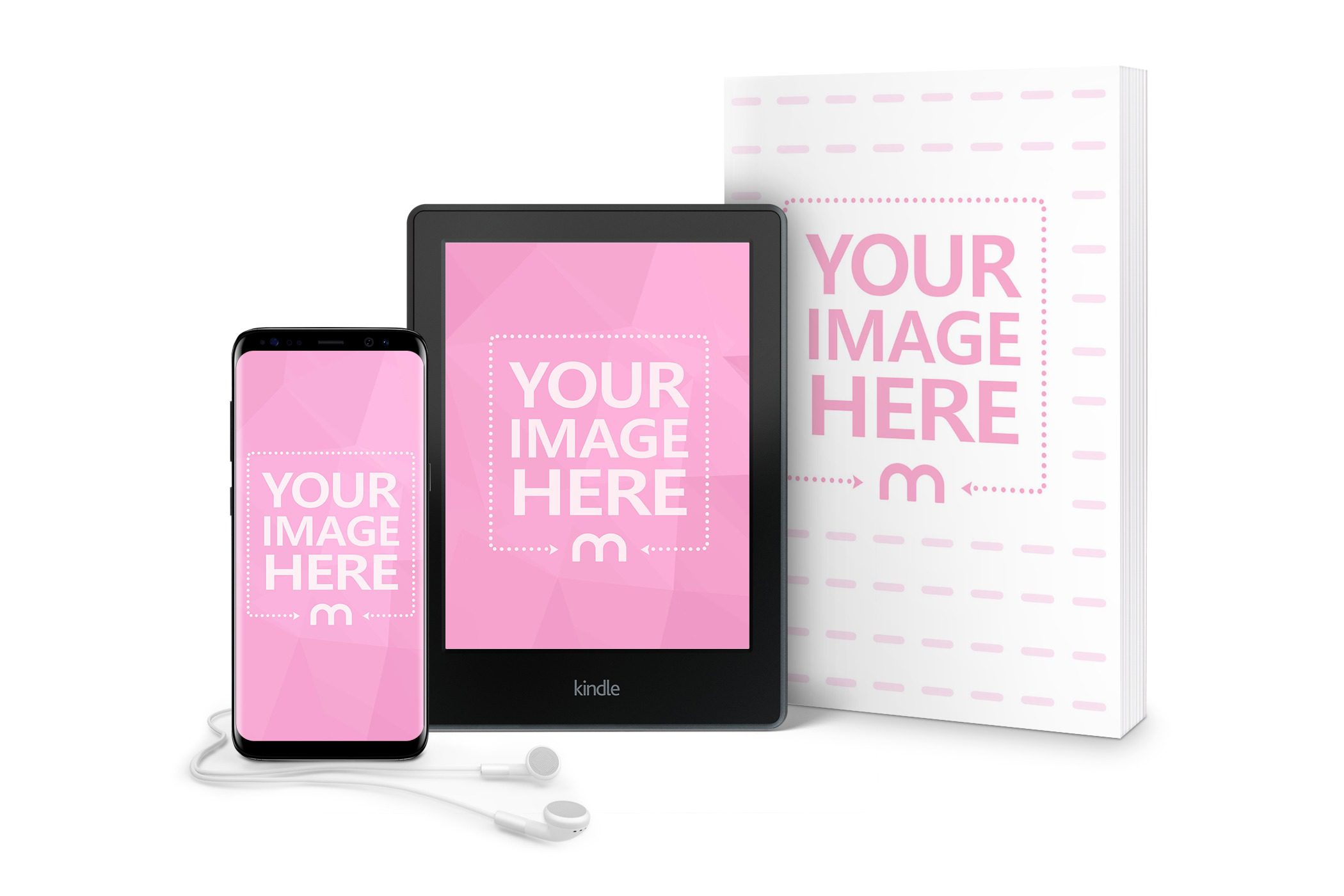 Is your book available on all platforms? Use this combo book cover design mockup to showcase your cover art. A softcover paperback book, black kindle e-reader and Galaxy S8 with earphones standing on a white surface.
---
2. Samsung Galaxy S10 Front View Mockup Generator
The Samsung Galaxy S10 is one of the most popular models on the market. This simple front-view should be a no-brainer if you want what's on the screen to be the star of the show!
---
3. Samsung Galaxy S8 Portrait View Mockup Generator
Prefer the look of an s8? Don't want a hand or background distracting from your image? No worries, use this one instead. Clean, simple, minimalistic. You can't go wrong.
---
4. Samsung S8 and Kindle E-Reader Online Mockup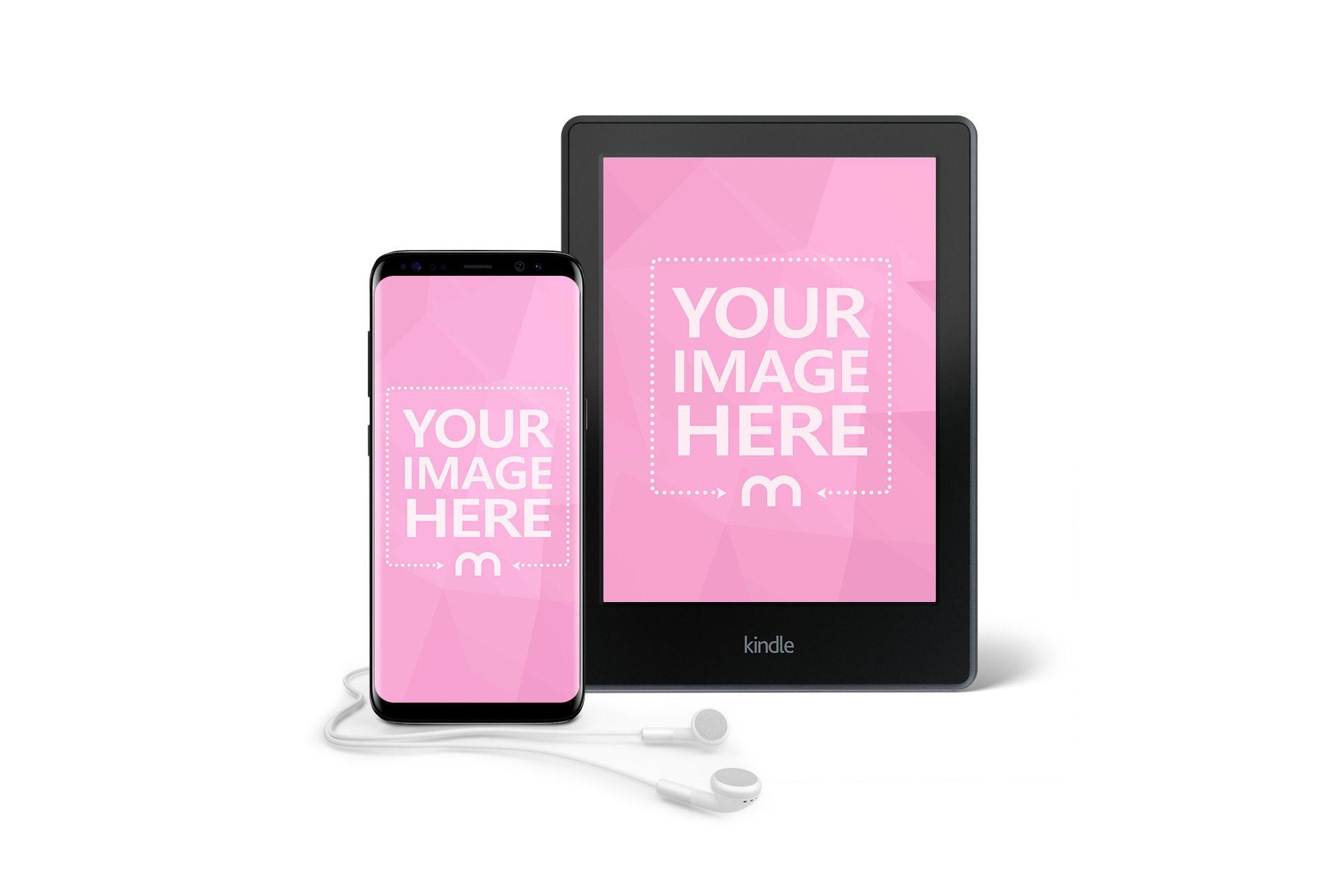 Showcase your digital and audiobook cover design artwork! The black Kindle e-reader paired with a Samsung Galaxy S8 smartphone and earphones instantly let your customers know an awesome e-book is waiting for them.
---
5. Samsung Galaxy S10 Screen Mockup Maker
This tilted Android mockup adds a bit of dimension to your website. Just add your own image and we'll set the perspectives just right to give it a professional, clean look.
---
6. Samsung Galaxy S10 Online Mockup Generator
Here's the previous mockup flipped! Use this Android mockup, if a left tilt looks better on the Samsung Galaxy S10.
---
7. Samsung Galaxy S8 in Hand Online Mockup
This is one of the most popular phones in the world, which makes this a sure-shot Android mockup for you. Disable the background and choose PNG for a transparent version.
---
8. White Samsung Android Phone Portrait View Mockup
Do you find all the black models a bit boring? Here's a white mockup for you. The model is a bit older, but popular nevertheless. Great for bringing out the contract from a darker screen image!
---
9. Hardcover Book and Samsung S8 with Earphones Mockup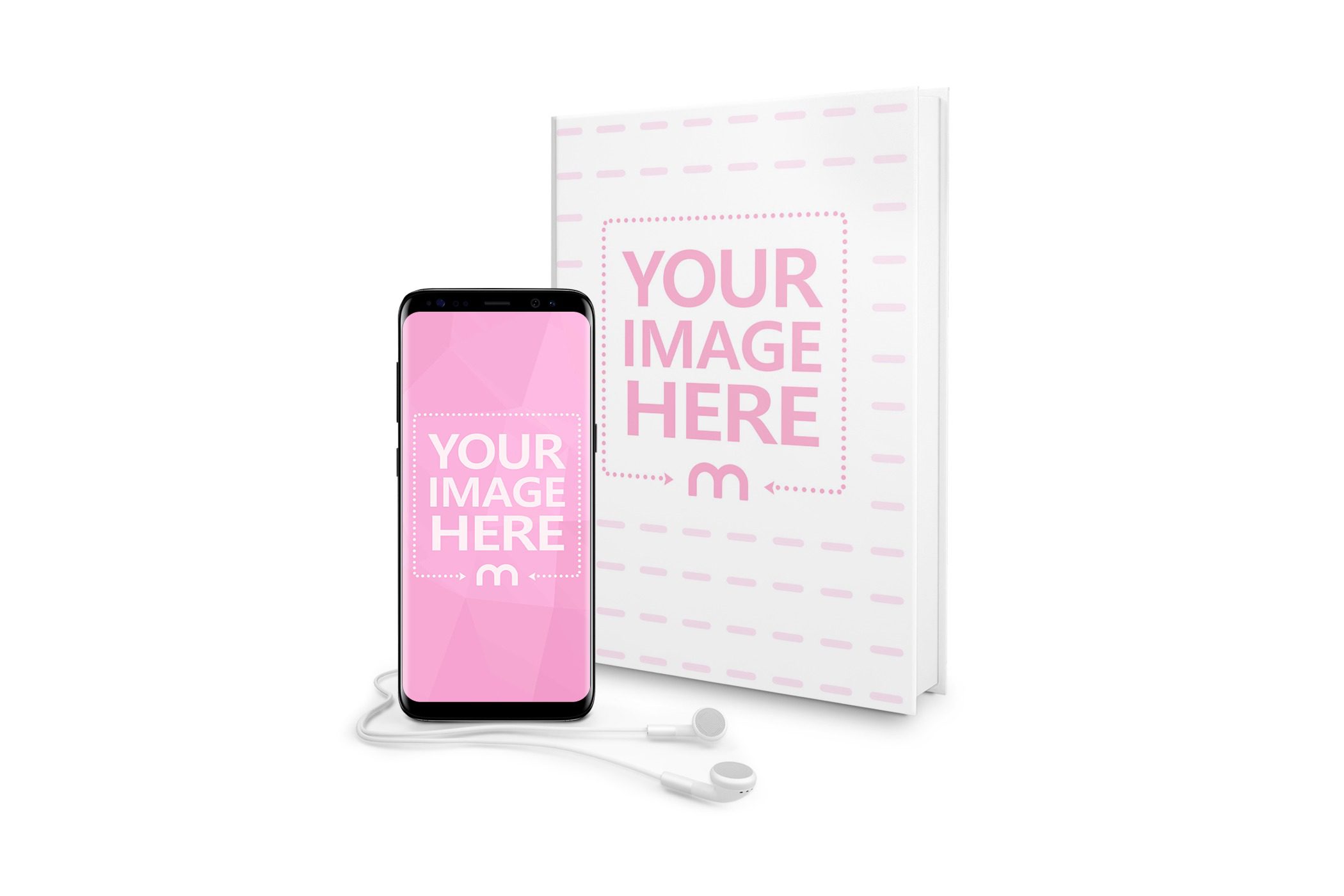 This is a great mockup for advertising a hardcover book that also has an audiobook version. Upload your own cover design and an image for the smartphone screen.
---
10. Woman Browsing on HTC Smartphone Connected to Macbook
Who says Apple and Android can't work together? Show everyone your app and website runs on all software and there's no OS bias in your company!
---
11. Man Browsing on Smartphone While Driving a Car Mockup
Do you text and drive? How about eating and driving? Next time you're browsing on your phone while driving, please remember this mockup – it's a great way to illustrate an illegal activity.
---
12. Hardcover Book and Samsung S8 on Wood Stage Mockup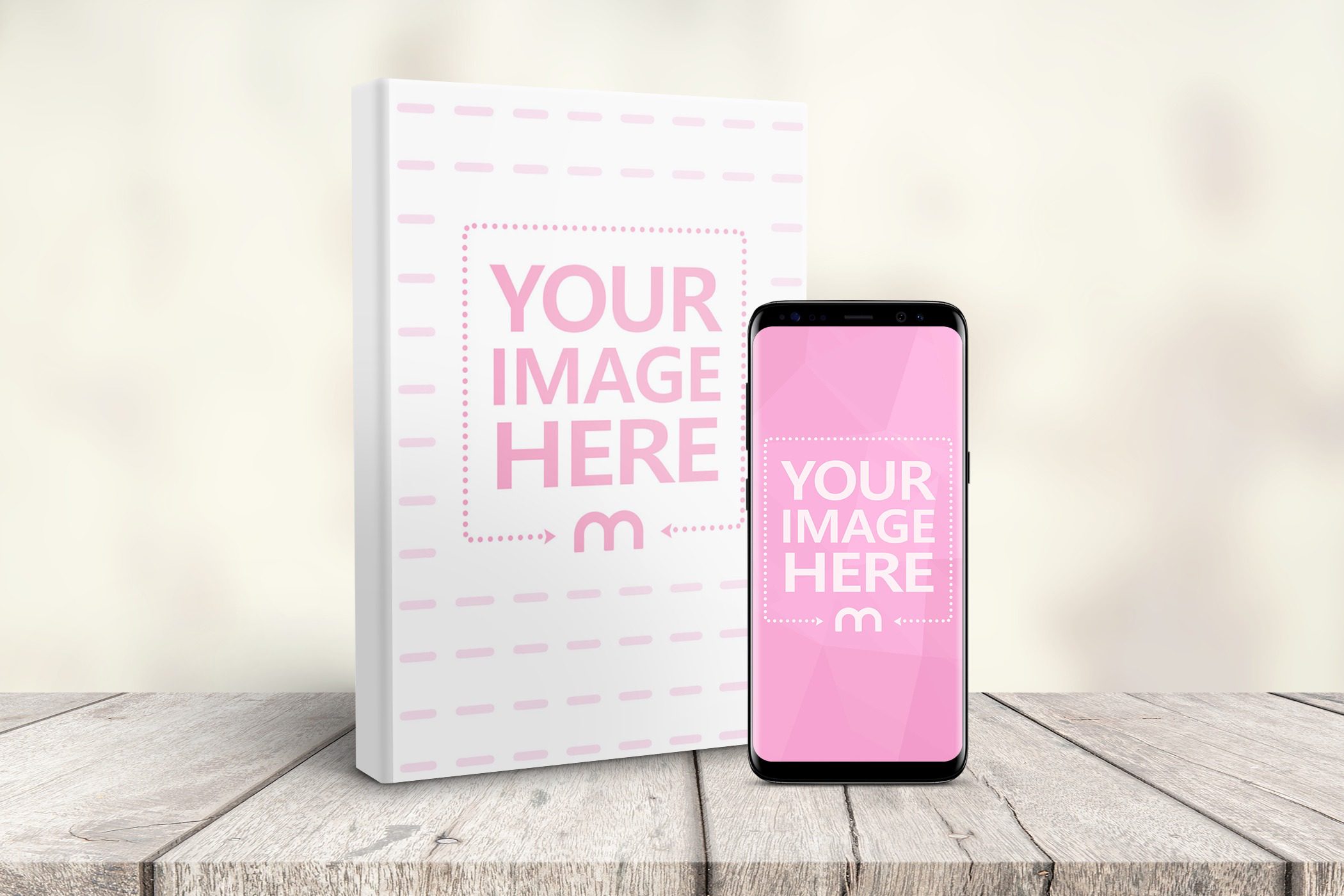 Have an audio or app version of your hardcover book? Great! Put them on a wooden stage and celebrate your products!
---
13. Hardcover Book and Samsung S8 Smartphone Mockup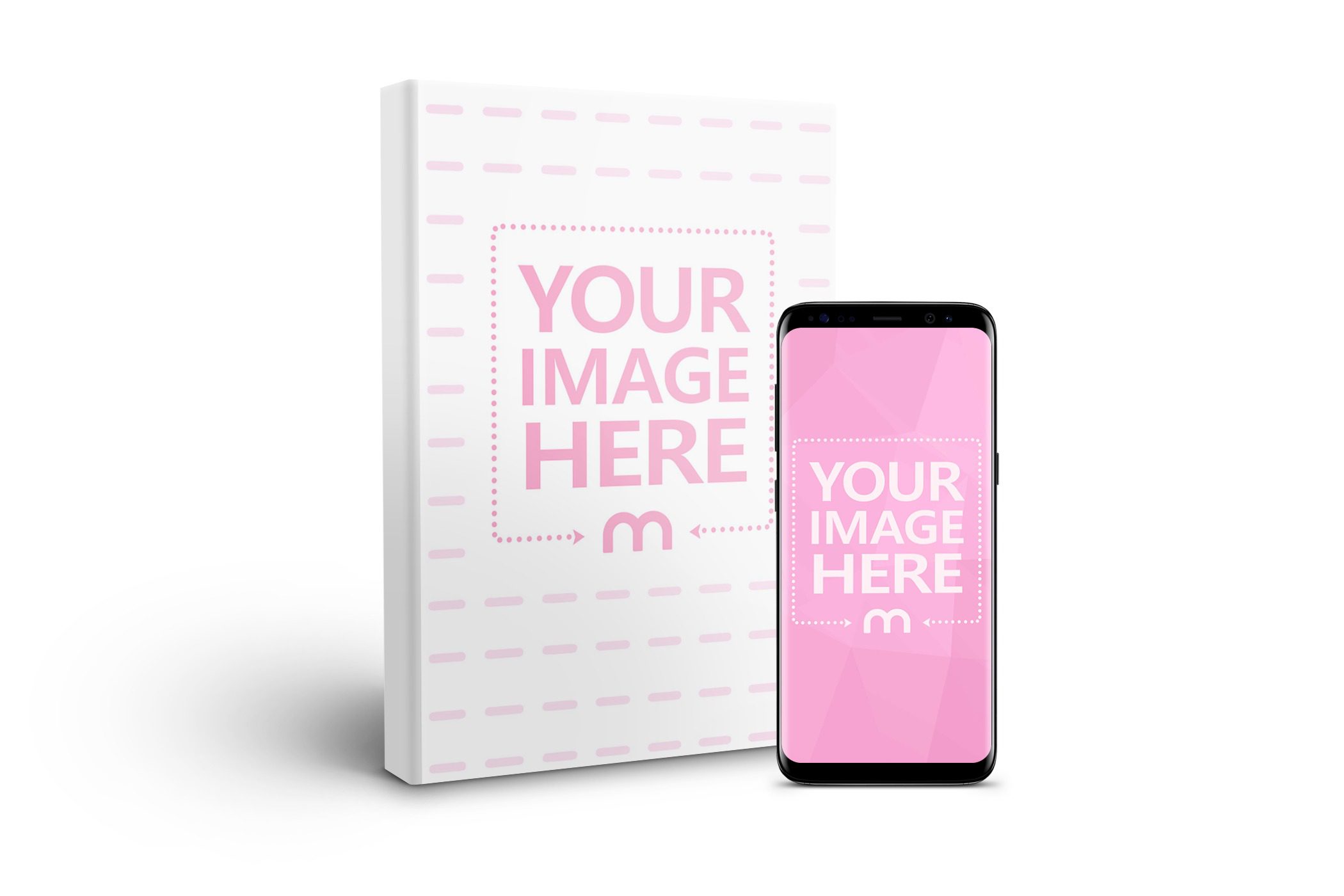 Prefer a cleaner look without a wooden stage? Here you go! A book that exists on 2 worlds.
---
14. Android Smartphone in Hand Mockup Generator
Closeup mockup shot of a person holding an Android smartphone in hand. This design adds more depth and a personal touch to your screengrab.
---
15. Holding Two Android Phones in Hand Mockup Generator
Make a comparison or showcase an app that promotes collaboration with this mockup template of a man holding 2 Android devices in hand on the street.
---
16. Laptop and Android Mockup
If you've got a business to promote, then this mockup template will suit you perfectly – a laptop and Android smartphone on a desk surrounded by plants.
---
17. Woman Drinking Coffee and Browsing on Tablet
Are your customers morning people who browse your app or site sitting on their bed with a delicious cup of coffee? A great casual-style mockup for displaying your website design and showcasing how easy it is to use.
---
18. Woman Browsing on a Black Smartphone
A not-your-average mockup shot, but perfect to show your product in action! You choose what the woman is looking at.
---
19. Closeup Woman Browsing on Android Smartphone Mockup
We all scroll our phones during our lunch break. This is another great opportunity to show a screenshot of your product in-action!
---
20. Woman Holding Black LG Smartphone Mockup
This template is perfect for promoting your smartphone application, responsive website or audiobook. Show your customers it's easy to use on the go, for example when waiting for a friend in the park.
---
21. Closeup Samsung Device with Earphones Mockup
Who said no one uses headphones with wires anymore? Here's a beautiful mockup of a Samsung device with earphones next to a keyboard. Upload your own image onto the screen and promote your music or audio-related product or service.
---
22. Man Holding Galaxy A6 in Landscape View Mockup
Man holding a golden Samsung A6 Android smartphone horizontally. The possibilities with this Android mockup are endless.
---
23. Golden Huawei p9 Lite in Hand Android Mockup
All that glitters is not gold, however it might be a Huawei Android powered smartphone! Mockup generator template featuring a man holding a Huawei p9 Lite model in hand in portrait view.
---
24. 3D Angled View Tablet Computer Mockup
An online mockup template featuring an angled view of a black tablet computer isolated on a white background. Upload your own horizontal image to the device screen and showcase your website or Android application made for tablets.
---
25. Creative Multimedia Tablet Computer Mockup
A 3D online mockup for showcasing an app screenshot or making a creative design related image. Turn layers on/off and choose the elements most relevant to you. This will definitely create an impression.
---
Have fun with these templates! Your Android users will surely love you. Let us know what models or template combos you'd like to see next.
Visualize your design Use a product mockup to showcase your design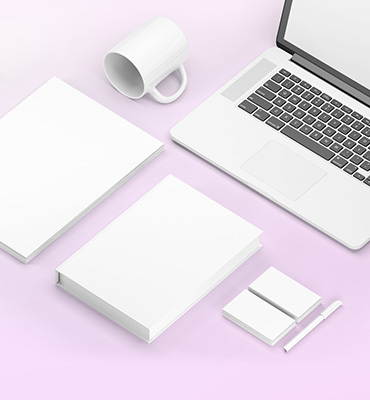 Create your design Use our templates to create delightful designs for any medium