11 Brands to Follow for Visual Content Marketing Inspiration
•
June 17th 2020
•
7 minute read
Did you know that visuals are 60,000 times more effective in communication than words? How often and how well do you engage in visual content marketing? If your response is in the negative, then take a look at how the leading brands do it.
Visual Content Marketing: Definition and Importance
Without a second glance, you can pretty much tell that visual content marketing has everything to do with visuals, i.e. what we see, and how we perceive it.
Hence, content marketing is defined as the practice of using displayed or projected images, modules, videos, maps, and charts to educate and inform consumers about a brand. Research shows that about 90% of the information transmitted to the brain is visual. This goes to show how effective visual content marketing can be because you are literary tagging along with nature's design.
Therefore, it shouldn't come as a surprise that visual content marketing serves as a great way to improve your communication, boost up your social media presence, and the overall awareness of your brand. That's just the tip of the iceberg of the benefits of visual content marketing. In addition, it has a track record of:
Stimulating emotions.
It's easier and faster to consume.
Contents with infographics have a 12% better track record growth compared to content without it.
Facebook video posts attract 3 times the inbound link of posts with plain text.
An average of 700 YouTube videos is shared on Twitter with every passing minute.
Consumers watching product videos are 80% more likely to make a purchase.
The list is endless. "The insane track record goes to show the exceptional nature of visuals in content marketing. After all, visuals are king. So, it shouldn't come as a surprise if your business doesn't fare well in the online space without visual content marketing,"- says Ben Grant, a marketing manager at Adsy, link-building service. Having said that, let's first get the basics of good visual content before we set off to incorporate it into our marketing techniques.
Principles of Visual content
It's not a secret that creating visual content requires some technical know-how, without which the Internet would have been a mess of visuals as if made by children. Given how essential visual content is to marketing, you ought to know how to properly create these visuals in the first place; else it'll be counterproductive. And although not all of us are experts in this field, you should have a grasp of the basic principles so that you can recognize good visuals when you see one. They include:
Balance is essential to visual content because the more symmetrical an image, the more appealing it is. Balance is what gives stability to visuals.
The frame is the integral outer element of any visual design or content. It's essential because it gives enough breathing room for viewers and the lack thereof creates tension.
It's the degree of visible differentiation between the visual elements. The closer the elements are in their color and brightness, the lower the contrast. Not only is contrasting essential to basic legibility but also for those whose color perception is impaired.
Famous Brand to Follow for Inspiration
If you want to excel in a chosen niche, you must learn from the best. Although millions of brands around the world use visual content marketing, only some specific brands have managed to truly pierce the veil. Hence, they are worthy of taking some queues and inspirations.
Examples include:
Starbucks;
Bud Light;
Dunkin' Donuts;
Target;
Nike;
Sharpie;
Grammarly Cards;
Oreo;
Lissa Curry;
Coca-Cola;
GoPro.
Grammarly
Grammarly, an online app that offers on-spot text proofreading services has quickly become one of the most beloved services amongst writers of all kinds. If you are writing on a computer, then Grammarly will likely be your go-to app to aid you in your writing errors. But it's not all serious business with Grammarly as they bring a bit of humor to their visual posts on Pinterest that consumers find very appealing.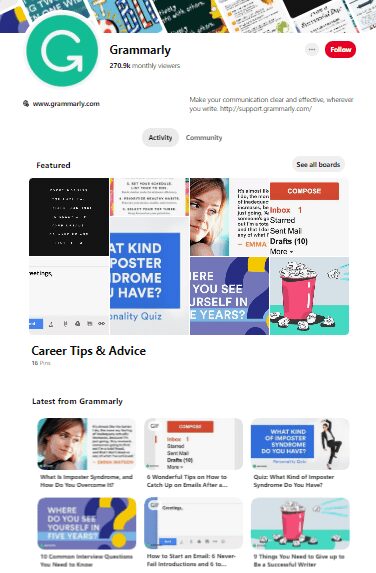 GoPro
No brand screams visuals better than GoPro: after all, the brand is all about capturing the highest quality possible. Just the GoPro social media page alone can make the most introverted person on the planet want to give traveling a try as it's filled with really beautiful pictures of people at their happiest.
Nike
Nike is a classic example of a brand that truly understands its target audience. Given that sports require physical activities and a great amount of endurance, the brand has adopted the habit of making inspirational visual posts on their social media platforms. And as each post gathers thousands of likes, it subtly proves to consumers that anything is possible if you "Just do it."
Lisa Curry
Lisa Curry is a well recognized personal trainer and athlete with thousands of followers on all social media platforms like Facebook, Instagram, and Pinterest. And with her large following, she's been known to post really catchy images with inspirational texts on a regular basis. You can say that she's a goldmine of visual motivational quotes.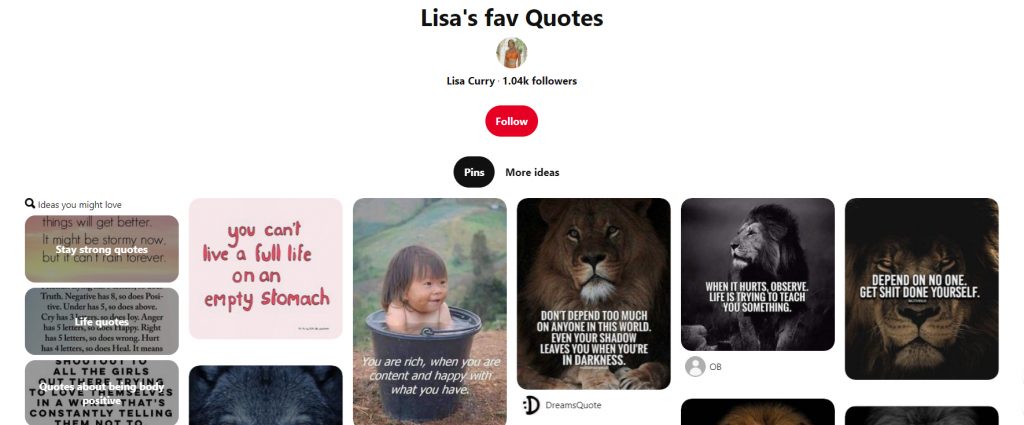 Starbucks
Starbucks is one of the most popular brands out there, especially in the United States, and they make excellent use of visual content marketing on their social media platforms. They have mastered the art of combining the strengths of visual content marketing with the beauty in simplicity to advertise their services across social media.
Bud Light
Bud Light as a brand is also one that has managed to take full advantage of visual content marketing.
It's even created an interactive community where consumers can submit their own photos taken while enjoying Bud Light. This gives their social media pages a beautiful and colorful small-town feel.
Target
Target is the next household name on our list. But, unlike the others on our list, Target is not fond of just putting pictures of the brand. Instead, they combine it with texts to create relatable and fun images.
Dunkin' Doughnuts
Unlike other donut brands with very boring social media presence, Dunkin' Donuts uses an upbeat attitude for its visual marketing. Although they never use a direct approach when marketing, they employ a humorous and cheerful outlook coupled with visual content to communicate with consumers.
Sharpie
Sharpie is one brand on our list that's truly inspirational. Given the niche of the brand, there's not much that one can say and do in terms of advertising on social media. And yet it's managed to turn its Pinterest page into something more of an art gallery that even the less creative minds will appreciate.
Oreo
If you haven't heard of the Oreo cookies, then it's either you belong to an older generation or you've probably not been around social media. And it's not just the exquisite flavor of the cookies that consumers are appreciative of. They also give us rich and witty parodies of visual posts that keep consumers entertained.
Coca-Cola
If there's a brand that's gotten a firm grip on visual content marketing, it's Coca-Cola. Over the years, the brand has mastered the skills to engage consumers in interactive visual content marketing that keeps the buzz on their social media platform going for days.
Visual content marketing is without a doubt one of the best ways to drive traffic to your online platform. However, it can also be counterproductive in the hands of the inexperienced. So take some inspiration from these leading brands. And although they may or may not be in your niche, you can still learn a thing or two as their approach to visual content marketing is universally applicable.
About the Author
Marie Barnes is a Marketing Communication Manager. She also does some photo retouching work at Photza. She is an enthusiastic blogger interested in writing about technology, social media, work, travel, lifestyle, and current affairs.
Visualize your design Use a product mockup to showcase your design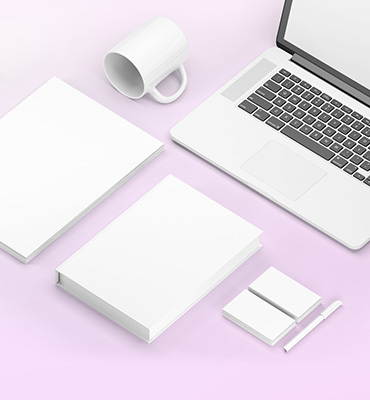 Create your design Use our templates to create delightful designs for any medium