Design Template Comparisons | Canva, Crello, Snappa, Mediamodifier
•
March 17th 2020
•
9 minute read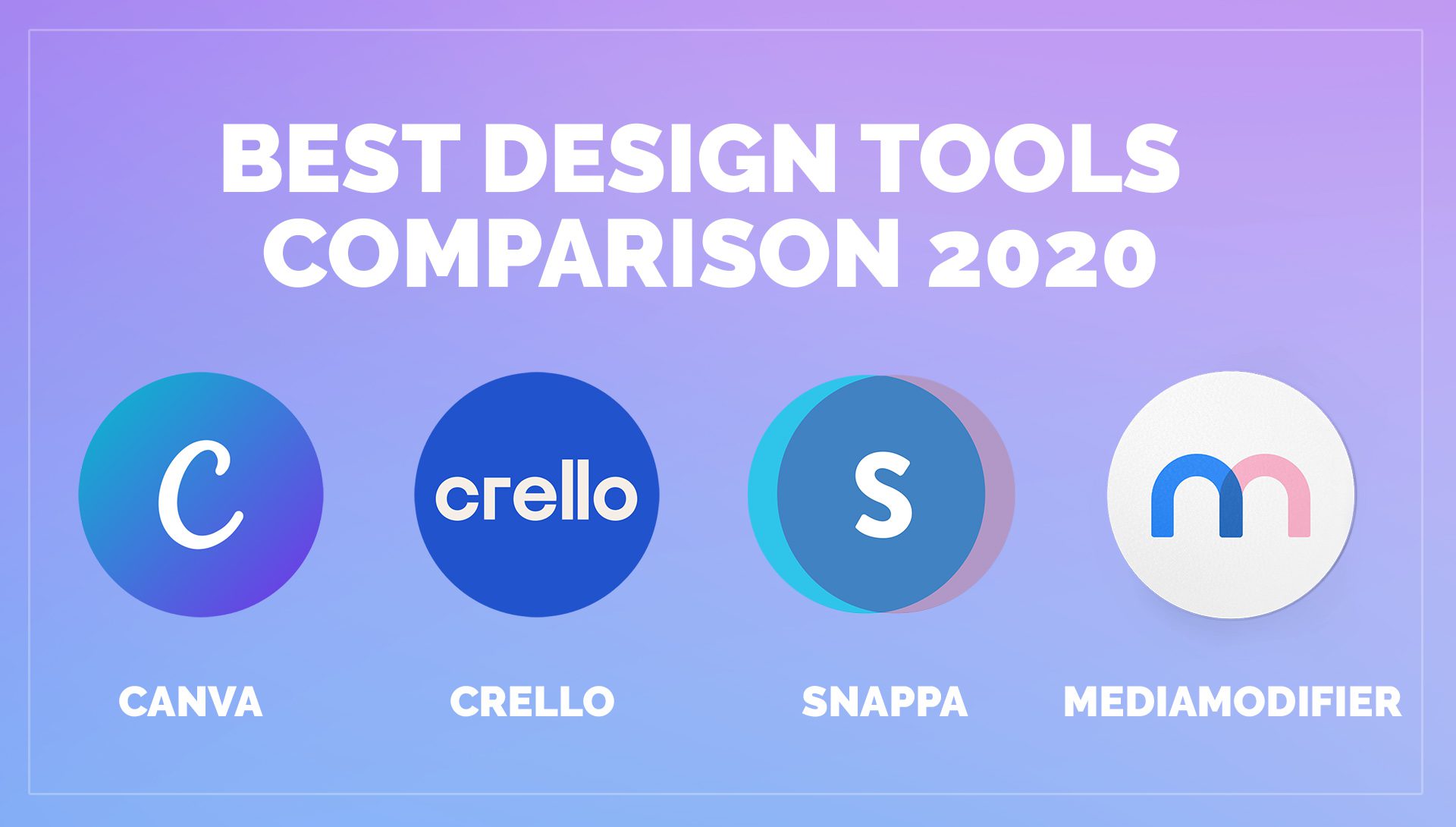 Summary:
What is a design template?
Canva, Crello, Snappa or Mediamodifier?
Main differences between them
Good design is critical for businesses, but not everyone can afford to hire a graphic designer or an in-house design team.

Design templates remove any complicated design steps, even equipping the most amateur graphic designer, marketer, or brand influencer to create sumptuous visuals.

Design templates provide a design shortcut, so you only have to spend time filling in the critical details.

However, which is the best design template software?
What is a design template?
Design templates are pre-made template designs that can be filled in or edited. All templates are designed to meet precise standard sizes or specifications, so they are consistent between users and platforms. Pre-designed templates are offered from various software providers known as online design makers.
Canva, Crello, Snappa, Mediamodifier?
Canva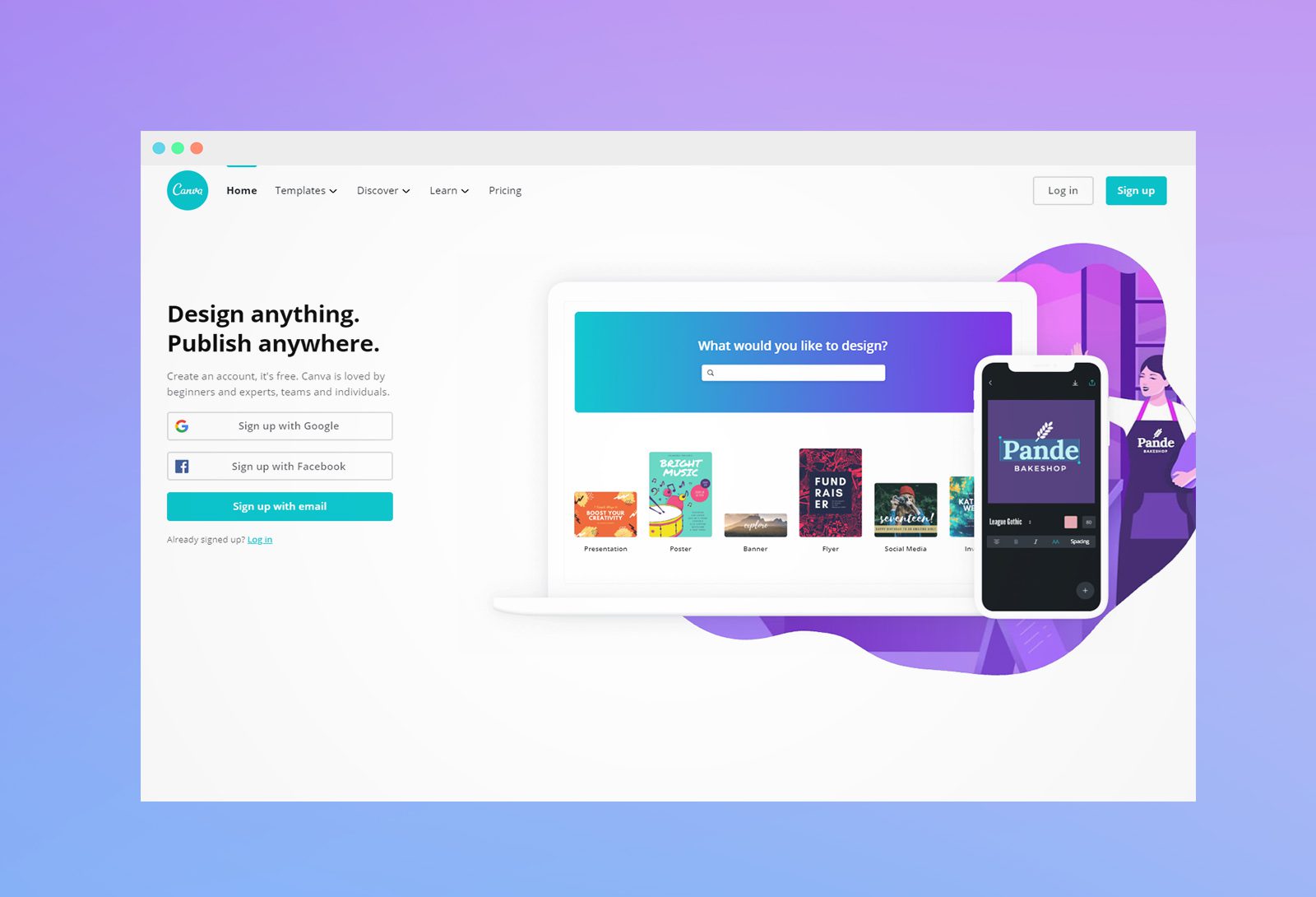 Canva was released in 2012 that allows users to easily create more complex art projects in a manner of minutes. Canva is great for both masters of graphic design as well as novices.
Drag and Drop
Crucial, especially for newer designers. Canva has a powerful drag and drop functionality where users can seamlessly drag and drop image components and edit layers that users probably prefer over Adobe products.

Features
Canva has a host of great features competing even with the Adobe suite of graphic design software. It has a massive database of templates that users can get started with that can unleash your creative side in no time at all.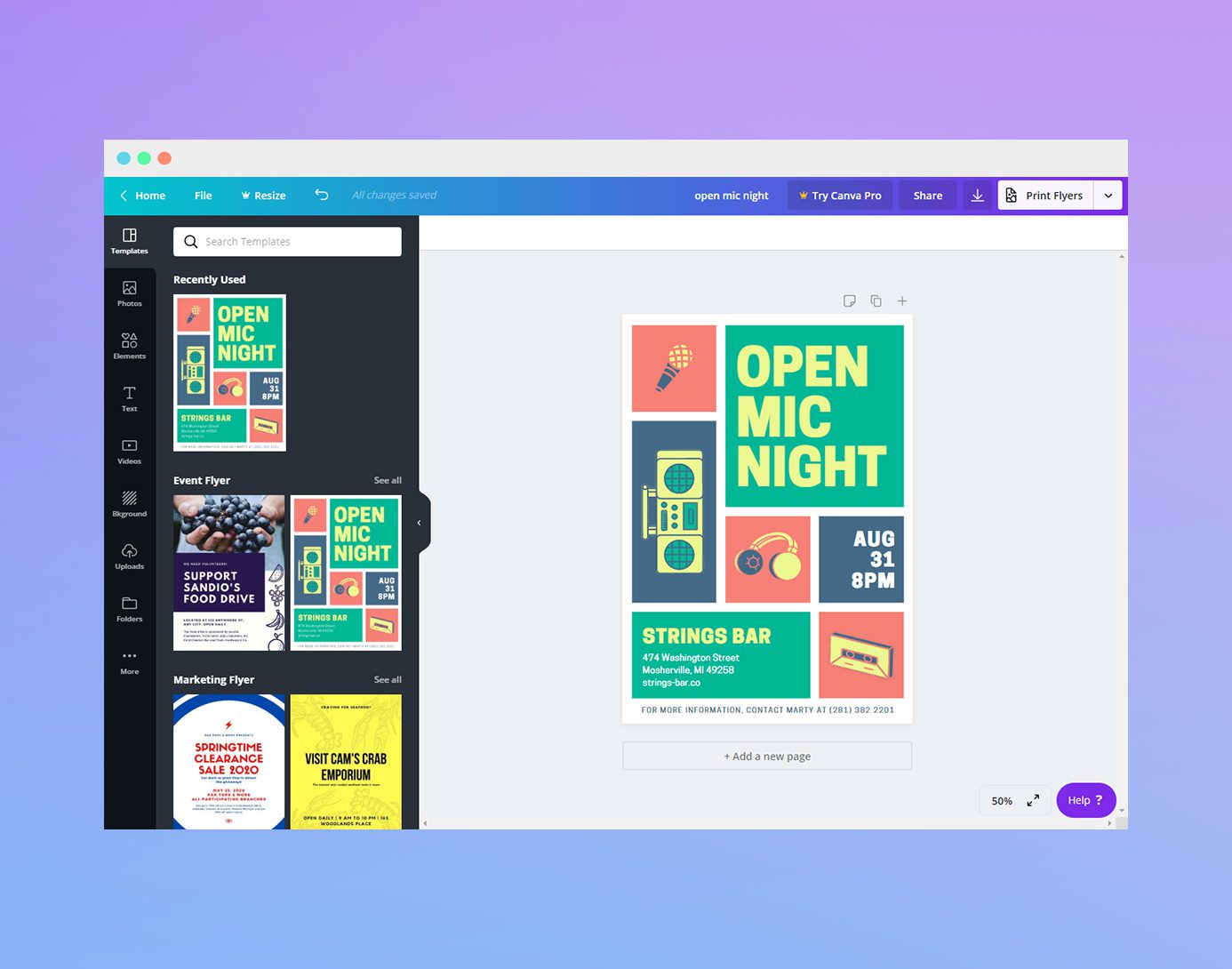 Auto-save
Canva has a nifty feature where it automatically saves all the templates that you modify within your designs. So if you lose online access, they will be saved from the last point of the edit. These auto-saved designs can be edited in the future when needed.
The plans
The difference between the free program and that of the subscription means the user needs to use the $12.95 monthly fee to actually accomplish their projects. Otherwise, users will end up paying per picture, and this can skyrocket the costs.

Pricing
Canva is competitive compared to its rivals, plus it has excellent functionality compared to the Adobe suite of graphic design software. For testing the software, the free plan doesn't offer much in the way of free non-watermarked images. The free version also only contains 2 folders.

Canva for Work is $12.95 a month.

Canva for Work allows users to have unlimited folders and provides unfettered access to many other features, like the 8,000 templates for those new to image design.
Crello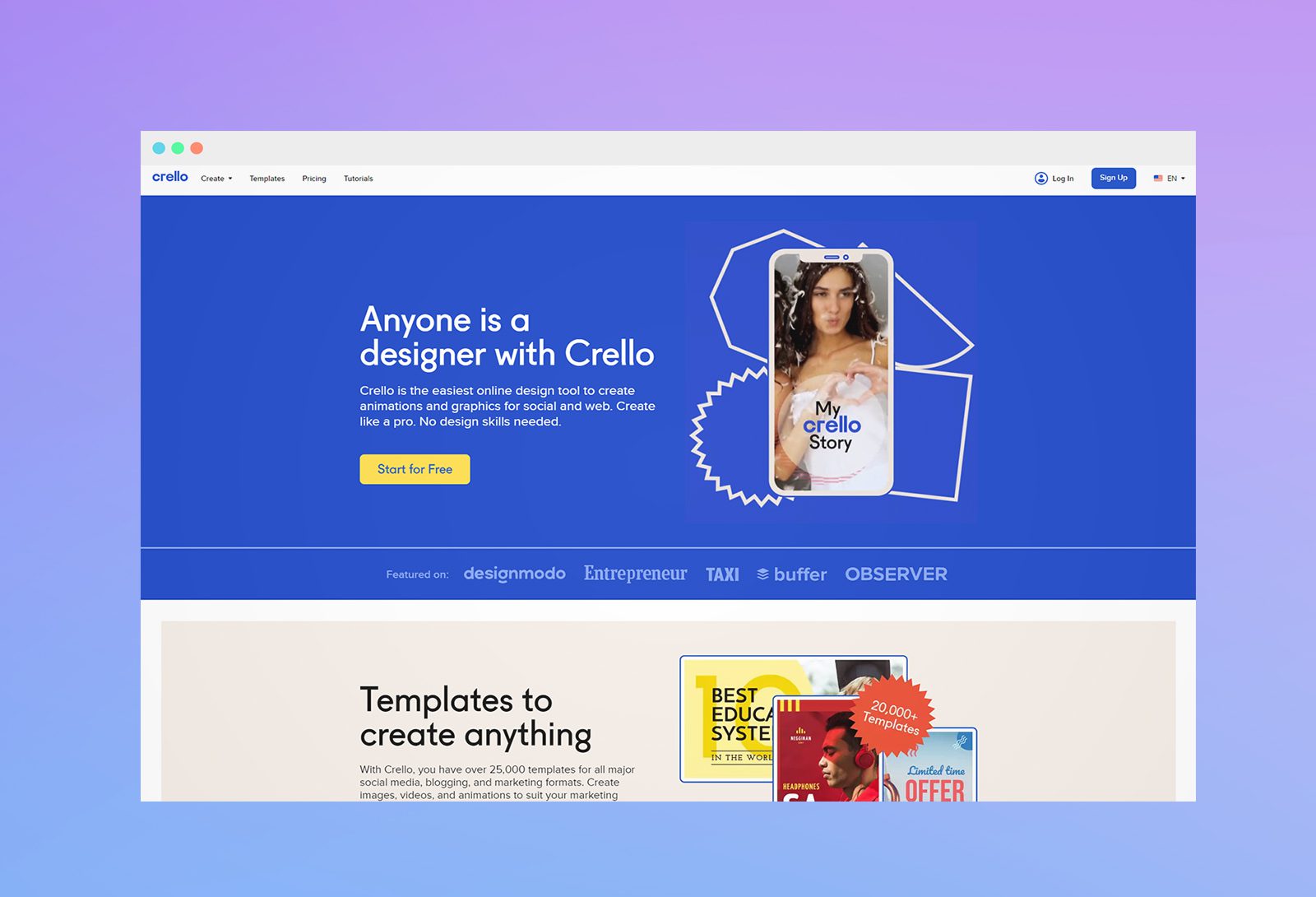 Crello is an online graphic tool, developed by Depositphotos, a microstock photo agency based in Florida, the USA in 2016.
Features
Crello is a good alternative to Canva as it's designed to help you mostly with designing something for web needs. In today's social media age, people (social media managers in particular) need an instant tool to create visual content for social media. Crello does very well here, where it can create animated content.

Crello tends to create social media-related designs like visual content for new posts, Facebook cover, Twitter header, and YouTube Channel art. However, you can also use it to create other designs like a blog header, posters, flyers, invitations, and so on.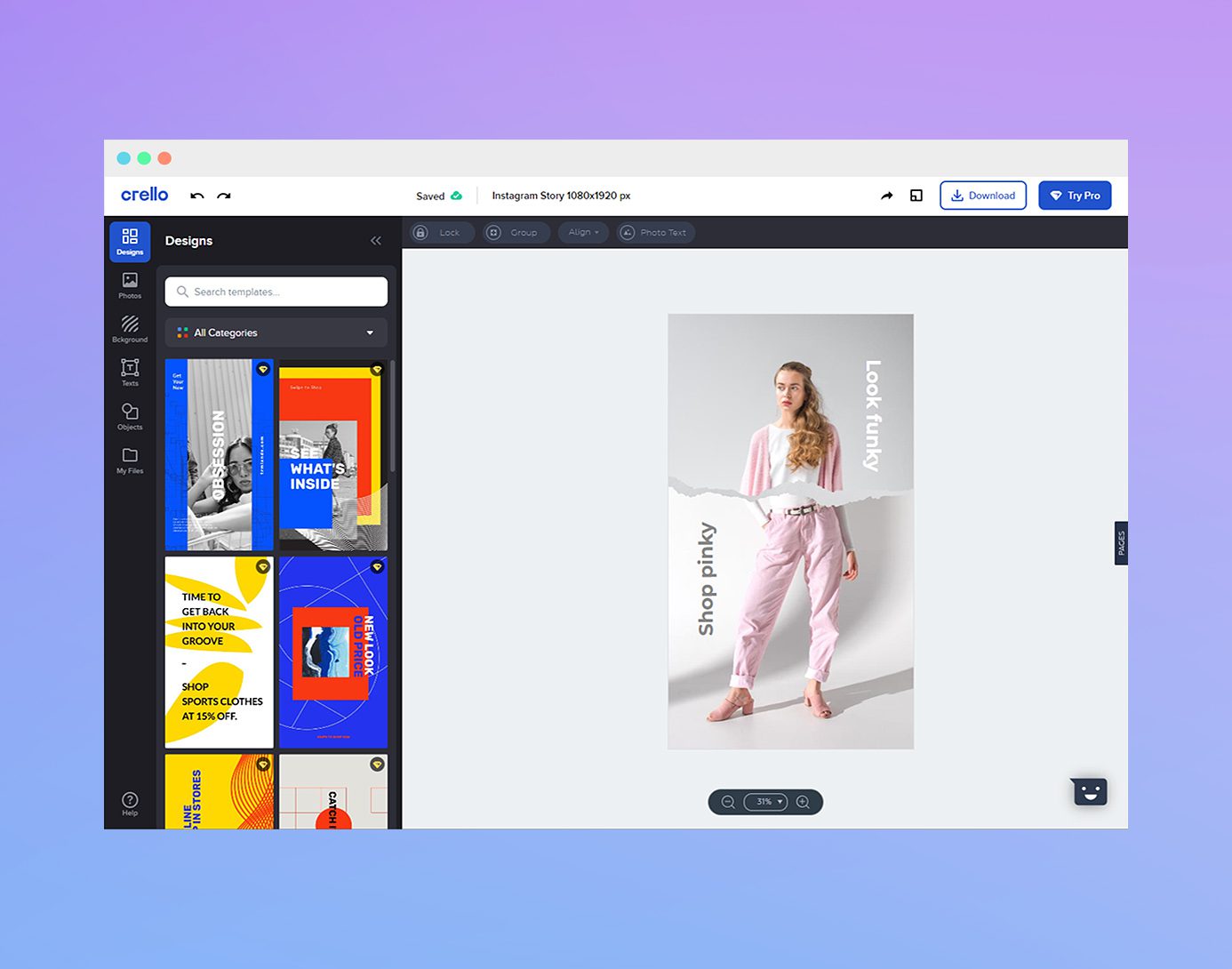 Categories
Crello has subcategories icons on the left side, making them easily visible to access and store your images.

Editing
When you click on a specific text or image on the Crello canvas, users get a pop-up editing option to edit the image or text. Editing options include font color, font style, font size, and alignment.
Integrations
Like Canva, free Crello plan users can only create a maximum of two folders, compared to unlimited folders for premium users.

Furthermore, Crello does not integrate with Dropbox, so free users of the software are unable to save their images in their cloud software.

Pricing
Users can use all offered features on Crello for free, they will only be required to pay if they want to use any paid images, that cost $0.99 per picture. Otherwise, it is $7.99 per month for the Pro package.

However, it seems that Crello is a tool used by its owner Depositphotos to sell its photos.
Snappa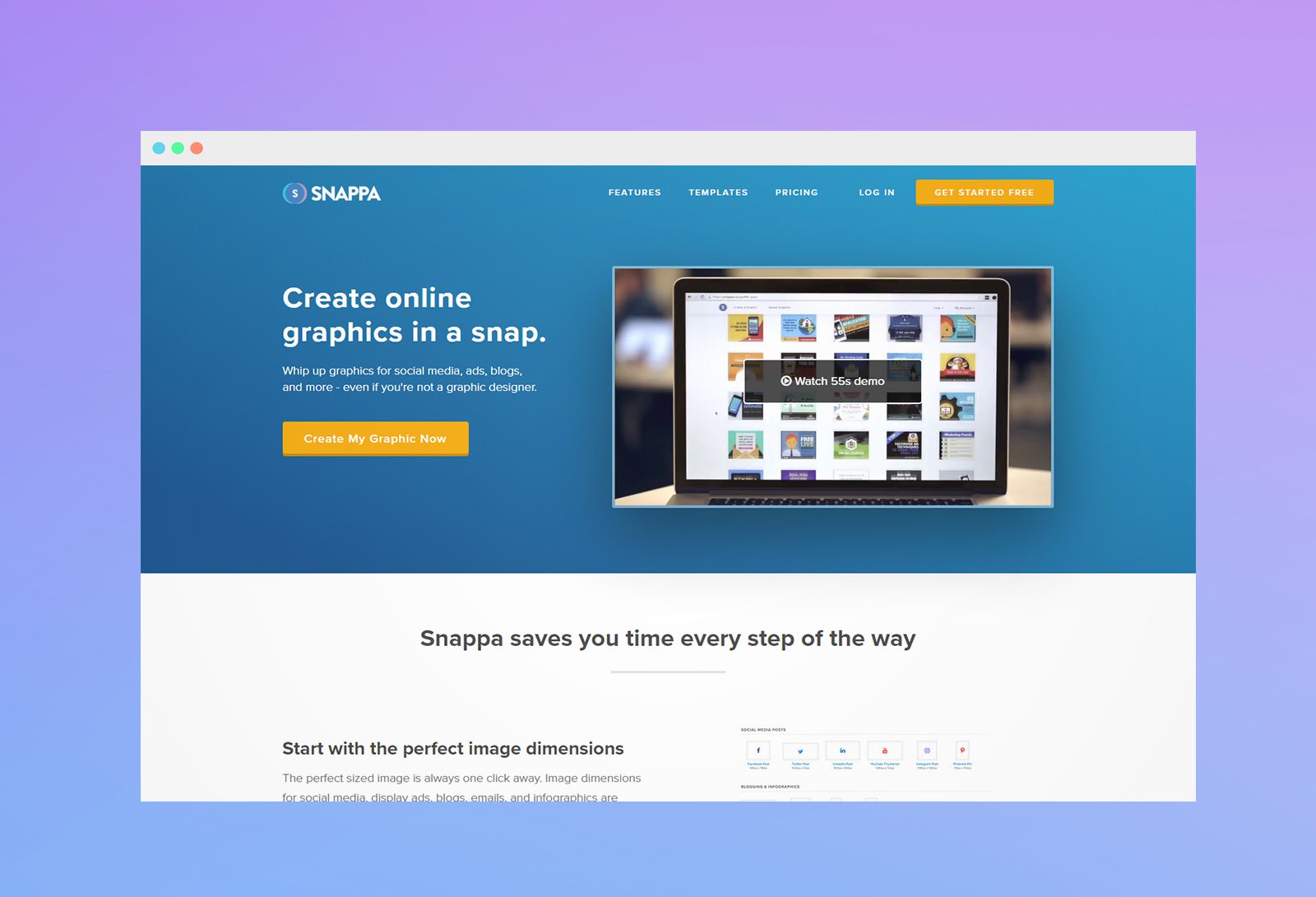 Snappa is a cloud-based graphics editor for social media, personal, and marketing purposes. Founded in 2015 from Canada, Snappa was designed to make creating visual content easily without the use of sophisticated tools like those in Photoshop and other similar image editing applications. Snappa is also a good alternative to Crello, as both are mostly focused on web-graphics.
Easy to get started
To get started with Snappa, users only have to enter your full name, email, and password. Users should then receive a confirmation email that contains a video link to a Snappa tutorial.

This helps you get your account set up correctly and learn about creating custom graphics using Snappa. So if you are a novice, you will become a power user in less than 10 minutes.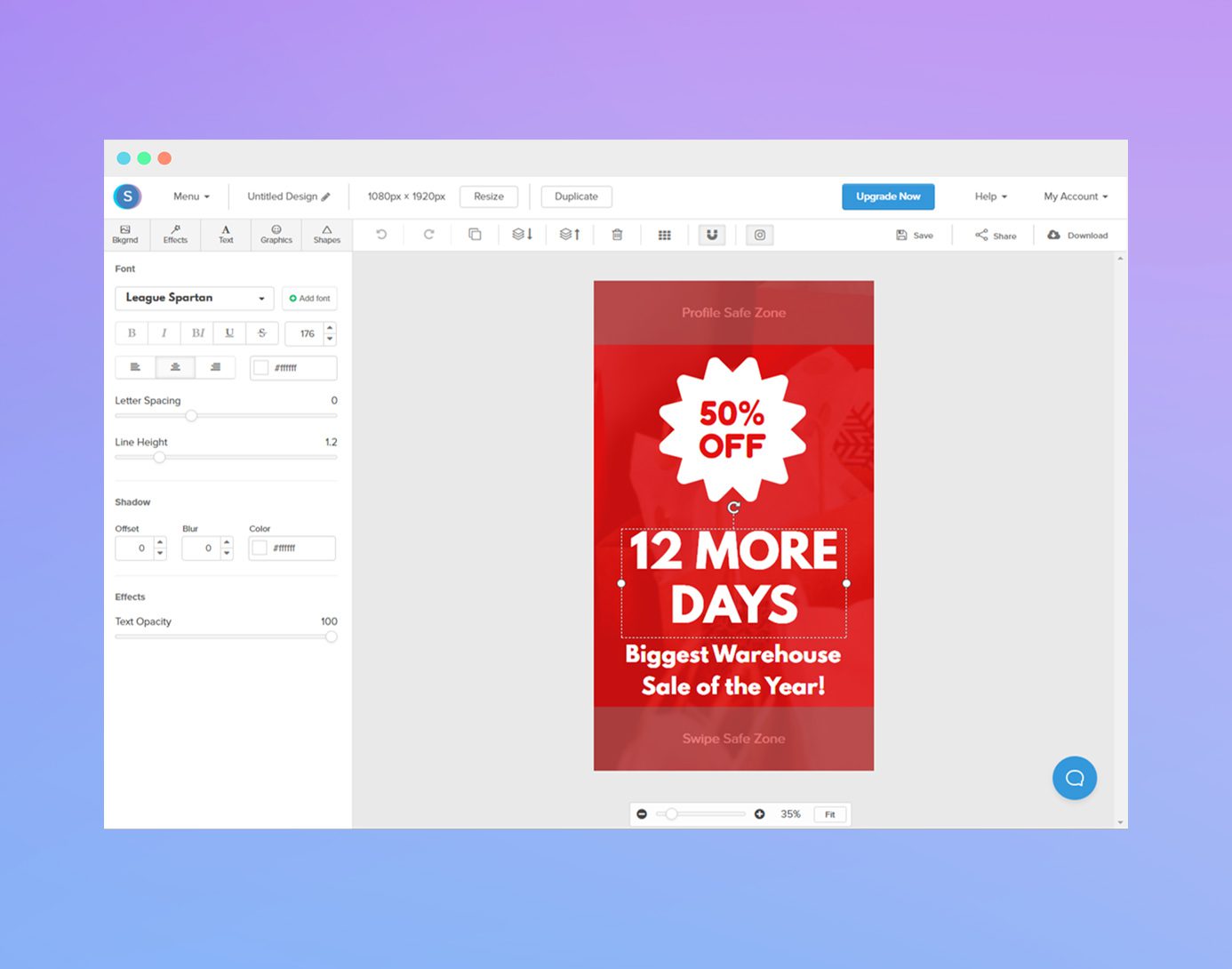 Integrations
Snappa's free plan lets users share their creative works on two social media channels, directly via a Snappa account to whichever social media channel you choose.

What Snappa has, though, is to provide a Buffer integration with every paid plan – whether Pro or Team.

With Buffer integrated, users can easily schedule their graphics and photo posts to all their linked social media accounts set up through Buffer.
Pricing
Snappa has a free account, but it is constrained, so it's ideal for newbies just looking to get started. It has two subscription plans, which, when paid annually, present a plethora of options, including unlimited monthly pictures, saved images, templates, and social media integrations.

Snappa plans are either $10 a month or $20 for teams. Snappa then is ideal for heavy usage and the highest pan for teams of 5 people.
Mediamodifier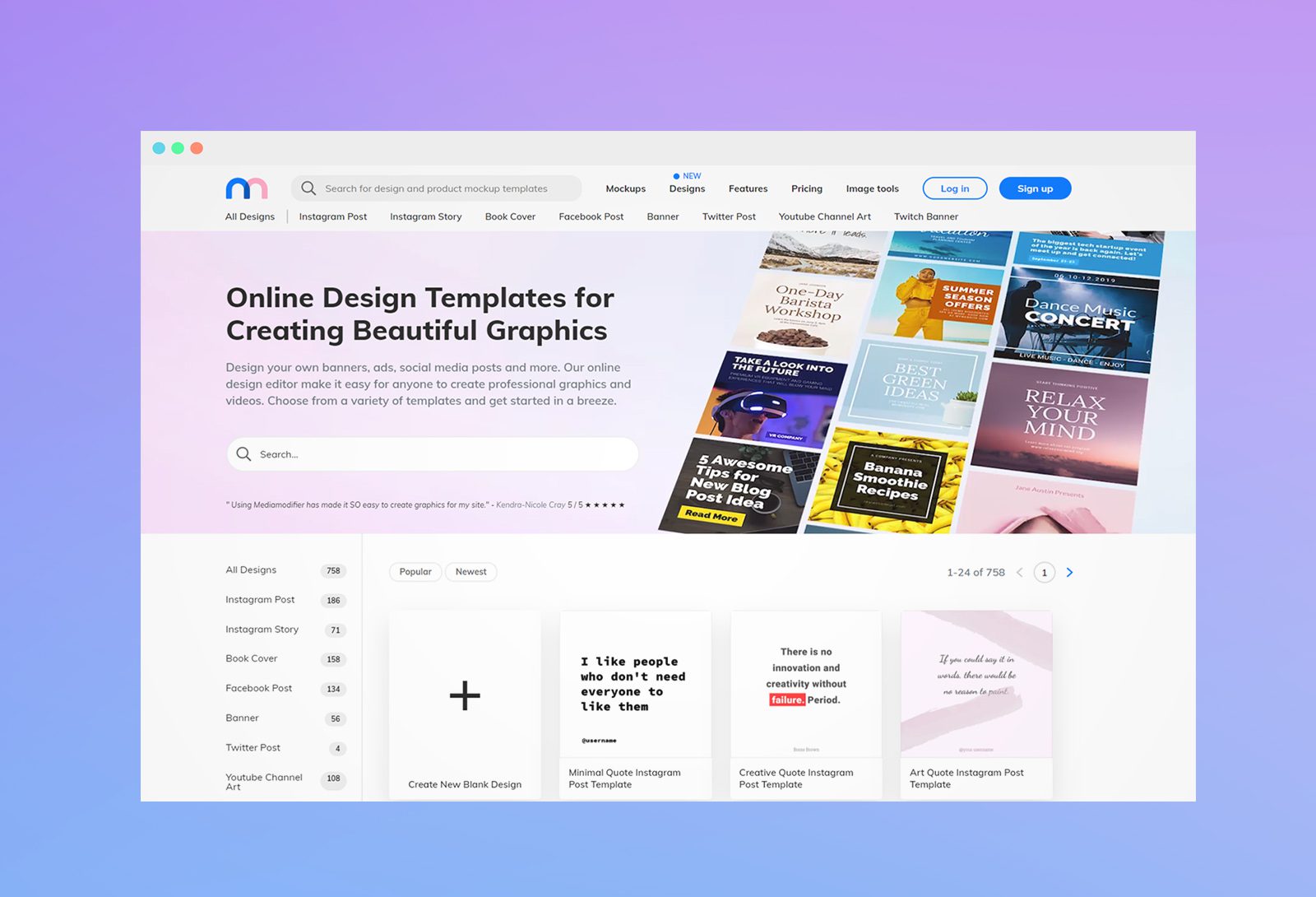 Hailing from Estonia, in the heart of the Baltic Silicon Valley, Mediamodifier is made for marketers, entrepreneurs and social media influencers.
Free Design Maker
Starting a new design from scratch is completely free and doesn't even require creating an account. This means you can use Mediamodifier for creating any kind of quick graphics for web use. The paid plan also includes hundreds of ready-made design templates and thousands of product mockups.

Day ticket
Mediamodifier has a day ticket usage meaning that you don't have to subscribe to a monthly plan or worry about how many images you create and download – all is unlimited for 24 hours (costing $15 for 24 hours), including image licensing fees – this includes designs and also mockup templates.

Great for those looking for occasional use for a marketing campaign.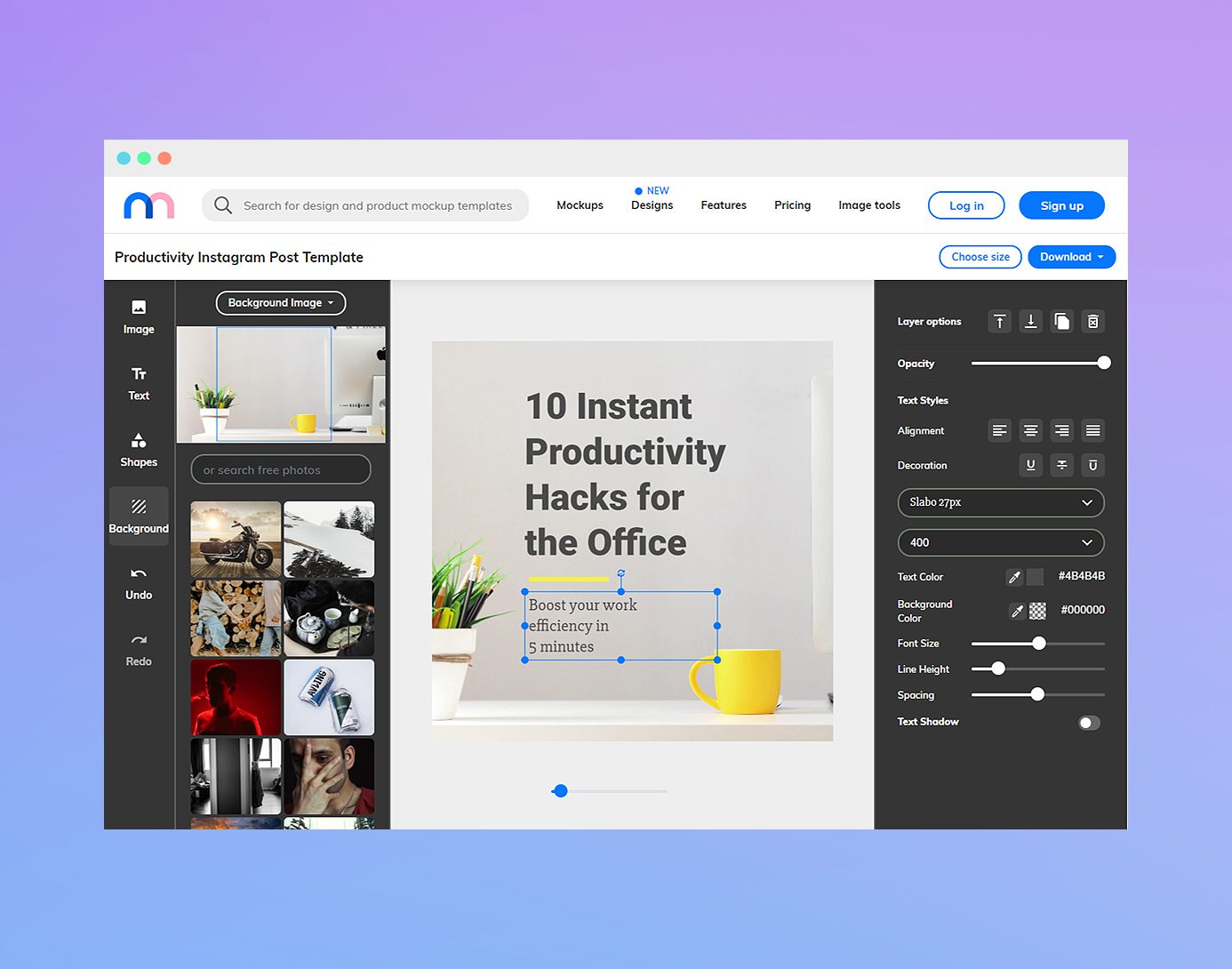 Drag and drop
Like Canva, Mediamodifier has a powerful drag and drop feature, which is vital for budding graphic designers. Users can easily drag and drop and edit layers from business cards to mugs to even t-shirts for promotional campaigns. The design maker also has vector SVG image support and video editing capabilities.

Unlike its competitors, Mediamodifier doesn't upload your images to the server, making it actually faster to design and create images.

Pricing
Unlike the others mentioned above, Mediamodifier offers users a 'day ticket' which includes unlimited downloads for 24 hours, the same as if you purchased an unlimited subscription.

A money-back guarantee is also included if you do not end up using the day ticket. Yearly subscriptions work out at $9 a month, or monthly is $19.

Lack of design templates
If template designs are your forte, then you'd better searching through alternatives such as Canva or Crello to find what you need as Mediamodifier is a little light on these designs. However, if you're more a DIY designer and don't rely on a design template, then the free design maker is a perfect match for you!

Mobile editor a bit clunky
For those budding designers and social media managers on the go, designing images on mobile are imperative to their roles. Mediamodifier's mobile editor is working, but it's not quite up to scratch (yet) compared to the alternative design tools Canva and Crello which have a professional mobile version.
Main differences between them
| | | | | |
| --- | --- | --- | --- | --- |
| Software | Canva | Crello | Snappa | Mediamodifier |
| Design Templates | 60 000 | 25 000 | 5000 | 700+ |
| Free Version | ✔️ | ✔️ | ✔️ | ✔️ |
| Mockup Templates | ❌ | ❌ | ❌ | ✔️ (2000+) |
| Video Support | ✔️ | ✔️ | ❌ | ✔️ |
| Drag & Drop | ✔️ | ✔️ | ❌ | ✔️ |
| Monthly Price (Paid Yearly) | $8.99 | $7.99 | $10 | $9 |
| Auto-Save | ✔️ | ✔️ | ❌ | ❌ |
| Day Ticket | ❌ | ❌ | ❌ | ✔️ |
| Resize a Design | ✔️ | ✔️ | ✔️ | ✔️ |
| Dropbox | ✔️ | ❌ | ❌ | ❌ |
| Publish to Social Media | ✔️ | ✔️ | via Buffer | ✔️ |
| Affiliate Payout Rate | up to $36 for each new Canva Pro subscriber | $2 for each new user | 30% | 51% |
| Mobile Editor | ✔️ | ✔️ | ❌ | ✔️ |
**All prices, features and information are correct at the time of writing. The author nor Mediamodifier LLC is held responsible for any changes made by the information contained.**
Conclusion
Out of the 4 design makers compared in this review, Canva definitely stands out as the most advanced tool, which is most feature-rich and includes thousands of templates for absolutely every occasion.
However don't make your decision just yet… as a tool which can do everything pretty well, does Canva meet your needs when you simply need to do something brilliantly? As Canva is used by tens of millions of people, then a fair question is how many people out there are actually using the same template as I am about to use?
If you're looking for a feature-rich alternative to Canva, then Crello is a pretty good choice. Crello also includes loads of templates, and it supports animations and video.
Canva vs Crello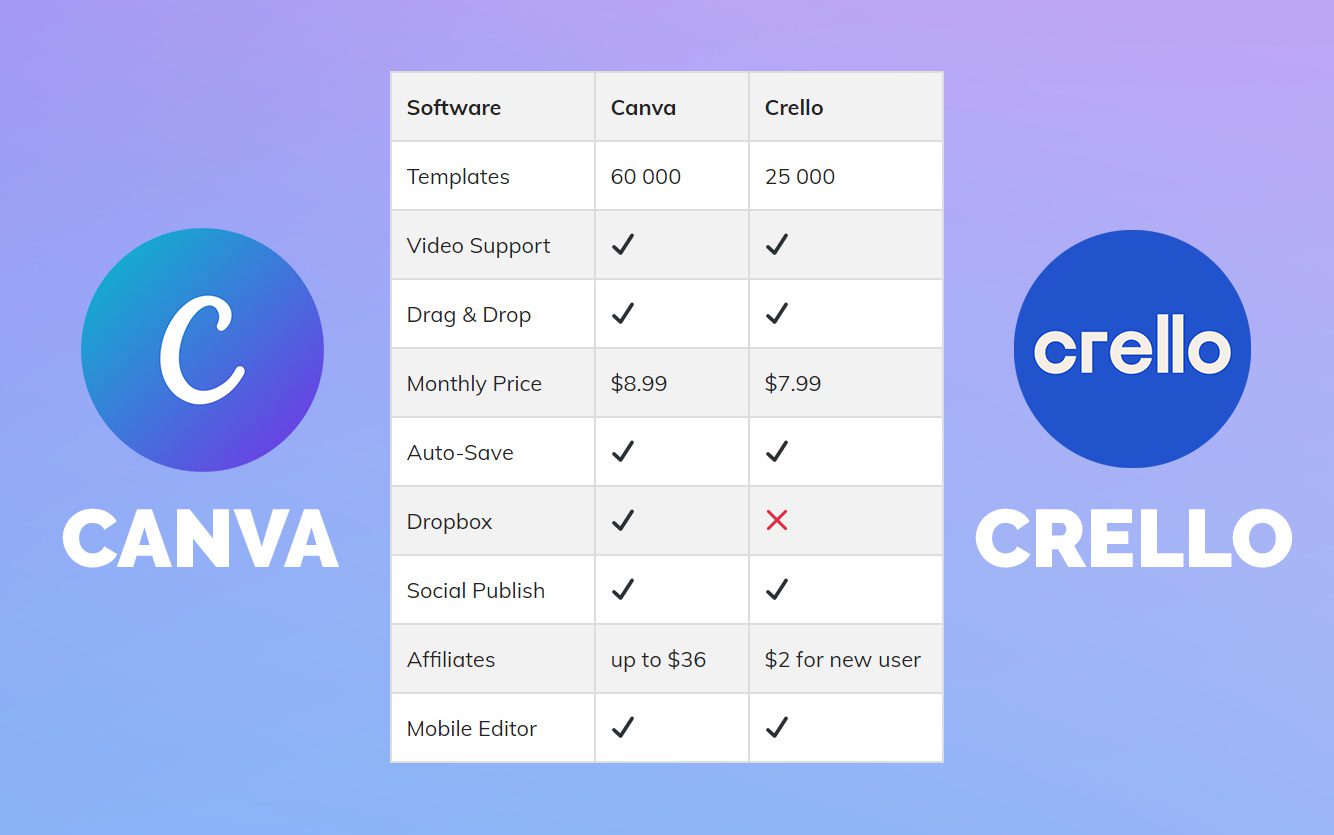 Snappa vs Mediamodifier
If uttermost simplicity and speed is what you're after, then definitely have a look at Snappa and Mediamodifier – there is practically no learning curve!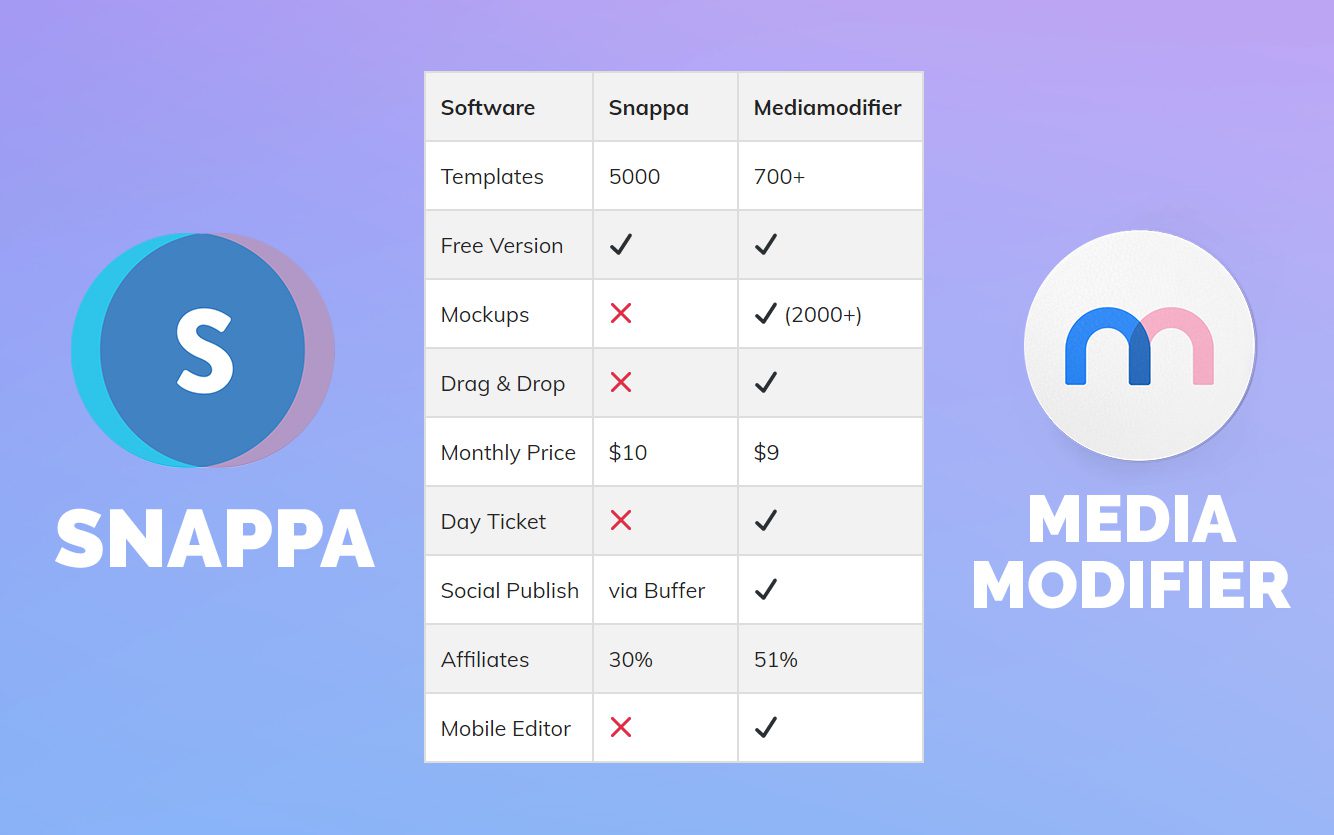 NB: both tools include a free resize feature, for transforming one design template into another format quite automatically, which is only available for paying users in Canva.
Snappa and Mediamodifier are mostly focused on web graphics which means if you need visuals for your social media pages, marketing campaigns or website then you won't regret trying out these tools.
Visualize your design Use a product mockup to showcase your design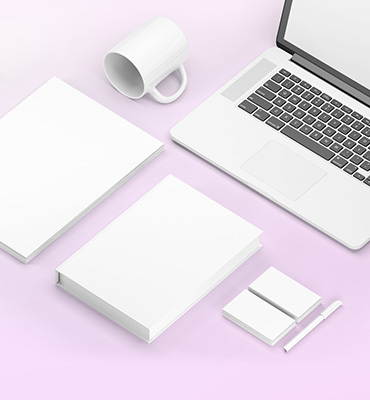 Create your design Use our templates to create delightful designs for any medium