Best 37 Instagram Ad Designs for Promotional Posts
•
March 24th 2020
•
10 minute read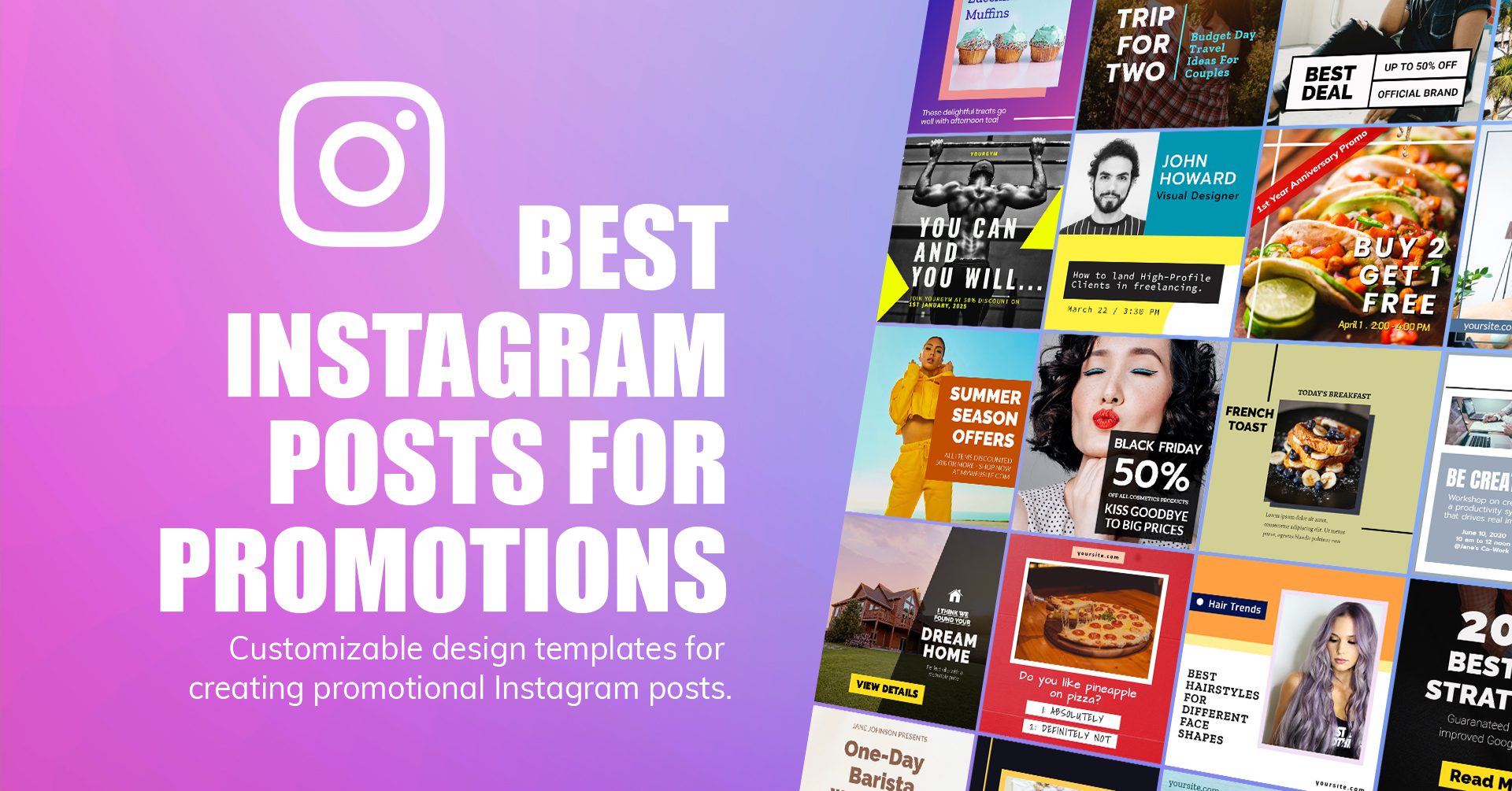 If you're thinking about advertising or at least promoting your content on Instagram, then it's about time! In just a few years, Instagram has grown into one of the most popular social media platforms on the planet with more than 1 billion monthly active users.
So it's quite natural if you wish to create an Instagram ad and reach more people, because growing your channel organically or even reaching a few people with your posts, is a tough job for a business account.
To make things easier for you, we've put together list of our favorite Instagram single image post designs, which you can use as templates for paid Instagram ads or simply for making promotional themed posts.
Instagram is a very visual platform, so if you're going use any of these templates for paid promotion, be sure to check your final design with the Facebook Text Overlay tool, which tells you if your ad includes too much text.
1. Creative Blog Promotion Instagram Template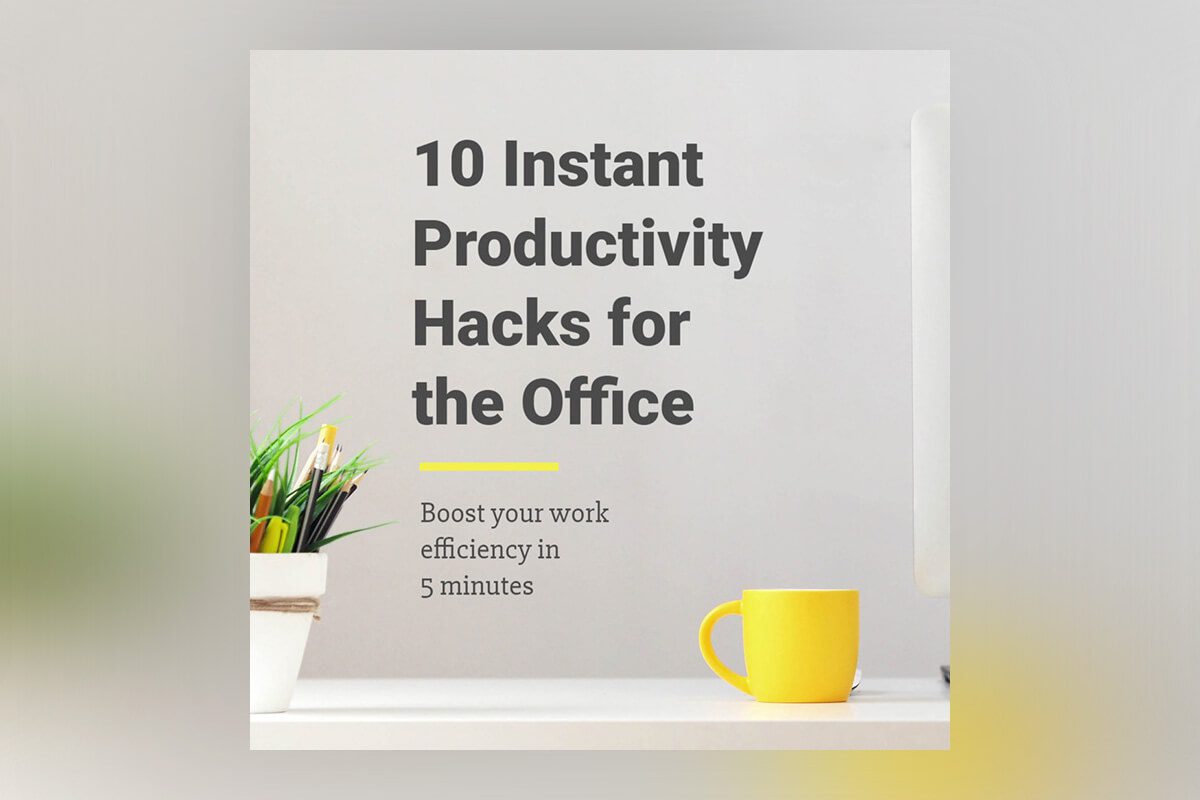 Use this editable Instagram design template for making a beautiful post to be used as a promotion or advertisement. A large title text on an office desk background scene.
---
2. Webinar Event Promotion Instagram Design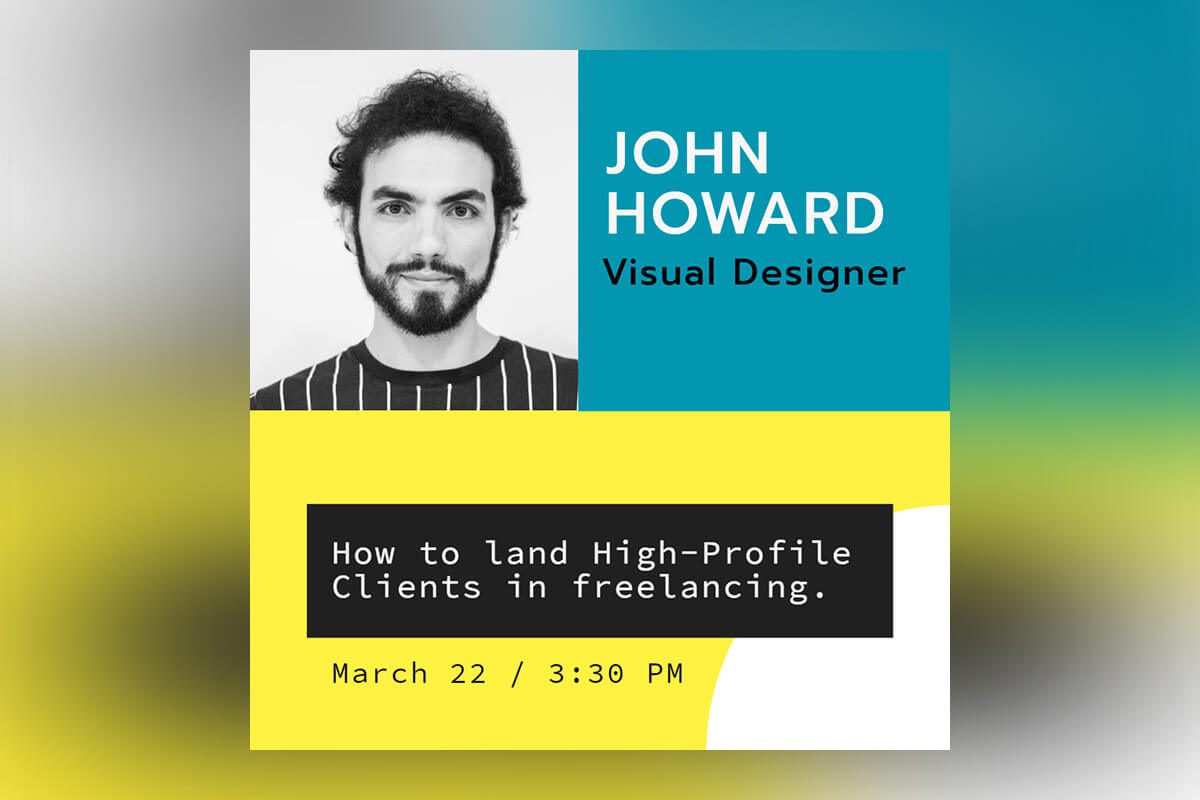 Make a colorful and professional Instagram post with this design template featuring a promotion for a webinar or online course. Easily replace the colors with your branding style.
---
3. Podcast Ad Instagram Post Template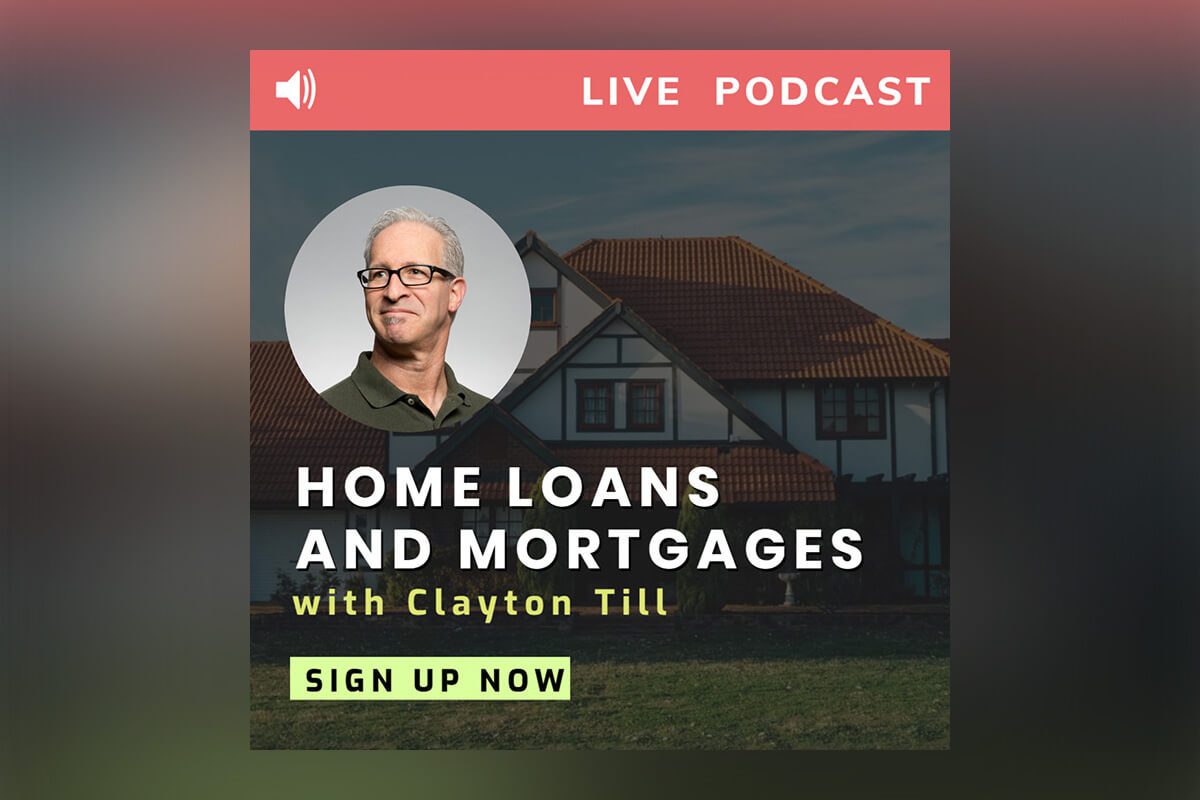 A real estate themed Instagram ad post design featuring a live podcast theme. Make an Instagram banner about selling a house, loans and mortgages.
---
4. Beautiful Frame Design Instagram Post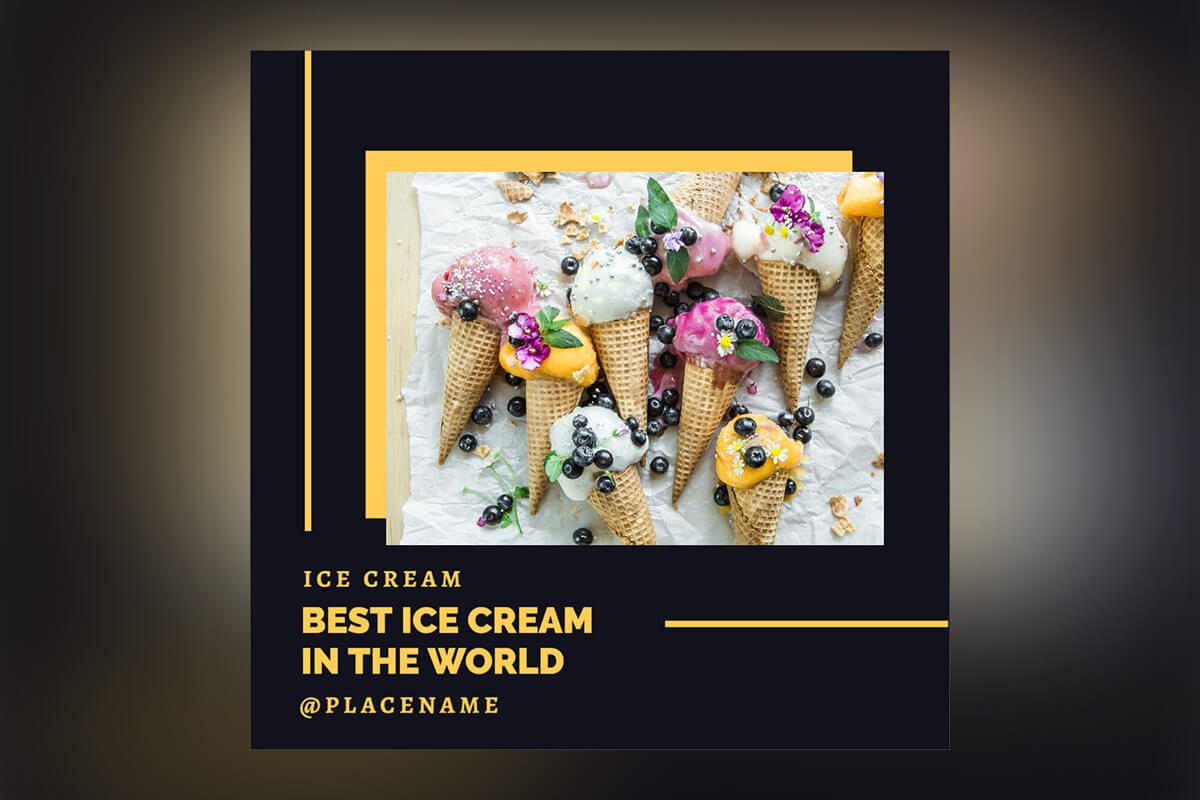 Best ice cream in the world – use this Instagram post for promoting a place that sells ice cream. Upload your own image and replace the text. This template is great for making an promotional ad, as it includes less text.
---
5. Infographic Instagram Post Template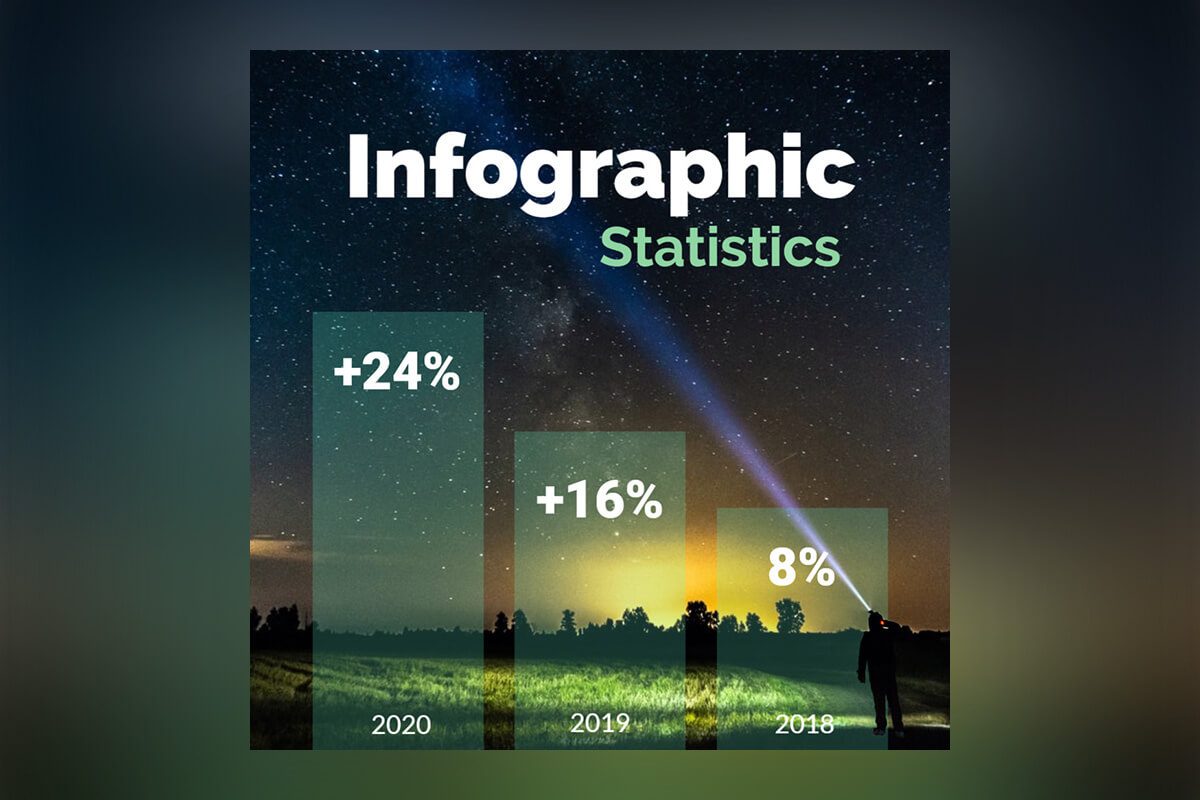 Use this customizable infographic and statistics themed design as a template for your Instagram ad or single image post. A creative way for showing numbers. Have a percentful day!
---
6. Food Ad Instagram Post Design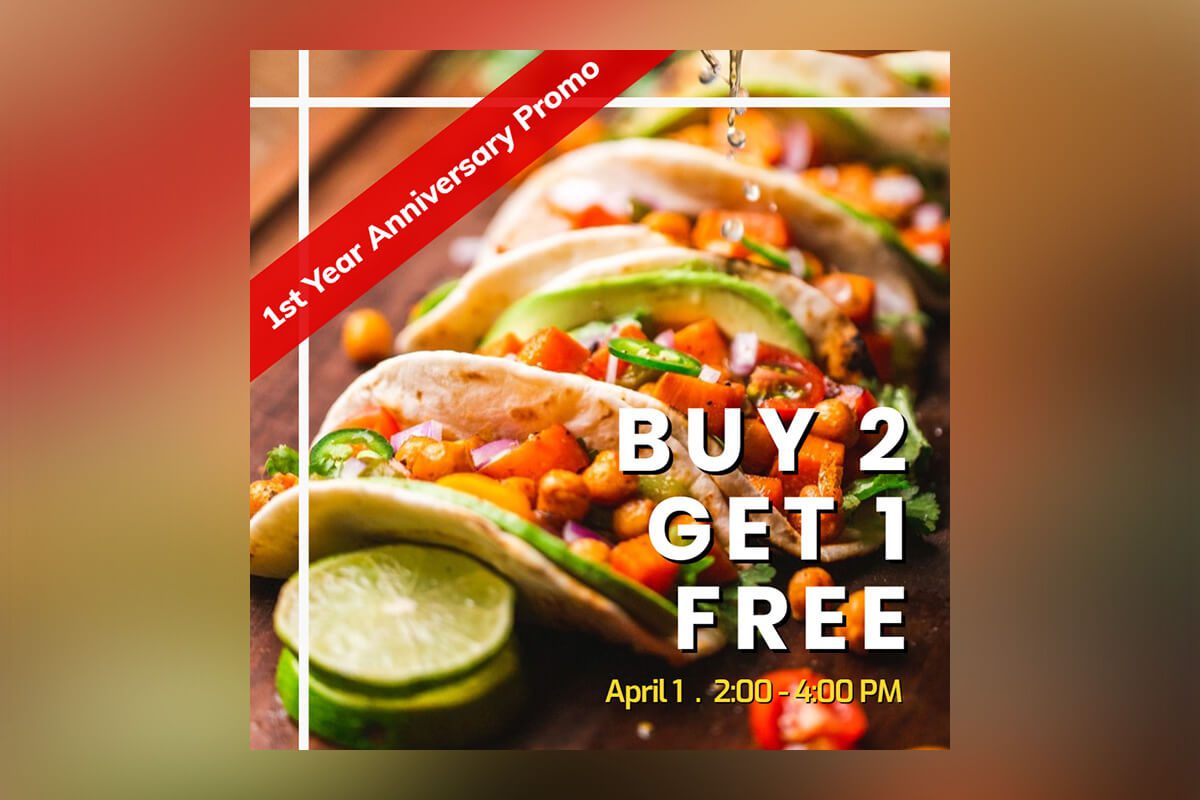 Make a food themed Instagram promotion with this design template featuring a delicious wrap on a table. Add your own food image and replace the text for an eye catchy ad.
---
7. Breakfast Menu Promotion Design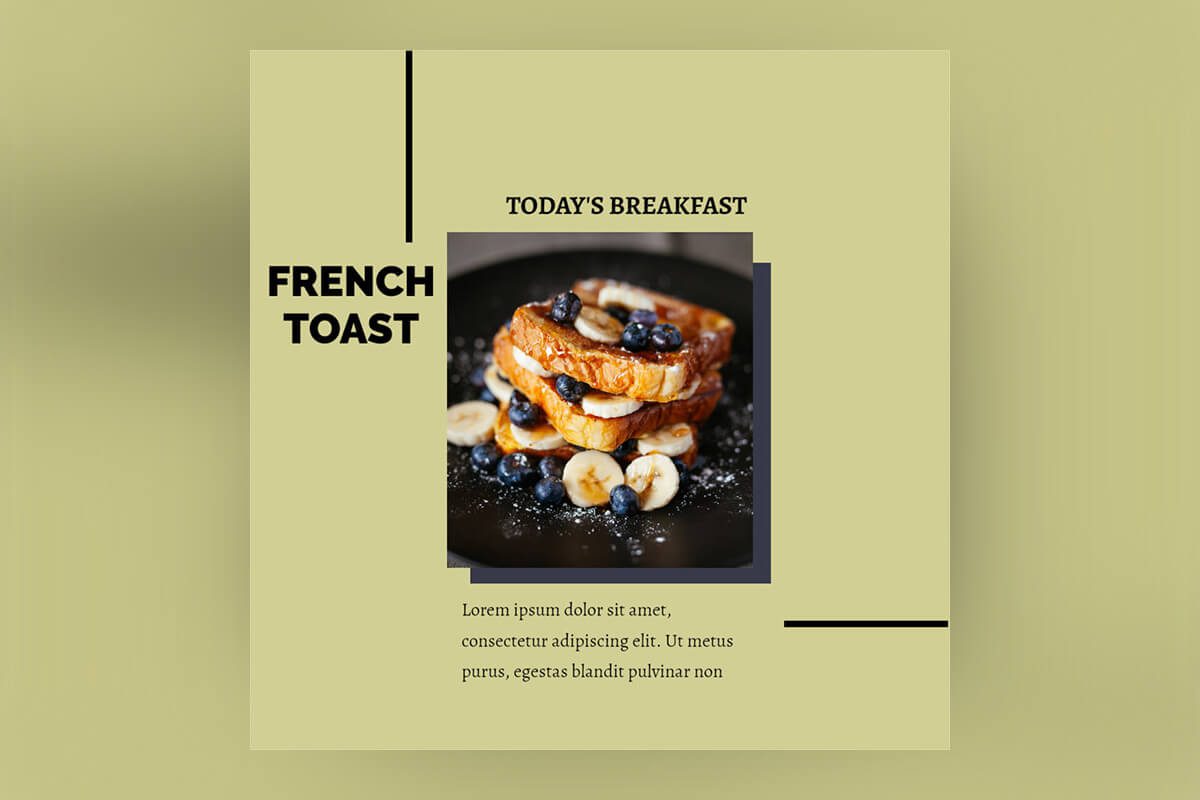 French Toast Instagram Post template for sharing your thoughts and photos from breakfast or a delicious meal from a restaurant. A beautiful and minimal Instagram ad design with lots of space.
---
8. Travel Instagram Banner Template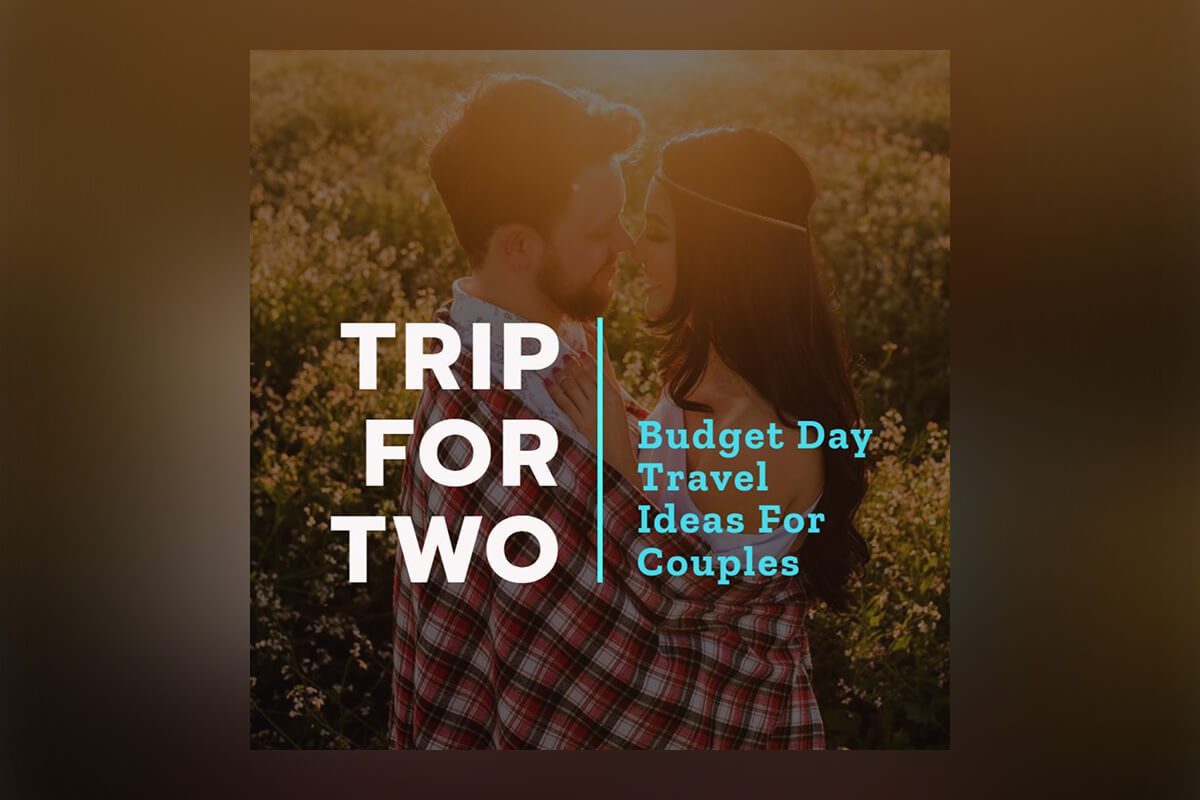 A beautiful Instagram post template featuring a lovely couple on the background. Make a post about traveling tips or ideas for couples. Promote your travel related blog or website article.
---
9. Keynote Speaker Instagram Promotion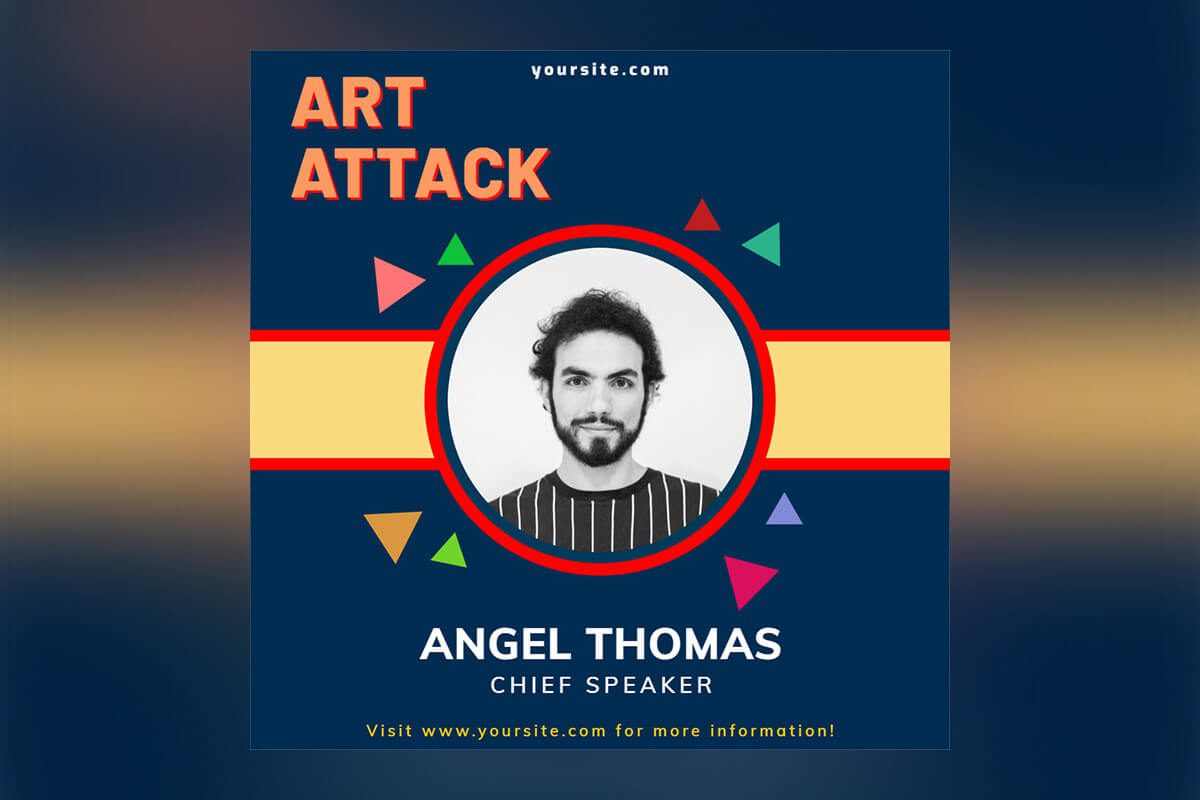 A creative and colorful Instagram promotional post template for advertising any kind of event related with art and design. A round image in the middle with colorful triangles.
---
10. Fashion and Beauty Instagram Post Template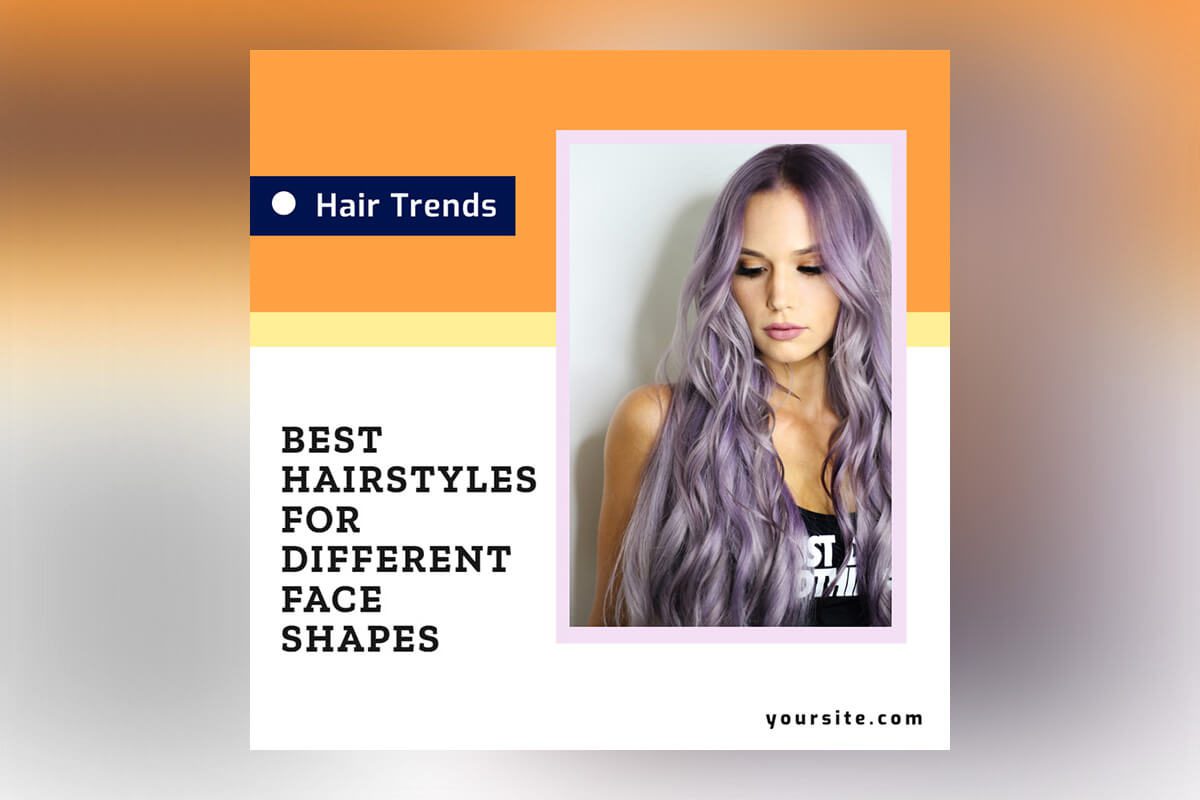 A beautiful design template for promoting your beauty or cosmetics related products on Instagram. Make a professional hairdresser or hair stylist themed banner. Replace the image and customize the color sceme.
---
11. Instagram Poll Template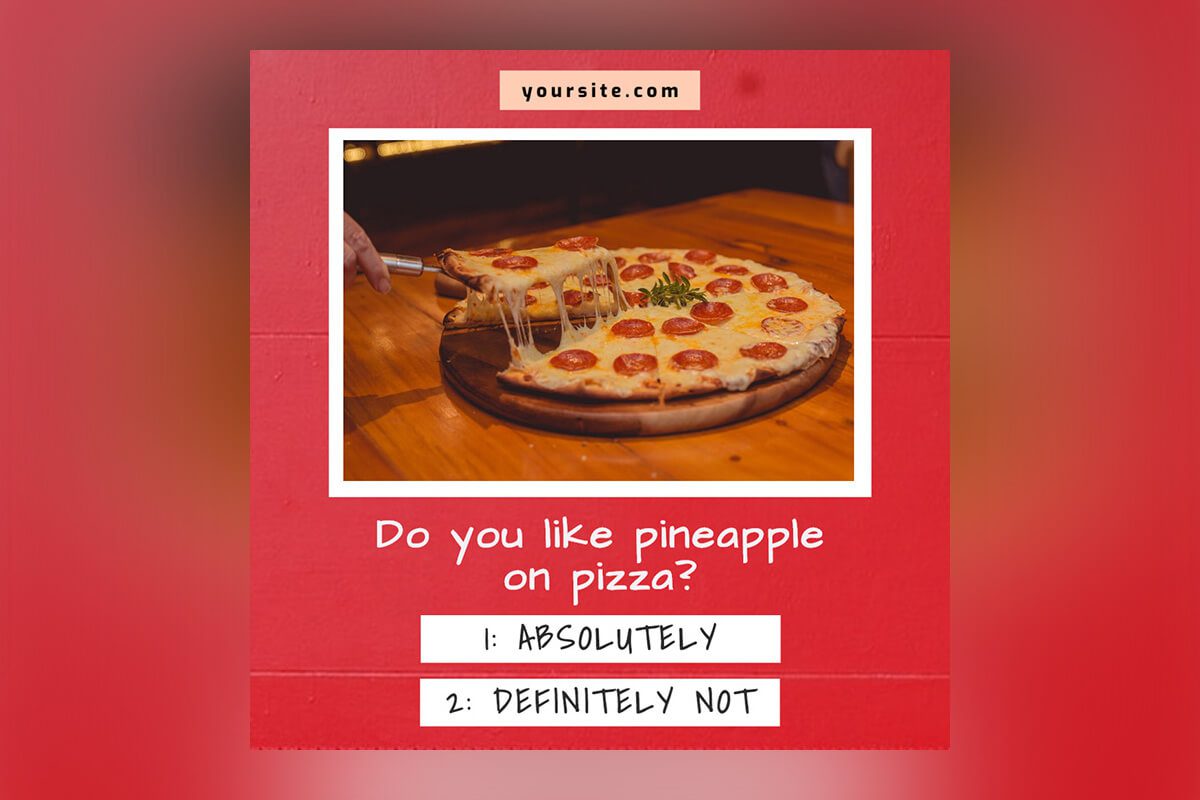 A creative Instagram post template for making a social media quiz game with your followers. A good template for a pizzeria business or simply talking about food with your followers.
---
12. Framed Image Post Maker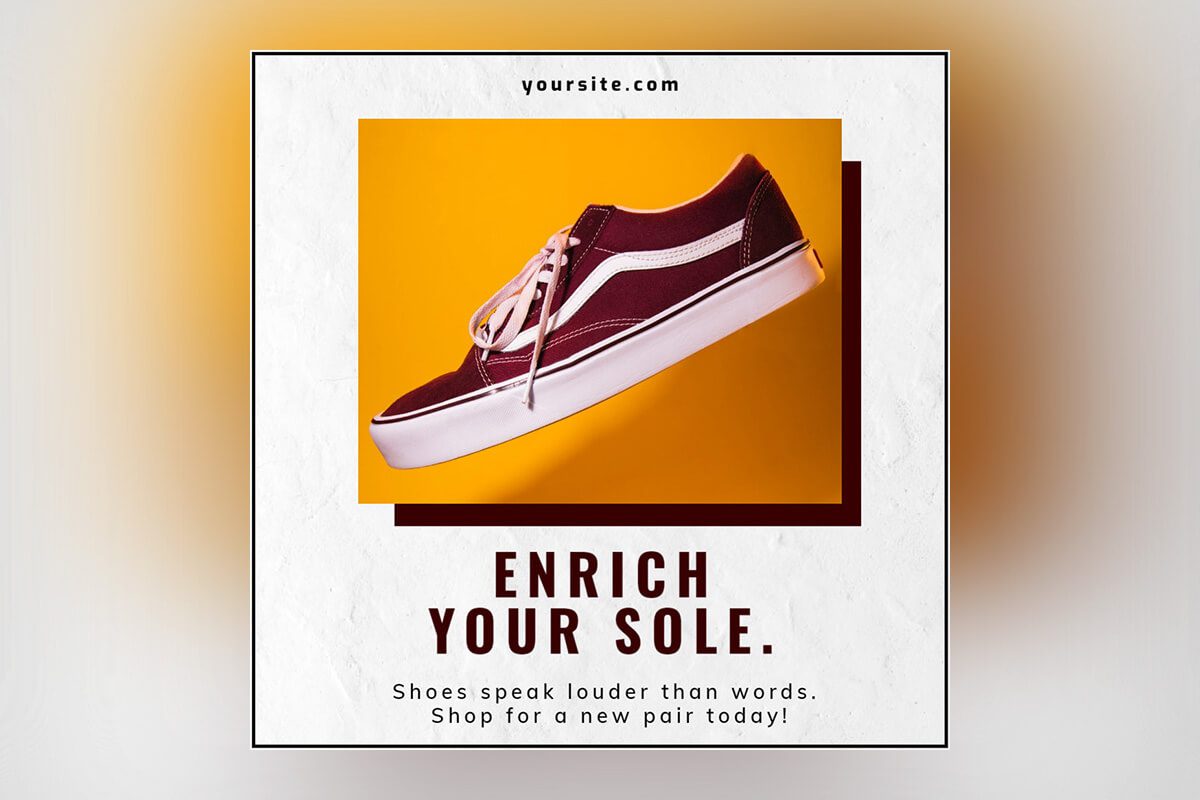 A design template for making a shoe and sneakers related social media post on Instagram. Promote your footwear like a pro. Add your own image and add a unique custom look to the design.
---
13. Gym Instagram Ad Design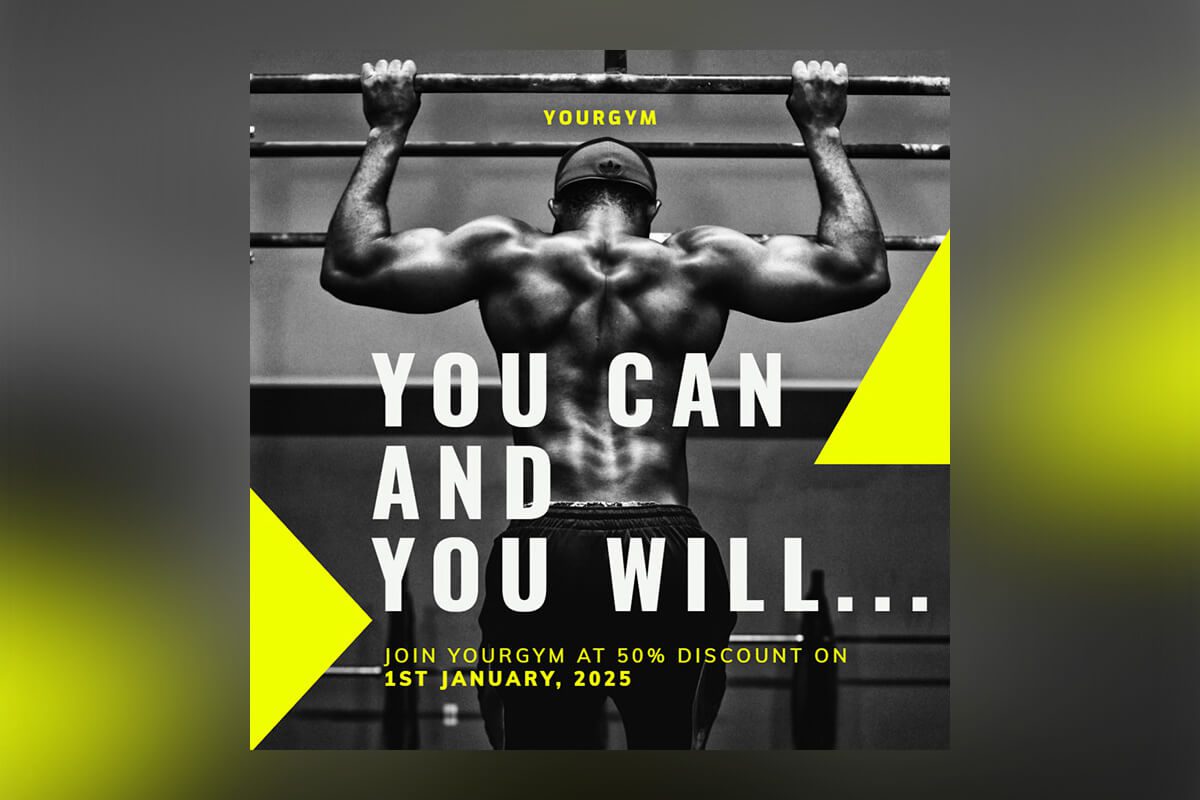 Ah well the very first gym and motivation ad 🙂 A gym and workout themed Instagram post design template featuring a man doing pull-ups on the background.
---
14. Fitness Channel Instagram Post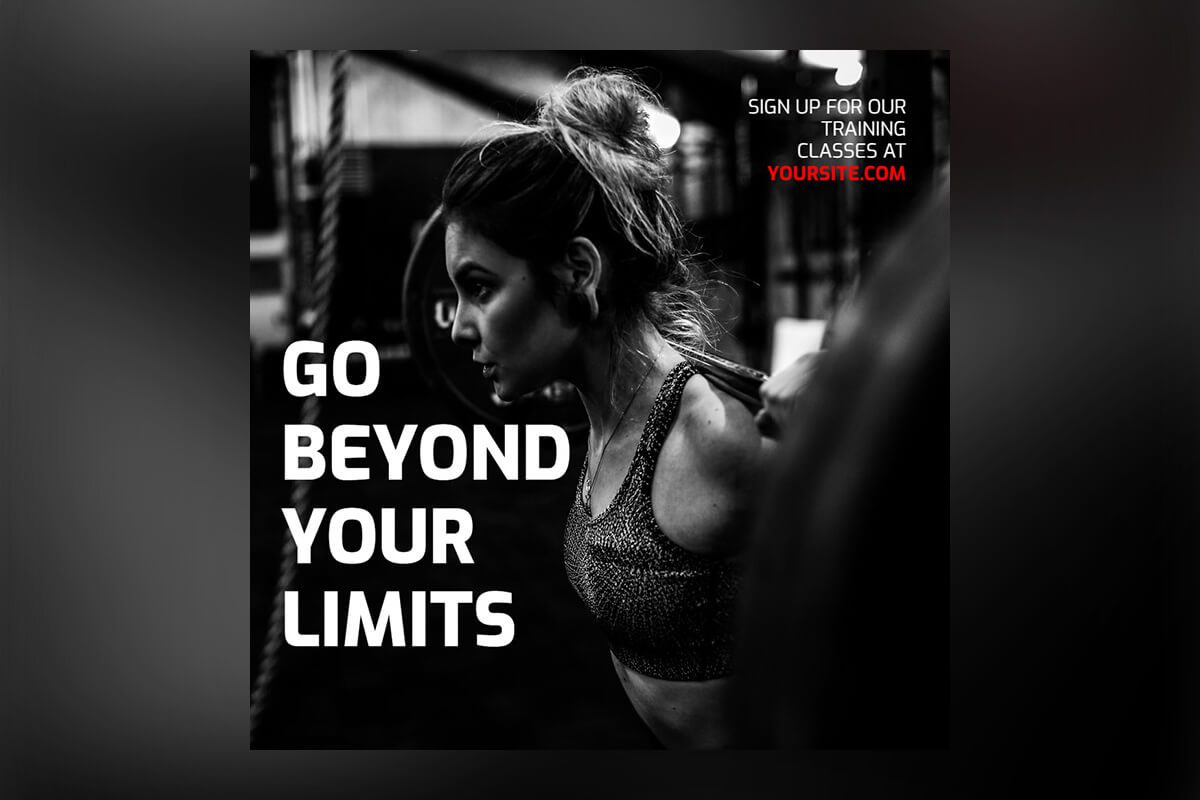 And another one… Use this Instagram design template for making a motivational workout and gym themed social media post. A large title text with woman working out on the background.
---
15. Home Decor Instagram Post Design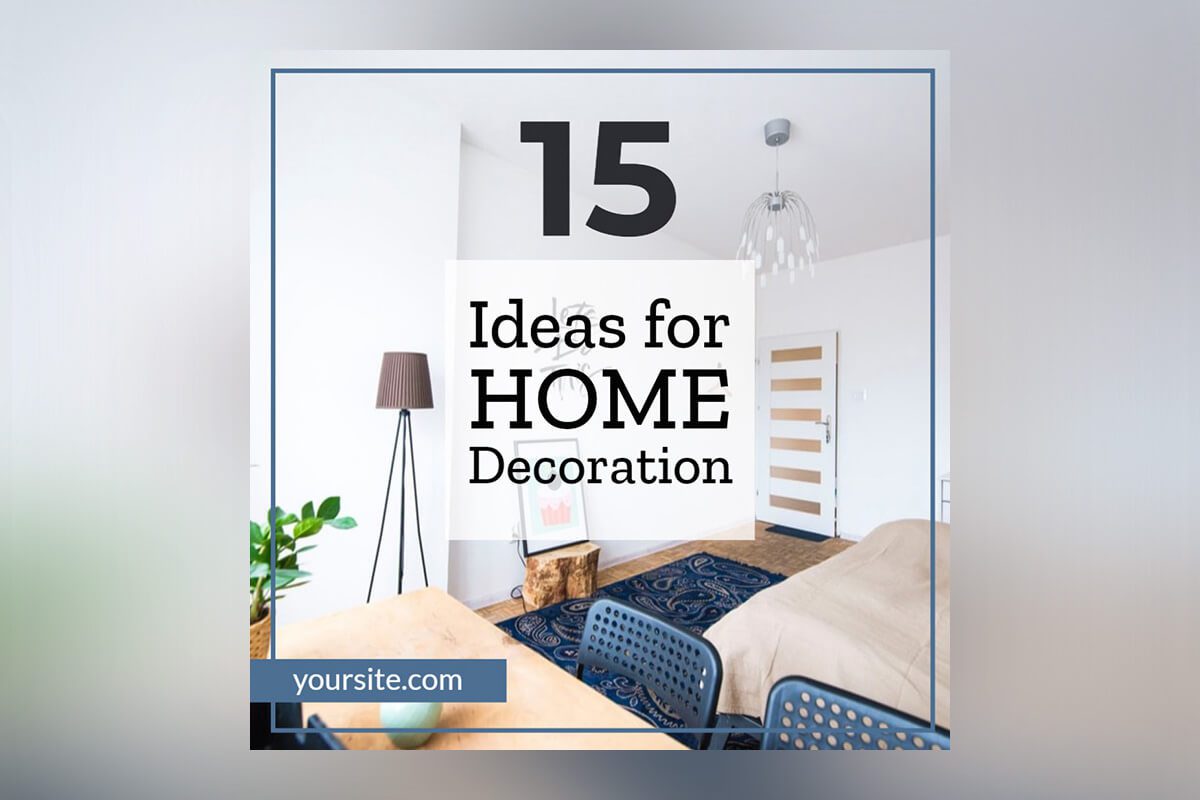 Is your home ugly? An online design template for creating an Instagram post about home decoration and interior design ideas. Share decoration tips for promote your latest blog post.
---
16. Fashion Instagram Post Teplate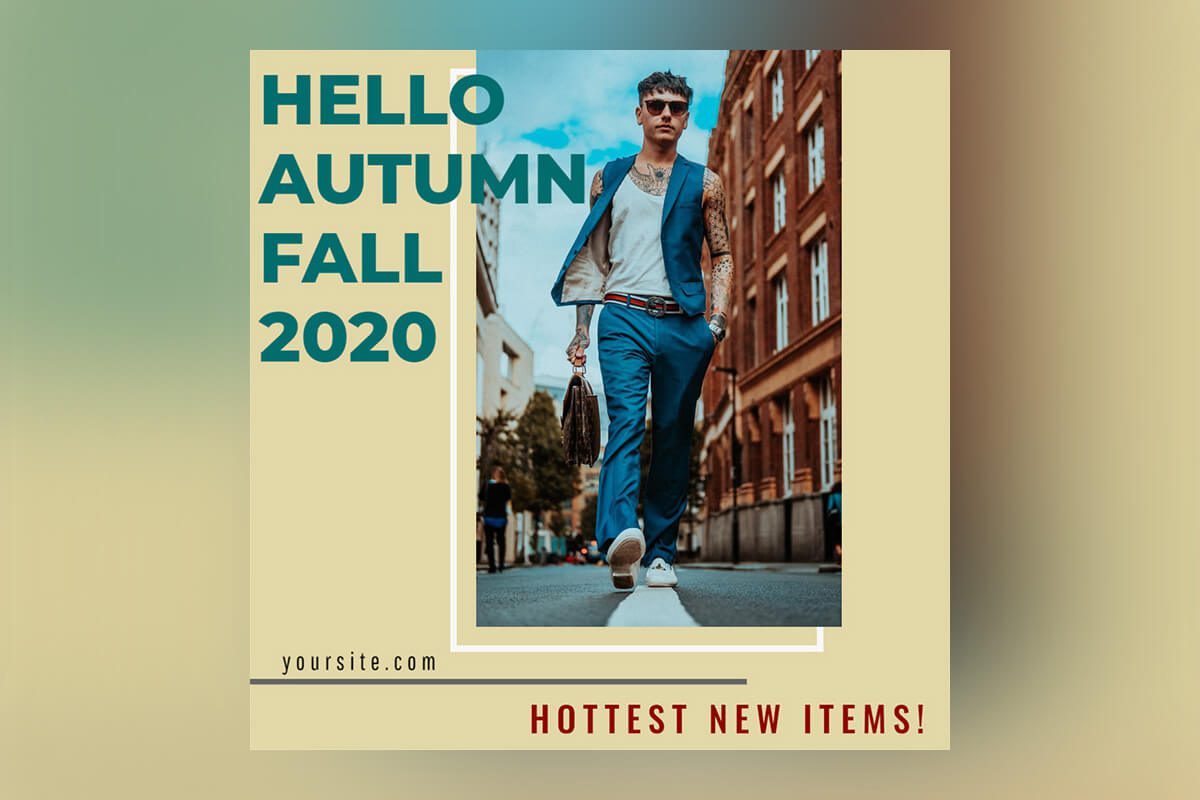 Don't be out of fashion! Use this online design template for making a men's fashion and apparel themed Instagram promotion. Insert your own text or image and promote your brand or product.
---
17. Nature and Travel Instagram Post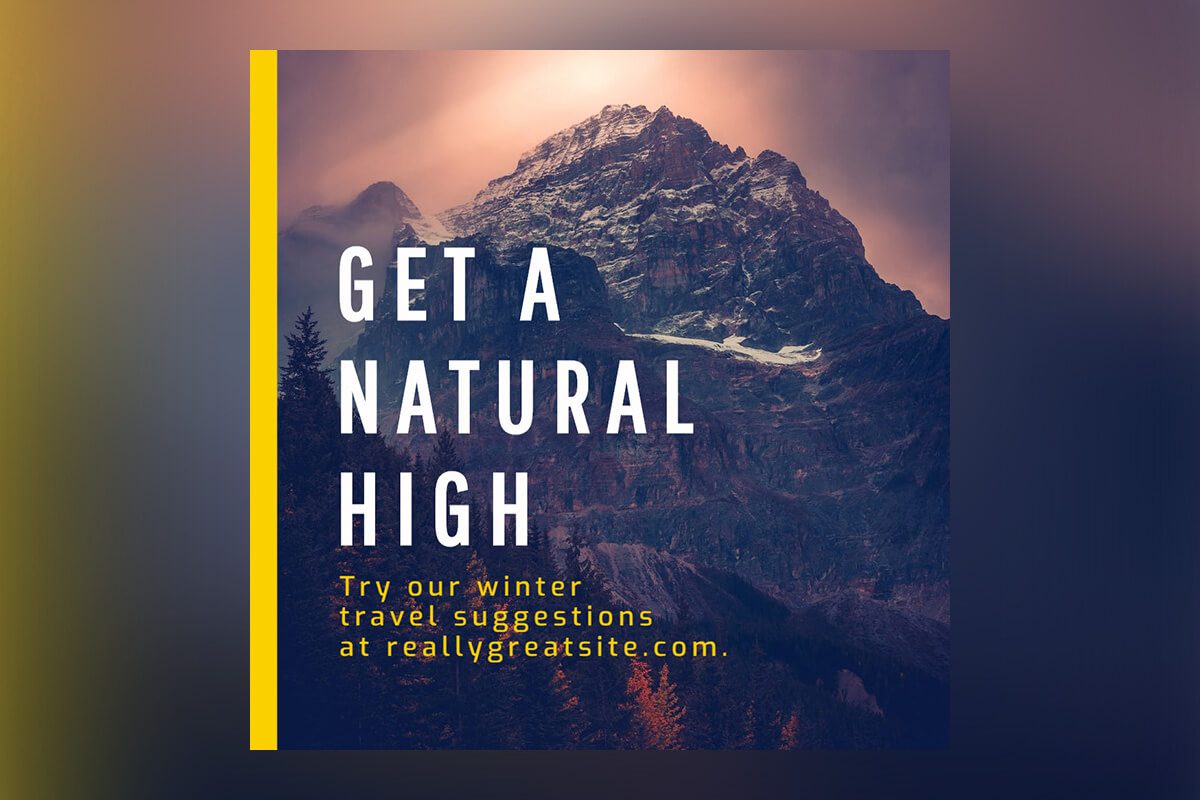 A travel and mountain climbing themed Instagram post template for creating a motivational Instagram ad or banner. A beautiful mountain and sunset sky on the background.
---
18. Beach Vacation Instagram Promotion Design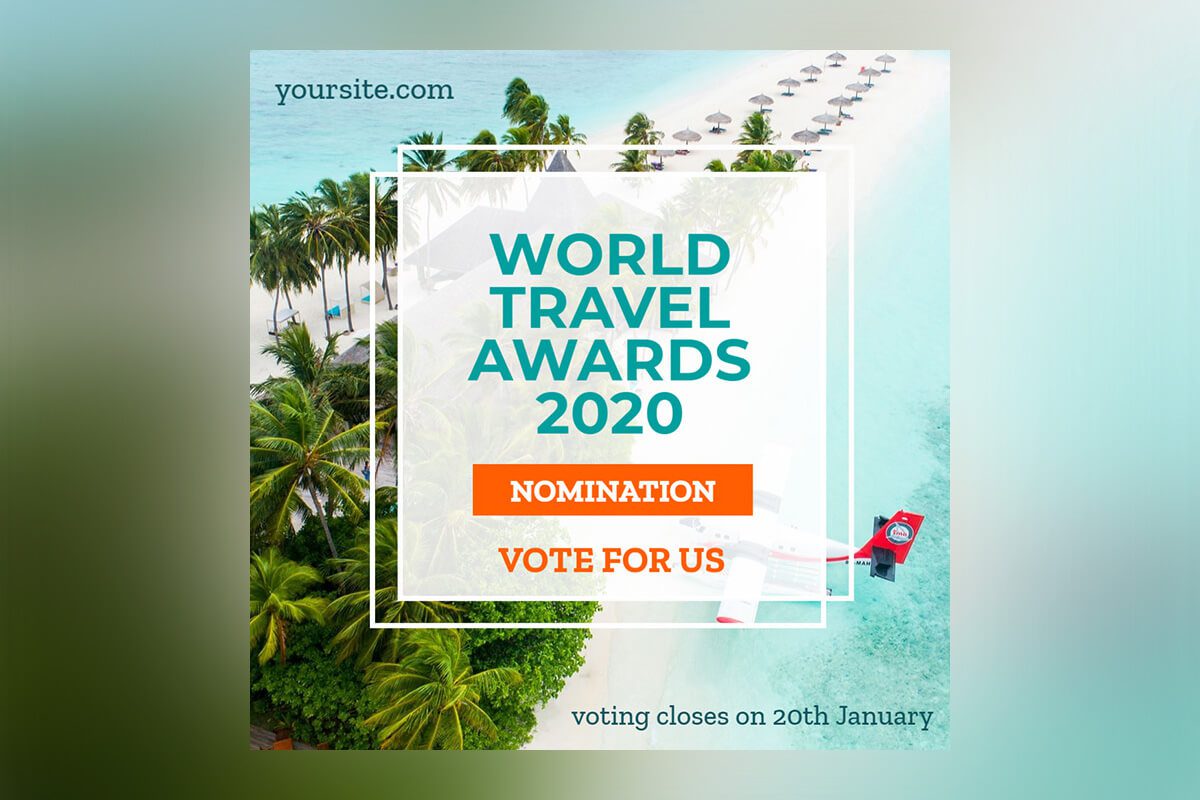 A beautiful beach and vacation themed Instagram post template for advertising your promotion or special offer. Summer colors with blue ocean, trees and a white frame for text on the foreground – a pure classic ad which brings out the summer and vacation memories.
---
19. Colorful Instagram Ad Design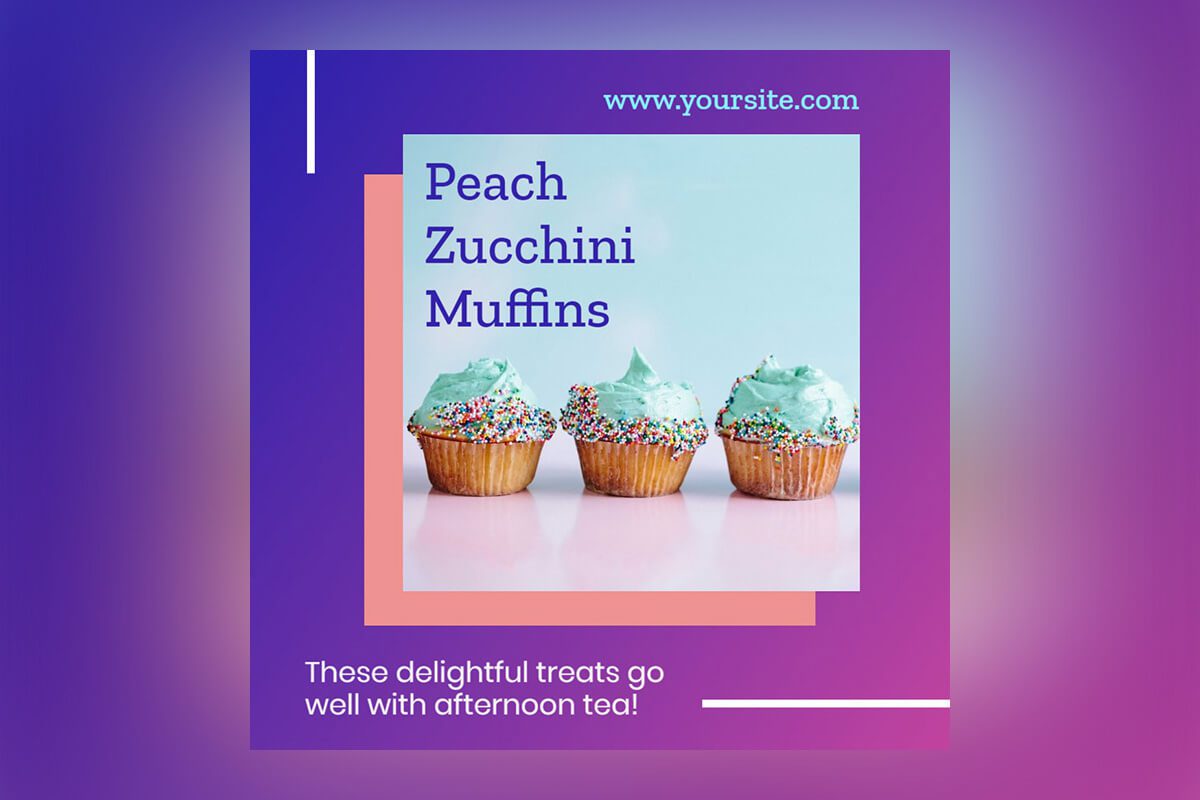 A beautiful design template for showcasing your product on Instagram. Example design uses an advertisement for muffin or bakery store – easily replace with your own product and titles.
---
20. Fashion Sale Instagram Promotion Template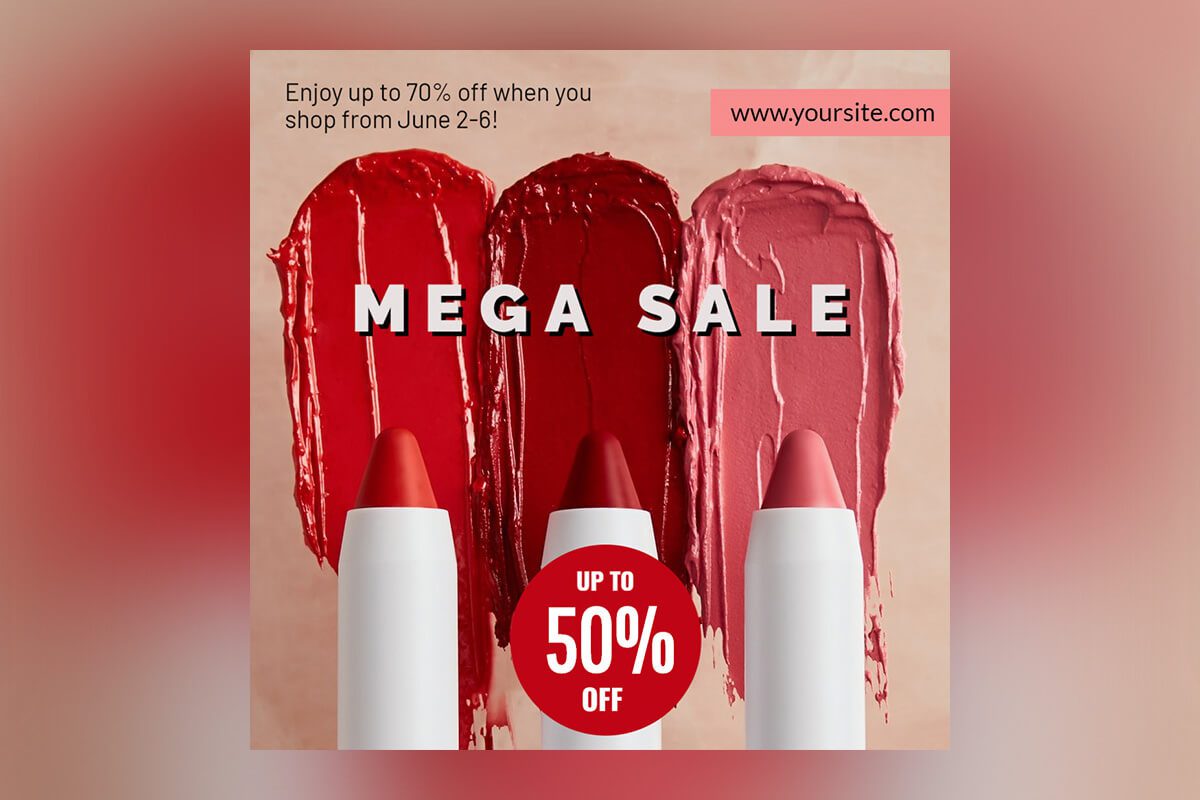 A design template for creating a cosmetics and accessories related banner template for promoting your beauty products on Instagram. White text on red lipstick background.
---
21. Summer Sale Instagram Ad Design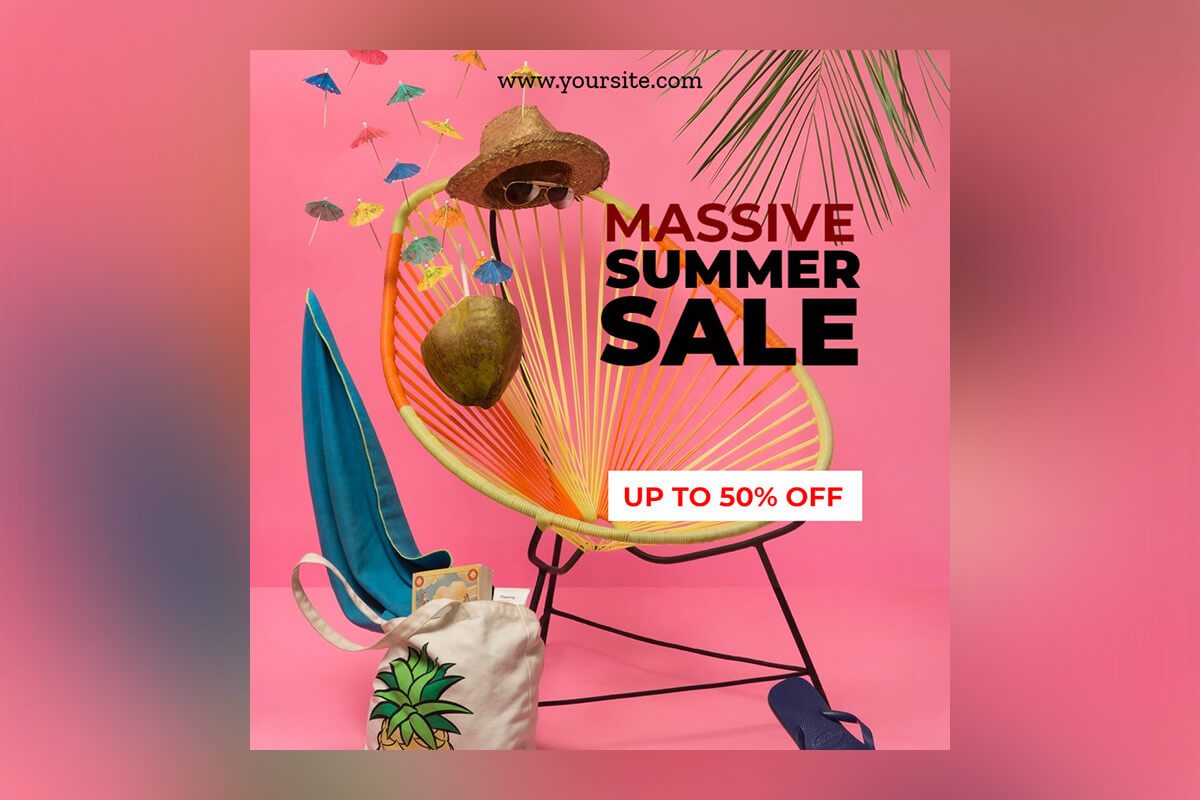 Use this brilliant summer sale themed Instagram post design template for advertising your shop or brand's offer. Bright pink colored background with hats, sofa and coconut.
---
22. Summer Giveaway Instagram Post Template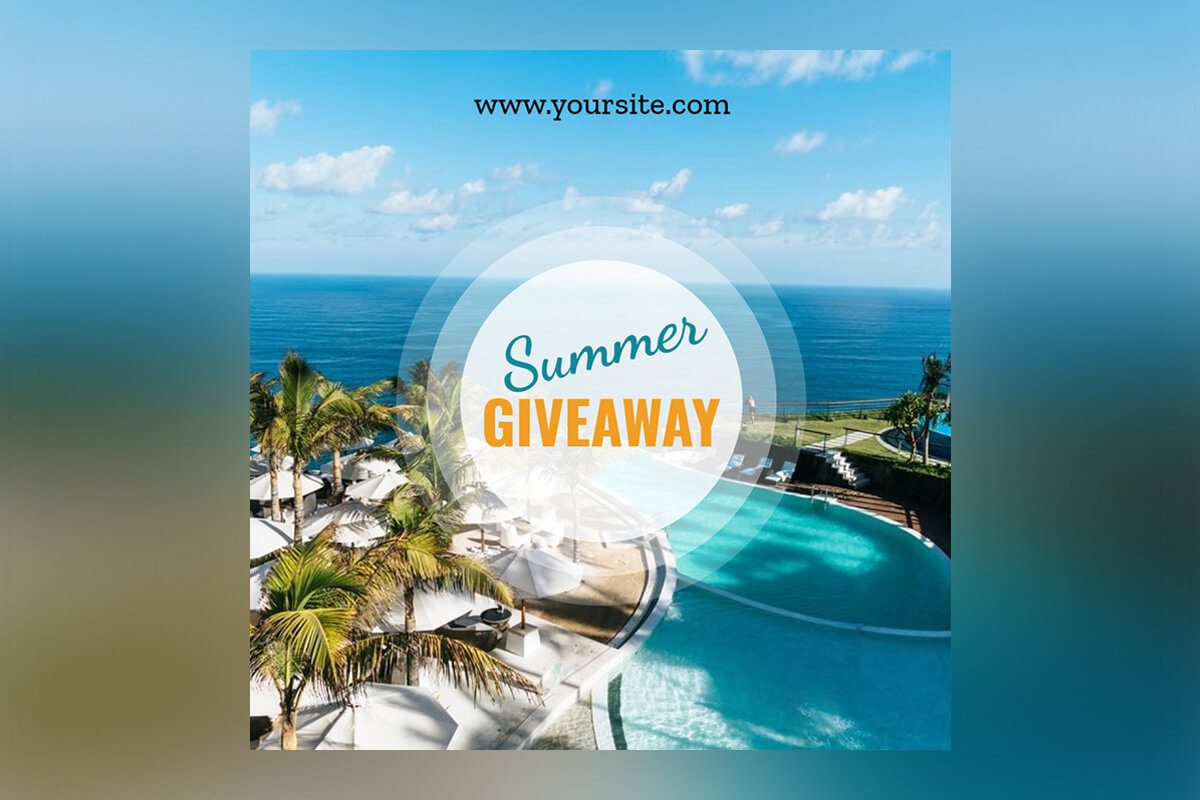 Another beautiful summer giveaway or Instagram competition themed template for advertising your hotel or resort vacation offer. Bright sea background with a beach hotel.
---
23. Black Friday Instagram Sale Template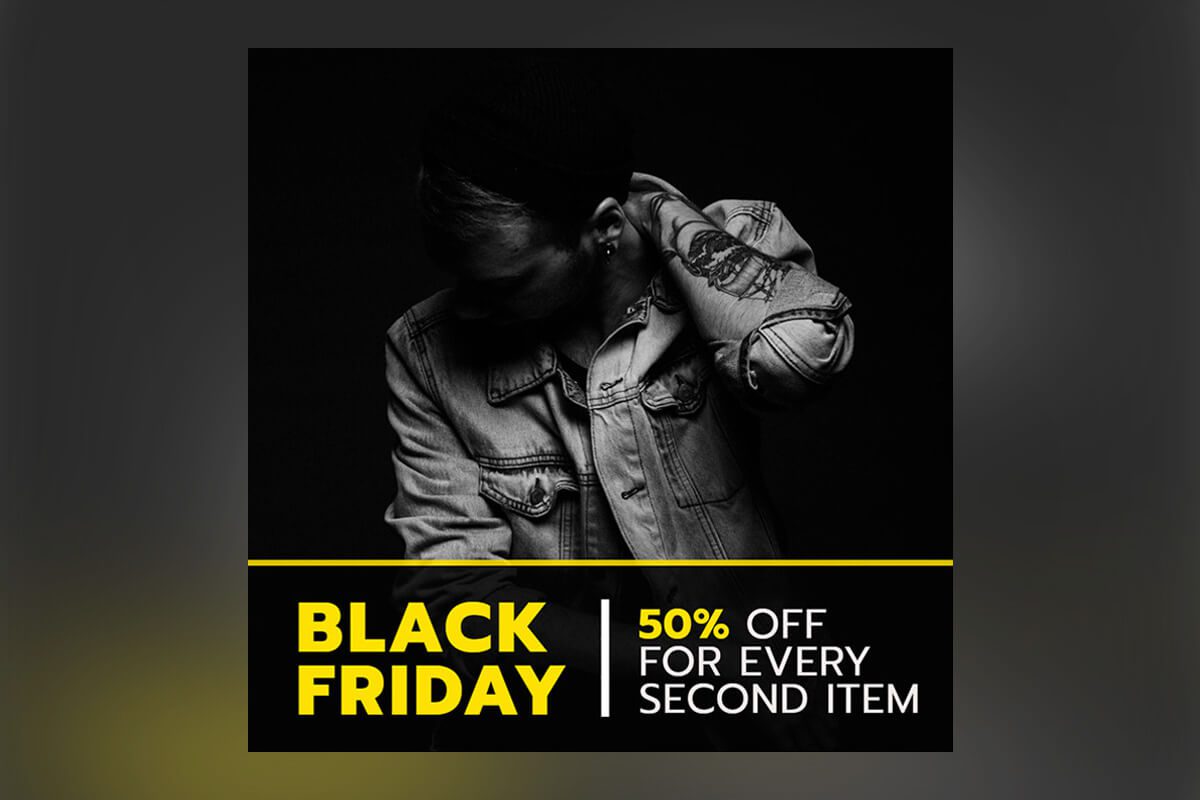 A fashion themed black and white Instagram post or ad design template featuring a man wearing a jean jacket. Kind of looks like a Lil Wayne rap video 🙂
---
24. Black Friday Promotion Instagram Ad Template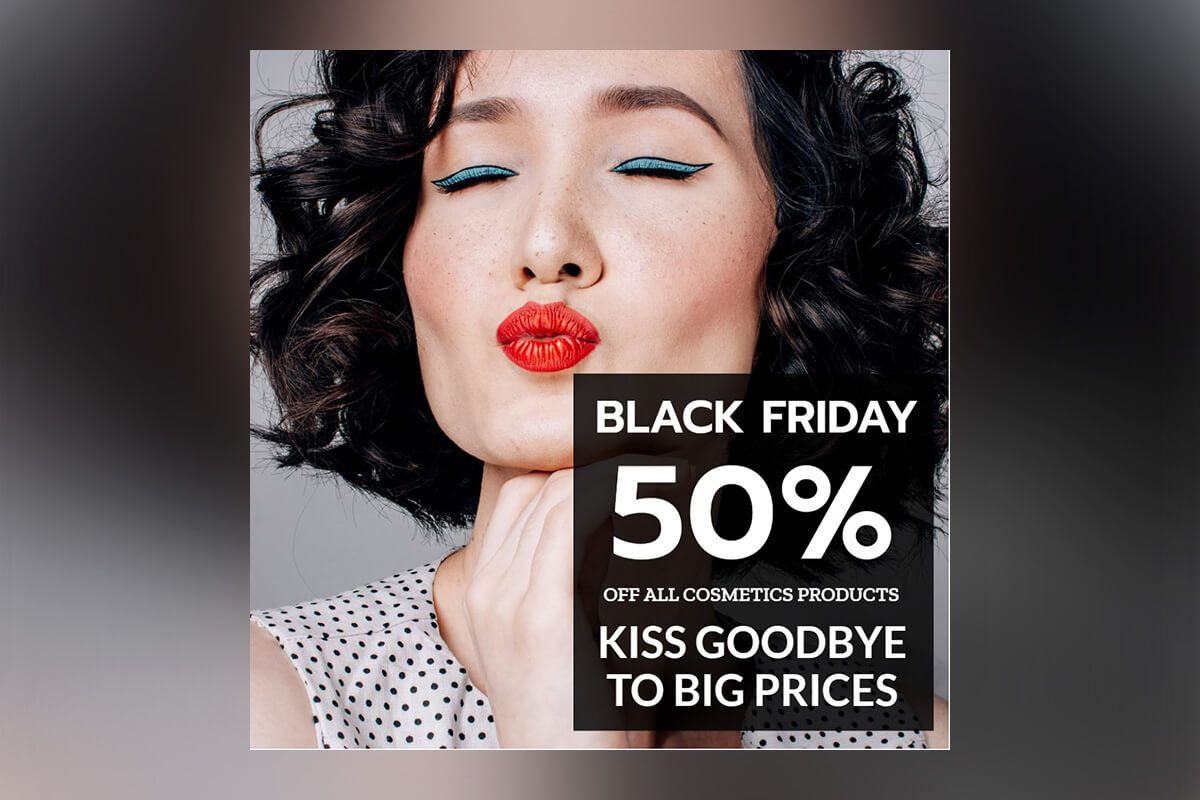 A design template for advertising your discount offer for cosmetics and makeup products – a woman with closed eyes showcasing her red lips. A classic Black Friday ad design for Instagram.
---
25. Workshop Promotion Instagram Post Design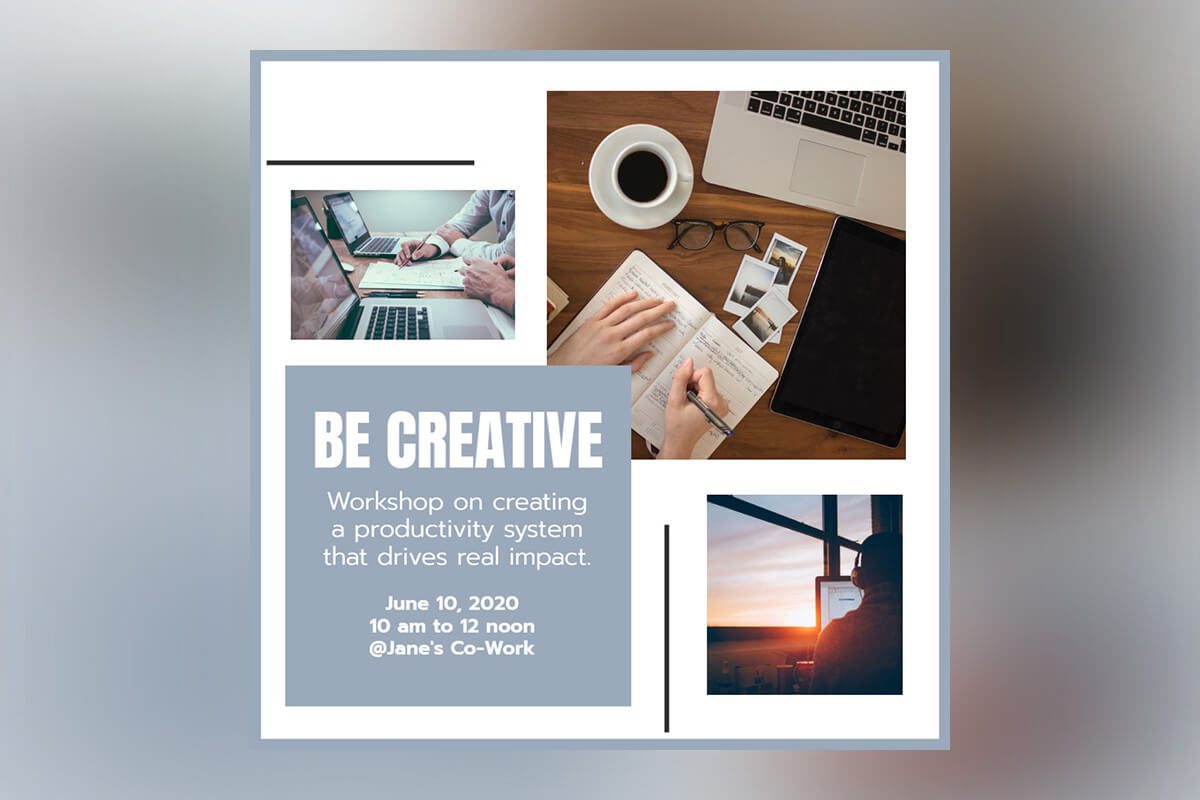 Instagram post template for promoting a motivational event with a collage of images. Add your own text and images into the layout and change the color scheme.
---
26. Spiritual Design Instagram Post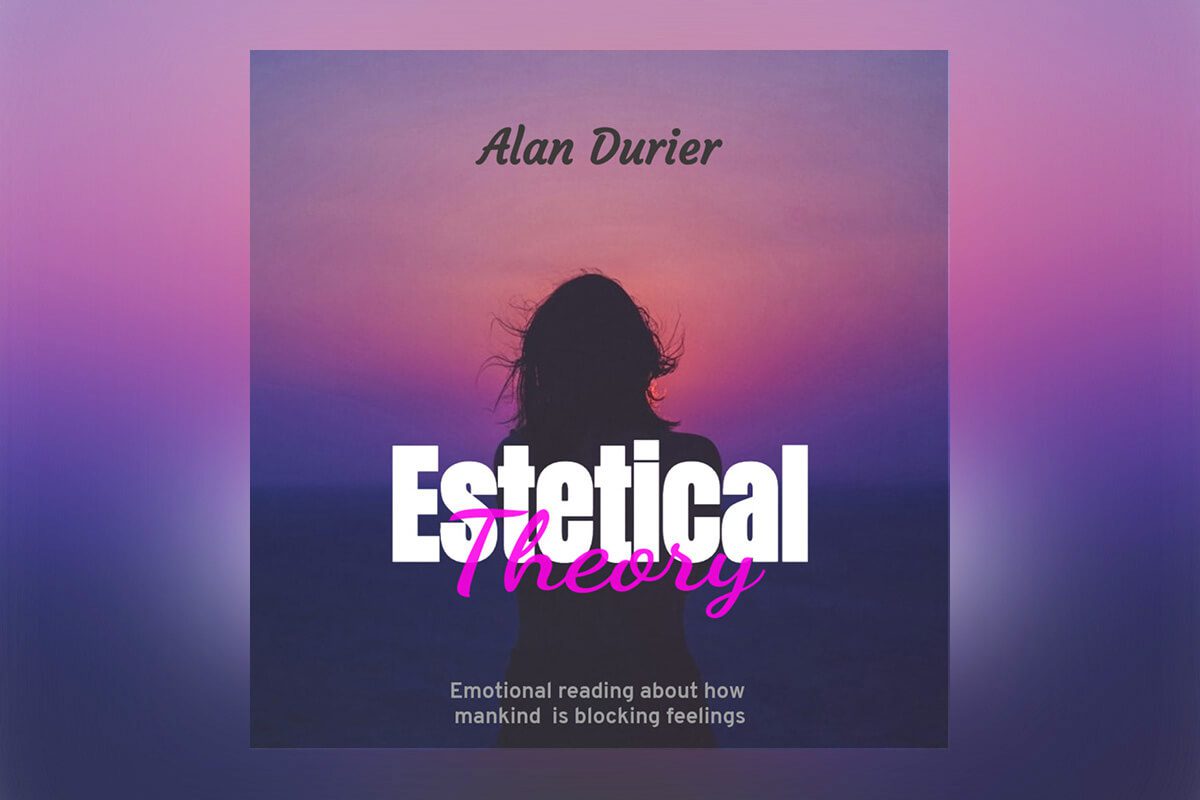 Use this Spiritual Instagram post design for promoting your latest book or blog post about spiritual topics or relaxation. The design features a woman looking into a sunset on a beach.
---
27. Real Estate Instagram Banner Template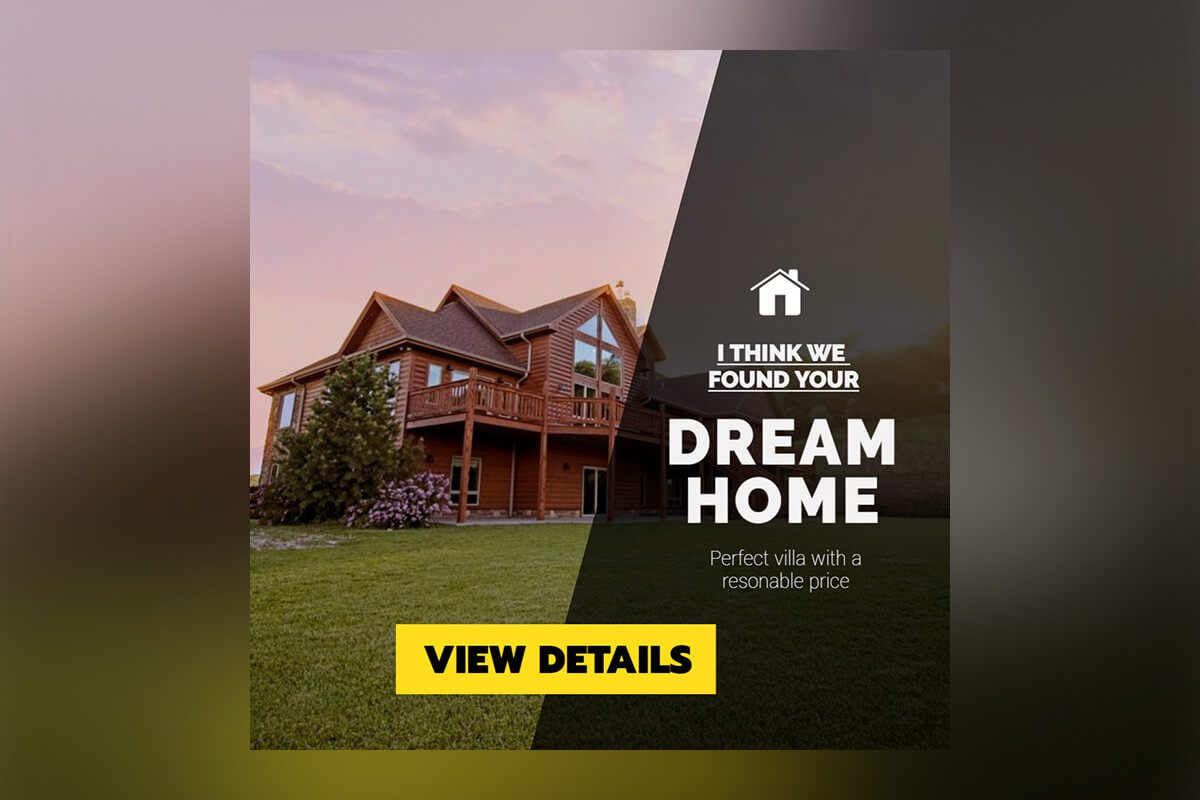 Make a catchy real-estate themed Instagram banner with this template featuring a house on the background. Promote your real estate website or a specific house offer. use the black and yellow color scheme or add your own colors.
---
28. Fashion Instagram Banner Template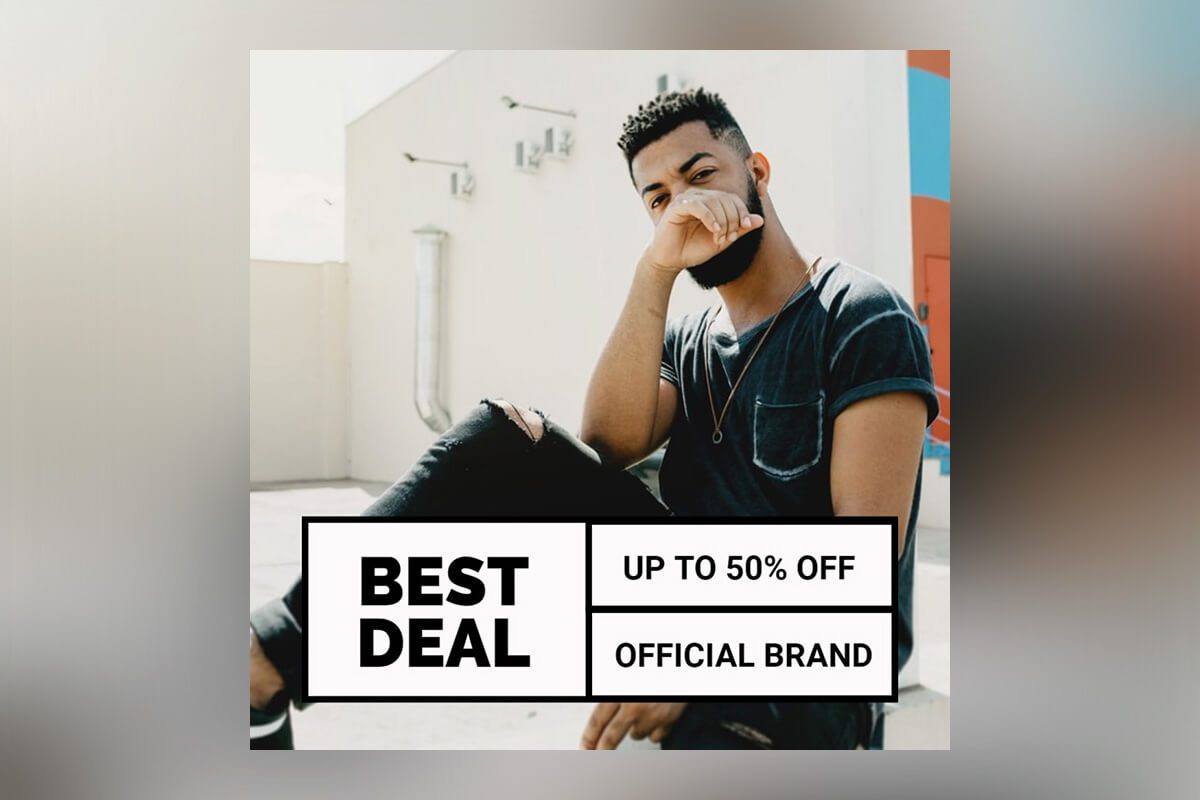 Use this trendy Instagram ad post maker for advertising your discount offer or sale for men's clothes. Urban styled promotion template with a male model. Insert your own texts and easily customize the colors of the boxes.
---
29. Creative Writing Instagram Post Maker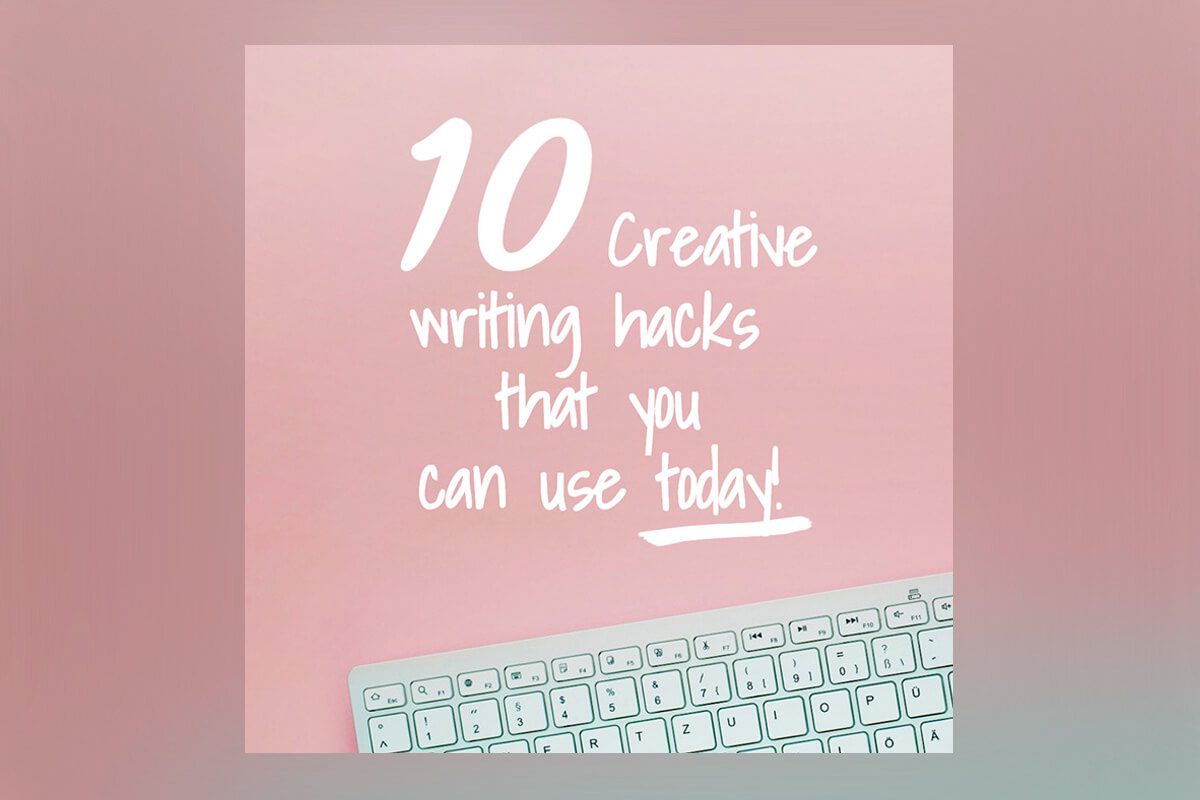 A pink themed Instagram banner or post template for promoting blogging, creative writing or SEO services. White text on a pink background with Apple keyboard and mouse. Make a bright and positive post and invite people to read your content.
---
30. CTA Banner Instagram Post Template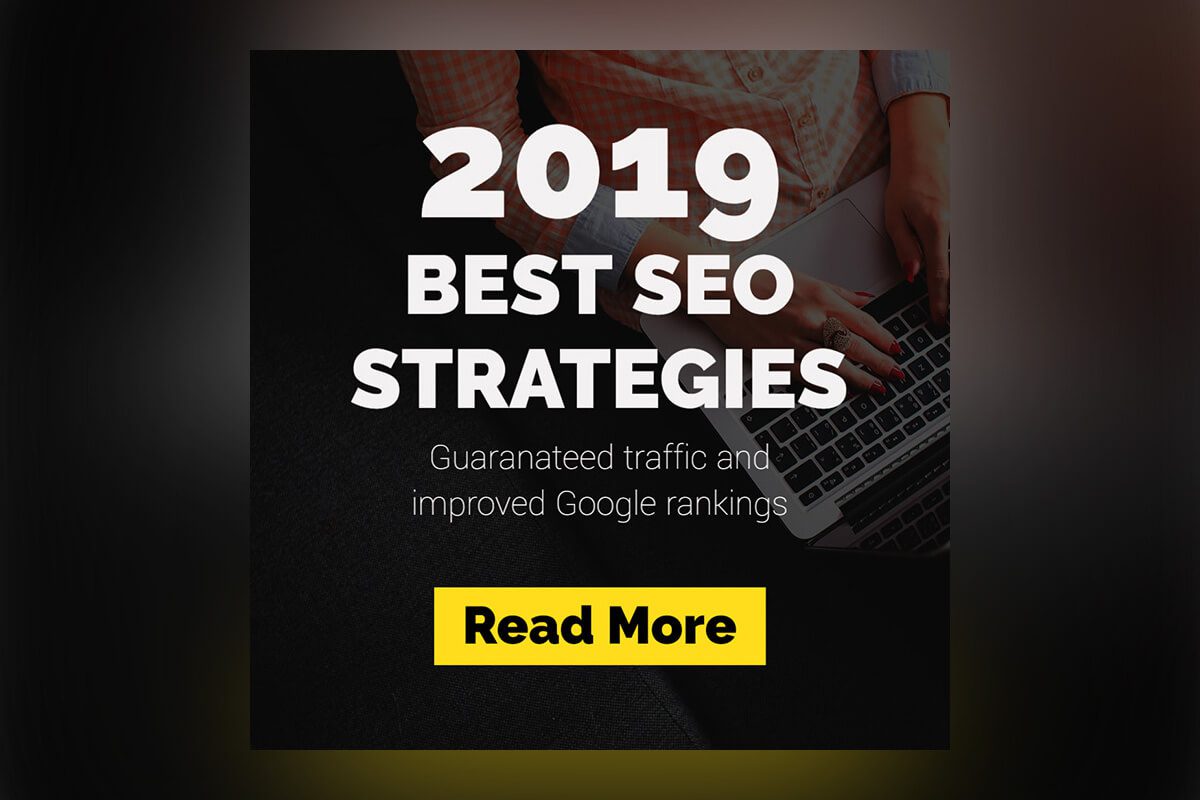 A free online Instagram banner template for promoting creative writing or SEO services. White text overlaid on a dark background with woman typing on a laptop. Replace the text and promote your website with an eye-catchy banner on social media – try it now, it's free.
---
31. Tech Event Promotion Instagram Post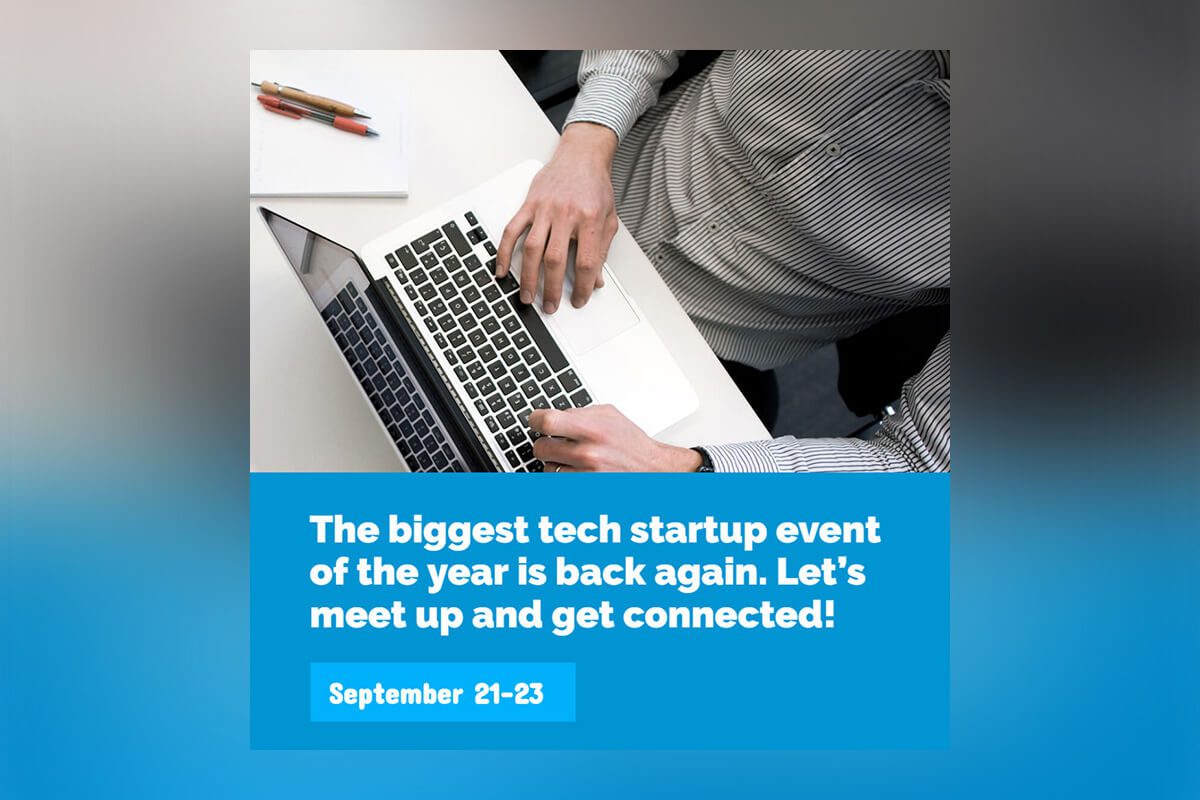 Hosting a tech or business event? This Instagram ad is perfect for advertising your event and reminding your followers that there is something they cannot miss! A professional design with businessman typing on the background. Place your header title on the blue background which is also related with trust and confidence.
---
32. Fashion Instagram Ad Template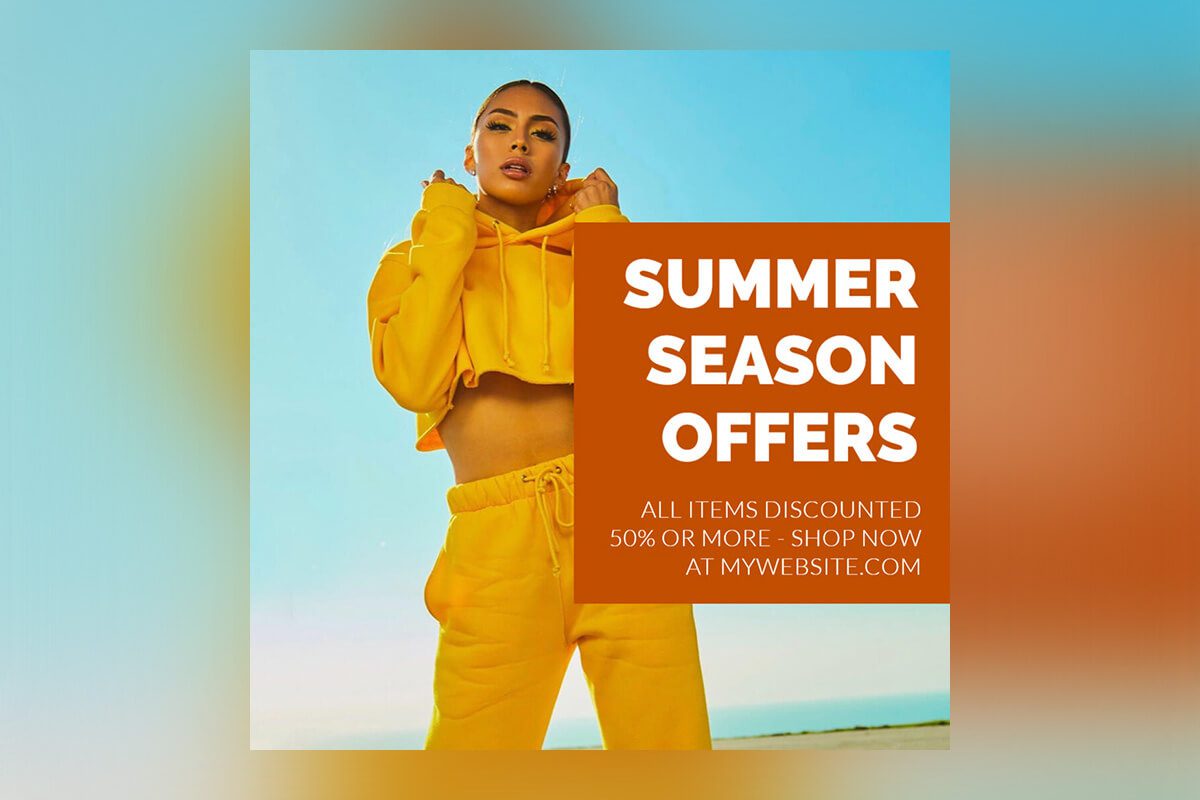 Make a fashion themed Instagram banner or promotional post for your social media channel. Use this free Instagram post template featuring a woman wearing yellow clothes to make an eye-catchy ad for your apparel or clothes themed website or blog.
---
33. Home and Lifestyle Instagram Post Design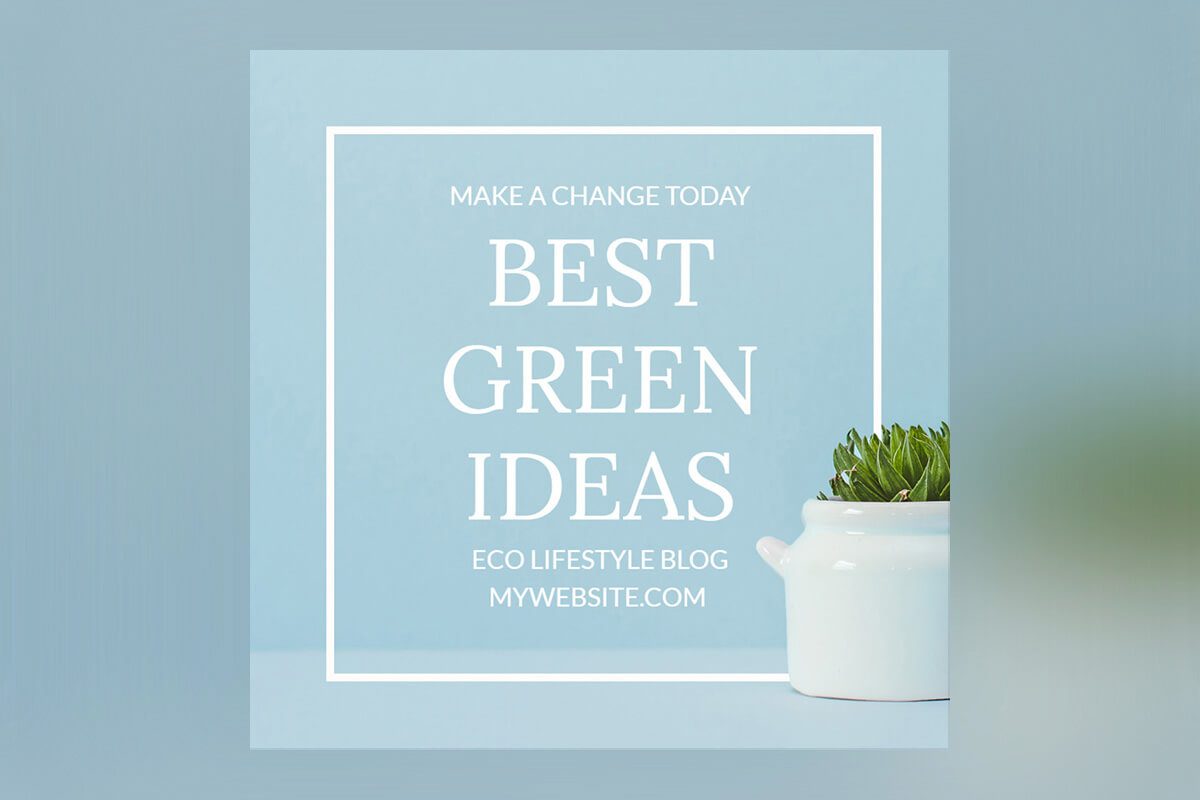 Make a creative advertisement for an environmental or eco themed content. This Instagram post features blue background with a pot flower in the corner. Insert your own text and make a beautiful post for your social media.
---
34. Coffee Themed Instagram Post Template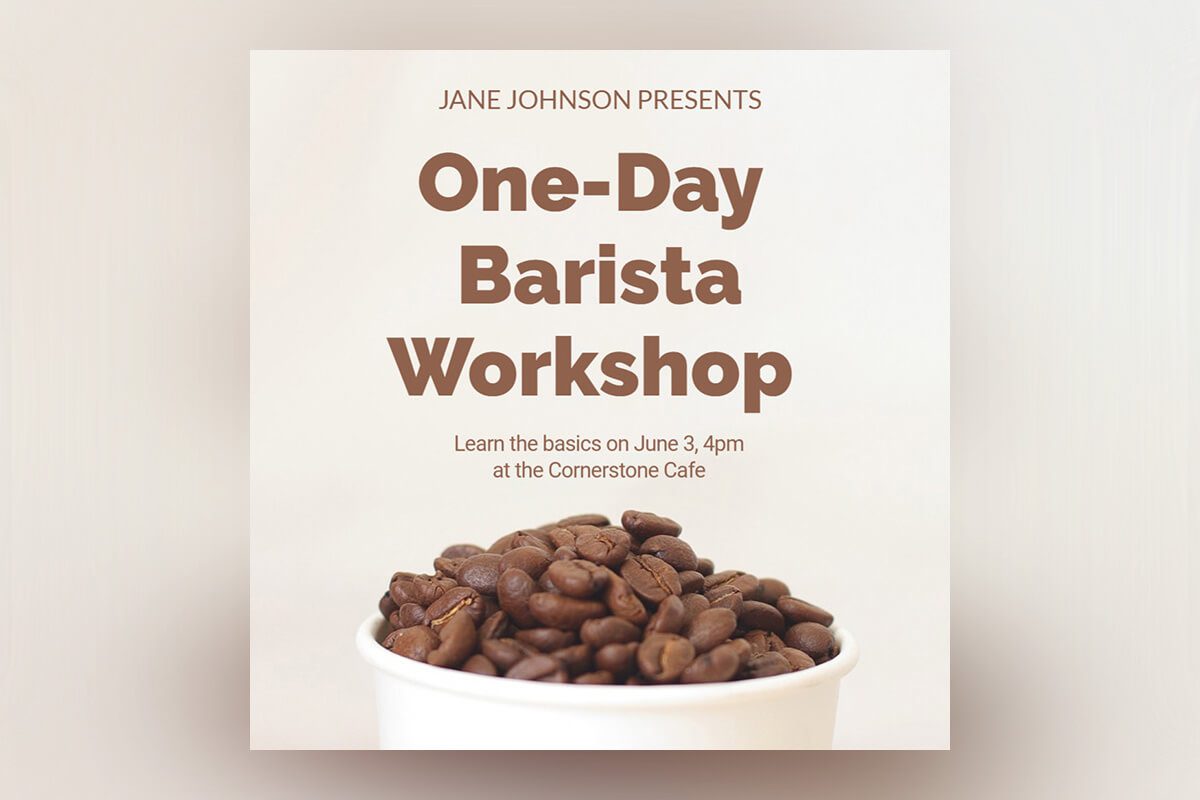 Drink coffee much? Use this free coffee themed Instagram banner template for advertising a barista workshop on social media or simply replace the image with coffee beans and promote your own event.
---
35. Poster Message Instagram Post Design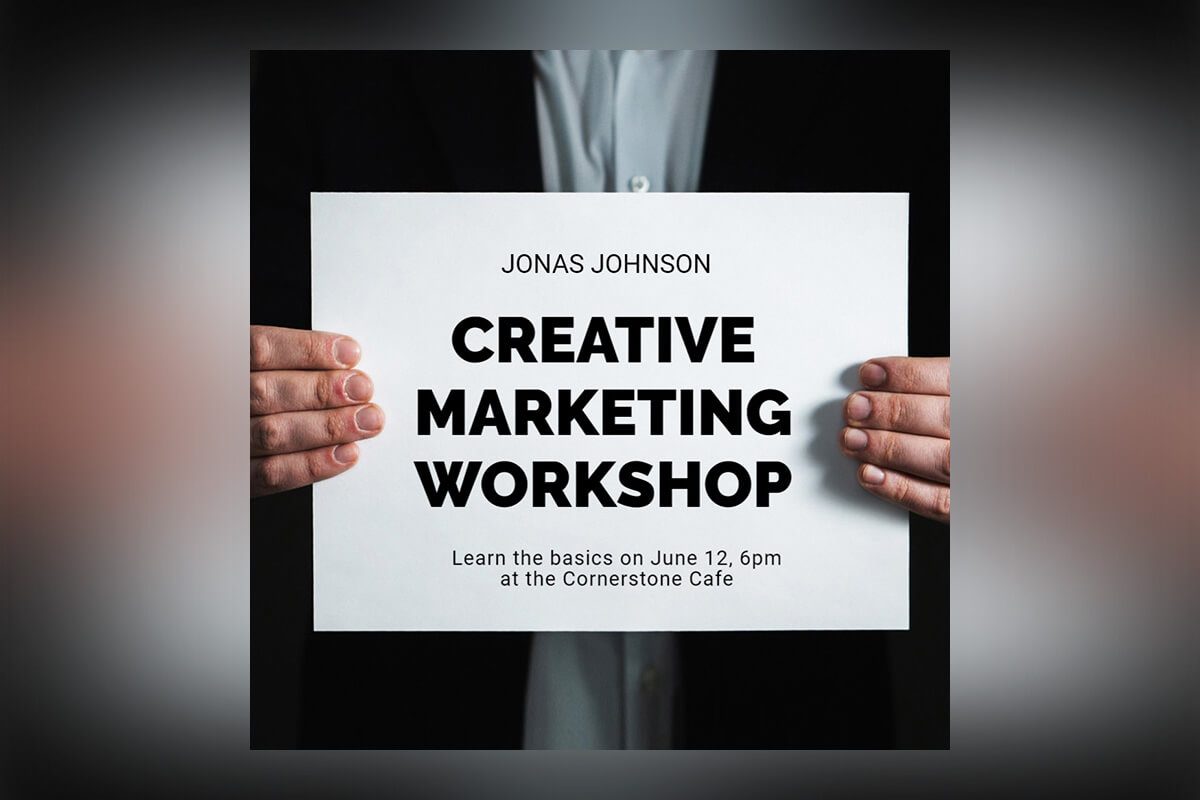 Grab some instant attention on Instagram with this free banner template featuring a businessman holding a paper sign. Replace the text with your own content and promote your event or website.
---
36. Red Banner Instagram Promotion Template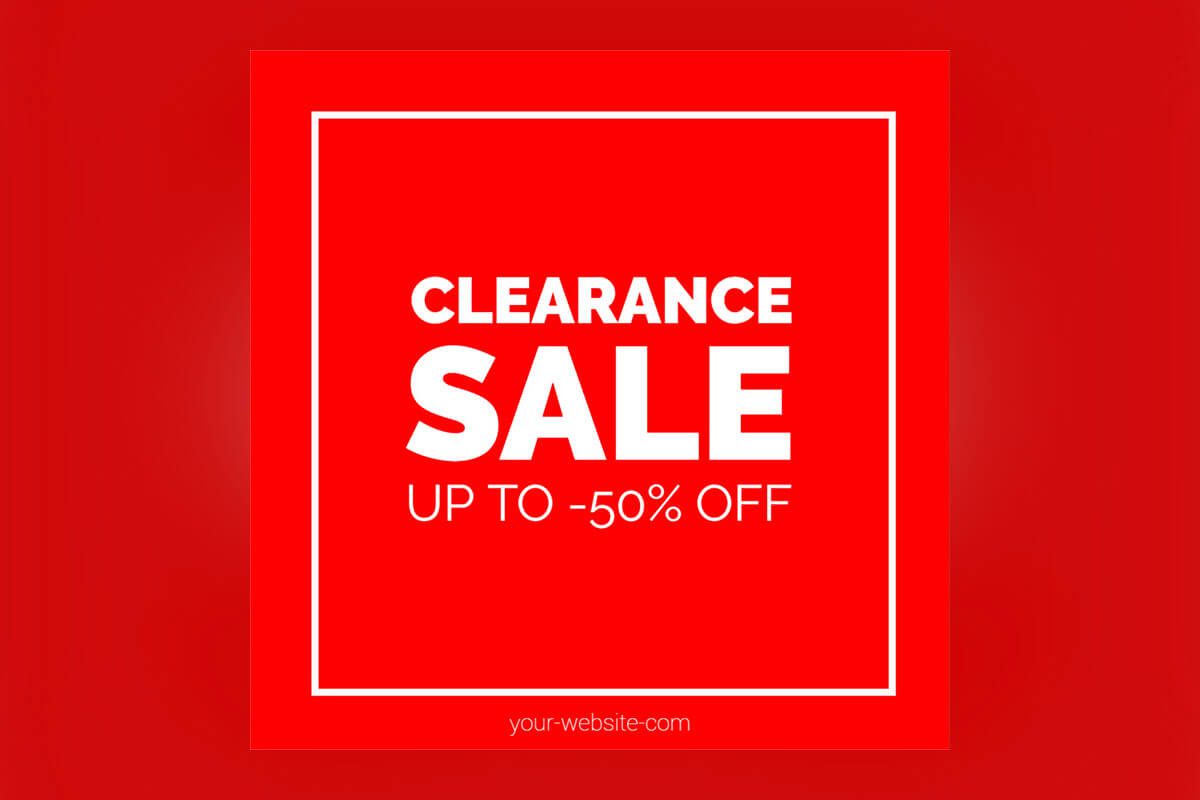 Make a flashing red Instagram post or banner for your social media channels and advertise a big discount offer or clearance sale. A classic eye-catchy design with red background and large text. People simply can't miss this post!
---
37. Call to Action Instagram Post Template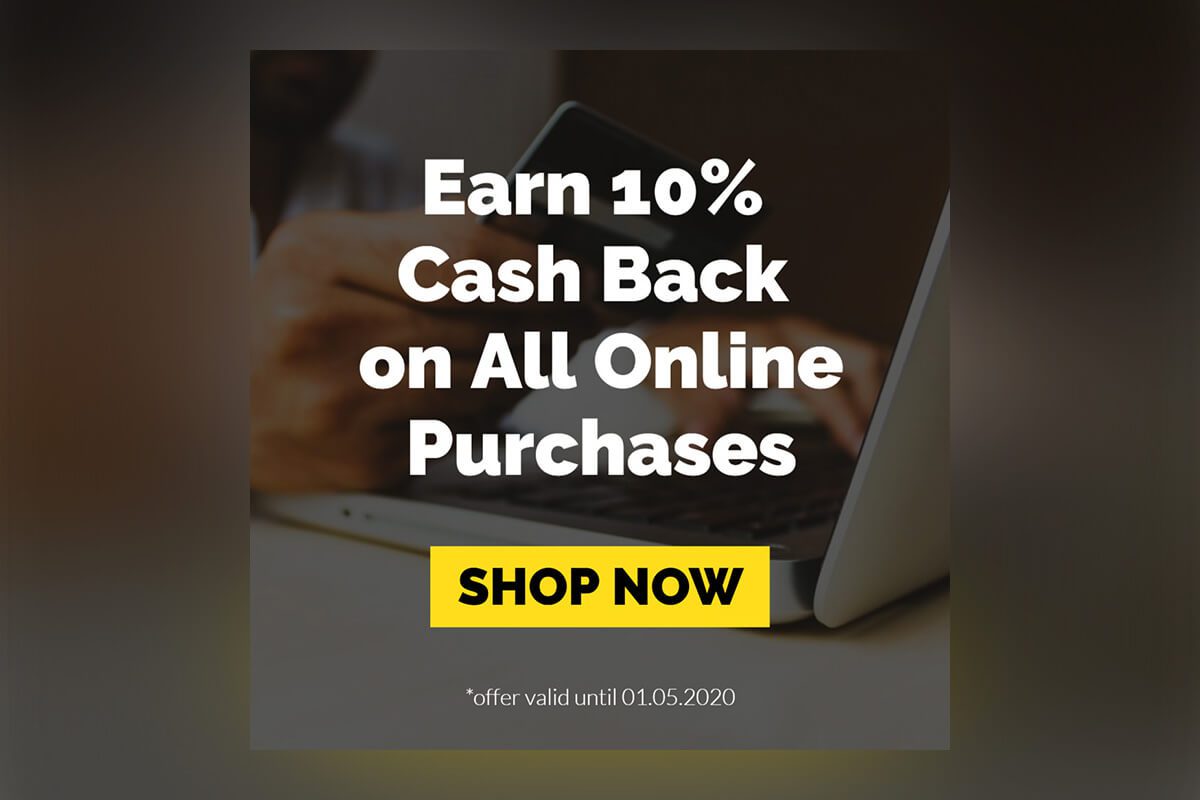 Free Instagram post template with an offer or promotion for a discount. White text and yellow CTA button over a credit card background. Good template for social media marketing and promoting your limited time offer. Try it now – it's free!
---
Conclusion
If you're just starting out, then running an ad campaign or even making a promotional post on Instagram might feel like rocket science.
However there is no one rule that will guarantee you success. Take some time to read through the best practices of Instagram ads and when you're ready, design your first ad by following these steps.
Each of the above templates is easily customizable, so you can replace the text and images in a simple online editor. Didn't find a suitable template? Browse the Instagram Post or Instagram Story Templates category for all designs or create your own design from scratch.
How to Design an Instagram Ad in 4 Easy Steps:
Set the correct image size for your Promotional Instagram Post – 1080x1080px.
Choose an ad template or create your design from a photo.
Add texts or graphics, and check your design with the Text Overlay Tool if you're running a paid promotion.
Download as JPG or PNG and upload to Instagram.
Need to visualize how your final ad would really look like on Instagram? Use these mockup generator templates to quickly validate your ideas and find out without a hassle.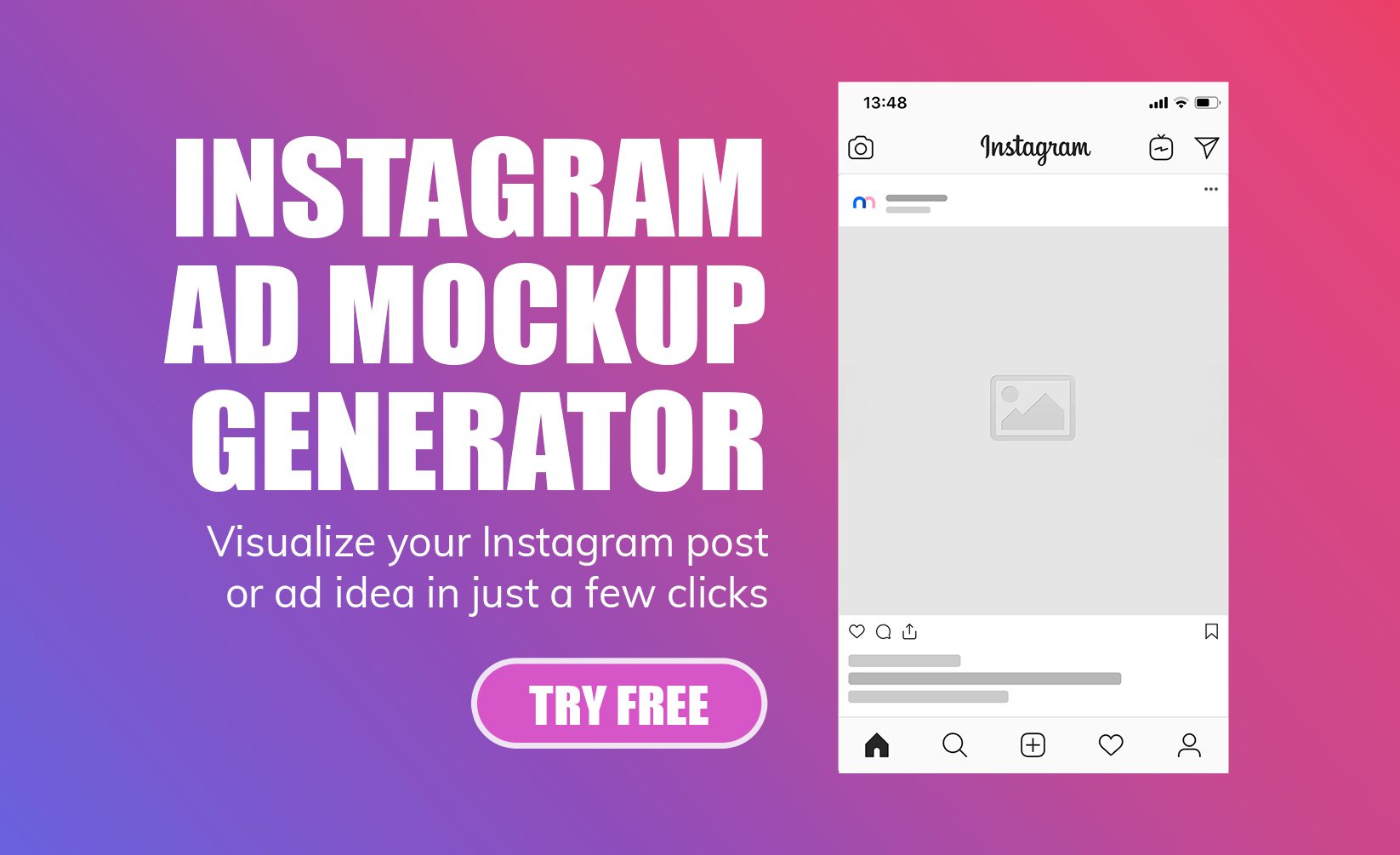 Visualize your design Use a product mockup to showcase your design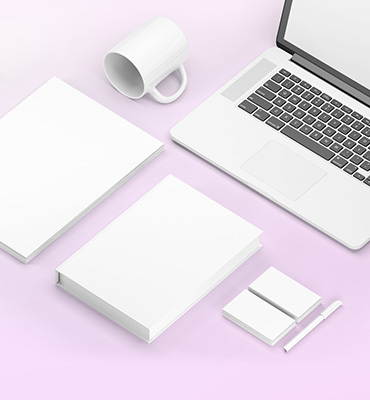 Create your design Use our templates to create delightful designs for any medium