How to Use an Online Invoice to Maximize Your Efficiency (+ 10 Templates)
•
March 10th 2021
•
4 minute read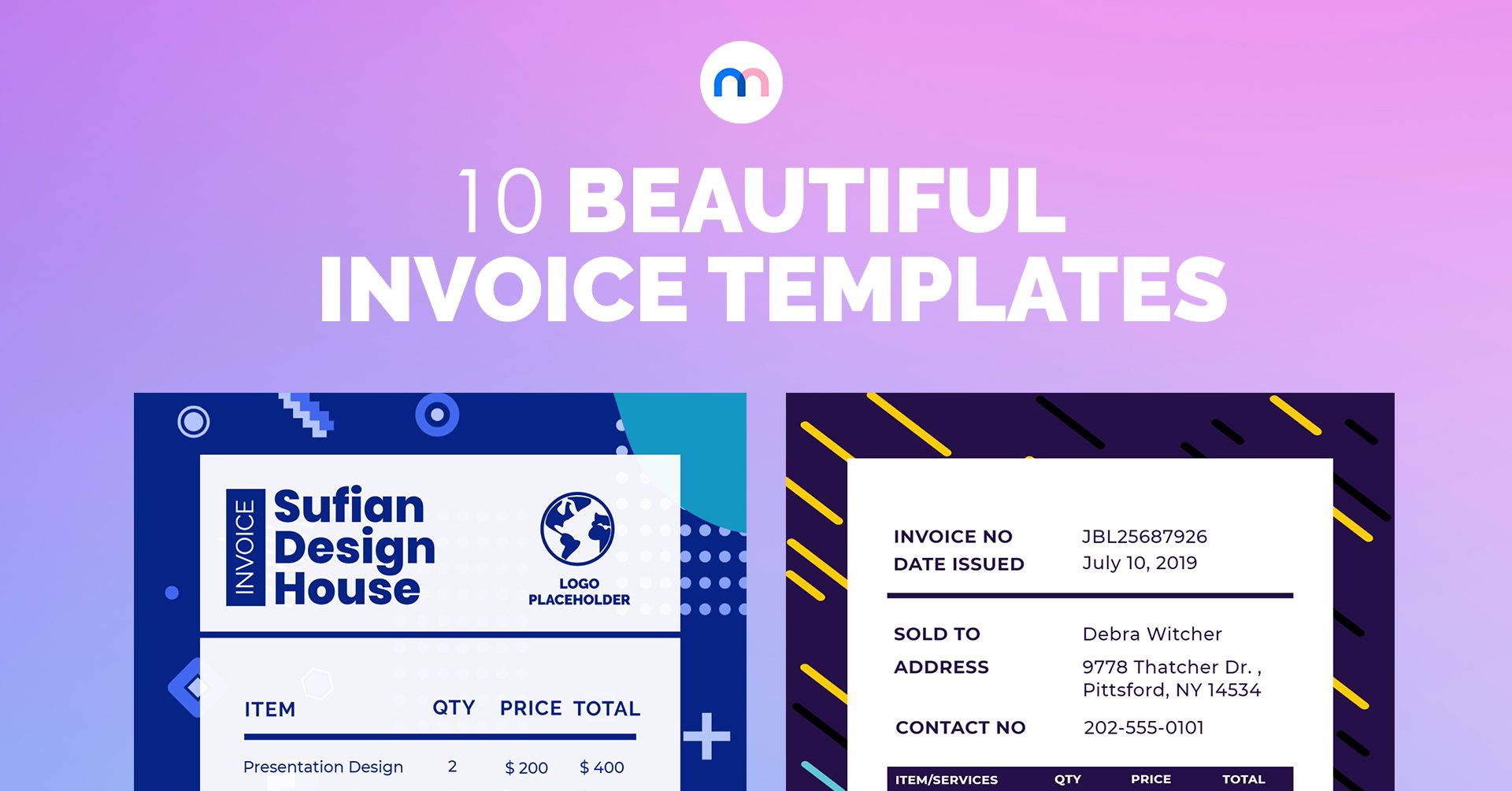 Entrepreneurship is difficult. You have to take care of every little nitty-gritty detail of your business from idea to invoice. When you are putting so much effort into your business, losing any payment can be heartbreaking.
That's why it's important as an entrepreneur to understand the details of commercial documents, for example, invoices.
What is an Invoice?
An invoice is a document issued by the business to the buyer that lists products and services offered, total due, payment details, shipping details, client details, buyer details, invoice numbers etc.
Importance of an Invoice
For the client, this document is very important because it gives them clear details of the products/service rendered. Likewise, for companies, this document works as a receipt of reimbursement, audit trails, etc. An attractive modern invoice is easy to remember and leaves a professional impression of your business/service.
Historically, invoices used to be issued on paper. Nowadays, with the rise of freelancing and online sales & marketing, the use of digital invoices has become a lot more popular.
Advantages of a Digital Invoice
Nowadays, digital invoices have become very popular. Let's look at some of the advantages:
They are very easy to customize at any time.
Invoices can be sent via email and thus, is saved in the cloud. With paper invoices, there's always a chance of losing the document.
Professional invoices enhance customer satisfaction, which helps build relationships.
Reduces paperwork.
Where to Find Invoice Templates
If you are looking for digital invoices to spice up your business game, Mediamodifies is currently the number one site for invoice-related templates. They are easily customizable and look amazing! One thing is for sure, the client is going to remember you for a long period of time.
Our Top 10 Invoice Templates
Tropical Business Service
Are you running a beachside bar or clothing shop? High demand for your products on your Facebook page? This can be the right template for you. The elegant beachside design that is immediately attractive to everyone. All you have to do is to change the text and download it. Send it via email or print and voila! You have your own customized invoice!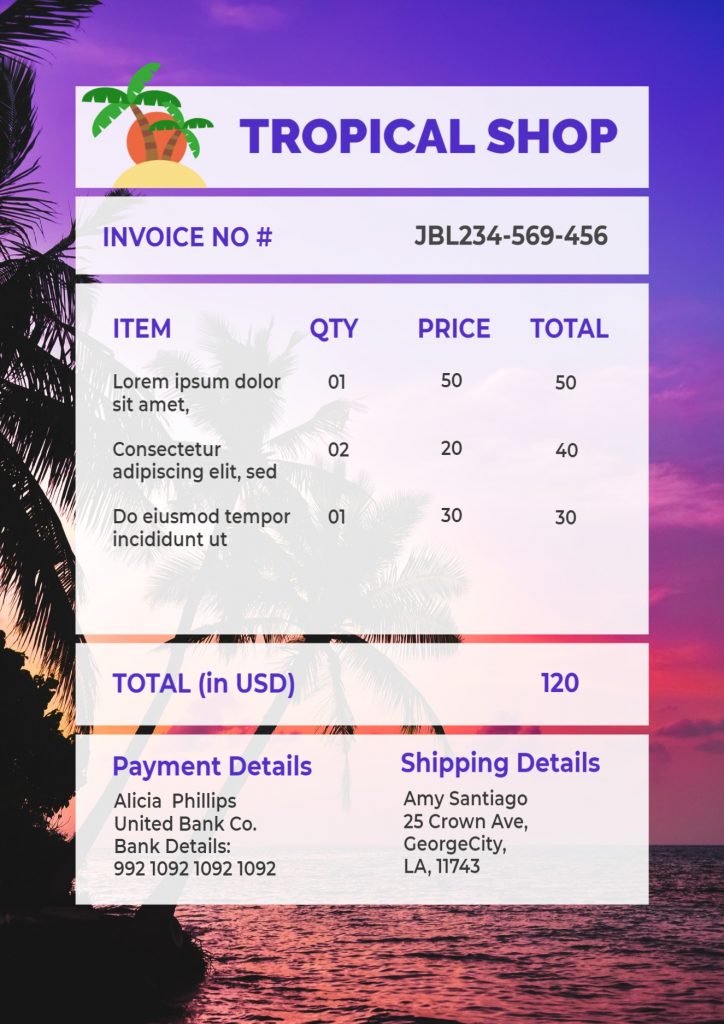 ---
Design and Printing Service
Are you looking for a corporate-looking professionally designed invoice template? This might be the right choice for you. The green and blue design is eye-catching and professional. Customize the text and make it your own!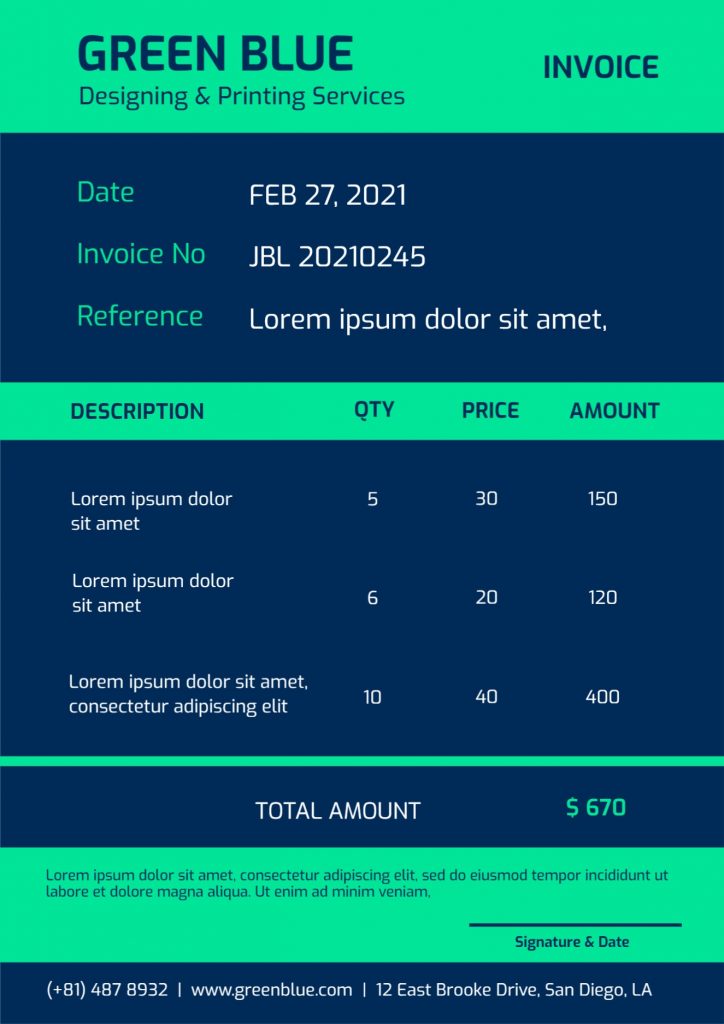 ---
Organic Food Service
If you are an owner of a green shop, you know how difficult it is to maintain everything every single day. That leaves you a very small window to complete your daily paperwork. This green template is the right choice for you. Simply change the text and take a printout or send via email.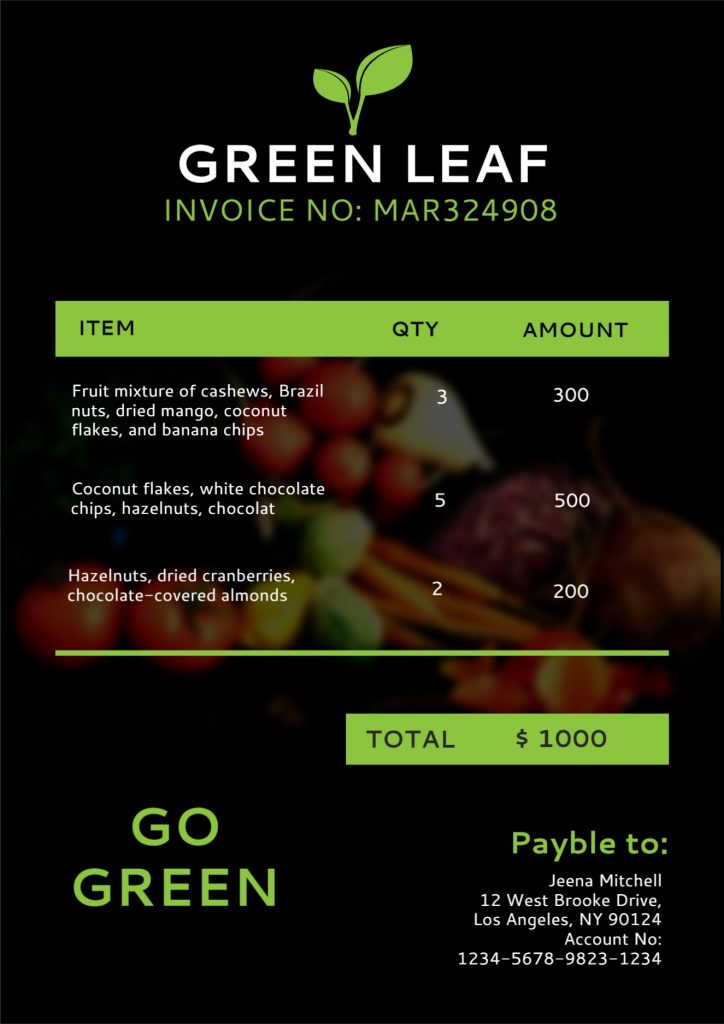 ---
Professional Services
This minimalistic template is great for designing or marketing agencies. The colors are soothing and the text is easy to read. Use this template for any professional services.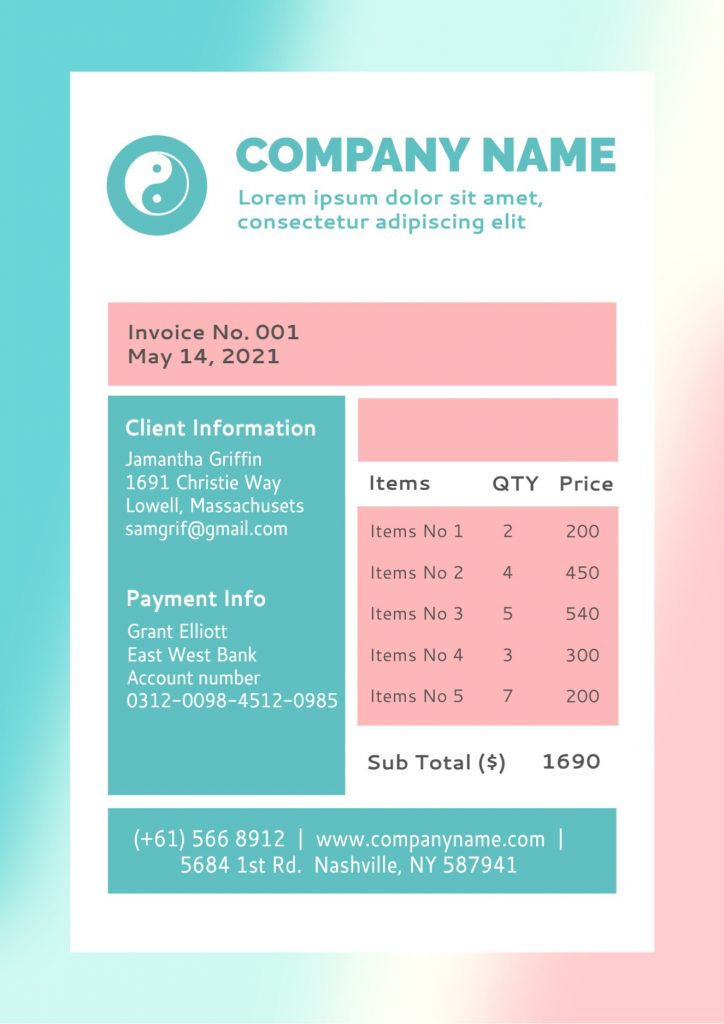 ---
Cleaning or Laundry Services
Do you own a cleaning service or laundry? This might be the right invoice design choice for you. Simply replace the logo with your own and handover to your customers. The design is simple yet eye-catching.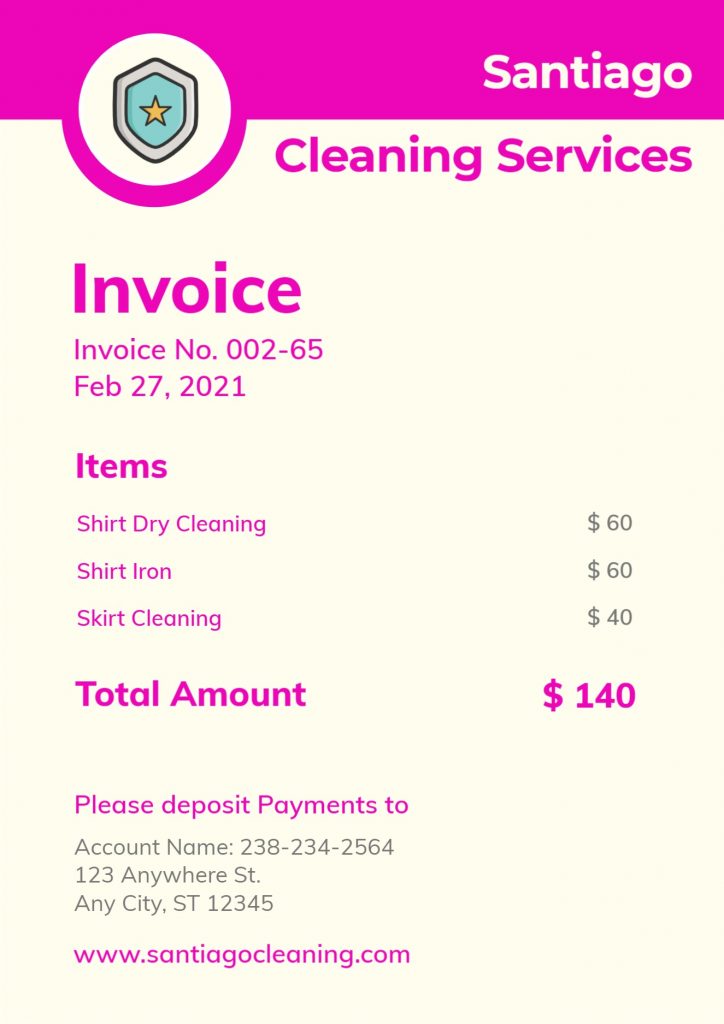 ---
Design Services
This is one of the most popular invoice designs. If you own a design service, this is absolutely the right one for you. With great color contrast and amazing background details, the client is coming back to you for sure. Change the details of the template and make it your own.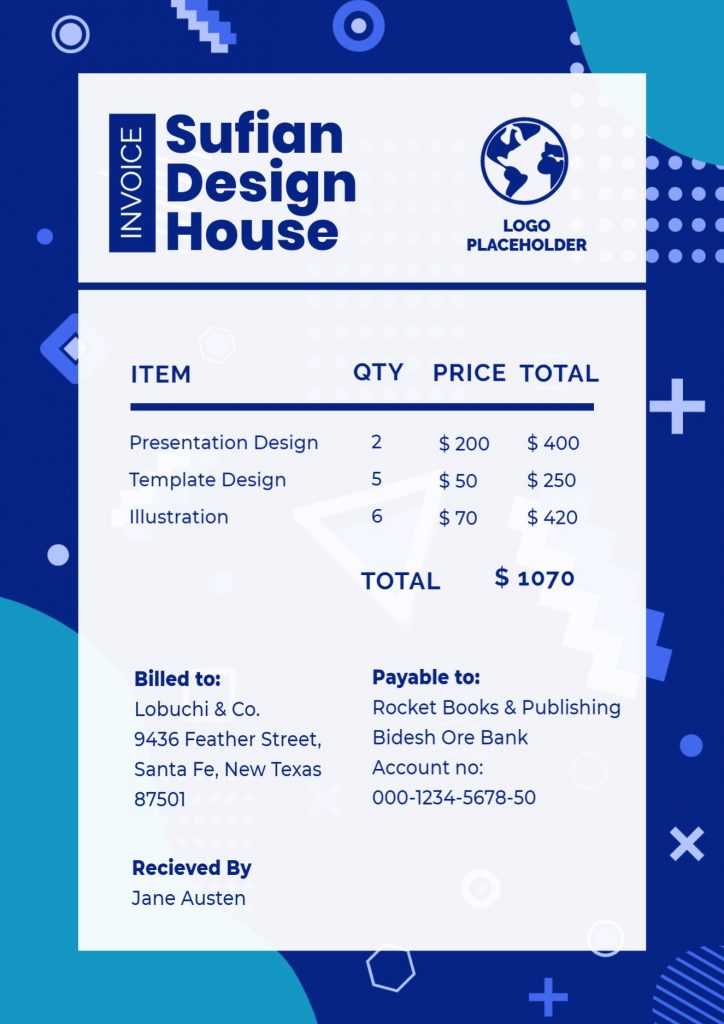 ---
Business Services
Another very popular design. This green-themed can be ideal for any kind of business that focuses on green energy and saving the environment.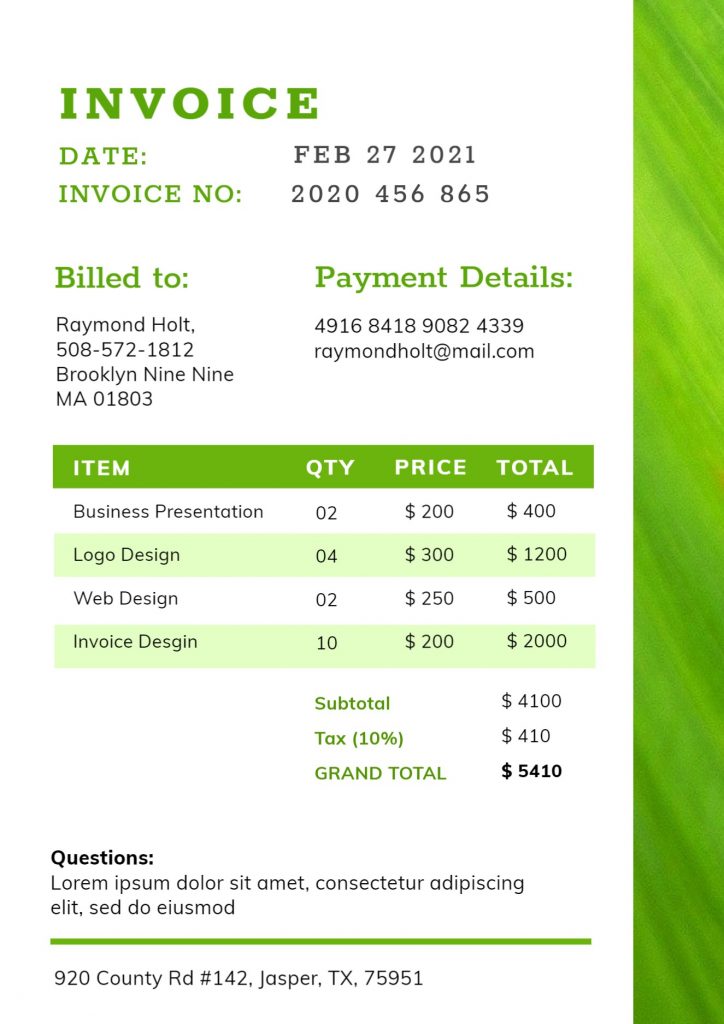 ---
Apparel Business Services
Do you sell apparel or clothes over Facebook? This minimal and simplistic template can be the right one for you. It's very simple and yet very elegant looking.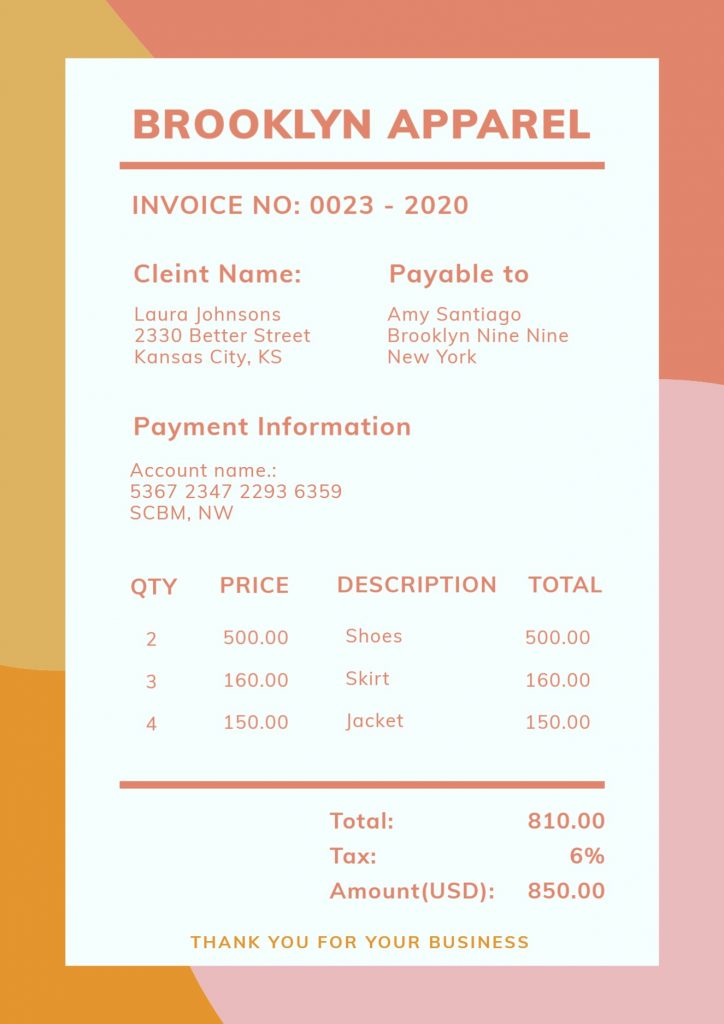 ---
Professional Business Services
With great background design and color contrast, this template is sure to grab the attention of your clients. Use this template for your professional service and wow your clients.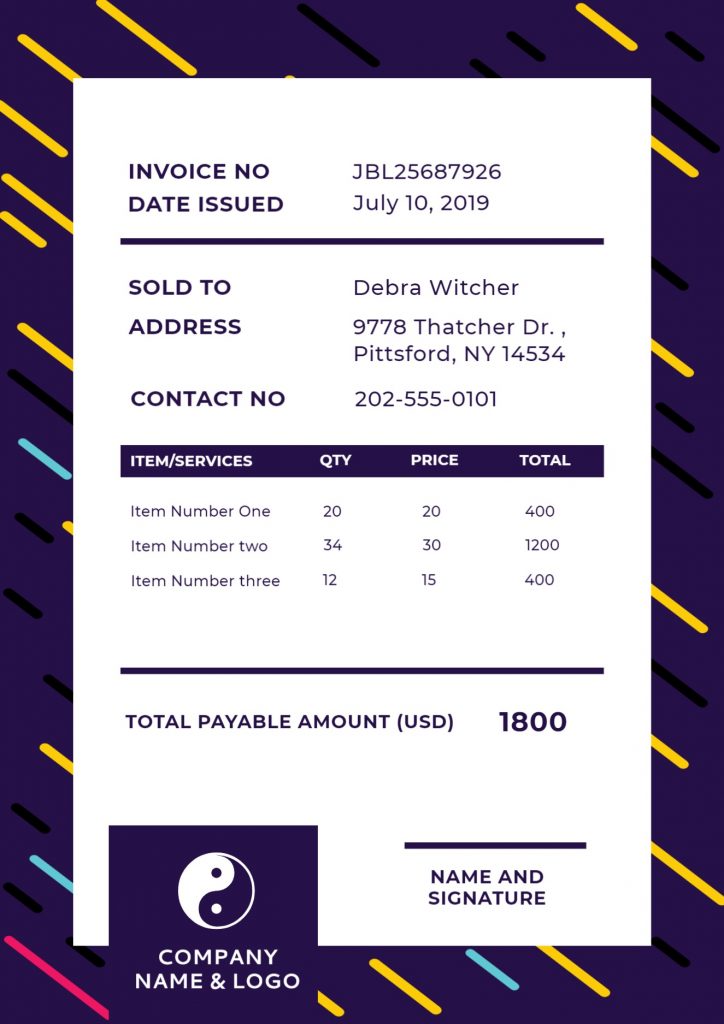 ---
Food Services
Own a small food shop or home catering service? Use this template to attract your customers.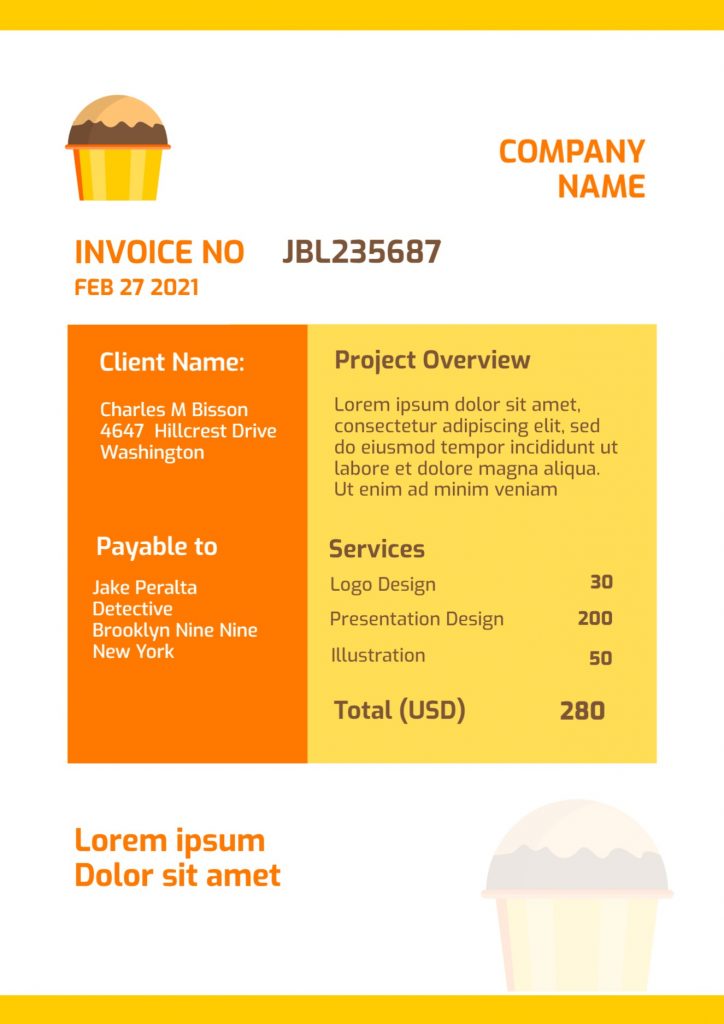 ---
Using online invoice templates is getting very popular nowadays. Mediamodifier is the no 1 site for online templates and has a great collection of different templates. Sign up and enjoy access to unlimited templates.
Visualize your design Use a product mockup to showcase your design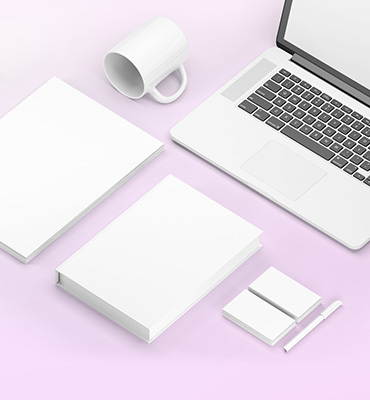 Create your design Use our templates to create delightful designs for any medium