Best 10 Animated LinkedIn Post & Ad Templates
•
May 4th 2020
•
4 minute read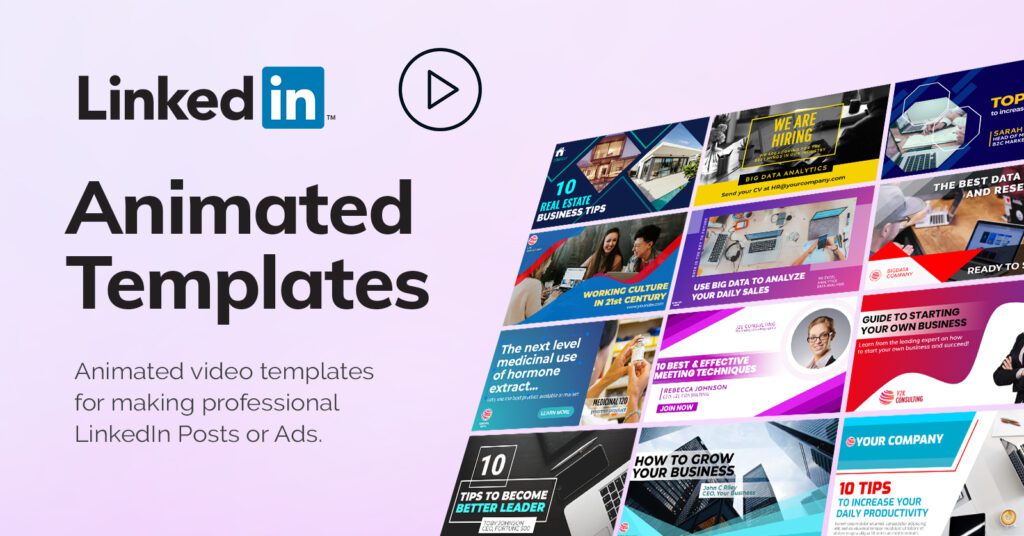 Getting noticed on social media and on LinkedIn is a difficult task!
Fortunately you could have an edge by using the below animated LinkedIn Post Templates for getting your message out there more easily.
The great thing about these animated LinkedIn video templates is that they will autoplay in a LinkedIn user content feed – making it harder to simply scroll past them.
You can easily customize each template by adding your own text and background video, or choose the default design.
Download the completed templates as static images or video files and upload straight to LinkedIn to create a post or ad for promoting your business, service or a blog article.
---
1. Animated Business Event LinkedIn Ad Template
An animated LinkedIn Post template for promoting your online course or business related event. Make a video LinkedIn Ad or simply use it as a static post.
---
2. Consulting Business LinkedIn Video Post Ad
A professional LinkedIn Post template with animated video background for creating an ad for your consulting or any other business related service.
---
3. Climate Change LinkedIn Video Template
A global warming, climate and pandemic themed LinkedIn Post template with a moving video city background.
---
4. Urban Design LinkedIn Animated Ad Post Template
Use this LinkedIn Post template with a video background of a city to promote your creative design or business service.
---
5. Design Trends LinkedIn Post Ad Template
Use this LinkedIn Post template with a video background of a designer sketching to promote your business or design service. Replace the example with your own video and text.
---
6. Business Future Animated LinkedIn Post
A blue an eye-catchy animated LinkedIn Post template for promoting your service or offer. Easily add your own title text and logo
---
7. Animated Technology LinkedIn Post Template
A creative and animated LinkedIn Post template with an abstract technology themed background. Promote your big data or B2B business service and create a modern LinkedIn Ad.
---
8. Web Services LinkedIn Video Ad Post Template
Use this animated LinkedIn Post template with a person typing on a laptop for promoting your blogging, developer or coding related service.
---
9. Animated Business Milestone LinkedIn Post Template
Celebrate your business success or the launch of a new product with this LinkedIn Post template featuring an animated background.
---
10. Business Data Animated LinkedIn Post
A futuristic and technology themed LinkedIn Post Ad template featuring an animated data background.
---
Conclusion
LinkedIn is mostly known as a professional social network and animated content or posts are not very popular yet…
However that's about to change – LinkedIn recently approved animated GIF files and videos will also automatically play in the timeline feed.
That's great news for everyone looking to grab some extra attention with animated posts or ads.
If animations are not your thing, then you might want to check out the category of non-animated image LinkedIn Post Templates which are perfect for promoting your business or blog article.
If you need to visualize how your ad would look like on LinkedIn, then it's also a good idea to take a look at our LinkedIn Mockups – the simple drag and drop interface allows you to create a mockup in only a matter of seconds.
If you wish to start from scratch and build your own LinkedIn Post design, be sure to use our Free Online Design Maker and create a piece of graphic design or video in no time.
or browse the All Design Templates category where you'll find hundreds of design templates, not just for LinkedIn.
Visualize your design Use a product mockup to showcase your design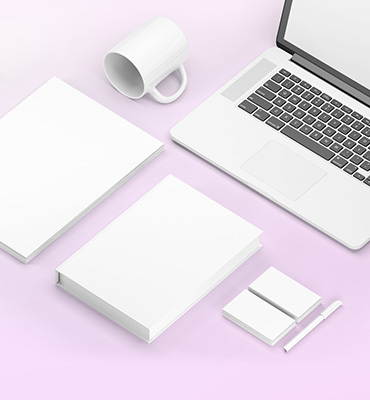 Create your design Use our templates to create delightful designs for any medium