Top Mockups Marketers Love
•
February 9th 2021
•
5 minute read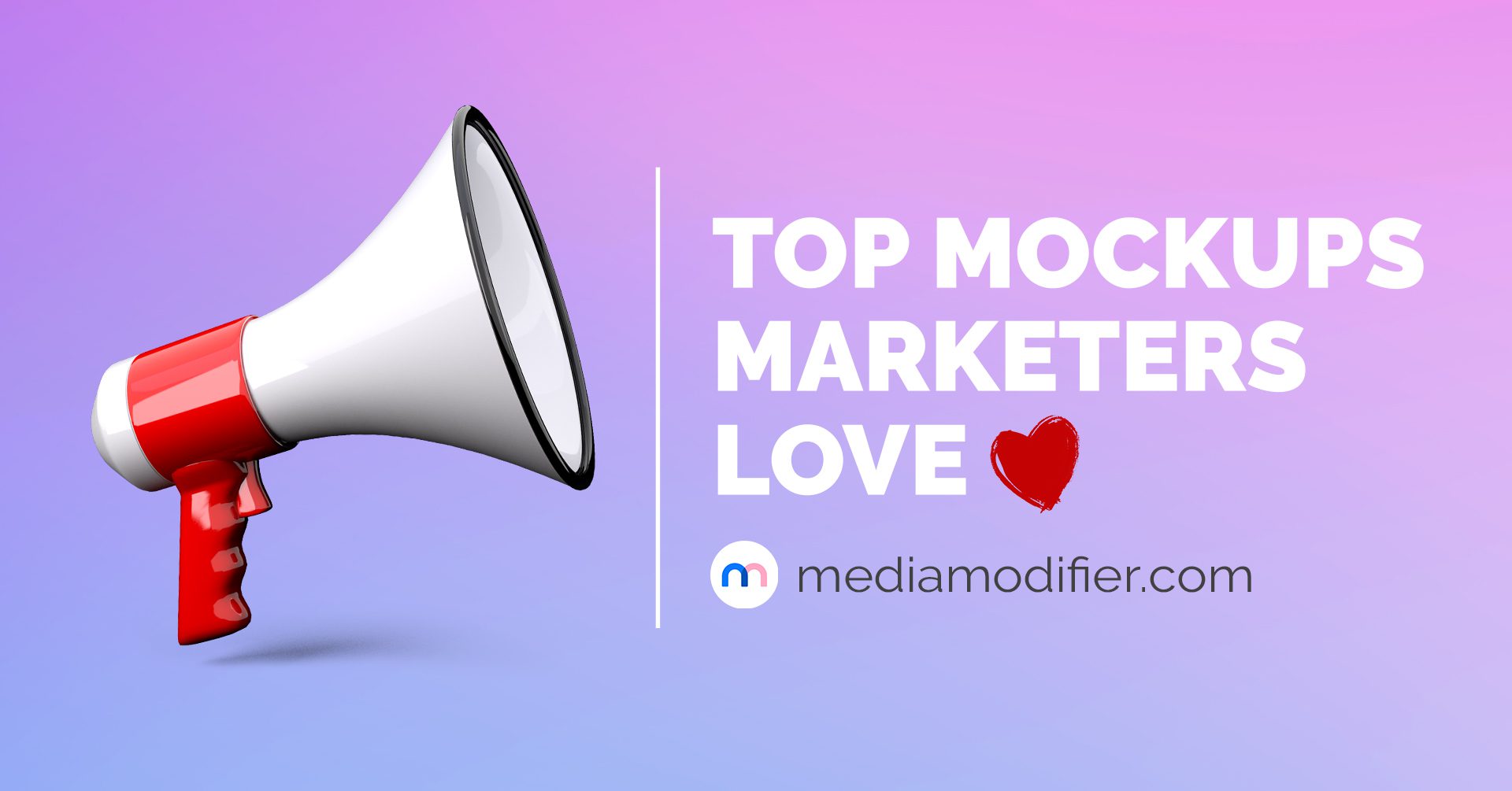 Are you the solo marketing guru in your company? Or the one helping with marketing designs because you don't have a designer yet?
Then mockups are probably something you have come across during your time as a marketer! Whether you may or may not have used them, mockups are a great way to visualize your branding, website, social media and more.
More than just for design and websites, mockups are being increasingly used by marketers today because when used correctly, they can help bring your brand to life and showcase it in a multitude of different ways.
What are mockups?
First things first, an introduction. A mockup is an image where you can edit the content to showcase your design or messages. The images can feature a variety of different things such as mobile devices like smartphones and tablets, screens such as laptops and desktops, billboards, t-shirts, mugs, business cards, books and more.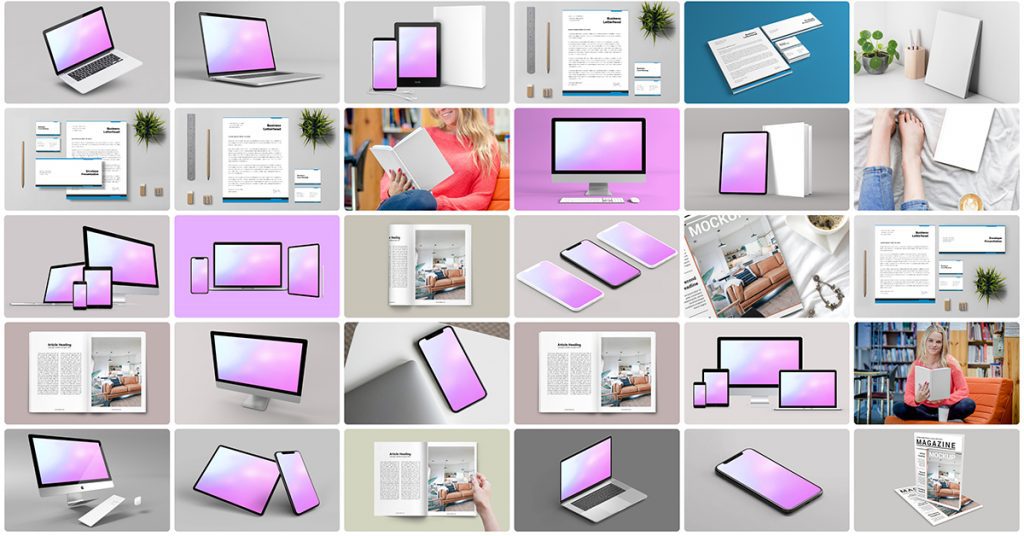 While many online mockup images are offered in a layered file format that's usually meant for Photoshop or Illustrator, there are mockup generator websites that allow you to do mockups in a fast and easy way without having to download any software.
Benefits of mockups
In short, why should you even use mockups in marketing?
They allow you to see your designs altogether to make better decisions.
Mockups show how your design will be used, making it more understandable especially when presenting it to others.
They're easy to use and change.
It's easy to create mockups online without installing any software, and you can change both the mockup as well as the background image anytime you want.
Which mockups do marketers love?
How do you use mockups in your marketing activities? Over the years, we've come to learn which mockups marketers love on MediaModifier and why they use it.
Social media mockups
Social media mockups enable marketers to easily create and present images that showcase their ideas for the brand's presence on channels like Facebook, Twitter, Instagram, LinkedIn, YouTube and TikTok. It helps everyone to visualize what future posts, ads and profile pages would look like in its various layouts (especially for picture-heavy Instagram), and could even pave the way for better marketing decisions.
Branding mockups
In addition to products, visualizing branding collateral is needed to ensure a consistent visual identity across everything! That's why marketers use branding mockups to see what business cards and even books and t-shirts would look like.
Website mockups
While showing a website screenshot works, marketers and web designers know they can take it one step further by showing it on multiple screens in one image to give a realistic yet professional view of their product/service!
Mobile mockups
With website mockups come mobile mockups! As the world becomes increasingly mobile-first, so what better way than to showcase apps as well as mobile-responsive websites in their actual 'home' through mobile mockups?
Be it iPhone 11, iPhone 12, the iPad, Android tablet, Samsung Galaxy, Huawei smartphones, you can find mockup templates for almost any mobile device out there.
Product showcasing mockups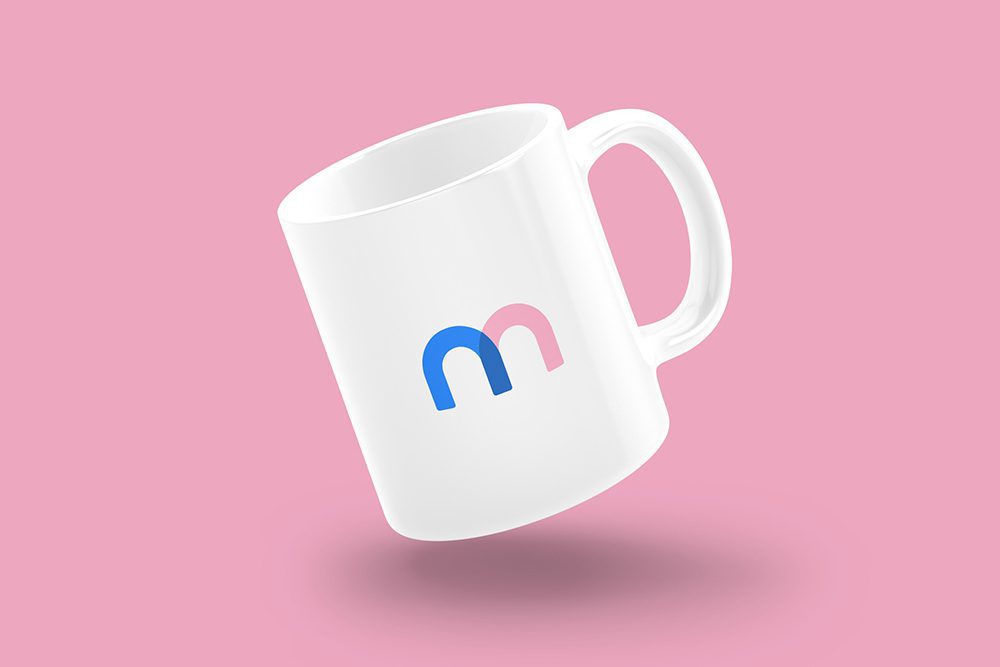 Need to print some branded products or advertise outdoors? Product showcasing mockups let marketers visualize products such as coffee mugs, beer cans and puzzles and even advertisements like billboards before spending any money. Talk about a cost-saving initiative that helps business decisions!
Use mockups for personal branding
For all the amazing solopreneurs out there, here's a little tip to help with your personal brand.
If you're a little shy of posting a picture of yourself as a social media post, why not use mockups with a headshot of yourself and maybe even an inspirational quote that calls out to you?
For example, I used this mockup and customized it with elements that fit me personally.
With a background image and your picture in a frame, you won't be the only focus of the image. All you have to do after is combine the image with a relevant caption/quote and you'll have a branded, professional yet personal image for a social media post.
Why marketers need mockups?
As every marketer should have some basic design knowledge behind them, knowing how to use mockups and where to get them easily is sure to come in handy. Furthermore, they help with:
To save time and resources
Perhaps you're the solo marketing guru in your team, or you're a website designer in need of a quick way to present your ideas. Or maybe you have limited resources as a freelancer, one-person business or entrepreneur.
Mockups are useful to help you save time, and even resources, especially when you can simply drag and drop screenshots.
Better digital branding
Want a simple yet professional branded image that's more than just an illustration? Use mockups!
Be it for your own branding on social media and even forums, or in digital advertising, mockup images can help you to stand out.
Showcase your website on different screens, display a book or a mug somewhere fun or place inspirational quotes/tips on billboards.
Enhanced professionalism
Need to pitch for a project or have an investor presentation coming up? Using mockups can help to enhance your presentation with realistic yet professional images
Show examples of how your social media profiles and posts will go in line with your branding, display the range of possible branding collateral you intend to have by combining multiple mockups into one image.
Conclusion
Indeed, there's no end to how mockups can help you be more creative and professional without breaking the bank or stressing you out.
Are there other ways you use mockups in marketing that haven't been mentioned here? We'd love to hear from you.
Visualize your design Use a product mockup to showcase your design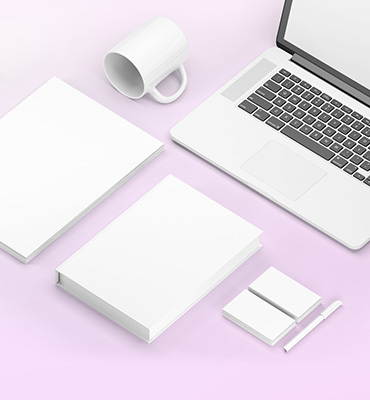 Create your design Use our templates to create delightful designs for any medium