20 Best Multi-Device Website Mockups
•
August 3rd 2020
•
6 minute read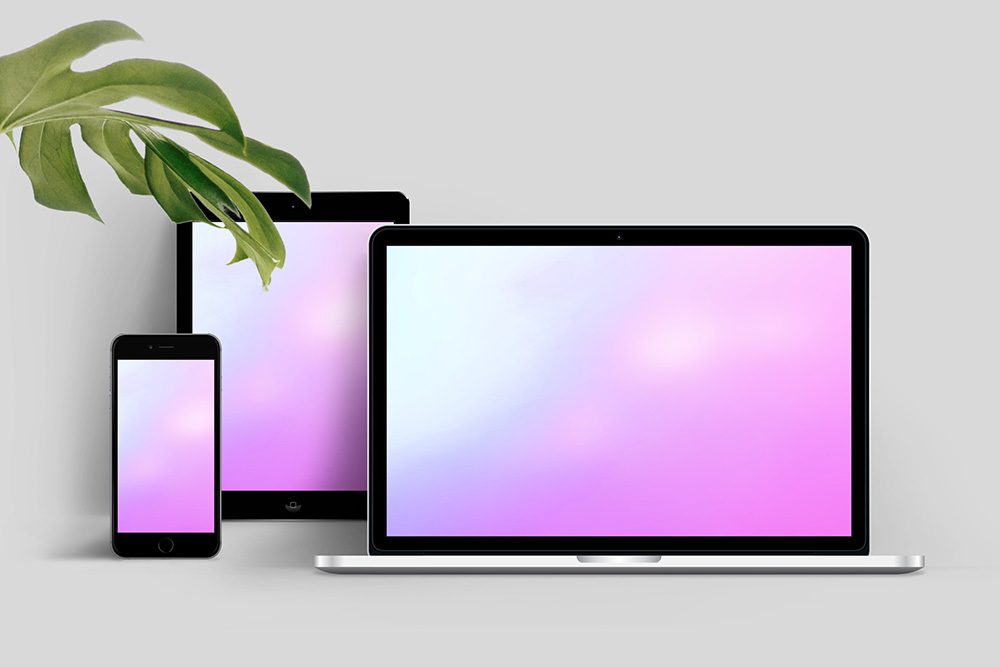 Gone are the days when you just needed one great website layout!
Today (fortunately with the help of little CSS) our websites must shine and look good on all screens and sizes.
This collection of responsive and multi device website mockups will help you easily showcase your work across all popular Apple devices.
Generate a professional website mockup by simply dragging and dropping your website screenshot directly into a device screen.
Present your beautiful website layout to a client, boss or simply make a nice preview for your portfolio.
1. Responsive Website Mockup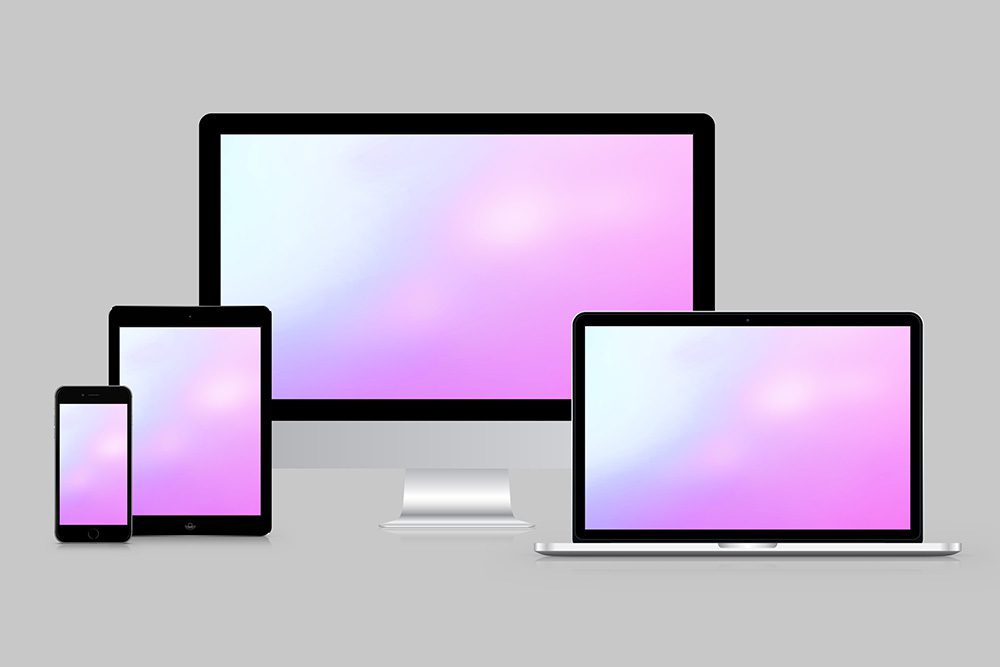 Use this flat and front style website mockup template for showcasing your online responsive content or app idea. Disable the background layer for a transparent background and easily drag and drop your image onto the screen of each device.
---
2. Website & App Screen Mockup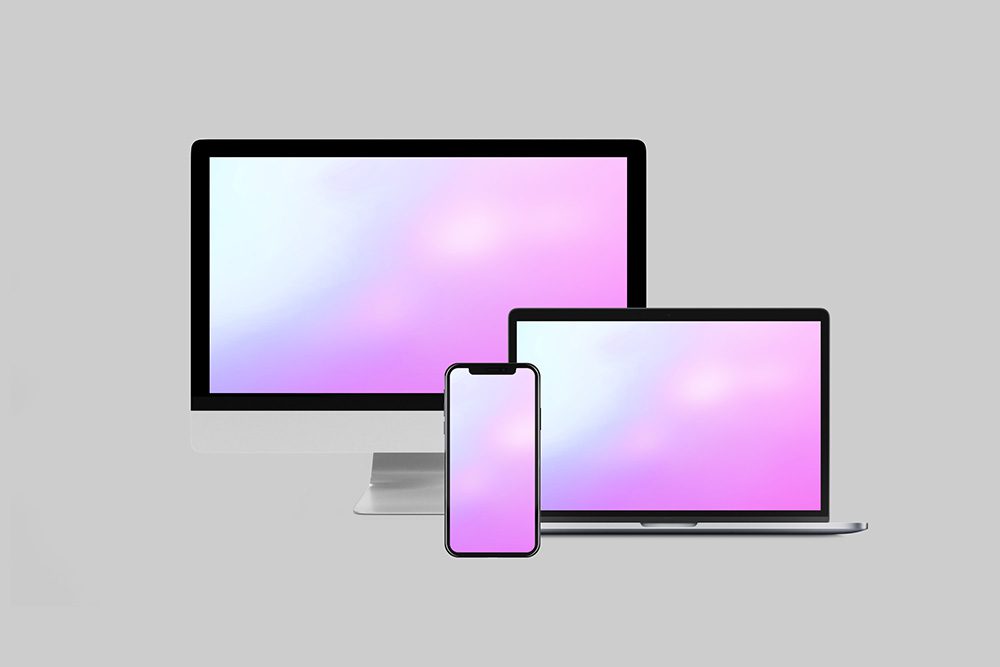 It's a perfect combo – desktop, laptop and a mobile application. Flat front view of an iMac, Macbook and iPhone XS standing over a solid color background. Choose a color for the background or export the Apples with a transparent PNG.
---
3. Multi Device IOS Mockup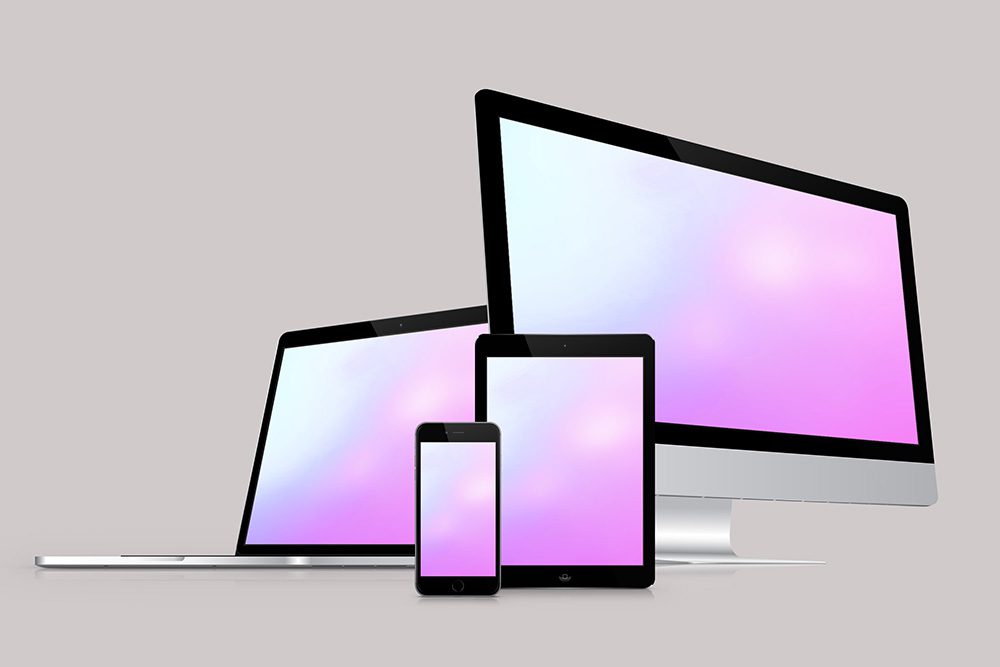 This one is a pure classic – there's probably one of these images on every web agency website! Showcase your adaptive design or application screenshot. Mockup includes a large iMac monitor, black iPad, iPhone smartphone and a Macbook professional laptop.
---
4. Responsive Website Showcase Mockup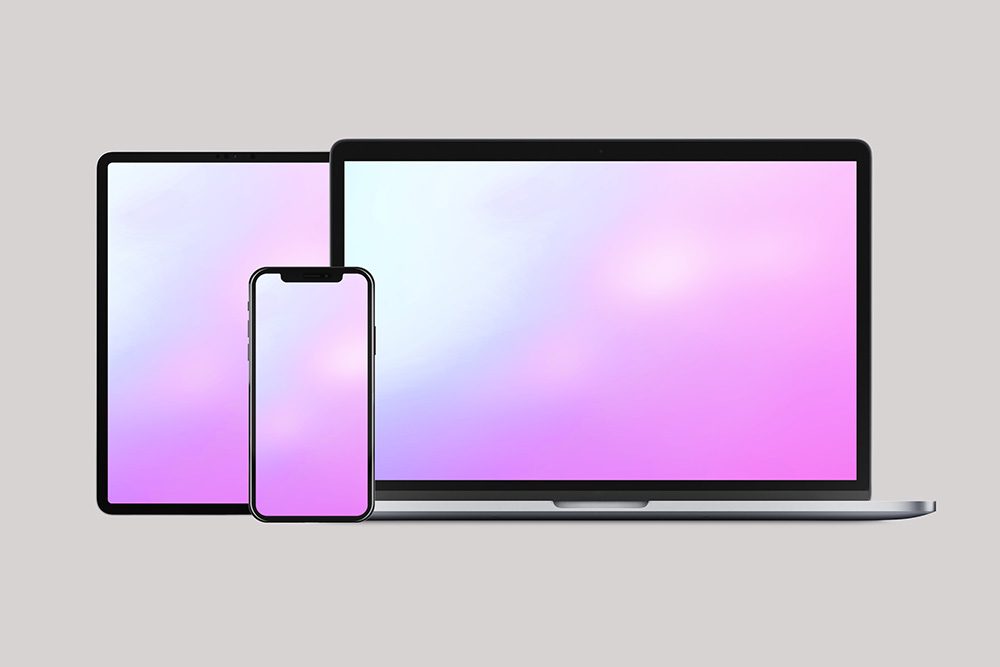 Simple and professional mockup. Here's an easy way to showcase and make it clear that your website and application can be used on modern internet devices and is available across all platforms. Simply click on the screens and upload your own website design or logo.
---
5. Elegant Website Mockup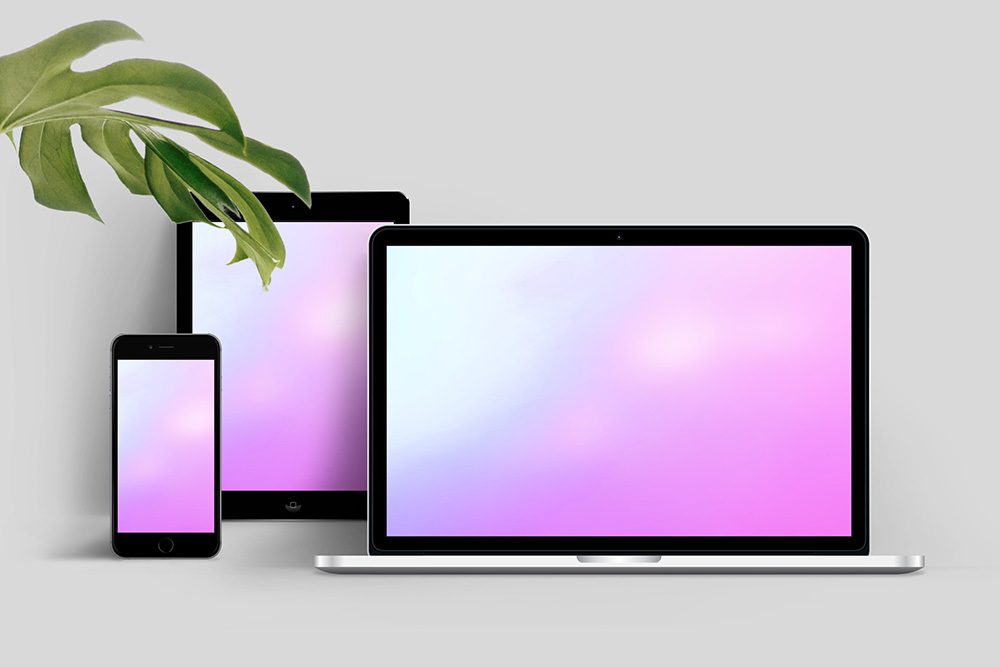 A minimally decorated yet beautiful and elegant website mockup template which features a Macbook, iPhone, iPad and a single green leaf.
---
6. Website Portfolio Mockup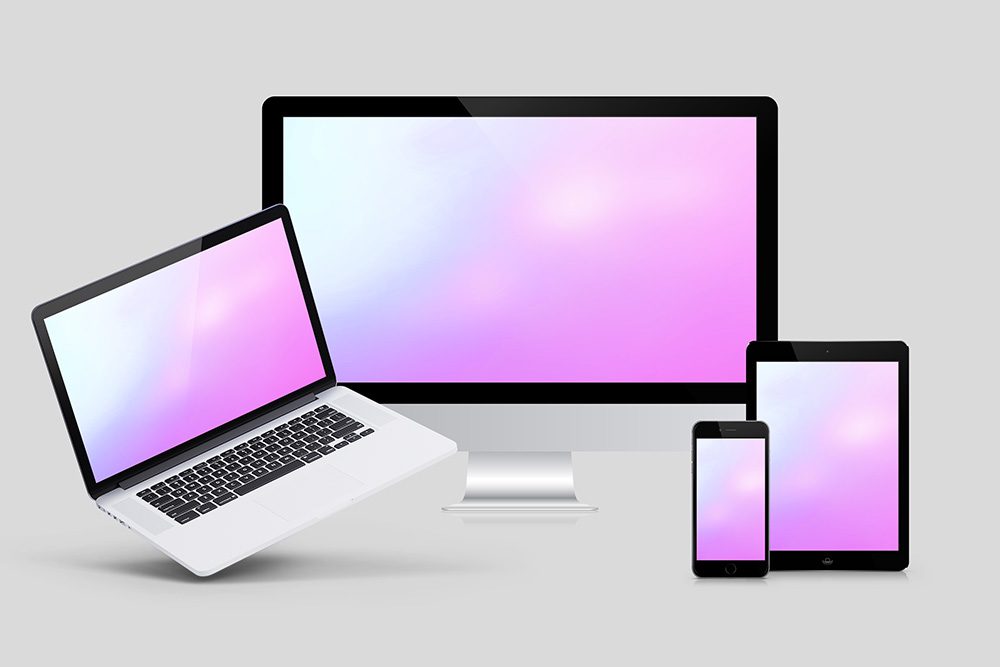 A multi device mockup with a 3D touch – the template features front view all the classic apple devices – iMac computer monitor, iPhone, iPad and 3D Macbook laptop hovering in the air.
---
7. Creative Multi Device Website Mockup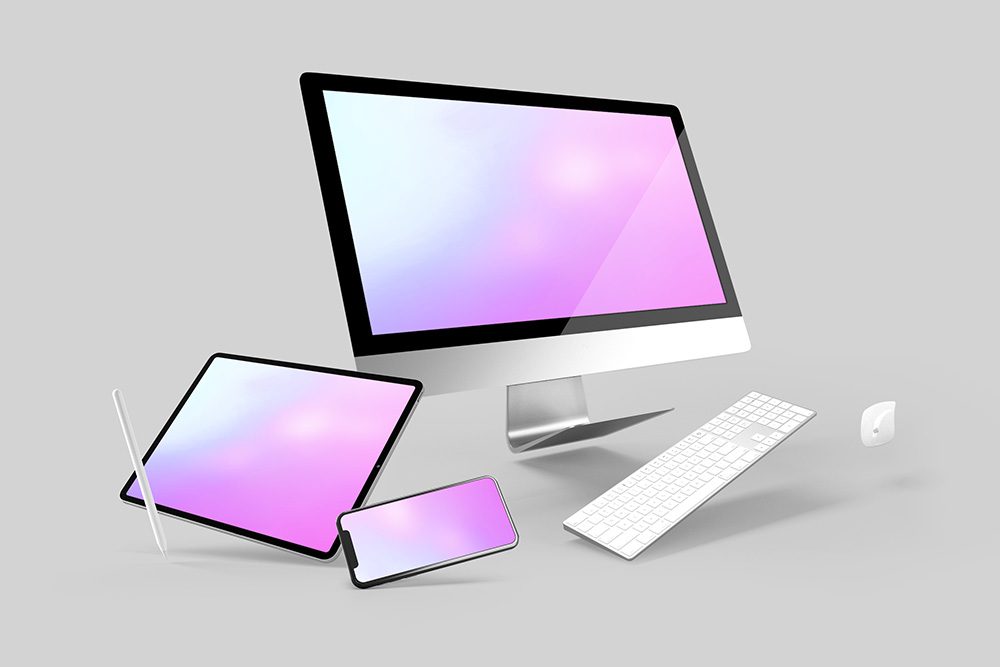 It's raining Apples! A creative 3D mockup for showcasing a responsive website or application. iMac, iPad Pro and iPhone XS hovering over a solid color background. This will make your app look modern and really pop out from the screen.
---
8. IOS Multi Screen Mockup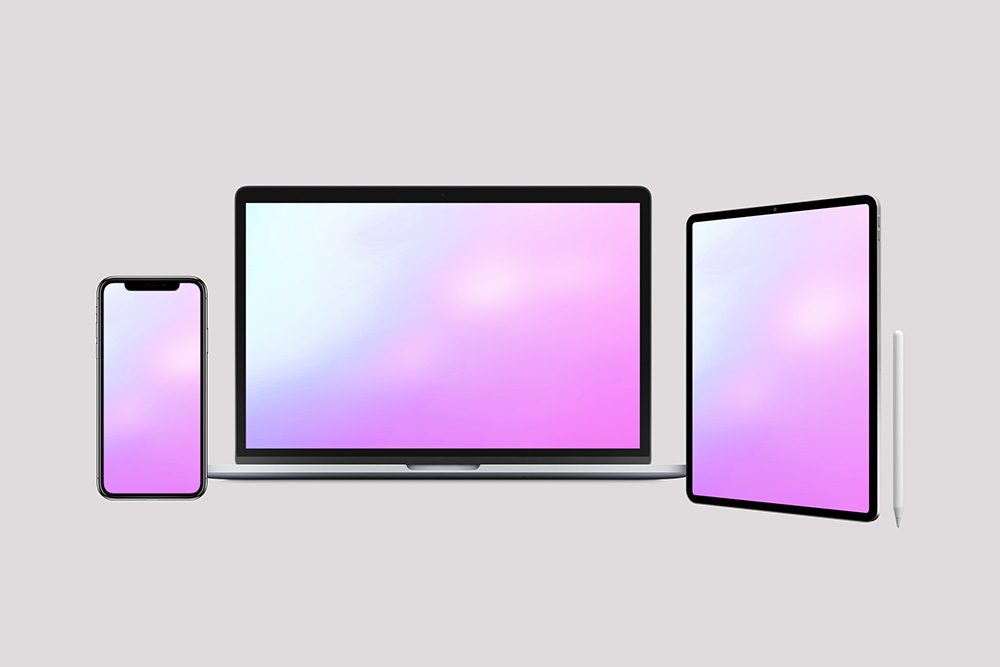 A mockup for all Apple lovers – multi screen template with iPhone XS, Macbook and iPad Pro. Use this mockup for showcasing your responsive website or app design. A great way to make an illustrative image for your website or blog so people will know that your application can be used on all modern devices.
---
9. 3D Website Design Mockup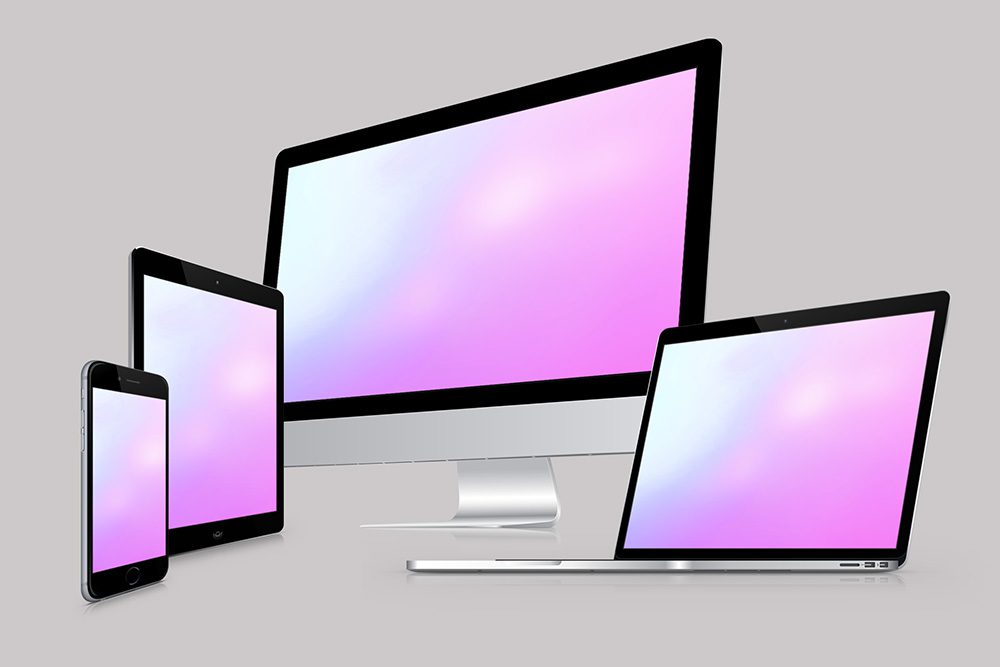 A classic multi screen mockup generator with IOS Apple technology devices. A must have mockup for any online technology service or application. Insert your own images and advertise that your service is available across all devices and browsers.
---
10. Responsive Online Application Mockup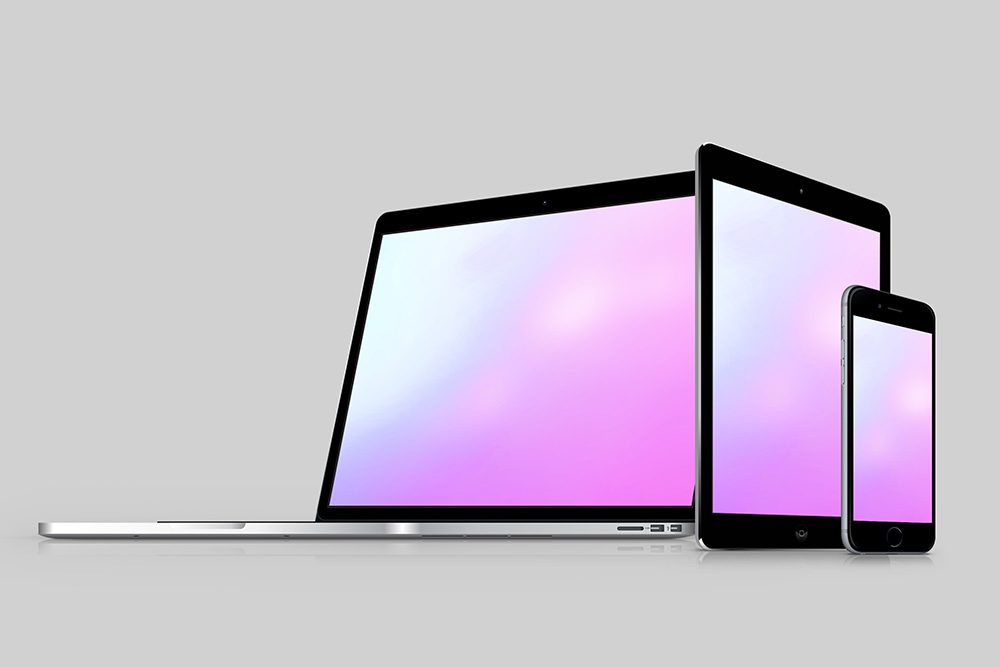 Show off your website or IOS application with a professional 3D Apple devices mockup. Insert your own images to the devices screens with a few clicks. Turn off the background layer for a transparent background.
---
11. Creative 3D Macbook and iMac Mockup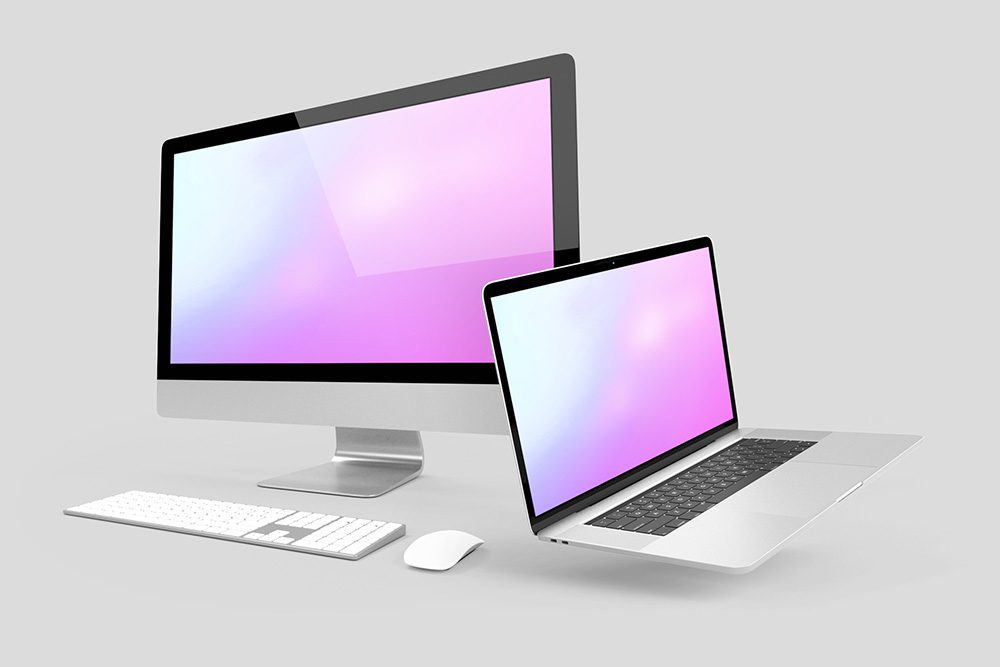 Here's another 3D multi screen mockup featuring an iMac computer and a crazy Macbook that's hovering in the air. One thing is for sure, using this mockup will make you look more cool if you're a 3D fan. Easily click on the device screens to upload your own image and choose a background color.
---
12. Side View Multi Screen Mockup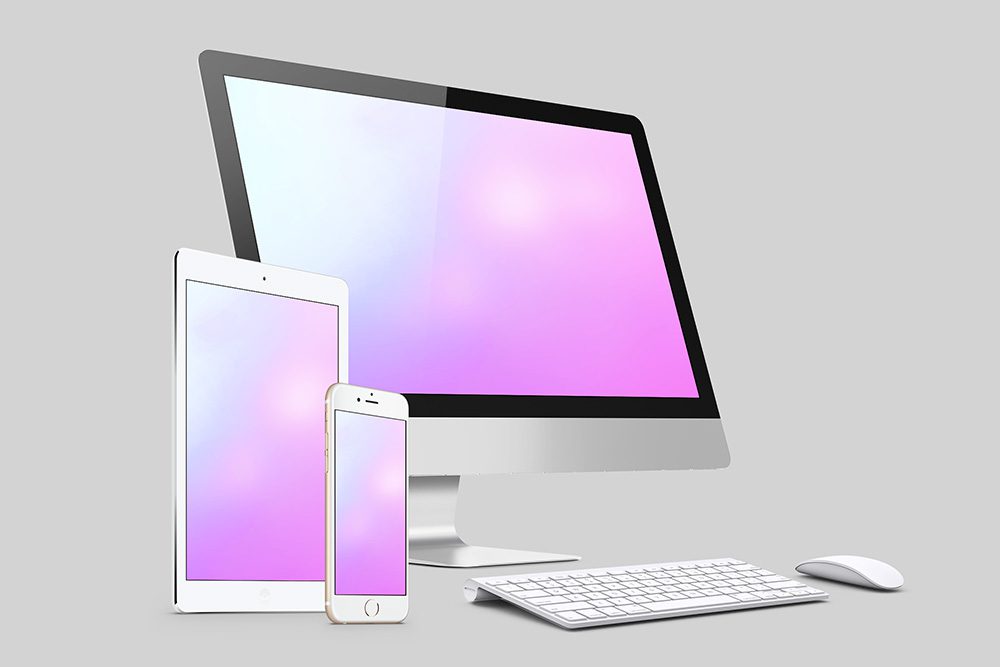 A 3D multi device mockup for displaying your images on a big computer screen and a white iPhone and iPad standing in front of the monitor. A combo Apple devices mockup for showcasing that your content is available across multiple platforms
---
13. Responsive IOS Application Mockup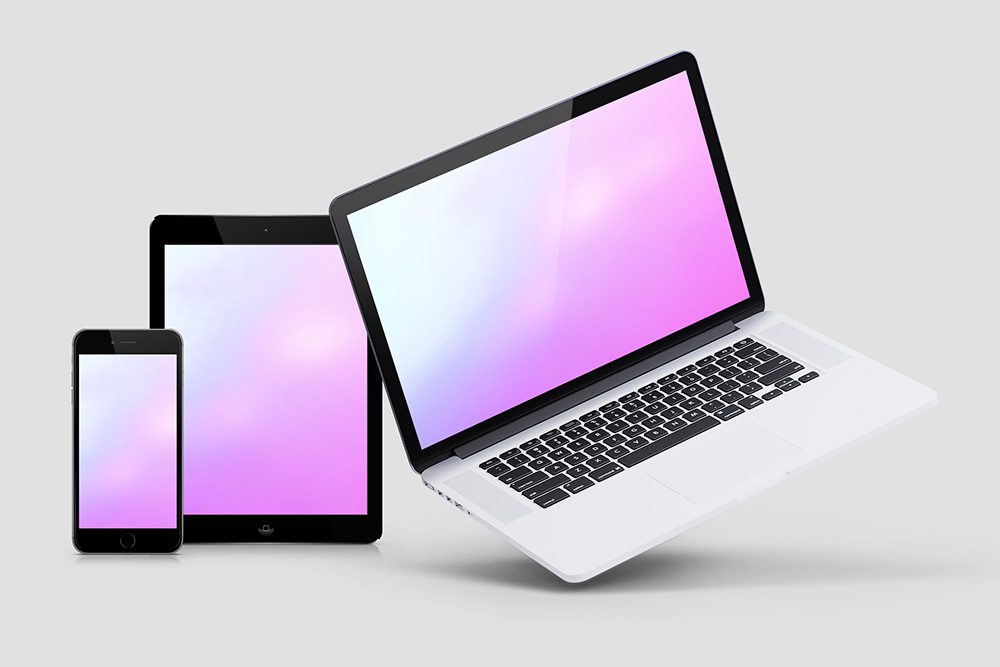 Illustrate how your website or service can be used – start with a small mobile screen and end with a laptop. A perfect multi device Apple mockup for displaying web related app or new homepage design. Simply click and upload a different image for every screen.
---
14. iPad and iPhone Mockup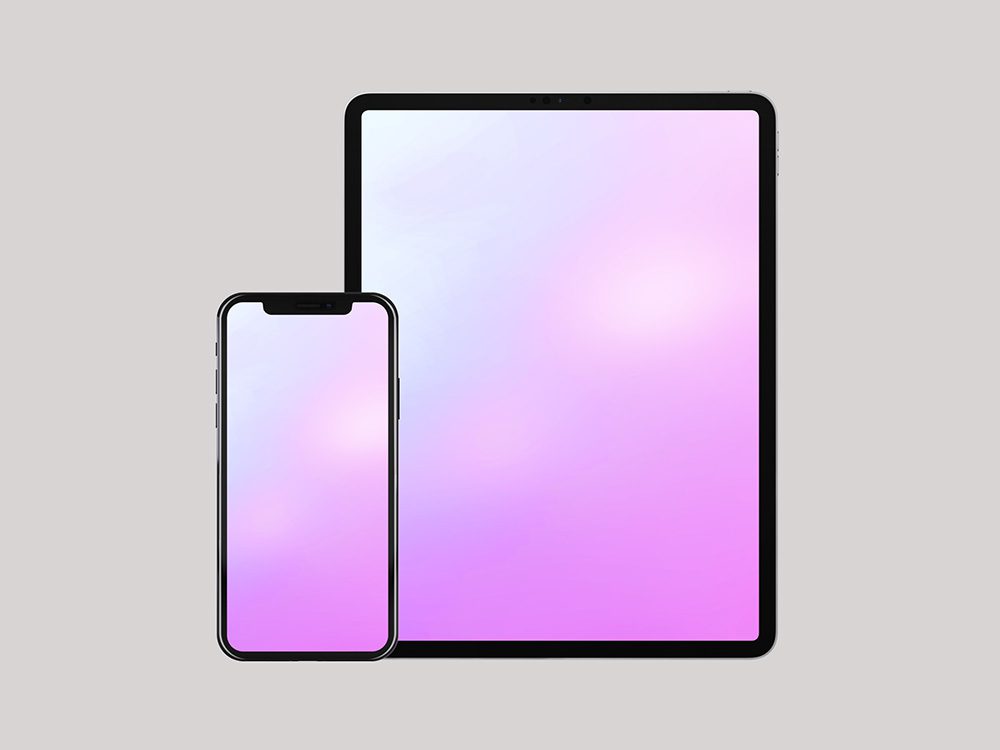 A minimal multi device Apple IOS mockup template for showcasing your content on an iPad and iPhone XS screen. Front view of portrait mode iPad Pro and iPhone XS standing next to each other
---
15. Isometric 3D Website Mockup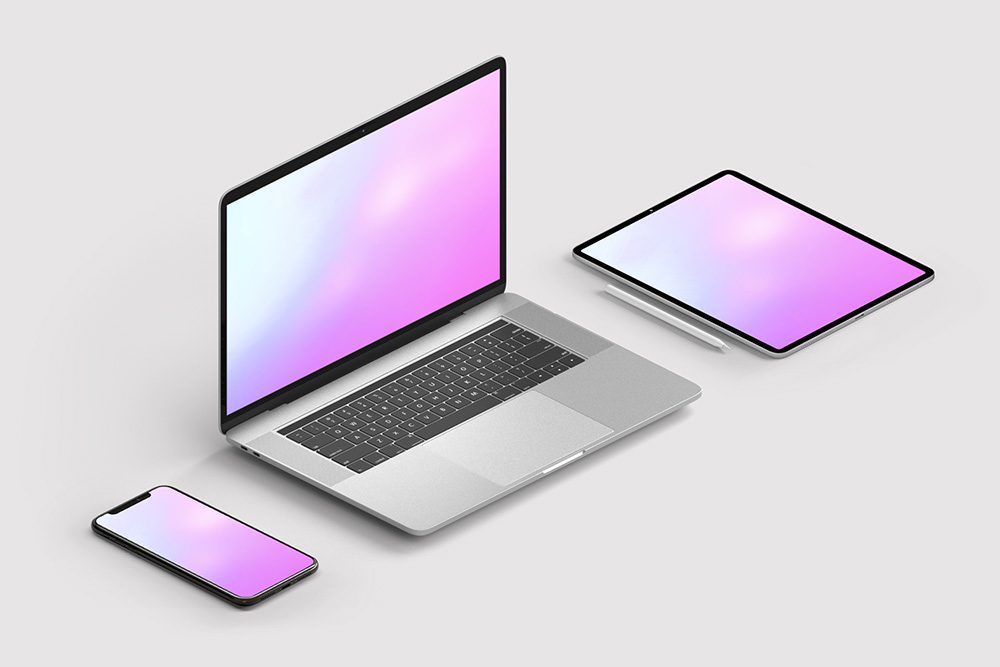 3D mockup featuring isometric view of an iPhone XS, Macbook Pro laptop and iPad tablet computer. A multi-device screen mockup for showcasing your website design portfolio or application screenshot.
---
16. Macbook and iPhone XS Mockup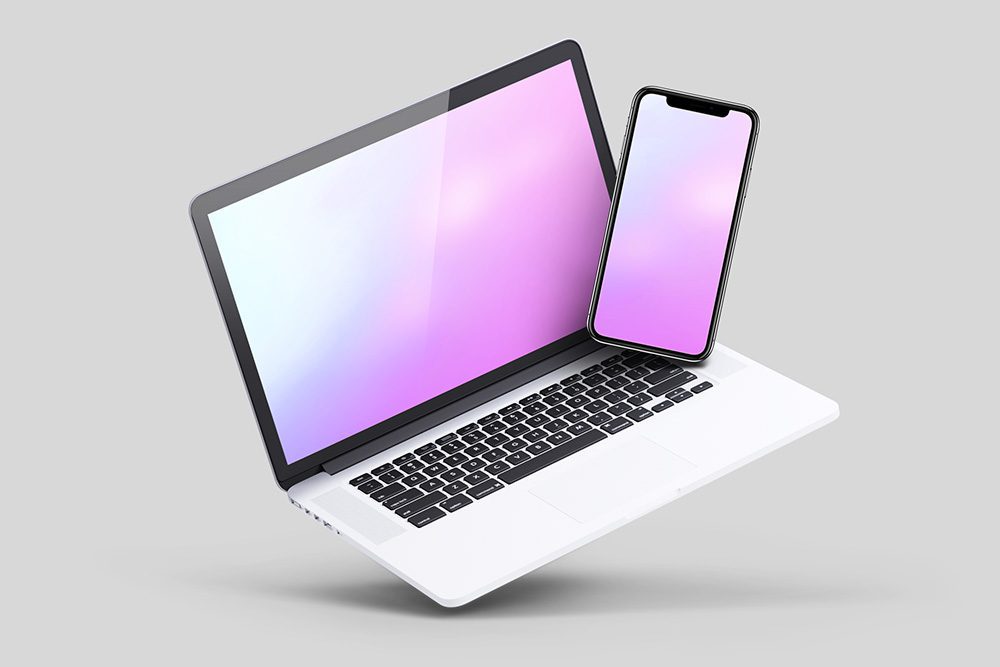 Must be magic – these devices are hovering in the air! A creative 3D mockup template with IOS devices Apple Macbook Pro and iPhone X. Showcase your IOS application or promote an iPhone application screen.
---
17. Digital Product Mockup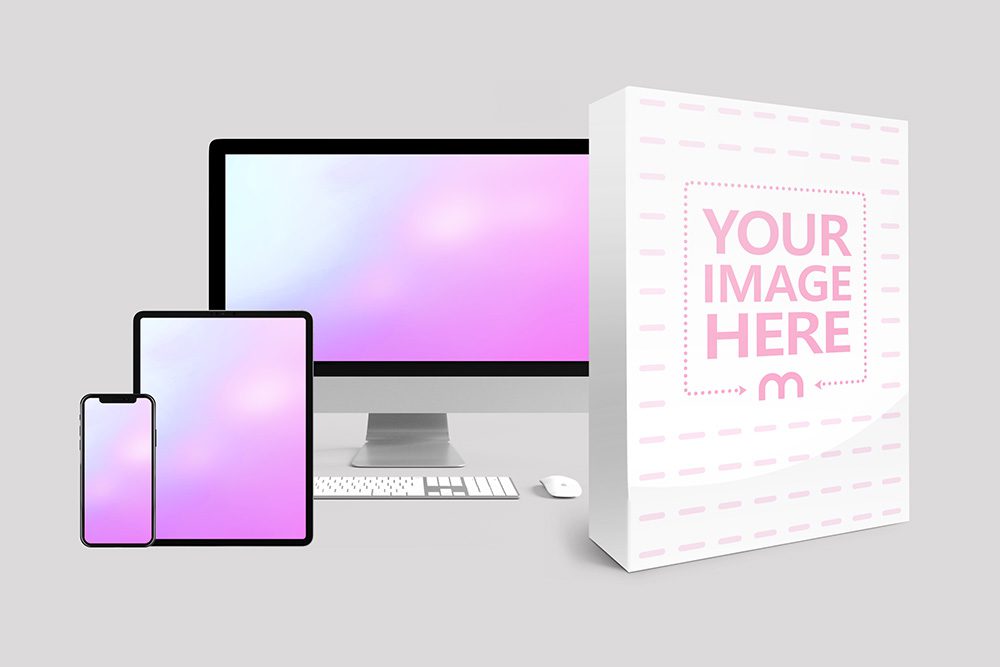 Put your product in a box – a useful mockup template for promoting your online course or digital product. Template features an iPhone, iPad, iMac and a standing product box. Easily upload your own image onto the device screens.
---
18. Online Product Showcase Mockup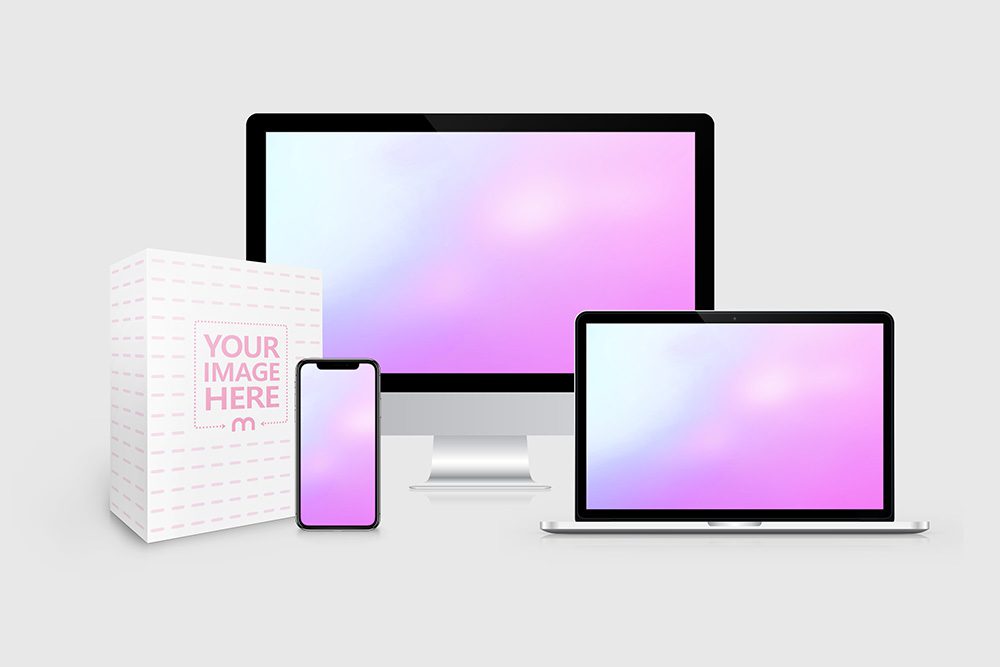 Make your digital product stand out. Easily place your own images into this mockup and promote your e-course, website or digital product. The template features a standing product box, iPhone, iMac and Macbook on a solid color background.
---
19. iPhone App and Website Mockup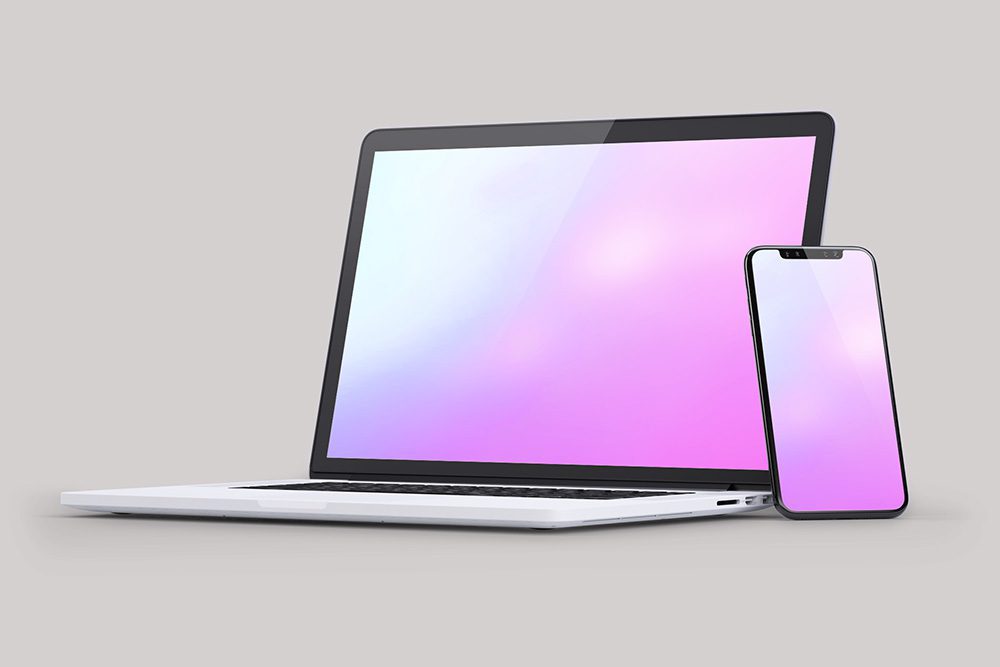 A multi device IOS mockup featuring a Macbook pro laptop and a black iPhone mockup leaning against the laptop. Devices are isolated on a solid background. Upload your images to the screens and advertise your responsive web application on website.
---
20. Online Business & Website Branding Mockup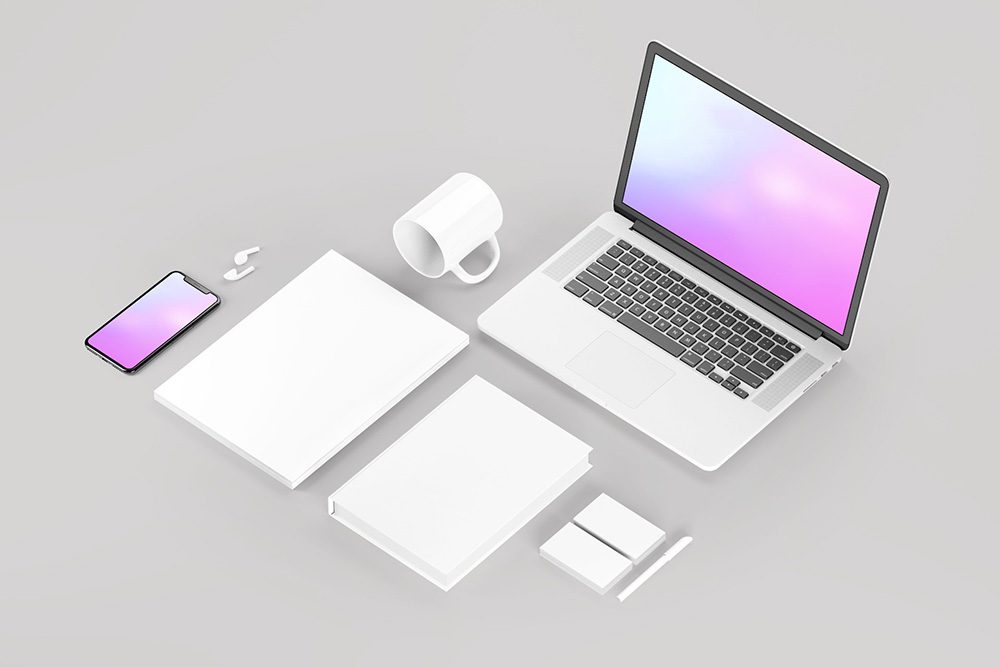 Show off your branding style for a website or business. This mockup is great for visualizing how a brand looks like online and offline – place your content on digital screens and stationery items like business cards, letterhead and a book.
---
Conclusion
So how was it?
Did you find a mockup template which is good enough to host an image of your website?
If not, be sure to check out all the other best mockups in these categories:
and you can always follow us on Pinterest or Behance for the latest freebie designs like this website mockup.
Visualize your design Use a product mockup to showcase your design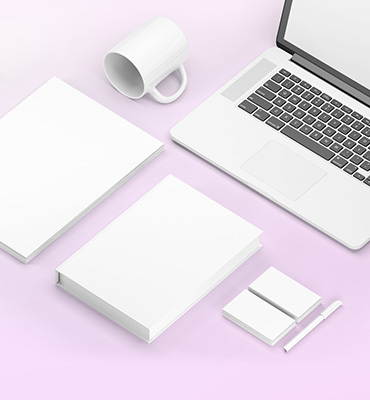 Create your design Use our templates to create delightful designs for any medium