30 Best iMac Mockup Templates
•
February 16th 2020
•
7 minute read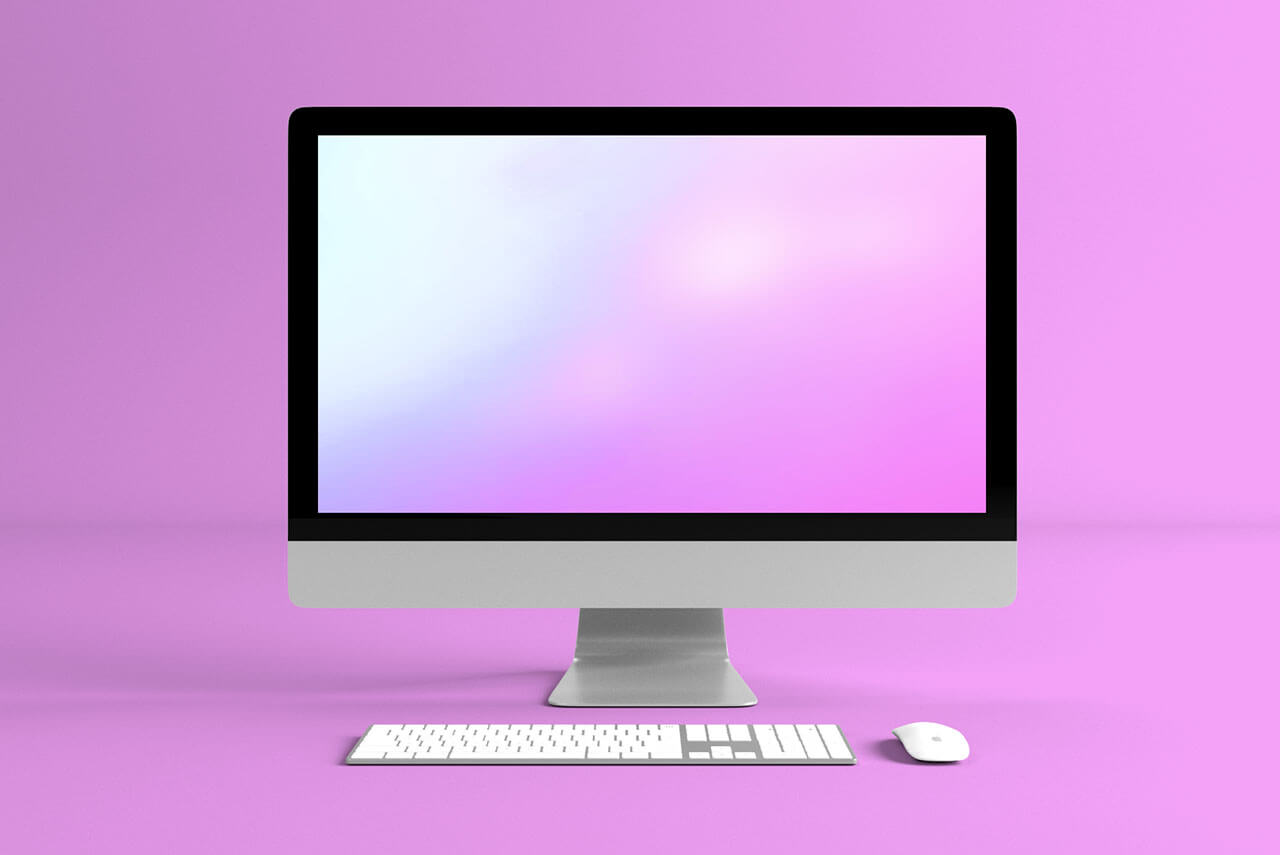 A good iMac Mockup is hard to find… or is it? Here's a collection of our best and popular iMac mockups which our customers (over 100000 people) love the most.
These mockups are all free for you to try – simply upload your image onto the iMac placeholder screen and generate a full size preview in seconds – that's the beauty of an online mockup generator.
Download your iMac image as JPEG or make it a PNG with transparent background. Each template is additionally customizable, so you can easily edit background color and match it with your design.
Whether you need to present your website design portfolio, showcase your slide deck or simply feature a product image, you'll be sure to find something you need or like.
1. Front View iMac Mockup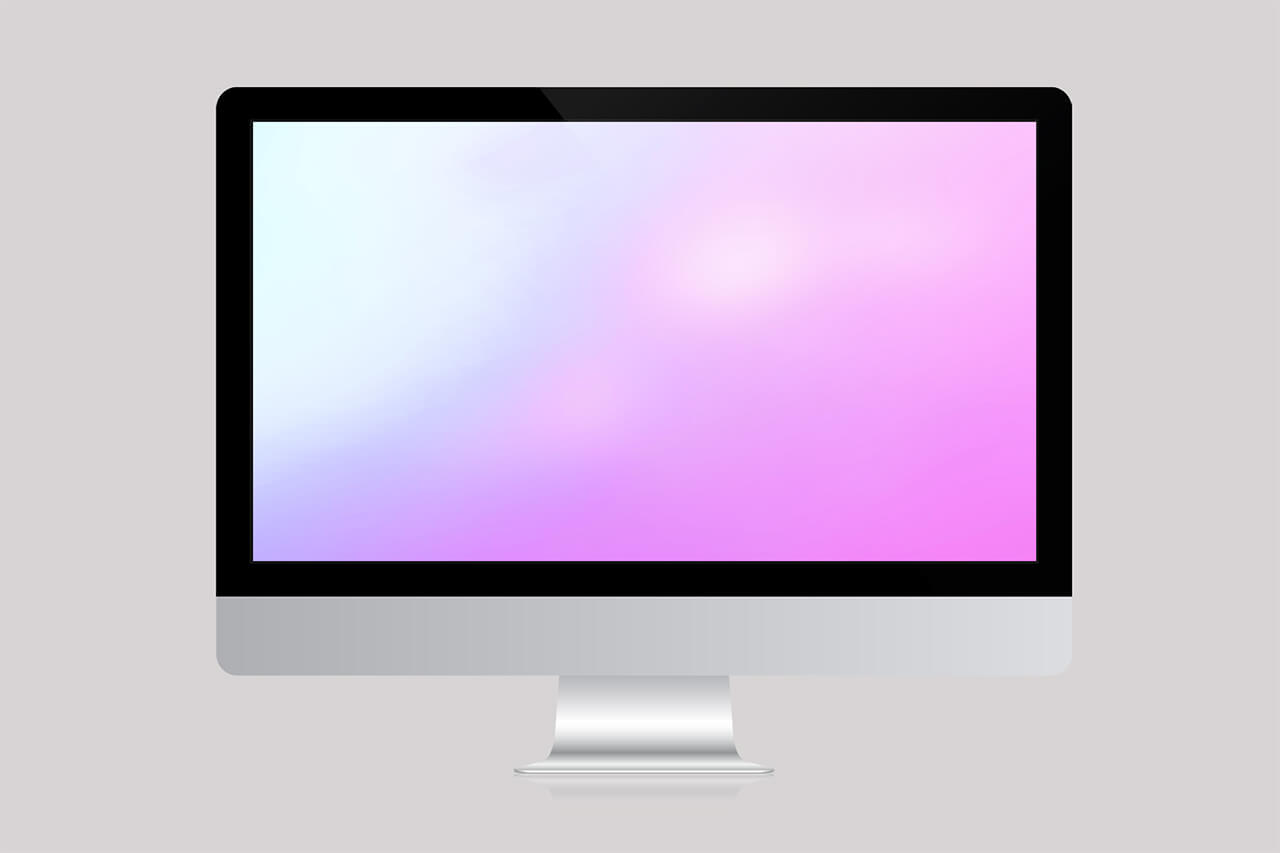 Let's start with the basics! The most favorite Mac mockup of all times is a plain, flat and simple isolated front view of the iMac with no keyboard our mouse. A perfect minimal template for showcasing any kind of content. Add your own background color or use as transparent PNG.
---
2. Multi Device iMac Mockup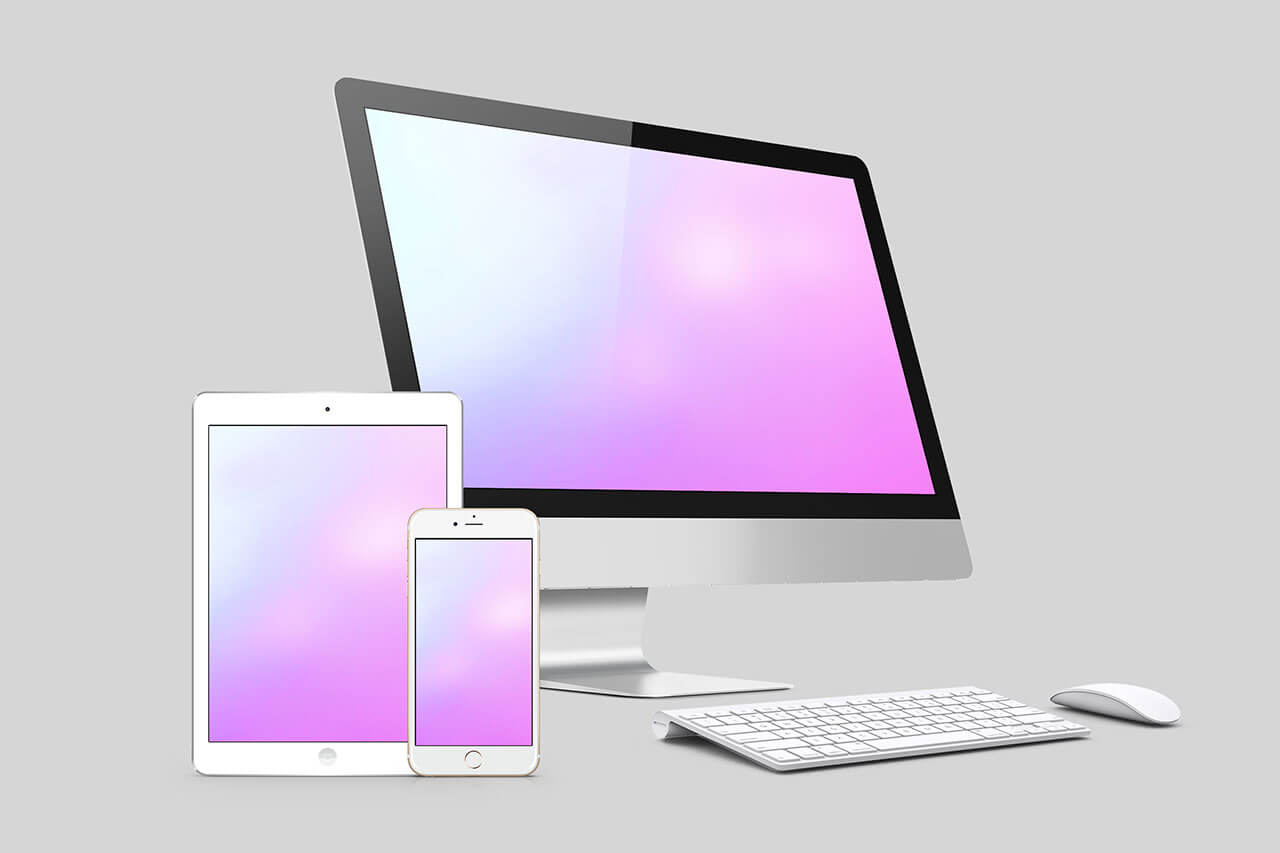 The iMac is not a loner and so it is often accompanied by a few good friends. This mockup template also features an iPad and iPhone for showcasing that your content is available on all devices.
---
3. Responsive Website Mockup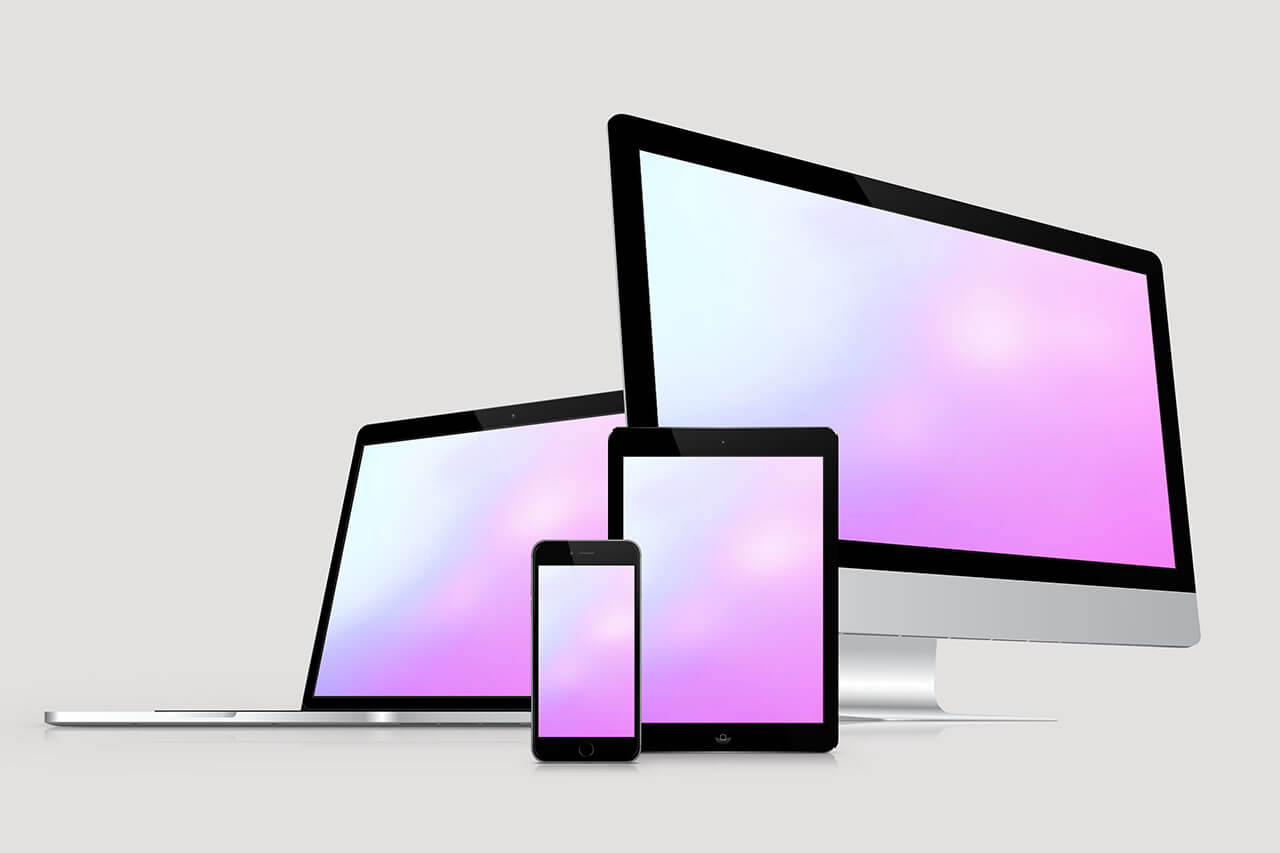 Use this mockup template when you need to display your responsive website and show that it is accessible from all popular IOS devices.
---
4. Front View 3D iMac Mockup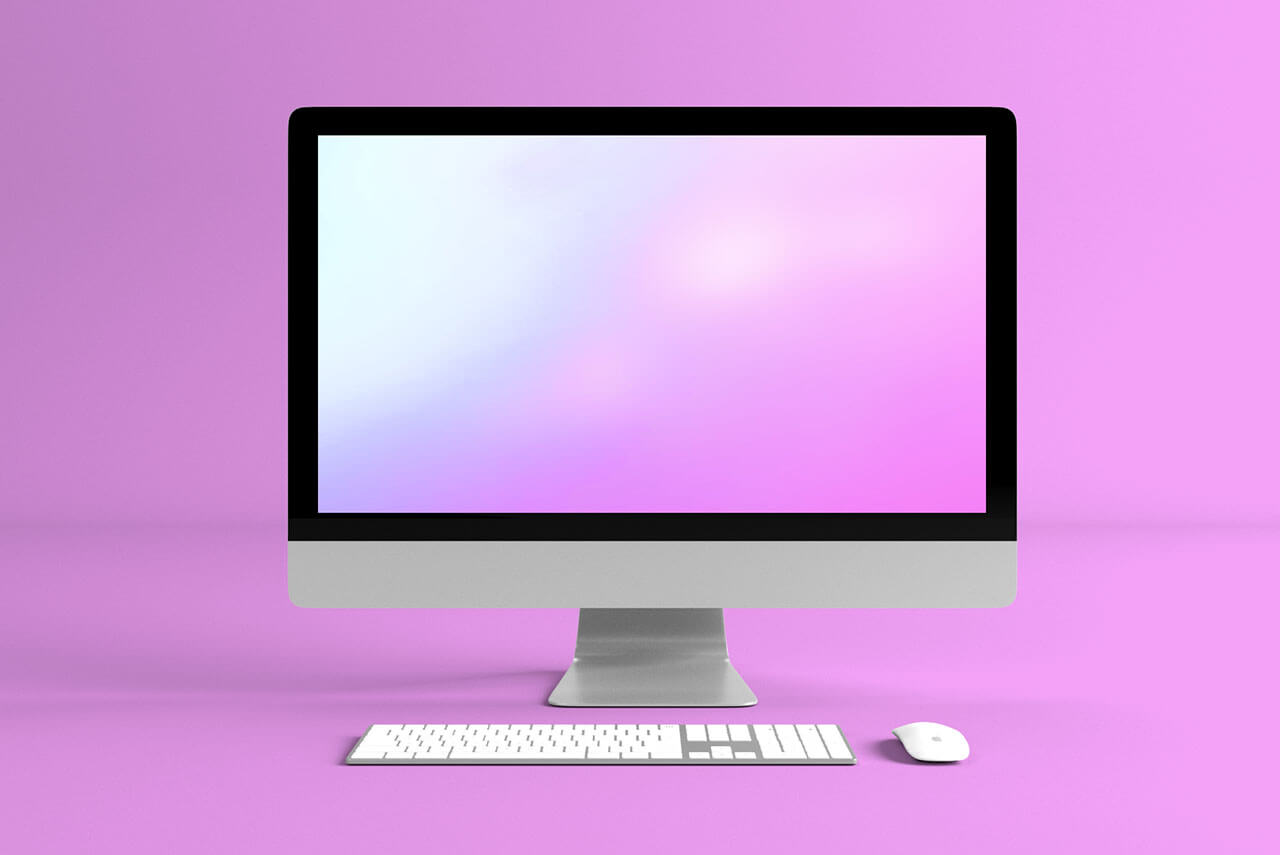 Another minimal but also good looking 3D mockup with a basic front view of the Mac screen on a studio background scene.
---
5. Creative Social Media Website Mockup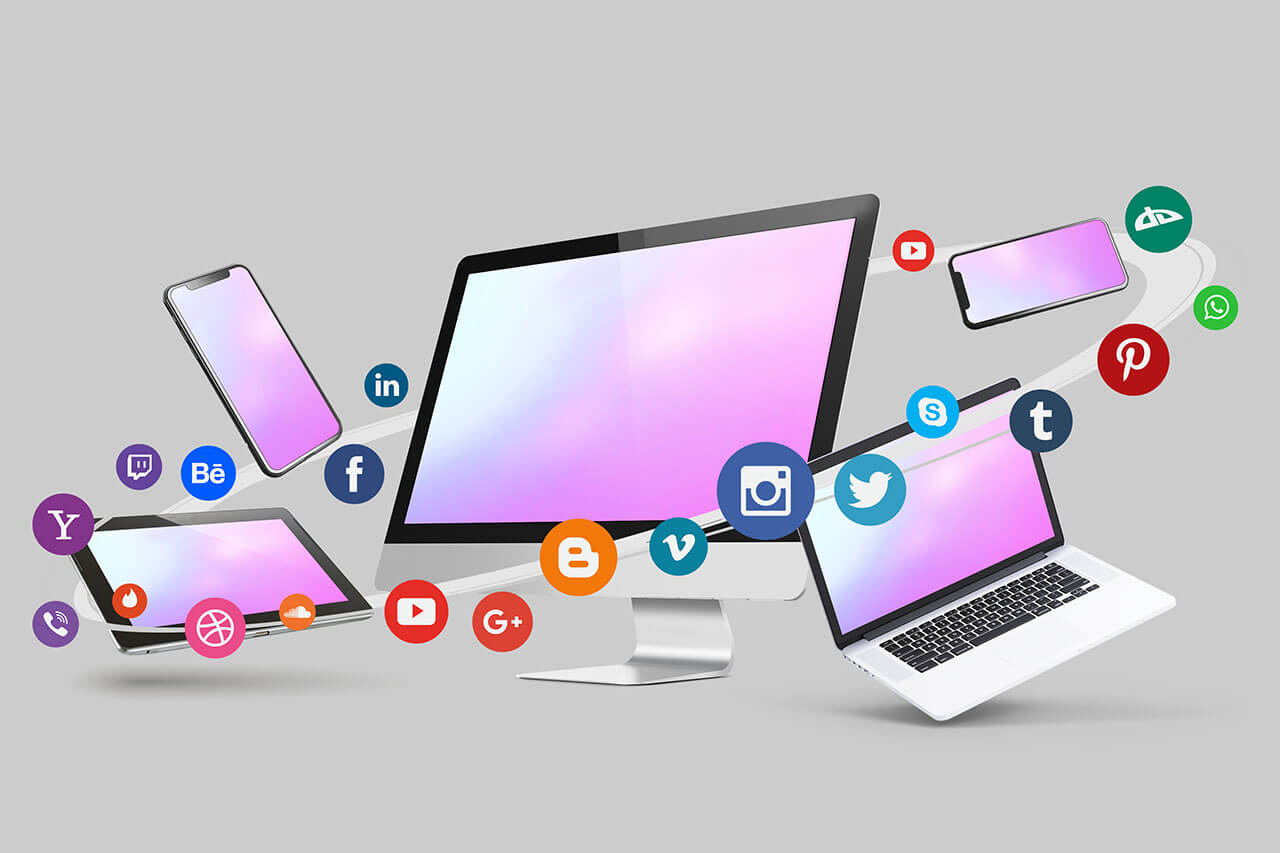 This abstract mockup template features the Apple devices hovering in the air with a circle of social media icons around them. Use this creative concept for advertising a social media app or website. NB: you can also disable the social media elements and use it as a regular multi-screen mockup.
---
6. Multi Device Website Mockup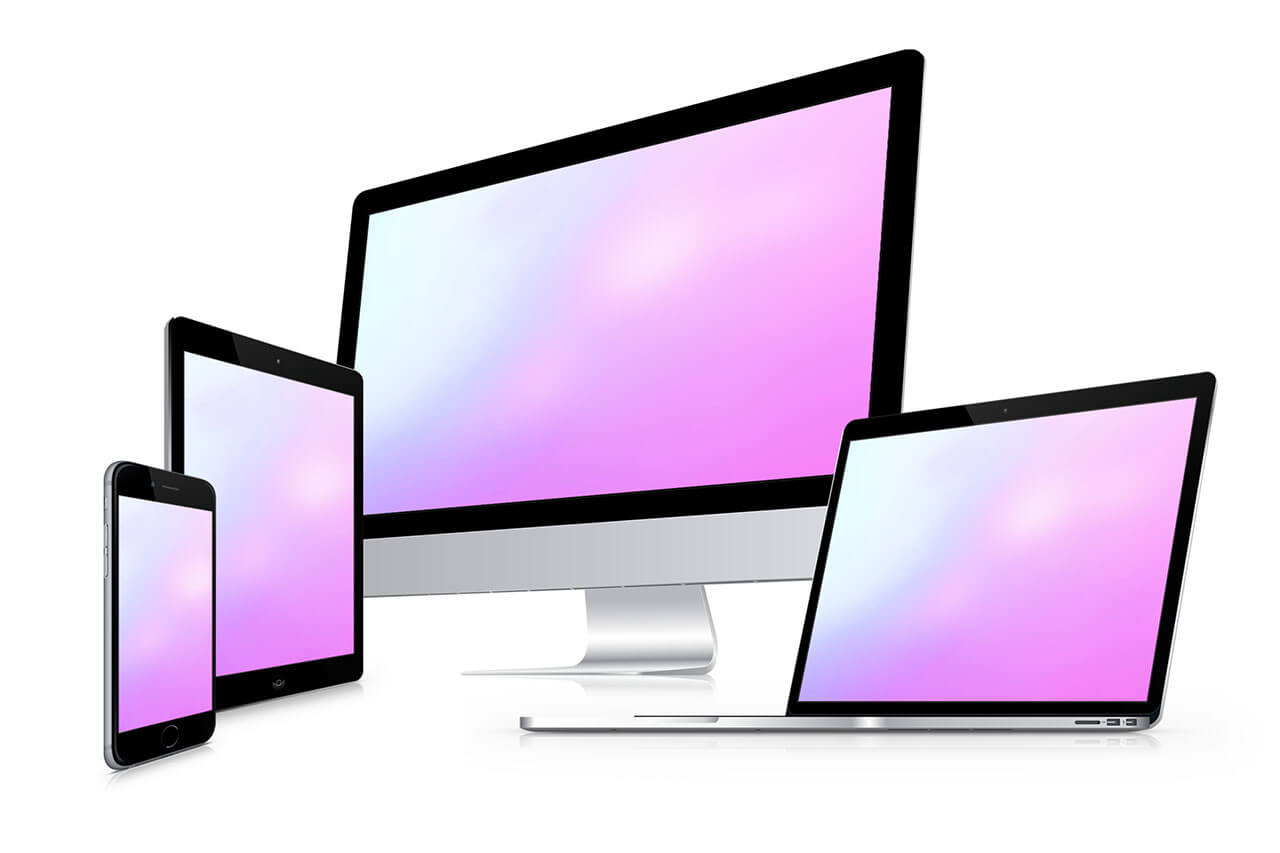 This beautiful mockup is perfect for displaying your responsive website or an online application. Place the main big image in the middle on the iMac screen and other screenshots on the sides with smaller devices.
---
7. Zero Gravity Multi Device Mockup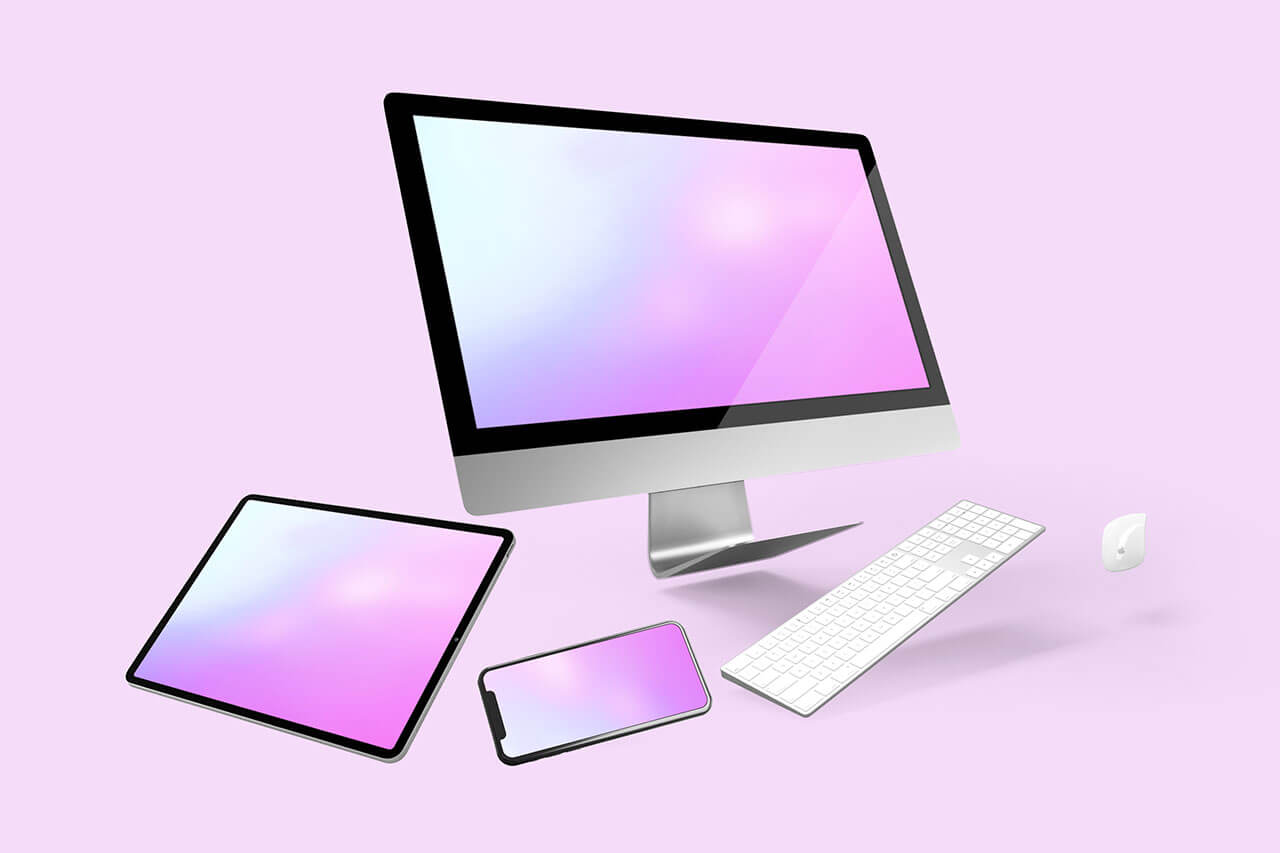 If you're looking for a creative technology mockup then you've found it! This template features an iMac, iPhone and iPad hovering above the surface.
---
8. Three Monitors Mockup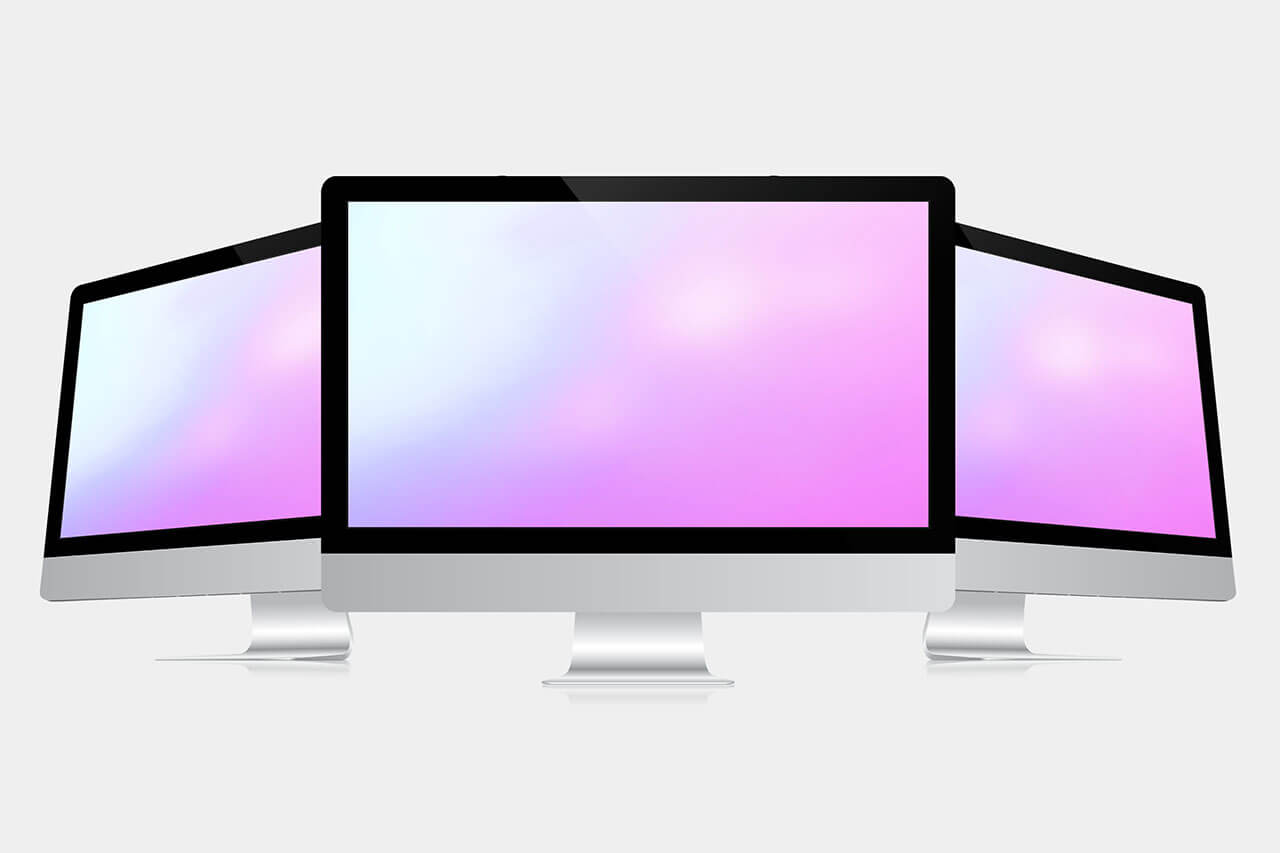 What's better than an iMac? You guessed it… 3 iMacs. Use this mockup template to showcase multiple website pages or a few favorite slides from your presentation.
---
9. Turned View iMac Mockup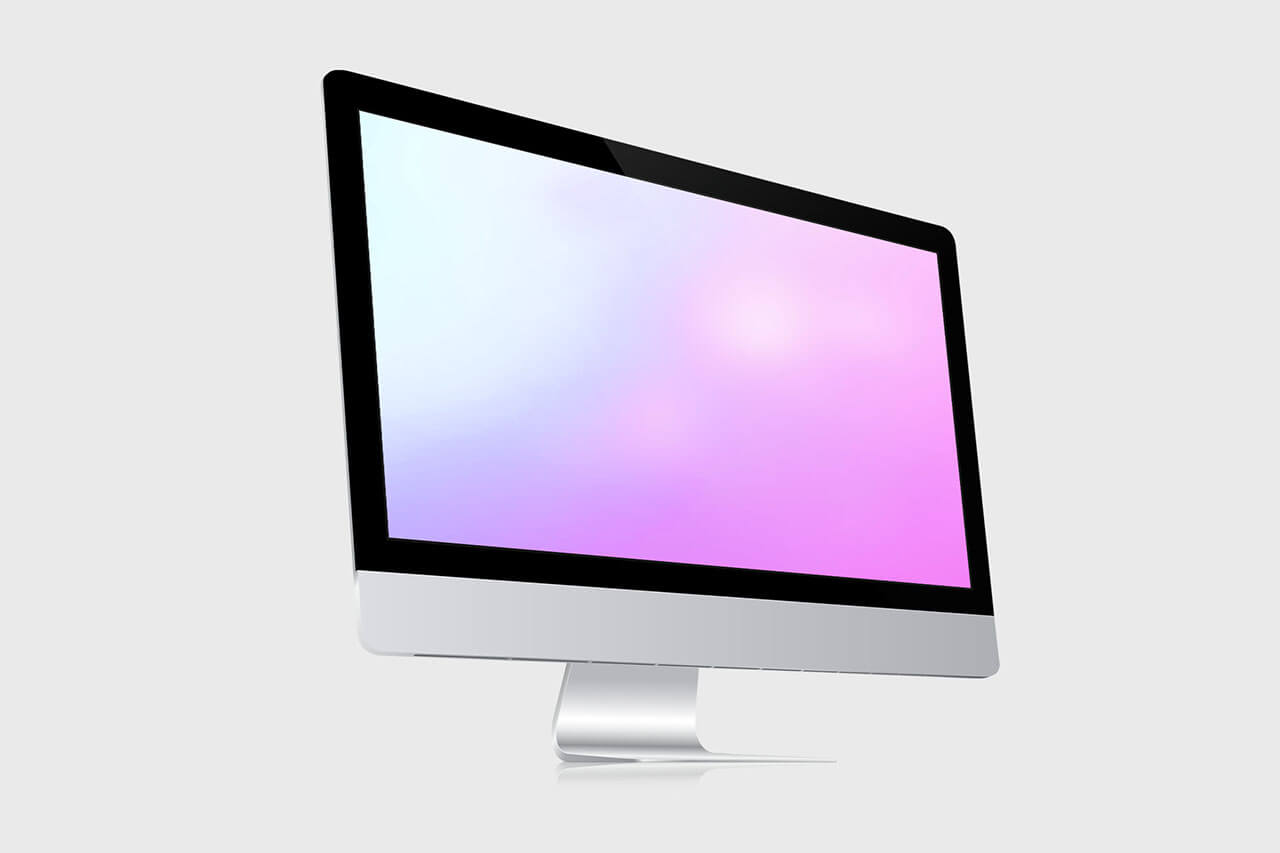 Is flat & front view too boring for you? Then why not use this mockup featuring a half turned right side view of the iMac.
---
10. Turned View iMac Mockup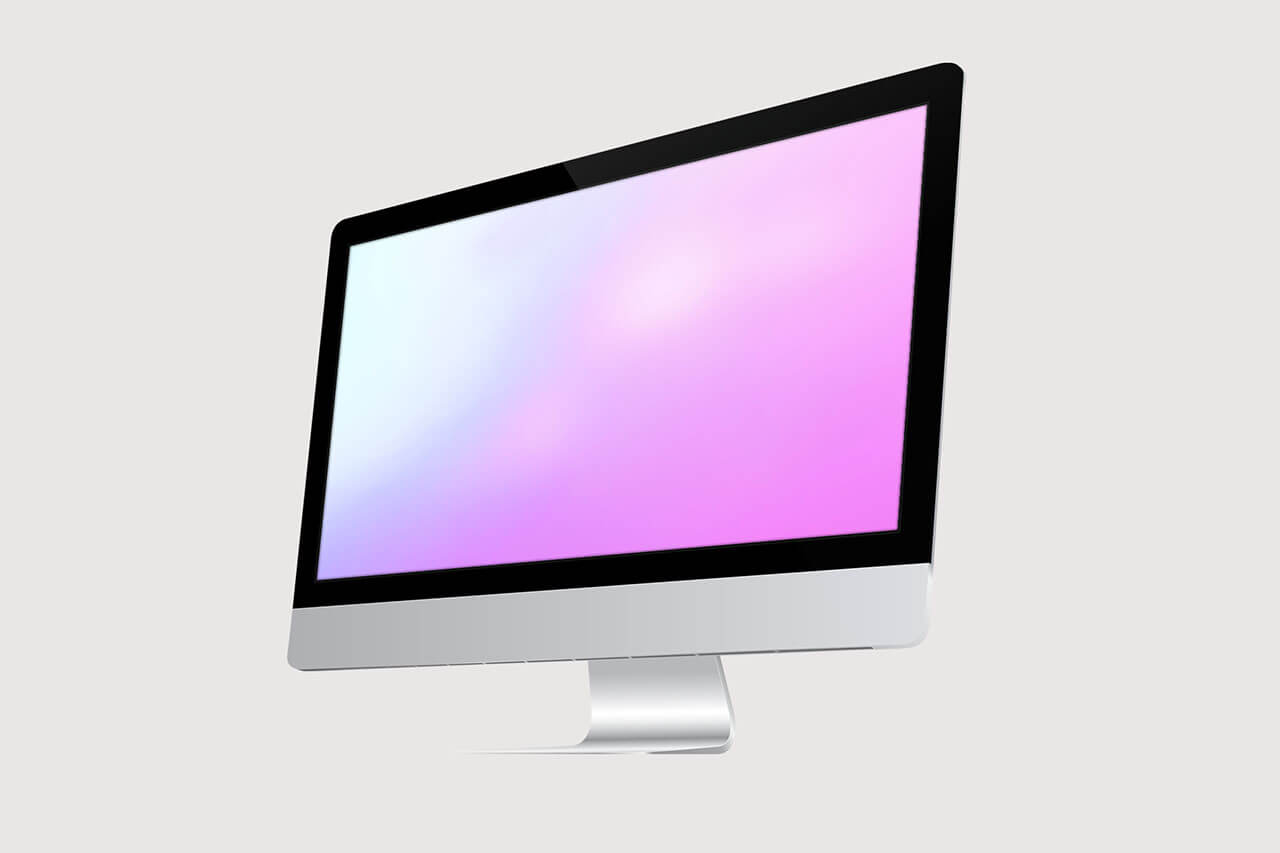 and let's flip it – this mockup features the turned view of the left side of the iMac. It's a great and minimal image which is most commonly used in website headers or in social media ads.
---
11. iMac on Desk Mockup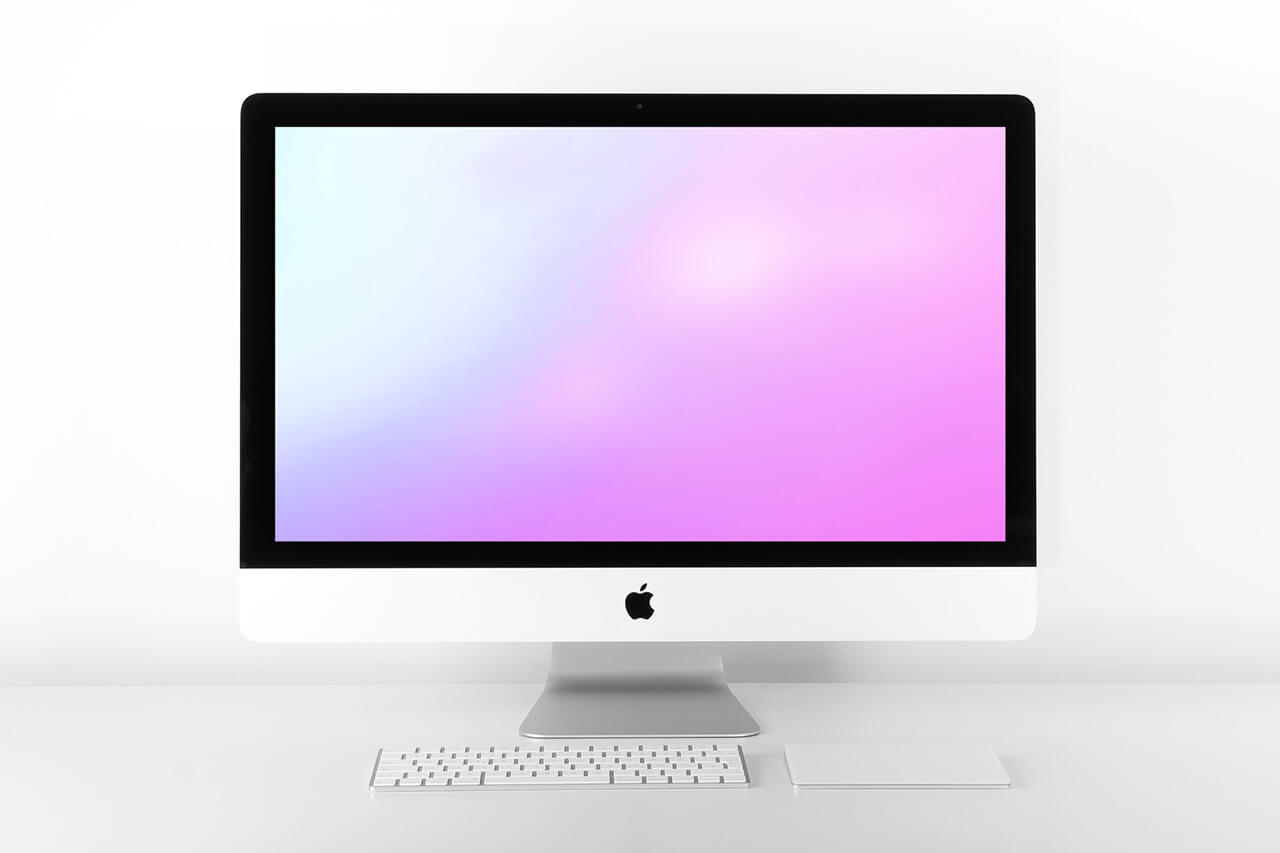 Another beautiful mockup featuring the iMac screen on a white table scene together with a touchpad and keyboard. Oops… the Apple logo is also visible on this template, I hope we don't get sued?
---
12. iMac and Macbook Mockup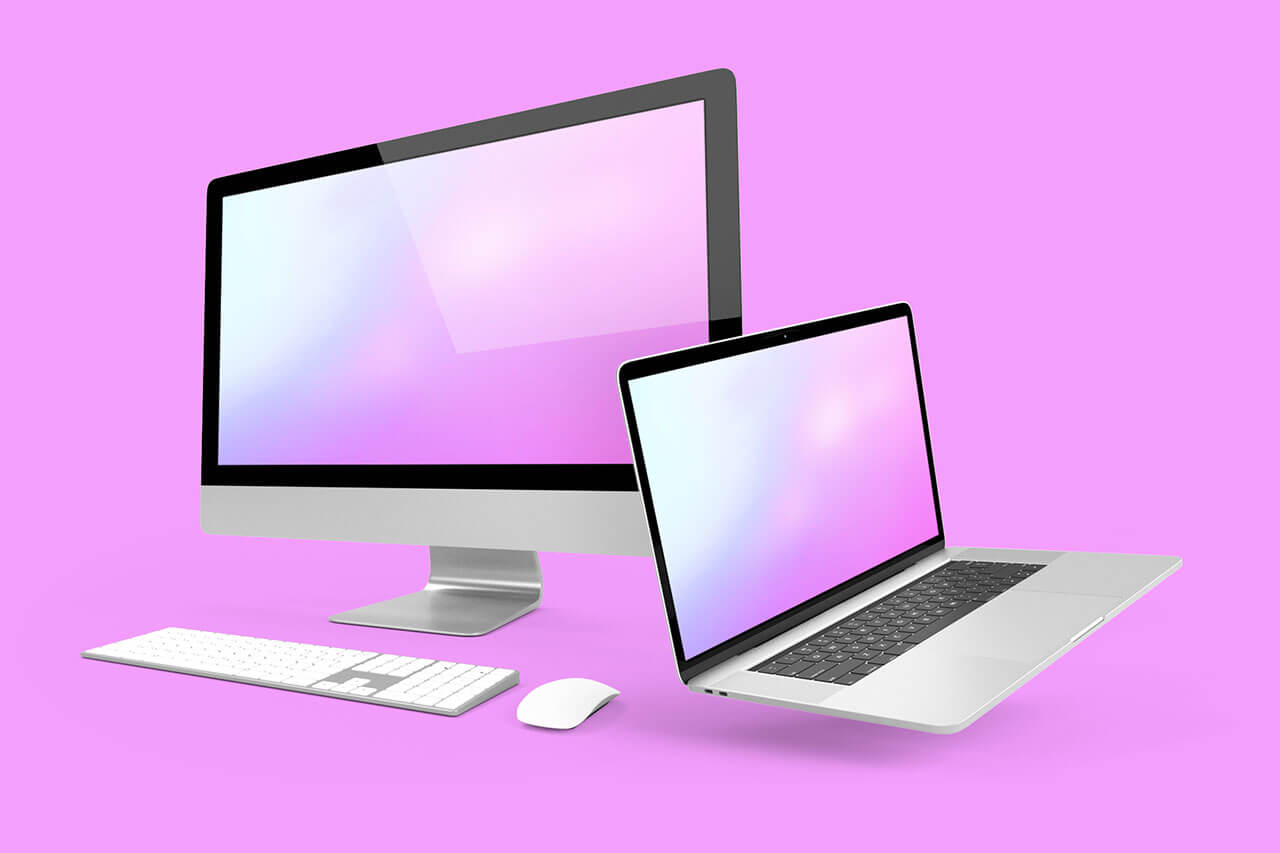 Use this multi device mockup to feature your content on the iMac and Macbook Pro screen. Set your own background color to match your design or even export the whole scene as transparent PNG.
---
13. 3D Creative Design Mockup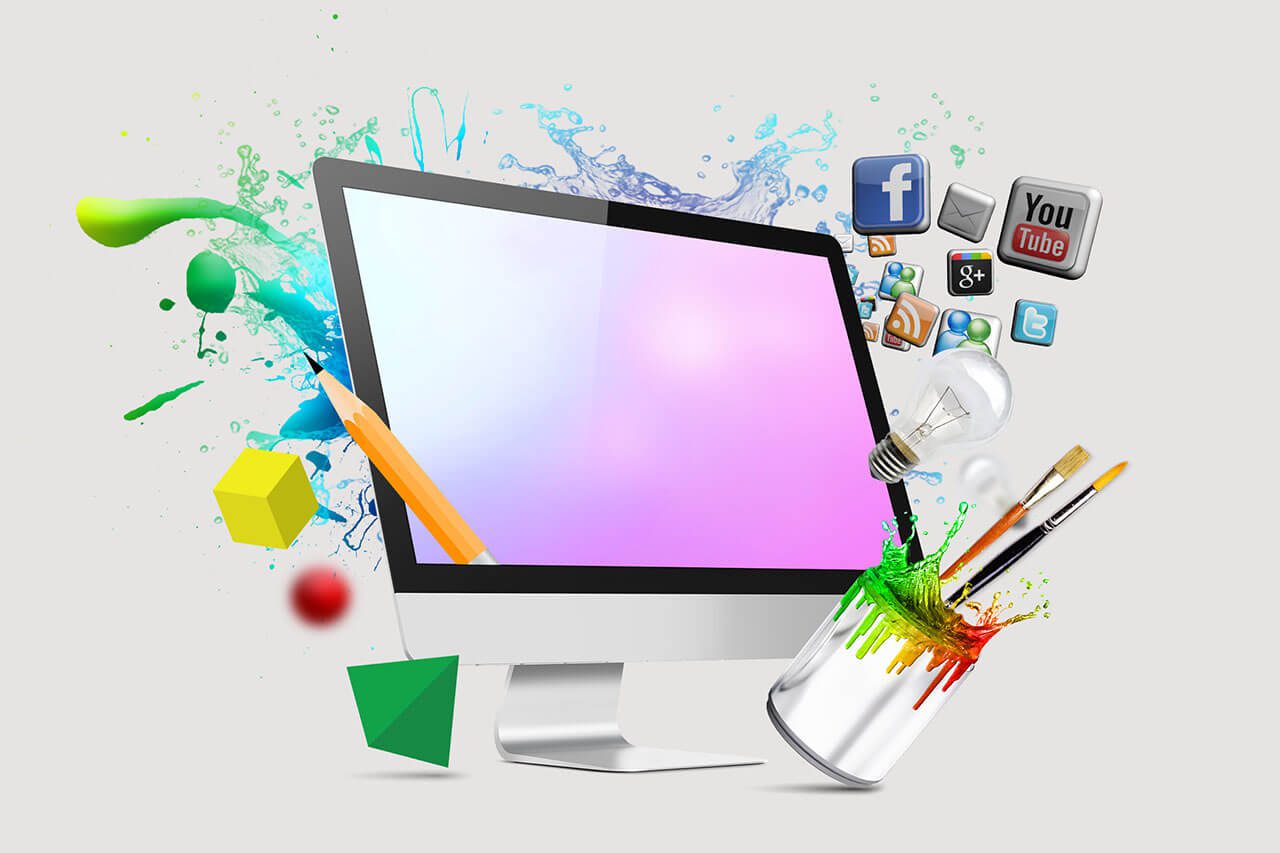 This mockup is unlike any other you can find on the internet! A creative concept featuring an iMac and colorful paint splashes, 3D shapes, social media icons and a pencil.
---
14. iMac with Broken Screen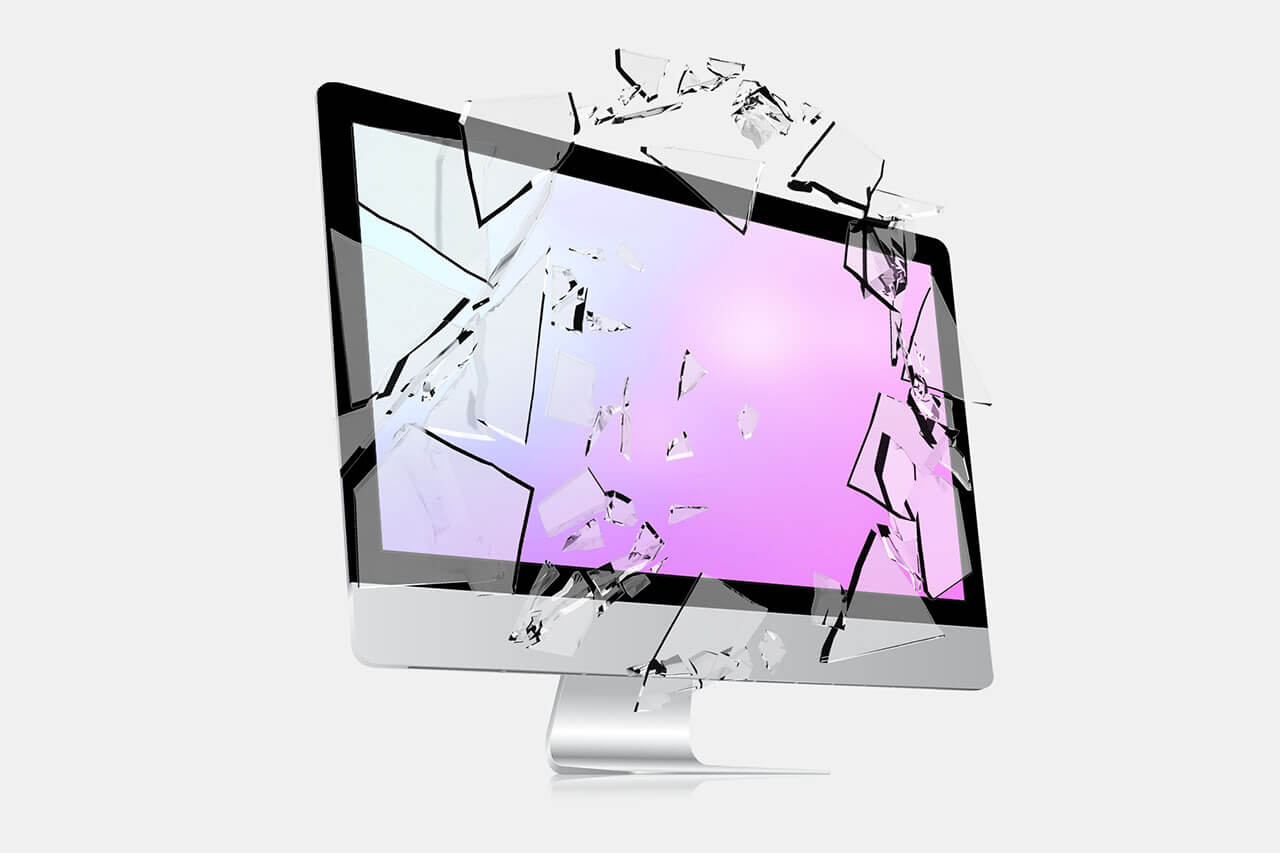 If your app or website so good that it will break the internet then this mockup will be perfect! The template features an iMac with broken glass screen.
---
15. iMac with Broken Screen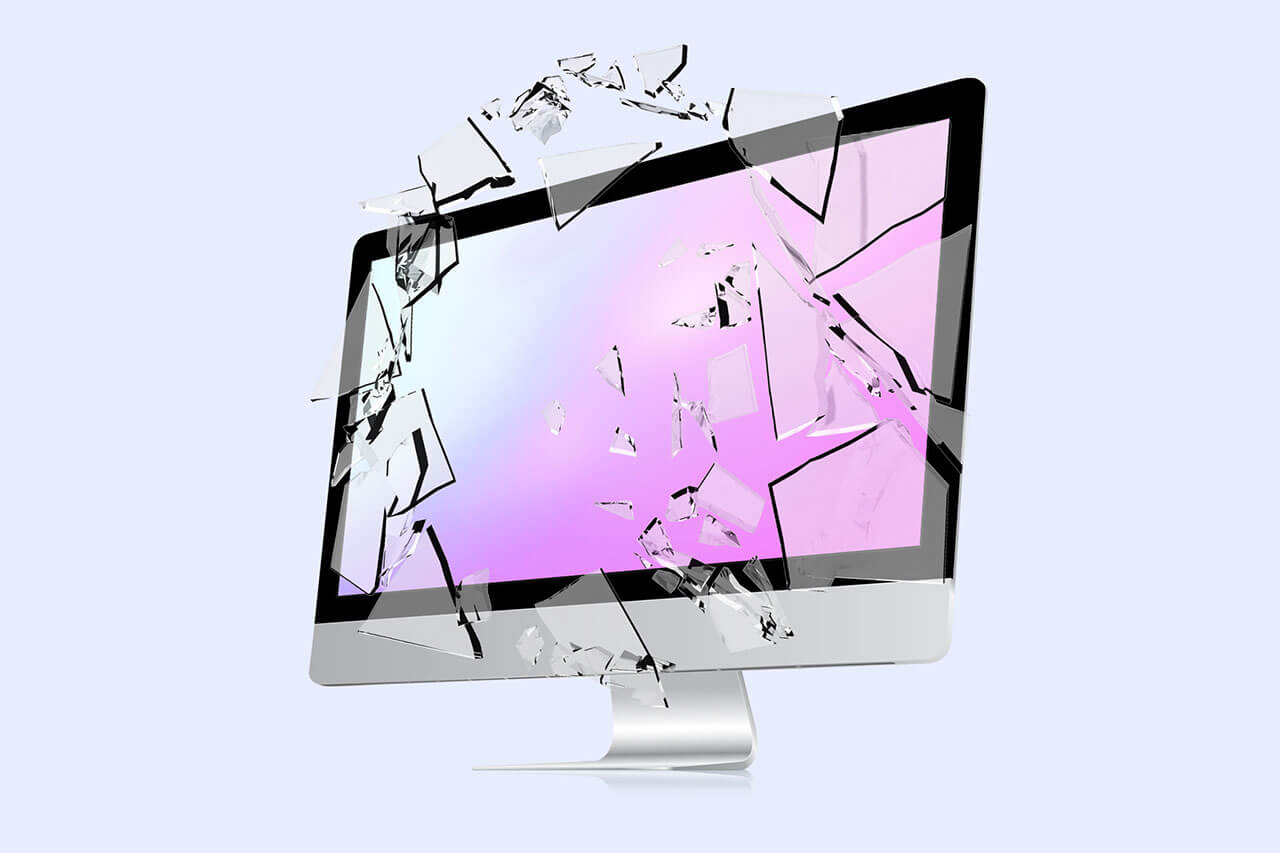 Still broken… same mockup but from a flipped angle.
---
16. Front View Broken Screen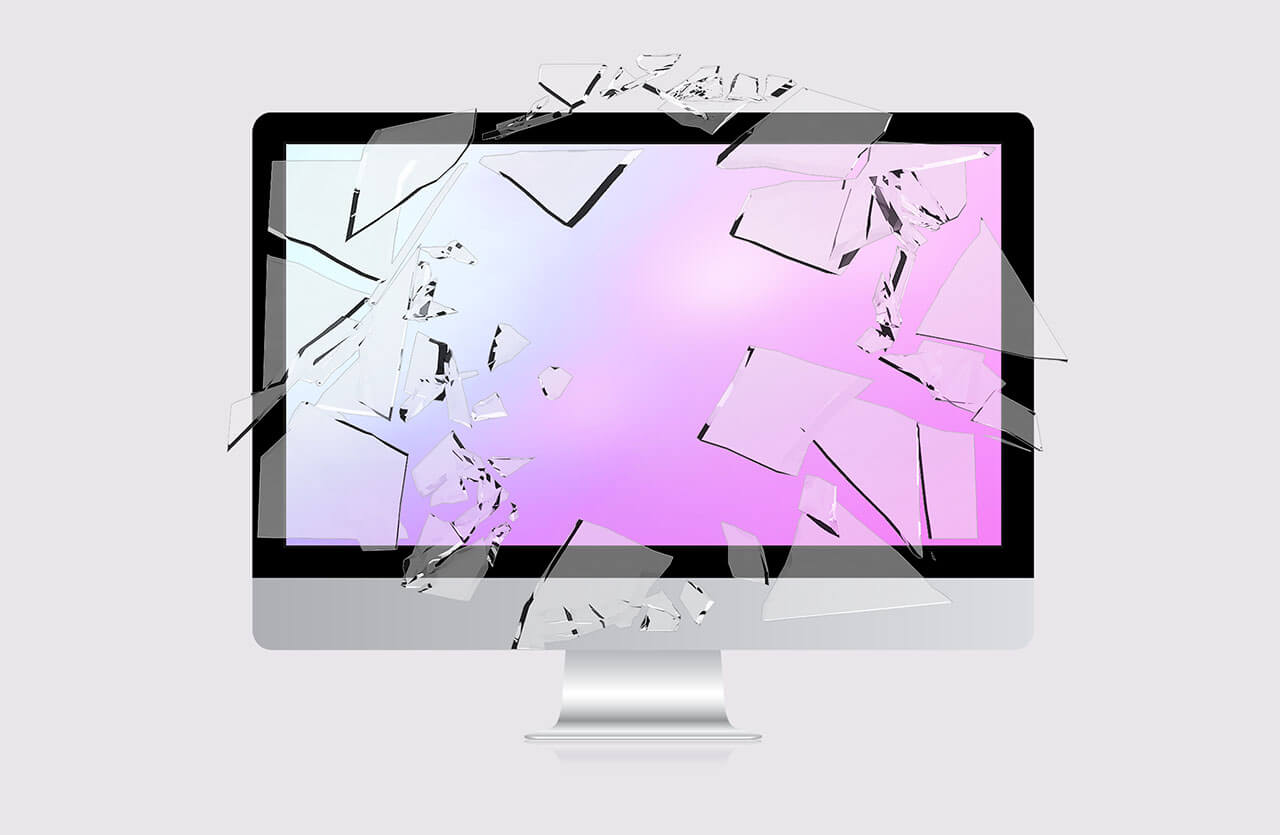 and finally the front view mockup of the broken screen template… no more of these, I promise!
---
17. White Clay Screen Mockup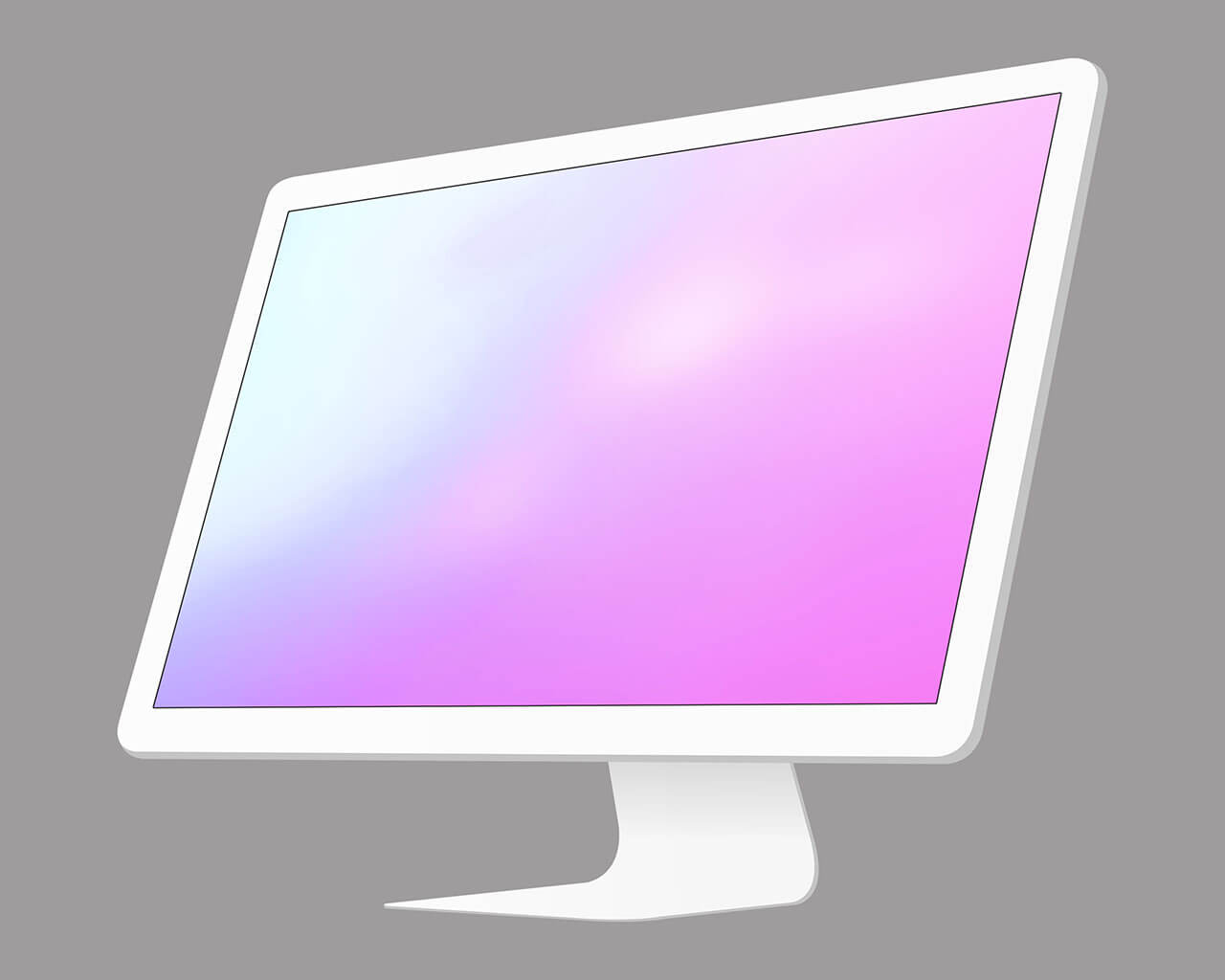 Minimalism is the key in this mockup featuring turned side view of a clay iMac screen. The latest trends in design are all about staying flat and minimal so this template is perfect designers who want to stay white and clean.
---
18. Monitor Display on Wood Stage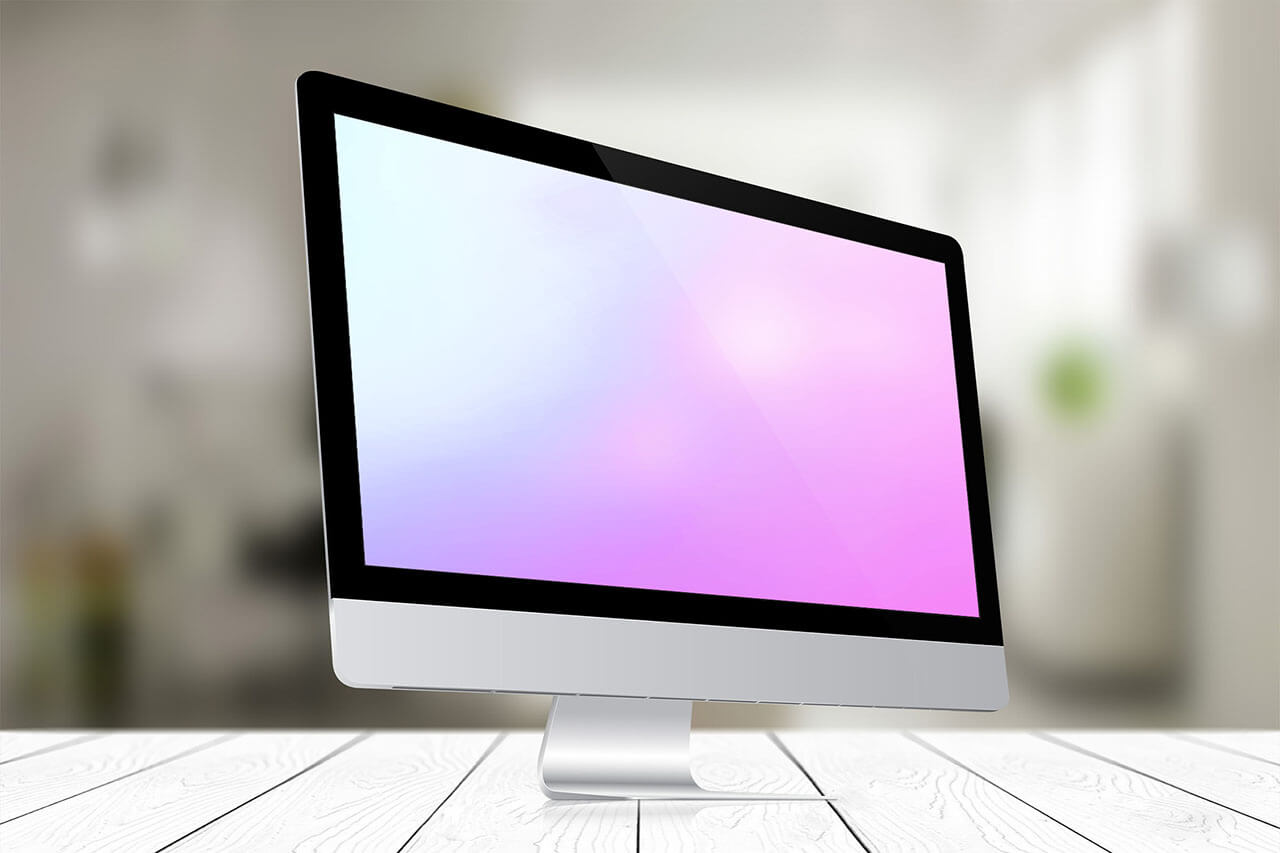 Does your website belong on the stage? Use this iMac template to extra highlight your content – the mockup features an iMac on a white wood table and blurred background.
---
19. iMac on Office Desk Mockup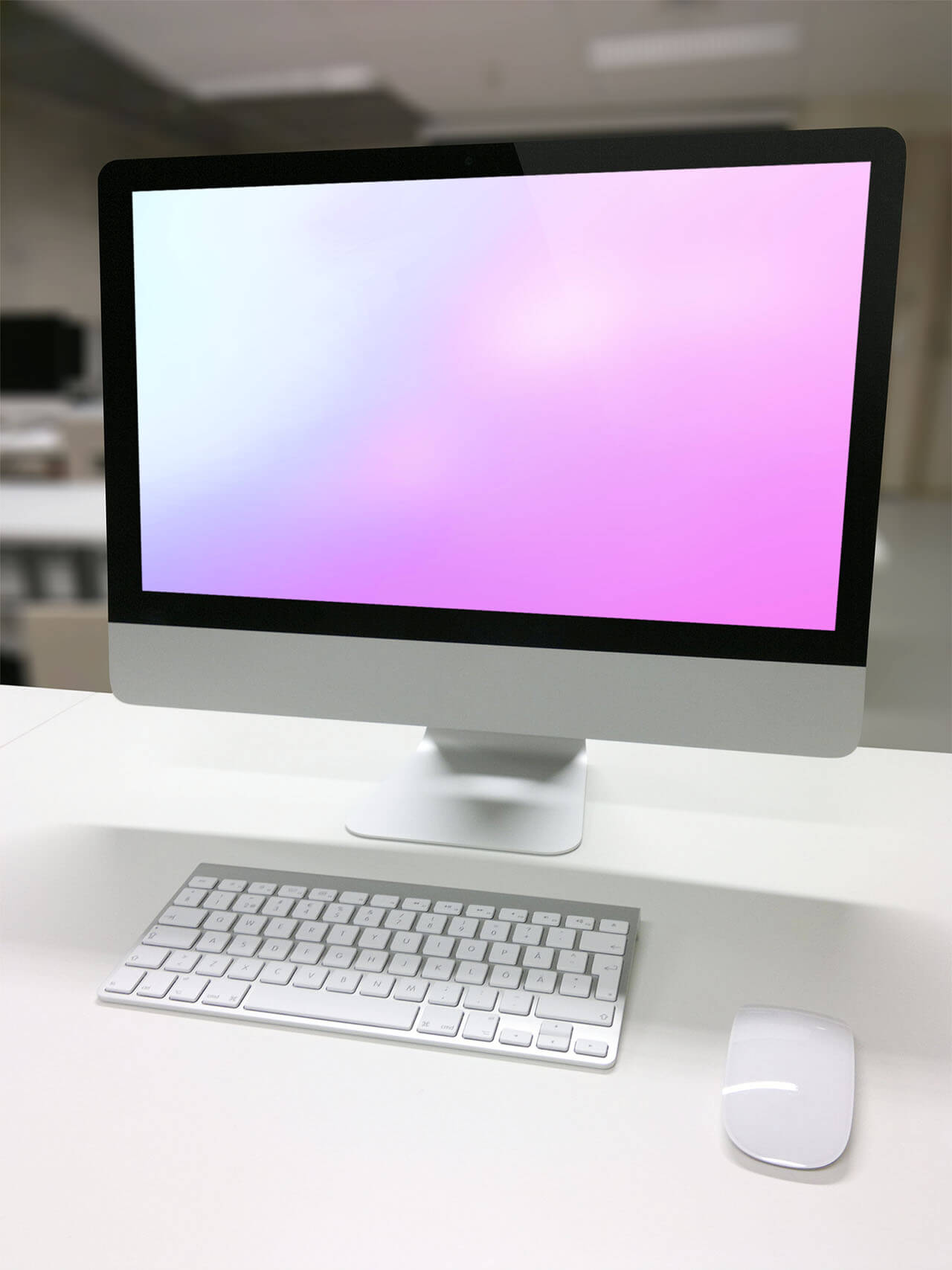 How did this template get in here? Notice anything different? That's right, it's the only mockup in portrait mode. No worries though, all the mockups in this list have a large image size, so you can also crop all the other template into any size or format you need.
---
20. 3D Scene iMac Mockup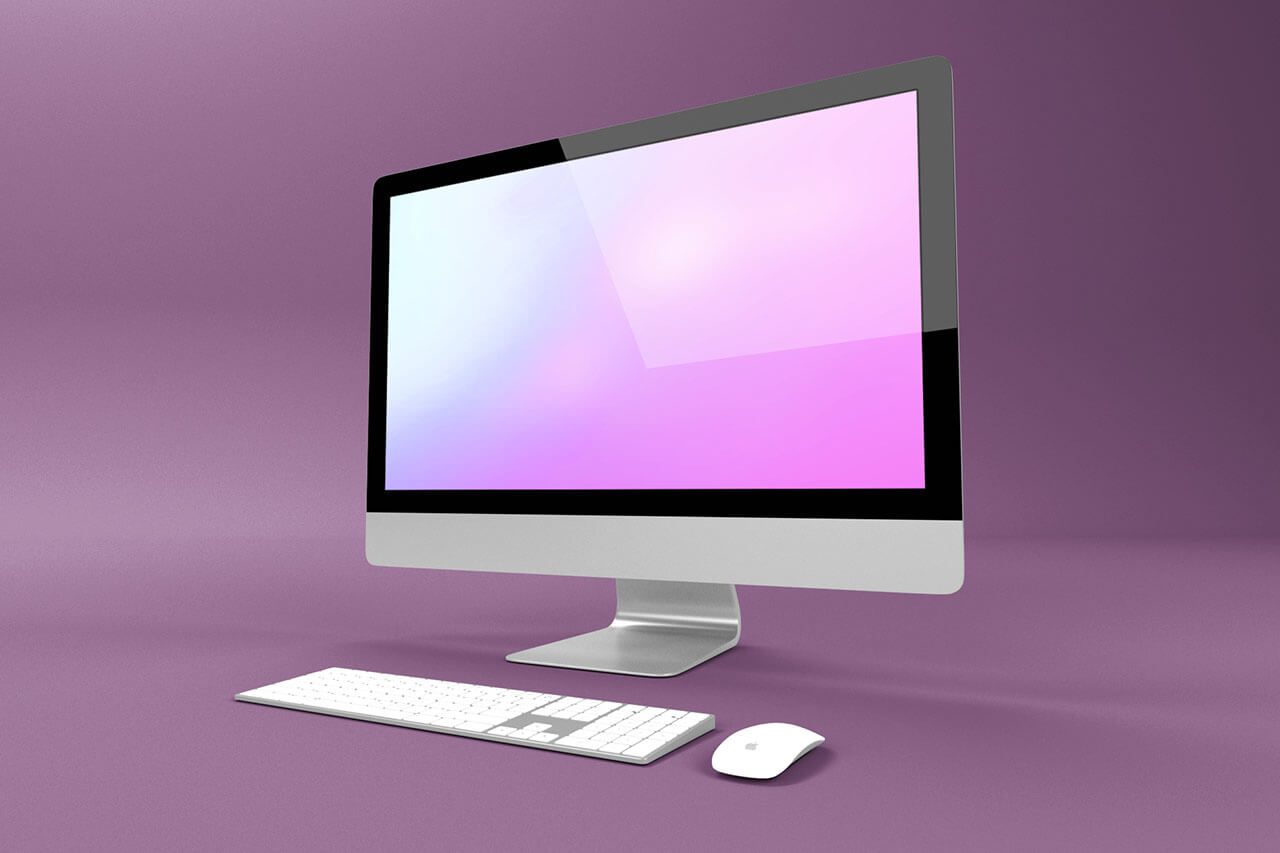 A good looking mockup scene which features a slightly turned view of an iMac on a studio background scene. The studio effect gives the template a nice background dept effect.
---
21. iMac on White Desk Mockup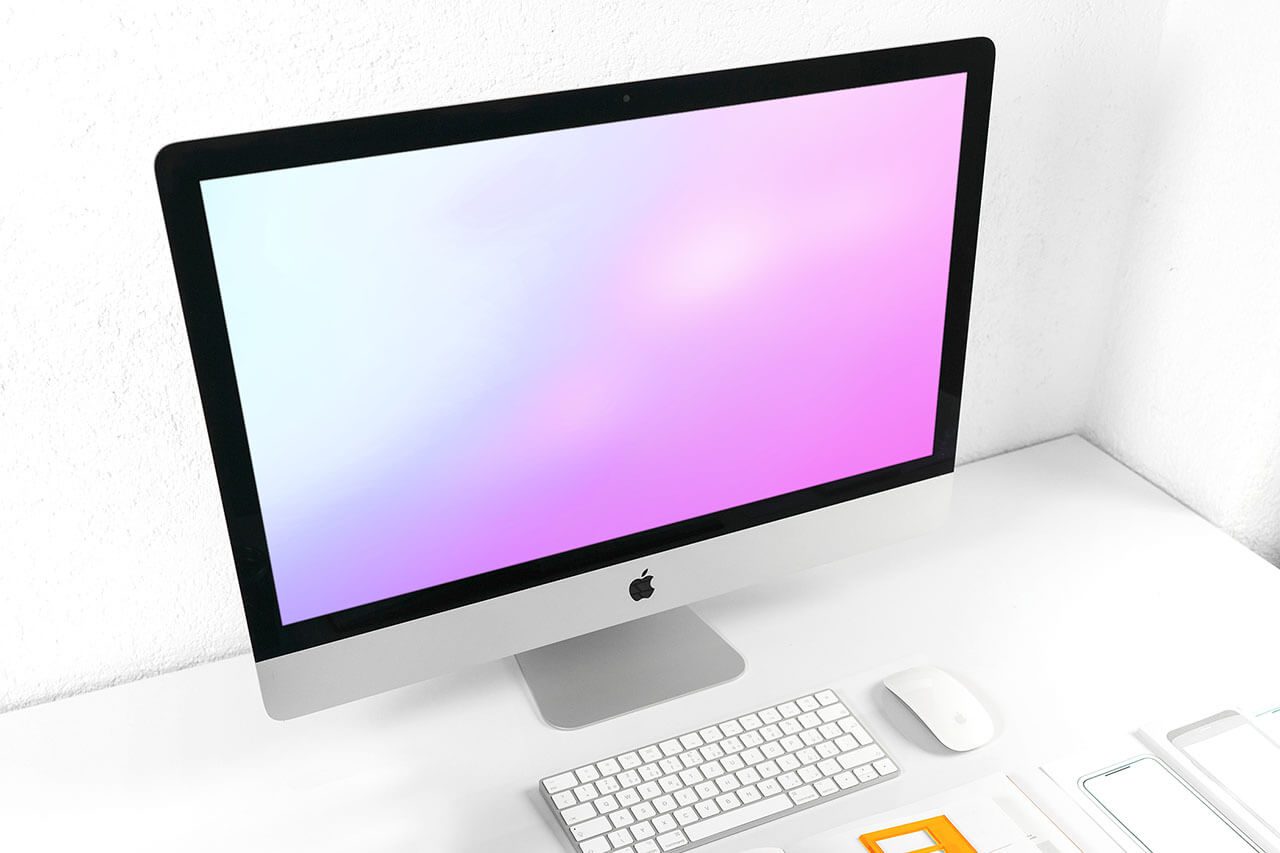 Use this mockup in order to stay unique – a beautiful mockup template featuring the iMac on a white office desk scene. It's a perfect setup for showcasing a website with a pure and light design.
---
22. iMac with Mouse and Keyboard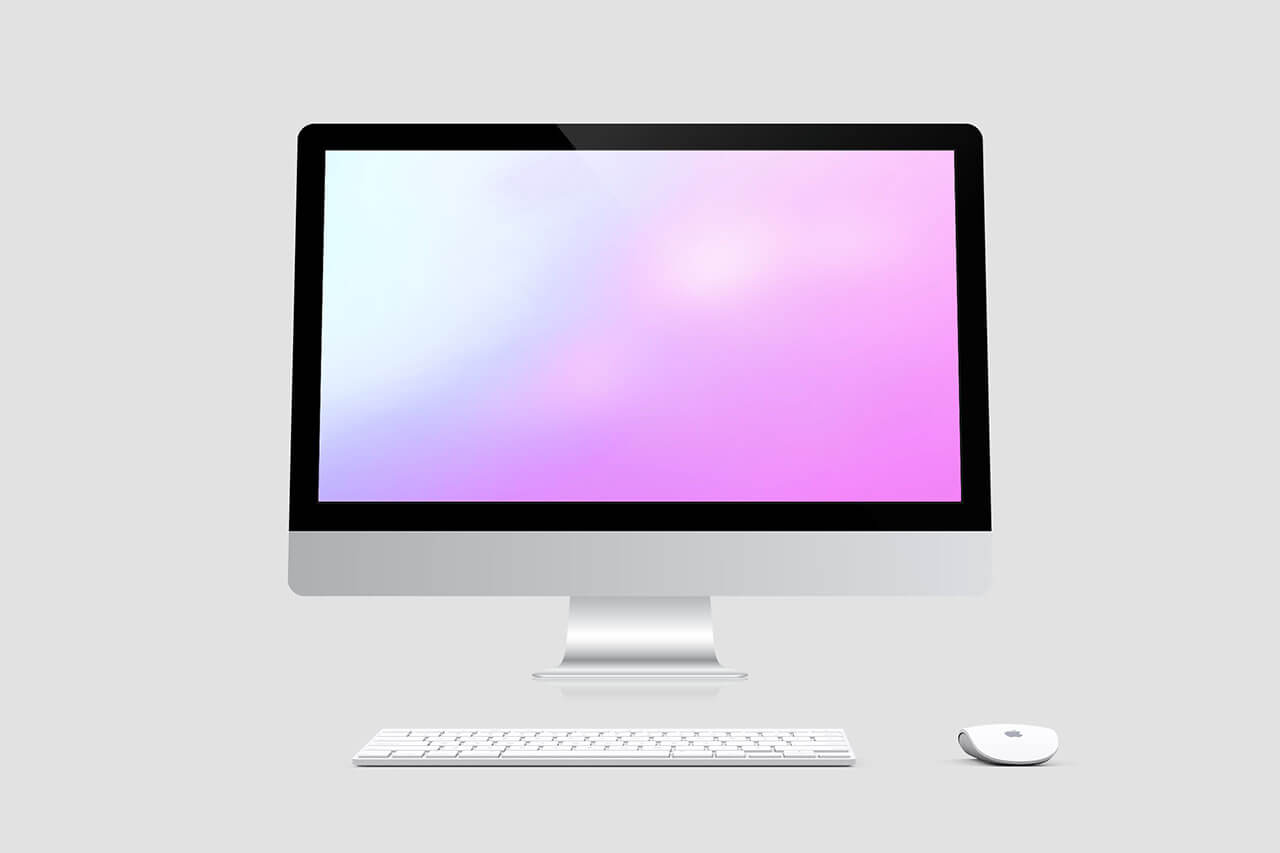 Another front-facing 3D mockup template which includes a keyboard and mouse. This one includes a bit more realism with a small perspective effect.
---
23. No Gravity Hovering iMac Mockup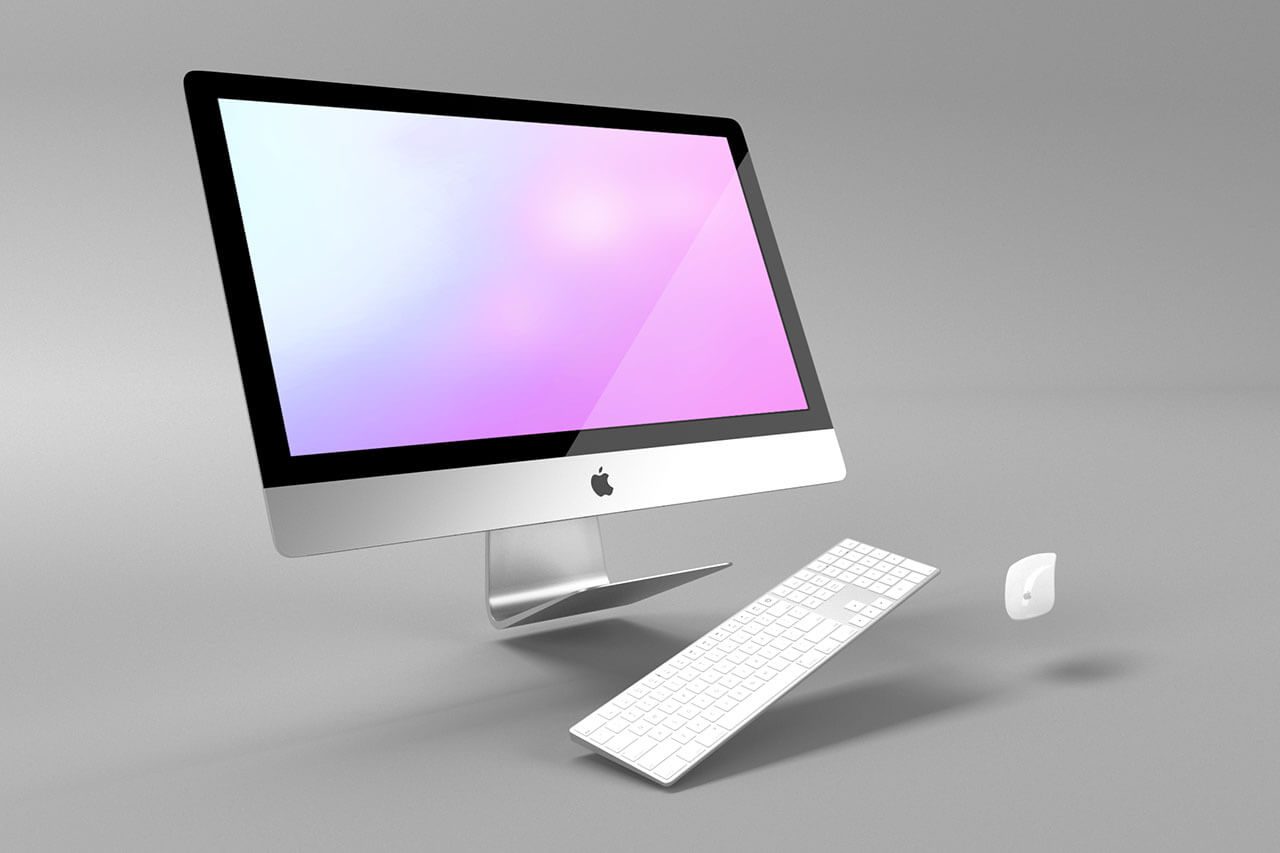 Lose the gravity again with this mockup featuring the iMac and keyboard + mouse hovering on the foreground. Use this great concept to showcase a light website which is thin as air and clear as sky.
---
24. Imac on Wood Desk Mockup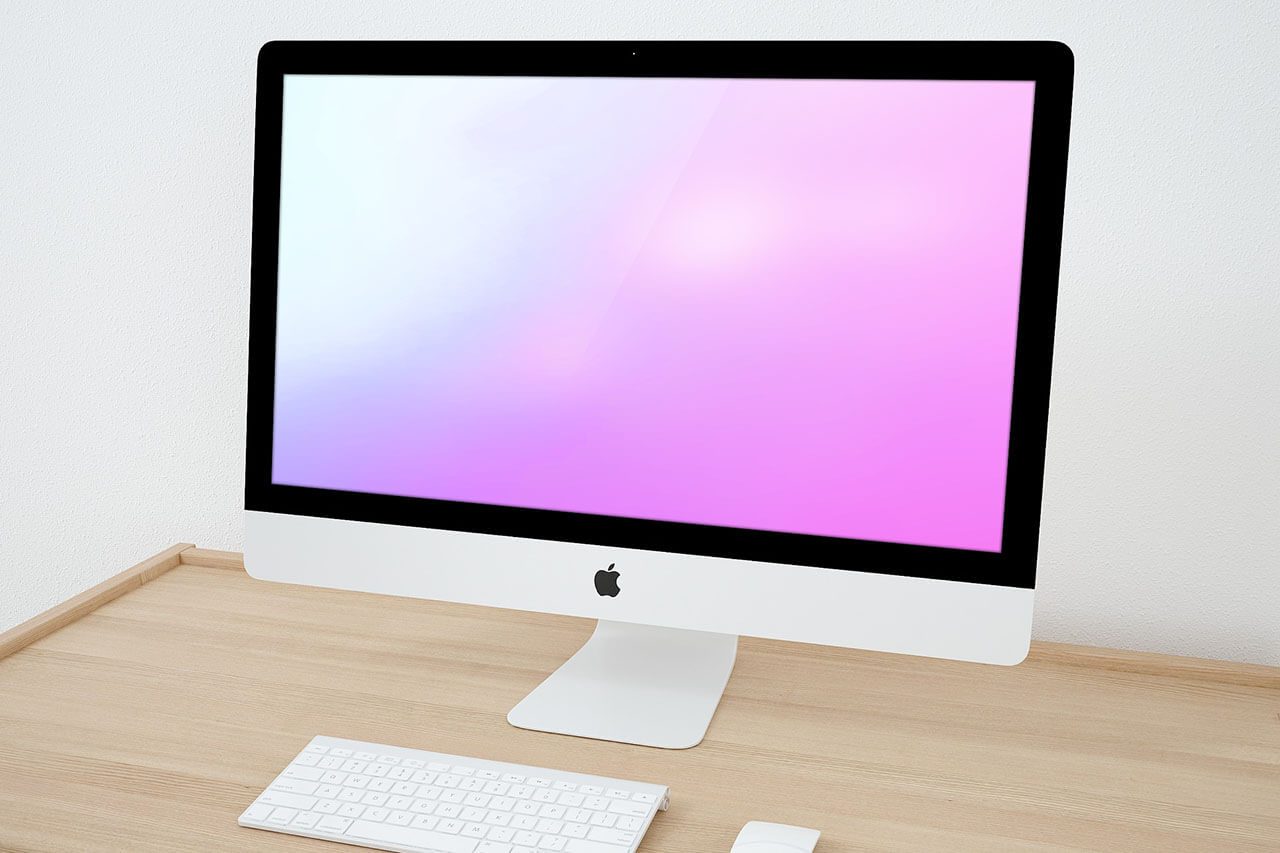 Back in the corner with this template… a mockup featuring a monitor screen on a wooden office desk. Whenever you need to present a beautiful website, this mockup will not fail you!
---
25. 3D iMac Screen Mockup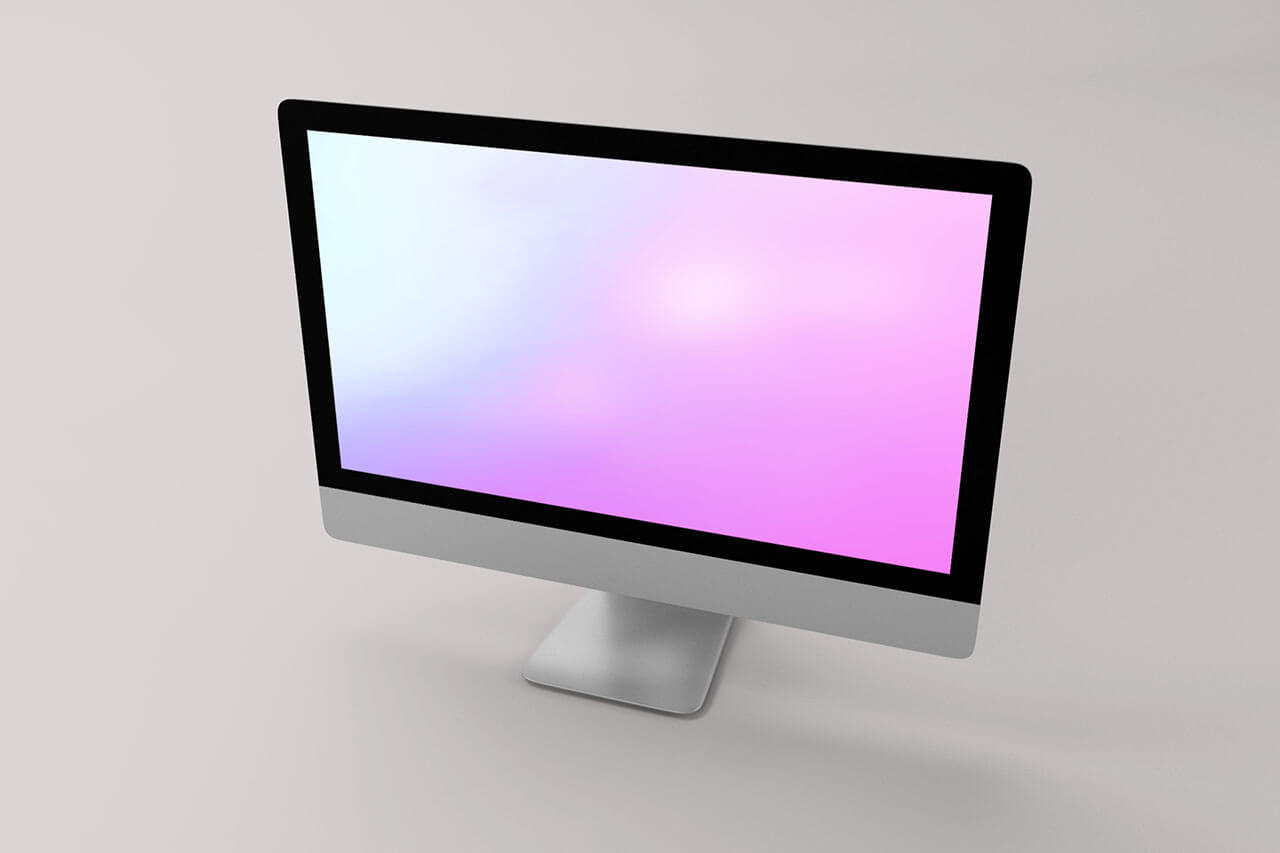 How does it look from above? Using this mockup template will answer this question. A 3D mockup of a monitor with a view from a higher angle. Use this template if you want to add unique look to your project.
---
26. Isometric View Mac and Macbook Mockup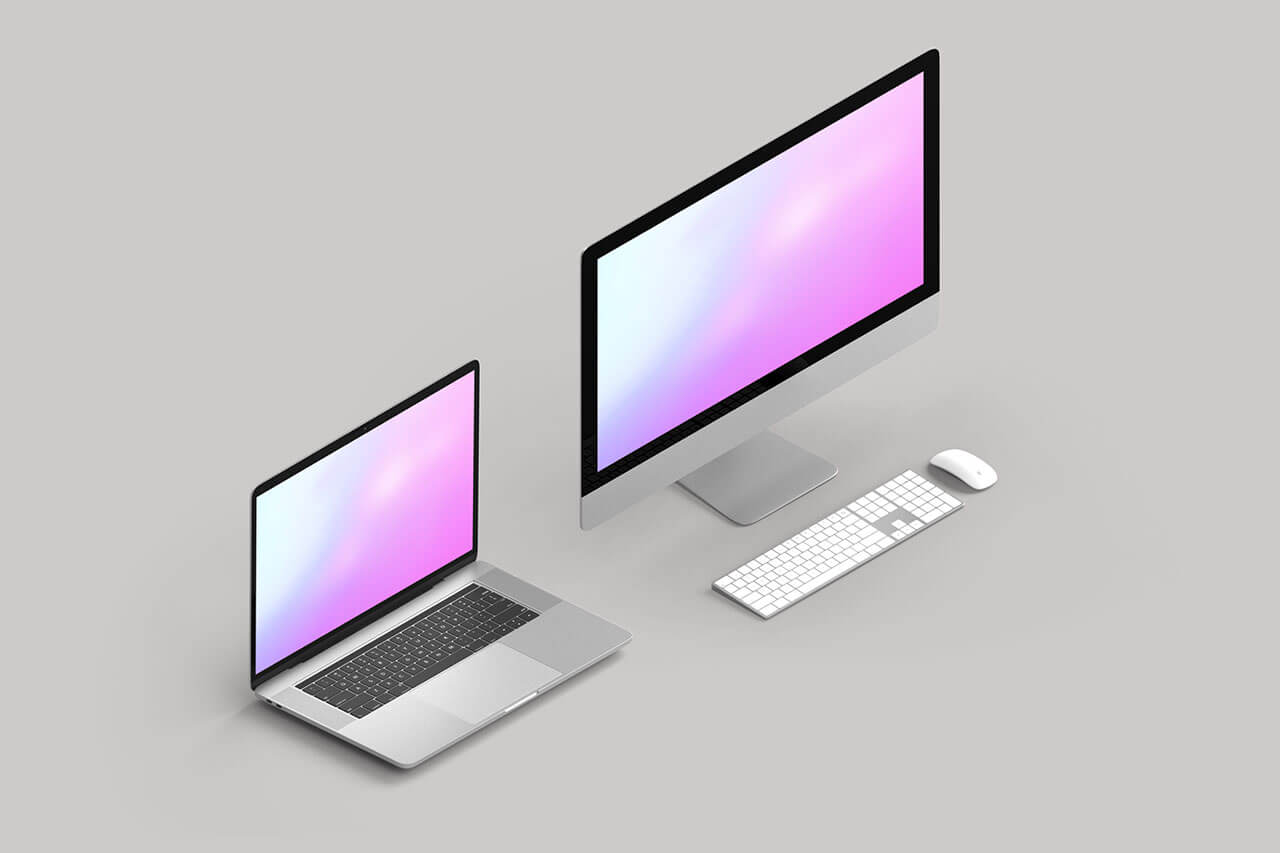 Bother and sister or two brothers? This mockup features a 3D isometric view of an Macbook Pro and iMac next to each other.
---
27. Isometric 3D iMac Mockup Maker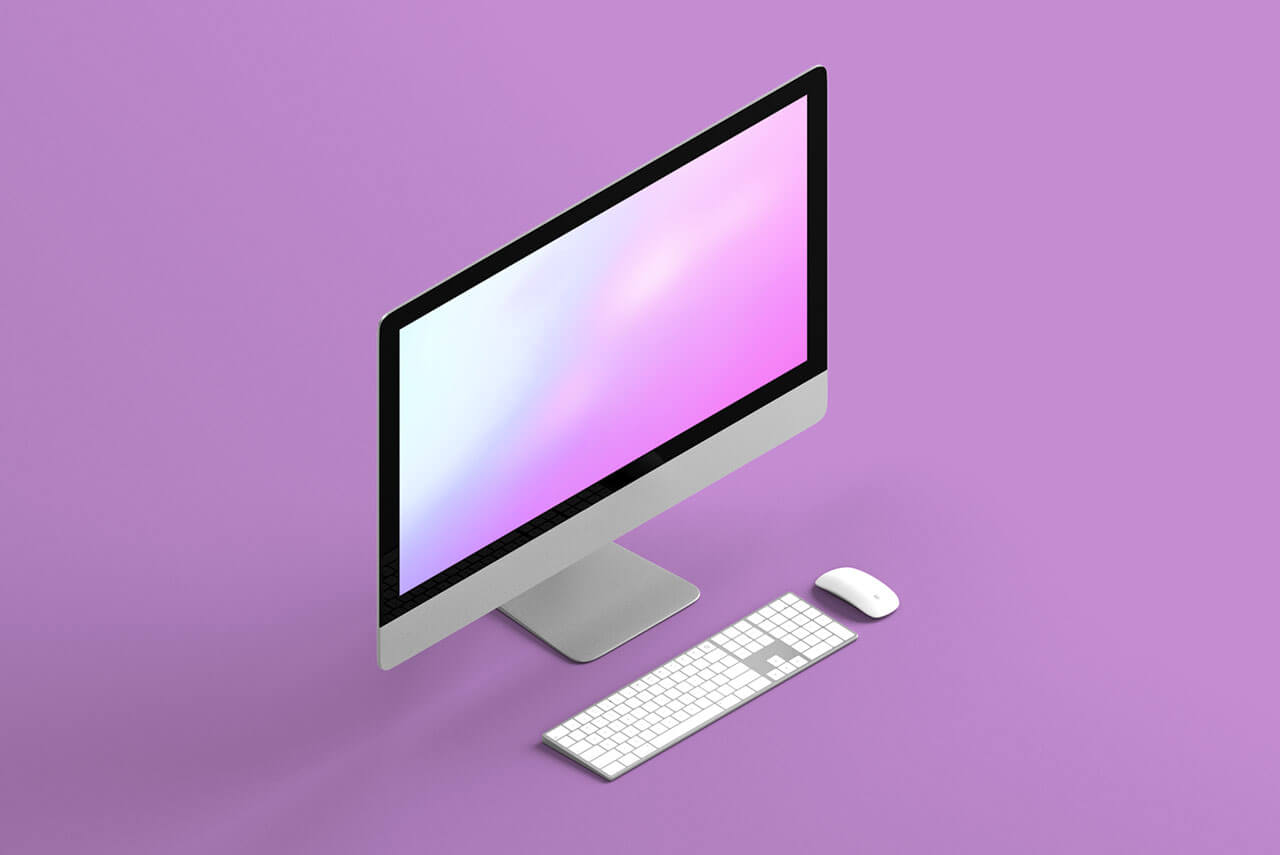 In addition to looking extra great, this mockup is also made in isometric 3D style, which means you can easily combine it with our other isometric mockups for creating an awesome computer game like effect.
---
28. iMac on Office Desk Mockup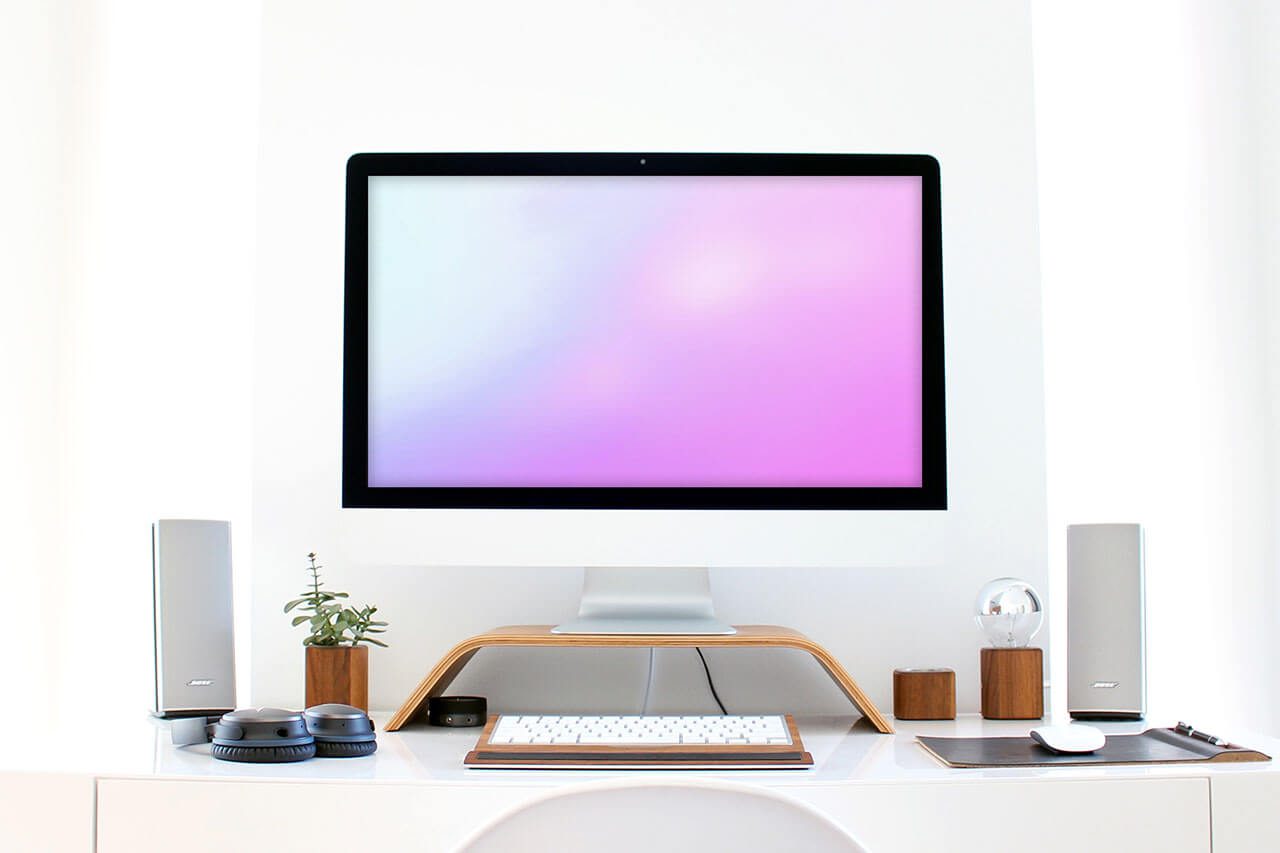 Another classic and timeless mockup for displaying your website in a beautiful office scenery which will also make your content look even better. Light office desk with bright light coming in from the window… who wouldn't want to work there?
---
29. iMac with Touchpad Mockup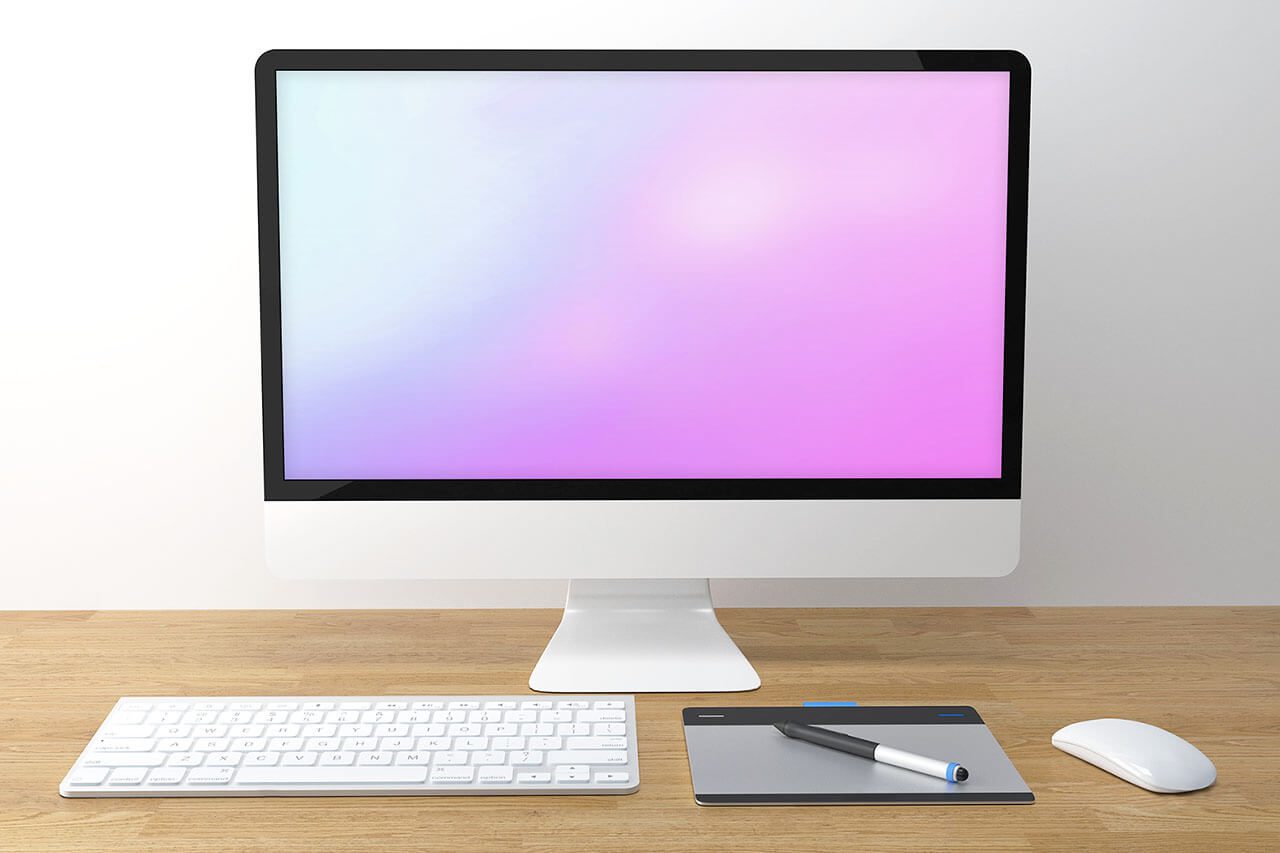 A realistic 3D mockup template featuring a monitor on wooden desk and next to a keyboard, touch-pad and magic mouse. Use this great setup for promoting your latest website or logo design.
---
30. iMac on Office Desk Mockup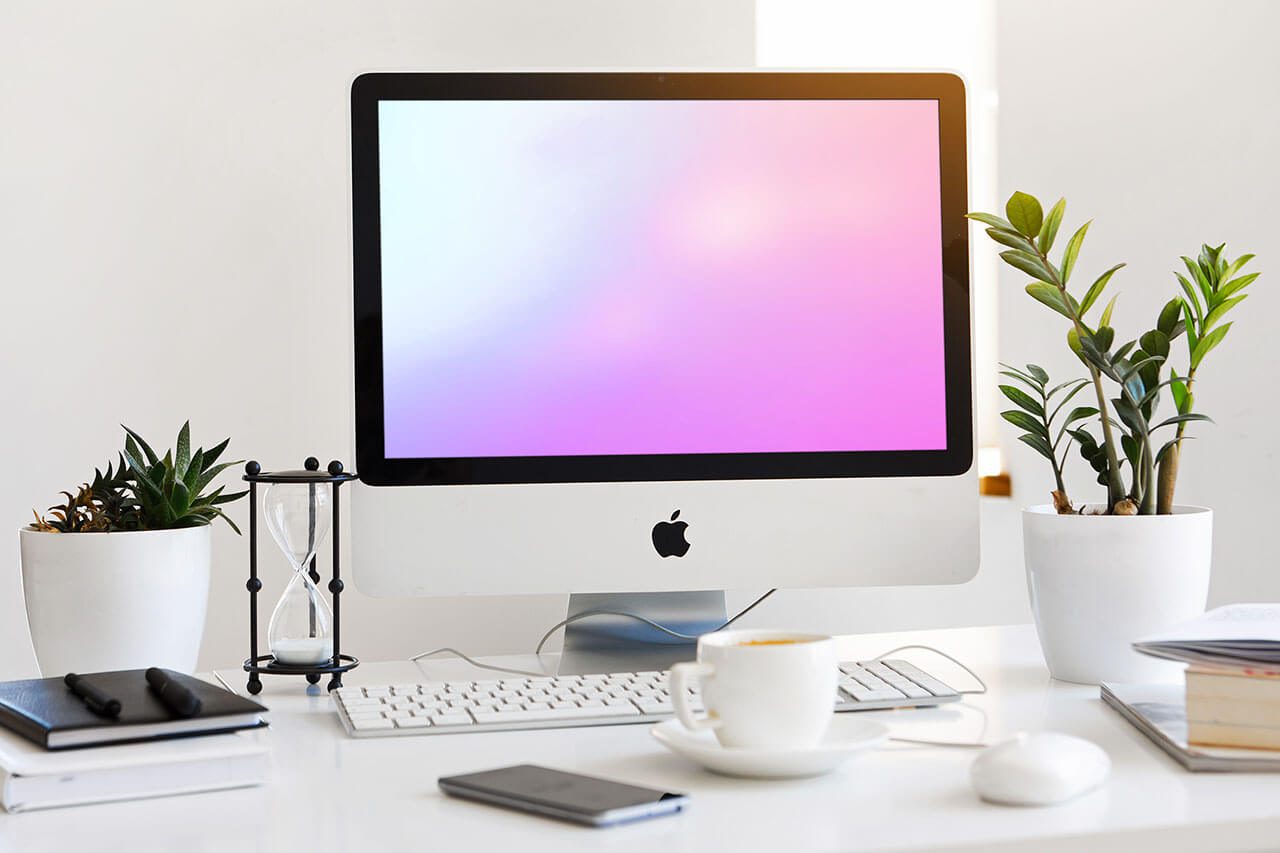 A beautiful scene for displaying your website in a realistic photo-based mockup. True, it's an older iMac, but still, your website will look great in it! A well organized (almost) office desk, cup of coffee and beautiful sunshine will never go out of style.
---
All iMac Templates are Also Available as Transparent PNG Images.
You don't like background colors? No problem… easily download the mockups as PNG images and then place them on your website to blend in with the rest of the content.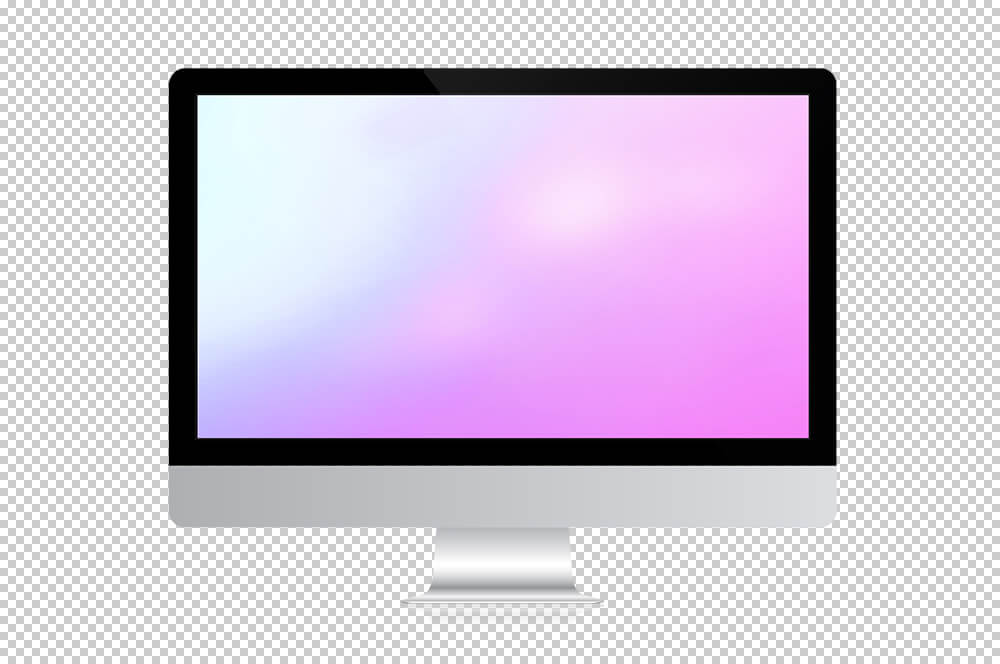 And that was it! I hope you enjoyed the collection of our best iMac Mockups.
Visualize your design Use a product mockup to showcase your design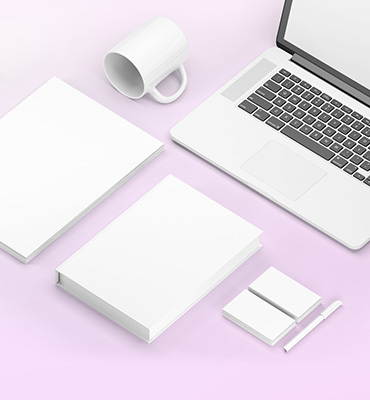 Create your design Use our templates to create delightful designs for any medium