Free Image Cropper
Resize Any Image Online with a Free Crop Tool
Drop Your Image Here
JPEG, PNG, GIF, SVG or WEBP
Who Needs an Image Cropper These Days Anyway?
It's the 21st century - we have flying taxis and artificial intelligence is about to take over the world, but a simple, fast, free and anonymous image cropping tool can still be hard to find!
That's why we here at Mediamodifier, with years of experience in creating online graphics, decided to launch our own simple image resize and crop tool. You can now easily crop and resize images without Photoshop.
There is no "one size fits all" for images on the internet, so a crop tool like this can be really handy in cases where you:
You need to crop an image fast in 5 seconds;
You need different image sizes for social media;
You're too lazy to open Photoshop;
You need to crop and resize without losing quality;
Don't want to waste time creating accounts on other "Free" sites;
You want to quickly crop out an unwanted part of an image.

this list can go on and on, so here it is:
Meet the Easiest Online Image Cropper You'll Ever Need!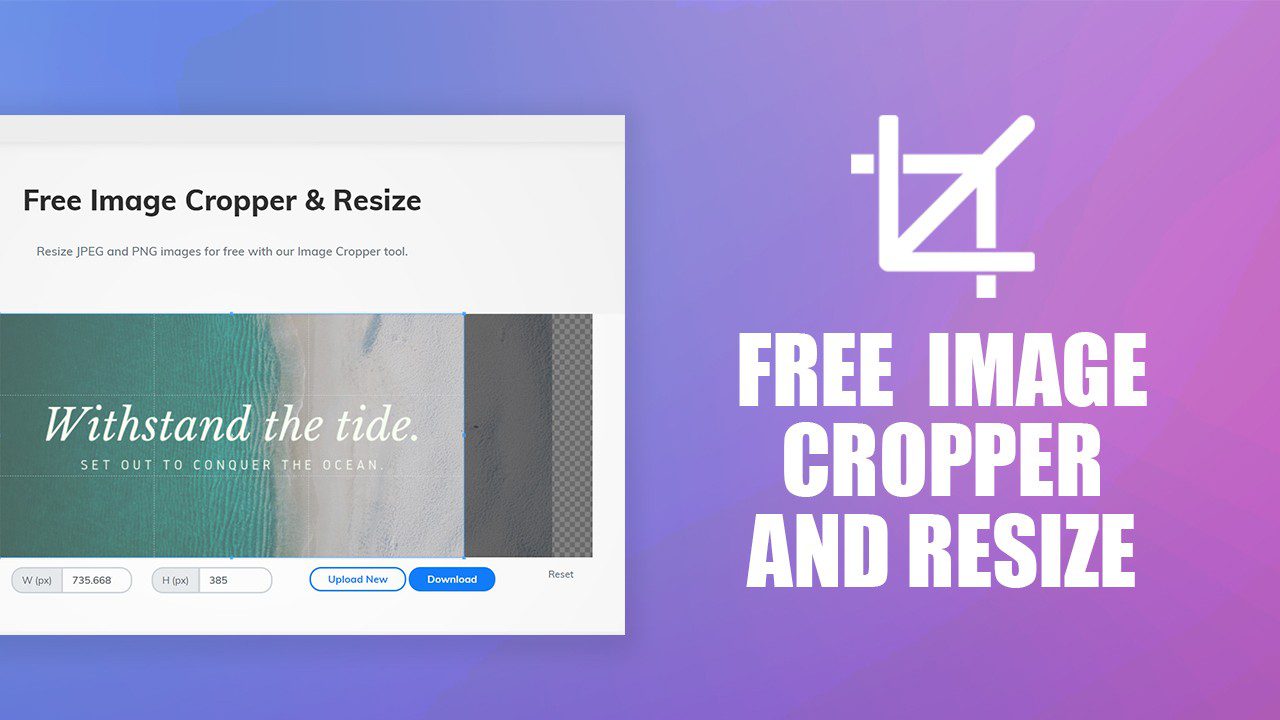 Here's how Mediamodifier Image Cropper can speed up your workflow:
It's Fast - All the image cropping action happens right in your browser, not in our server. Whether you're working on a 1mb or a 10mb picture, it will be loaded into the cropper with a blink of an eye.
It's Free - No free accounts and no signups - simply crop your image online and instantly download it.
All Image Files Supported - Easily crop JPEG, PNG, GIF, WEBP images or even pictures in SVG and PDF format. Just drag and drop your image and make a crop in seconds.
It's Secure - We don't upload your image to our server! In fact, your image never leaves your device - we use a modern browser based cropping technology which processes the image right in your web browser, so you'll never have to worry about privacy concerns!
Size Presets - Need popular image sizes to guide you? Simply choose from ready-made sizes and formats, such as book covers, social media posts or Facebook ads. Choosing a ready-made size will lock the image cropper ratio, so you can create a perfectly sized image for your project. Our tool also supports cropping round and oval images, which are automatically exported as a PNG with transparent edges.
Precision - Forget about small previews - our free image cropper loads your picture in a BIG preview. This way you can do pixel-perfect cropping.
Quality - We don't smush the quality of your image. Your cropped image will be exported with the same full quality it was uploaded with.
Responsive - This means you'll be able to use the image cropper on any mobile or desktop device.
How to Use Our Free Image Cropping and Resize Tool.
NB: Your original image will be unchanged. The image will be saved as a new file after cropping.
Drag and drop your JPEG or PNG images onto the grey box, or click the blue button to browse for an image on from your device.
Freely move the cropping area (highlighted as a blue box) on the image and crop your image to any size needed.
For adding a precise custom size, set your own image dimensions or choose from ready-made presets.
Hit the Reset button to go back to the original state of the image.
Click Download to finalize the crop and download your image full high quality.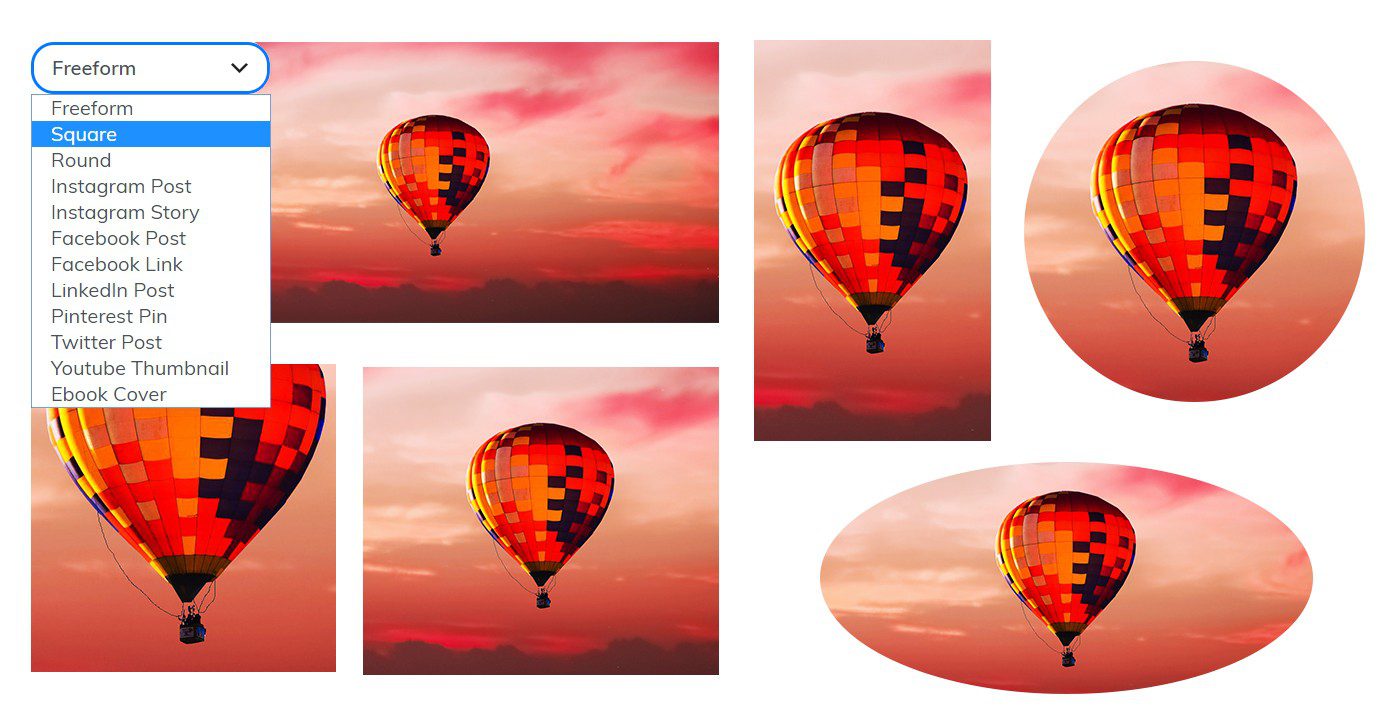 Good to Know:
Your image will be saved in the original file type e.g. a JPEG will download as JPEG and PNG as a PNG.
Transparent PNG backgrounds are also supported.
Choosing a preset dimension will lock the cropper size ratio for easy panning and moving.
Crop Any Picture Freely
With our Free image cropper you can crop any picture freely - and I really mean free (ly) because by default the cropper loads a freeform cropper window. This means you can simply grab the corner of the crop preview window and freeform drag your image to any dimension you need... and it's completely free!
Crop and Resize a Picture to a Specific Size
If you're not into freeform crop mode, then you'll enjoy fixed width and height! Simply insert your own dimensions in the exact pixels you need and the cropper preview window size will be locked! You can move, zoom and pan your image into the correct position to cut out a specific image size.
You can also choose between popular image sizes and cut perfect images for: Youtube thumbnail, eBook cover, Instagram post, Instagram story, Facebook post, Facebook story, LinkedIn post, twitter post and Pinterest pin. Need more? Let us know!
Cut JPEG, PNG, GIF, SVG, PDF or WEBP Images
Crop any popular image format to the size you need. Our online image cropper supports jpeg, png, gif and webp images. NB: animated gif images will be cropped to single frame still images. Cropped vector svg or PDF images will be saved in original size and as raster images.
Crop Any Picture into a Circle
Choose the round size preset and crop any image to a circle online. Automatically export the round image as a PNG with transparent background. It doesn't stop there - you can also freeform resize the round cropper and also export oval images.
Resize Images without Losing Quality
We don't compress your images. Easily crop and resize your picture to any size and keep the original quality of your image. This means you can crop your logo, photograph or illustration quickly online and download a sharp image in matter of seconds.
Want to send feedback or ideas for new features for the image cropper?
Our image cropper is made for humans, so we are always interested in your feedback for new features and how to make our tools more easier to use. If you wish to send your ideas, simply submit them through the below form. This way other people can also see your comments and up-vote popular ideas:
Visit Mediamodifier Feedback Forum
More Tools Like This from Mediamodifier:
Online Image Dispersion Effect - Instantly Pixelate Any Image
---
Online Design Maker - Create Beautiful Graphics from Online Templates: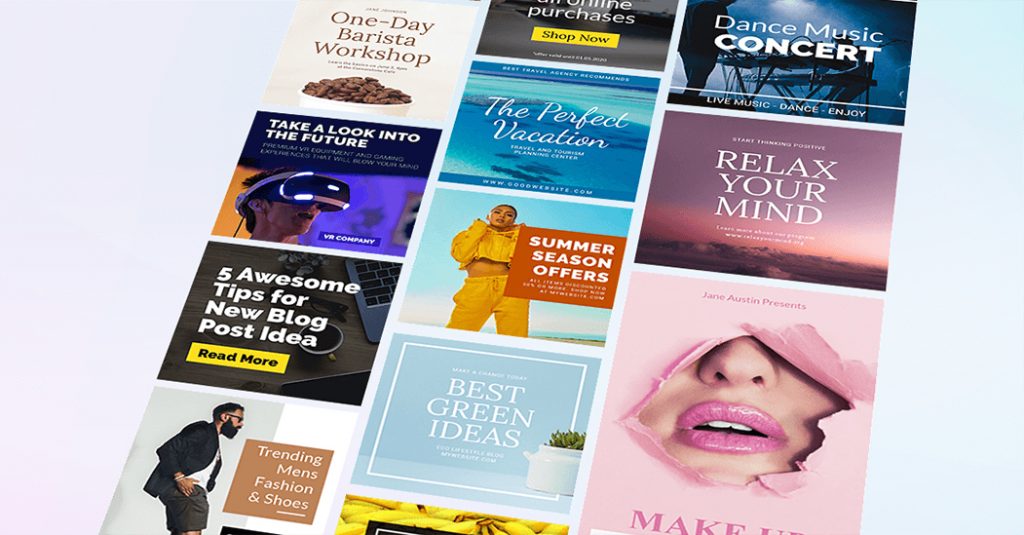 ---
Online Mockup Generator - Create Professional Product Mockups