30 Most Popular Mockups of 2021
•
January 3rd 2022
•
8 minute read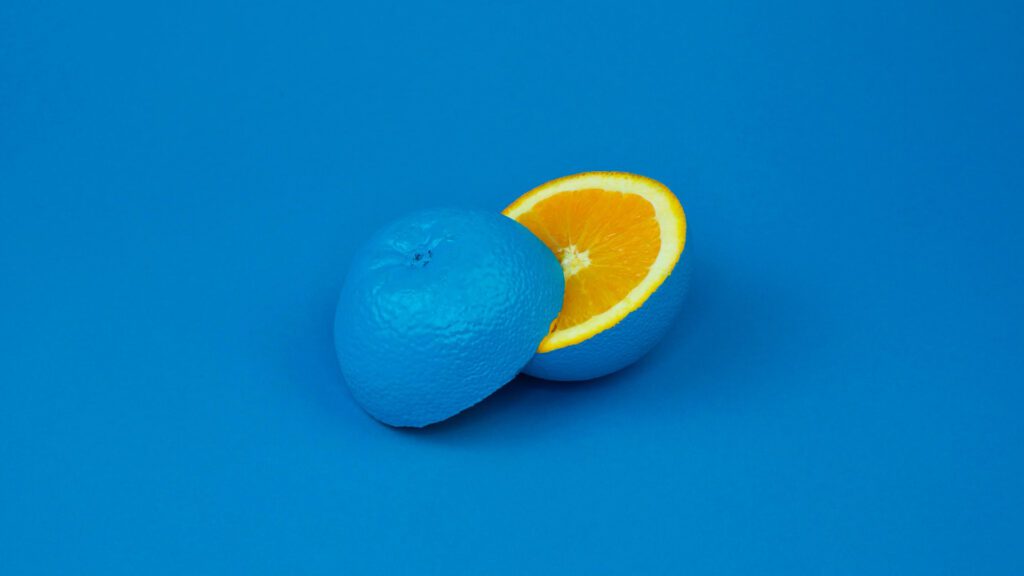 It's the time of the year when newsfeeds are packed with yearly recaps. We see people's professional achievements of the year on LinkedIn, their personal highlights on Instagram and companies sharing their success all over. We're going to jump on the bandwagon! Out of 4000+ mockups on Mediamodifier, here are the top 30 most popular mockups of 2021.
By a long shot, the most popular mockups of 2021 were fake social media profiles and post mockups. We have some wild cards in here as well, but this just proves the power of social media!
1. Instagram Post Mockup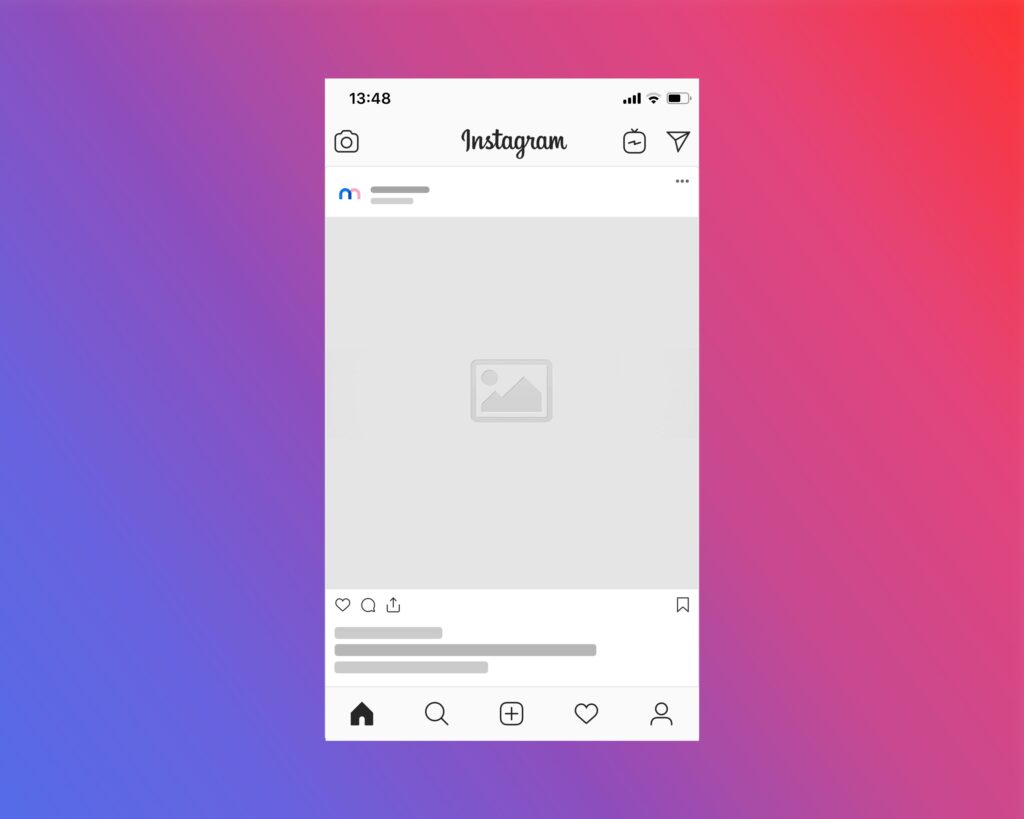 This mockup is great for visualizing ad designs. Use this mockup template to quickly validate your ideas and see what your content would look like on Instagram. Edit or disable the background to suit your needs and let your visual shine!
2. Instagram Profile Mockup (Mobile)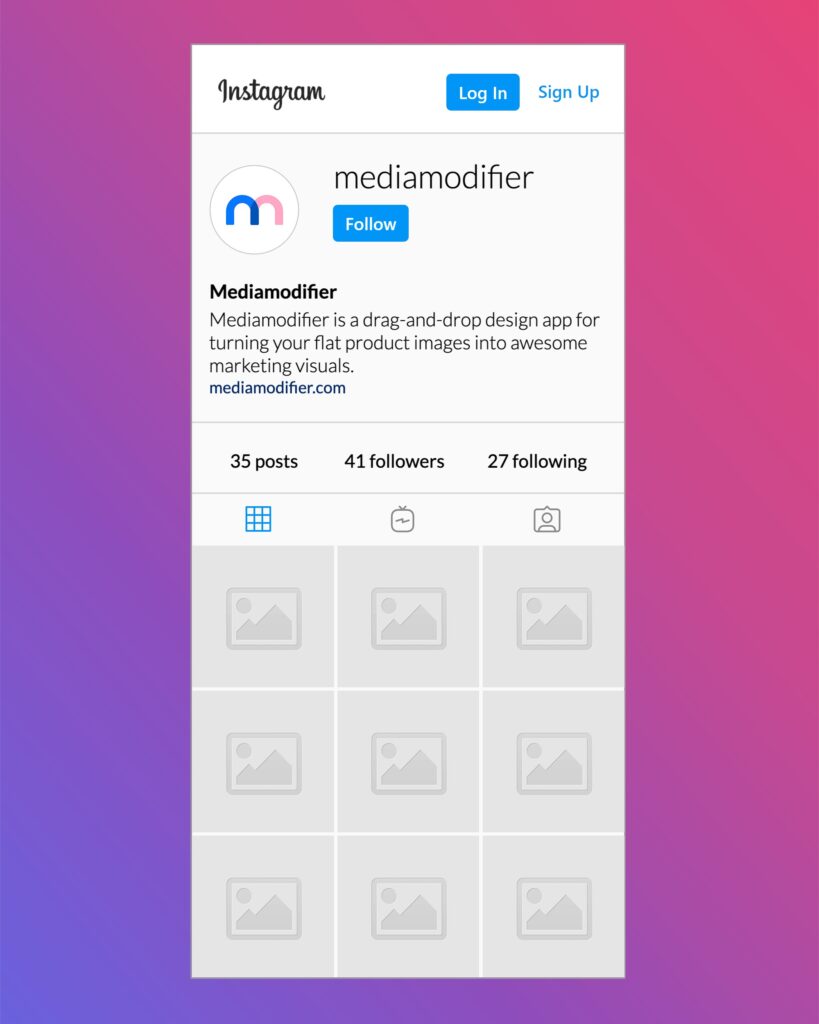 In second place is another Instagram mockup. This time, for a profile. Use this mockup to visualize your feed before publishing, test out a new visual concept or present some ideas to your others. Remember to add all 9 images to fill it in! If you need some ideas for posts, you can check out our social media templates.
3. LinkedIn Post Mockup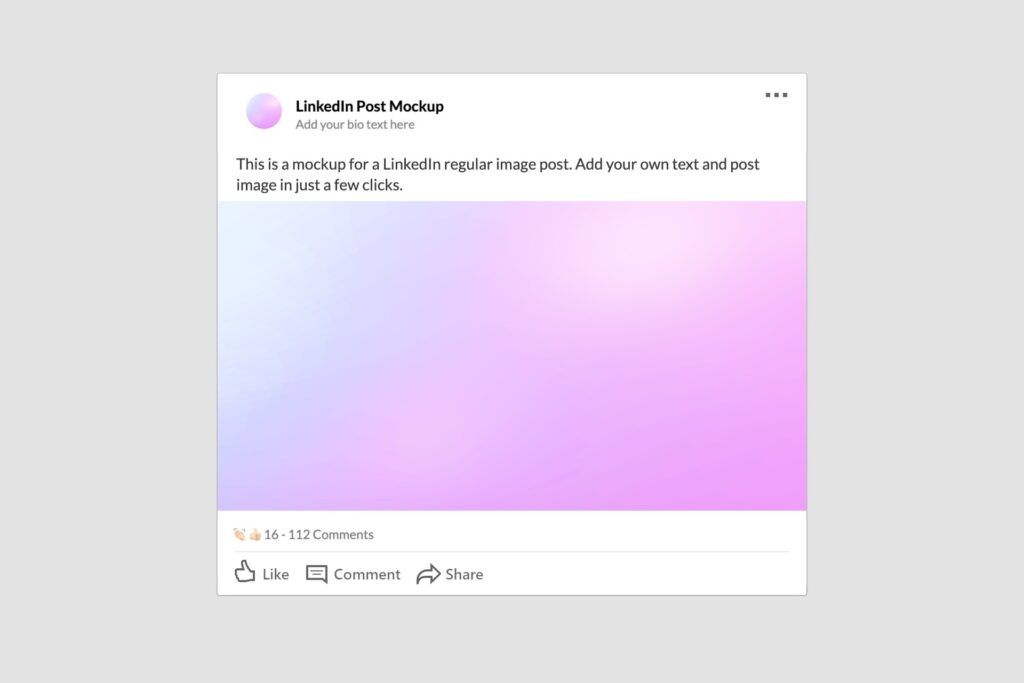 Next, we have a simple LinkedIn Post Mockup. All the text, visual slots and numbers are editable to make it look as if it were taken straight from your LinkedIn Feed.
4. Twitter Profile Mockup Generator (Desktop)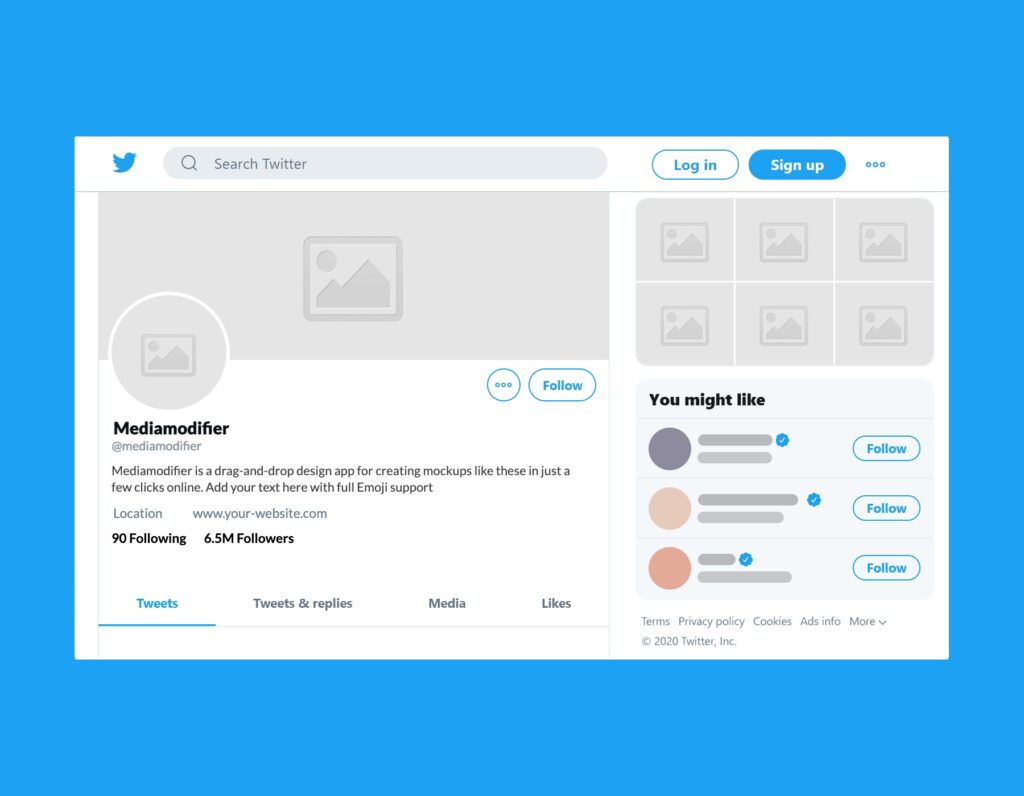 If you need to present a Twitter concept to your client or want to visualize a new concept, this mockup is perfect for you! Add your own text, images and make a fake Twitter account in seconds.
5. Instagram Post Mockup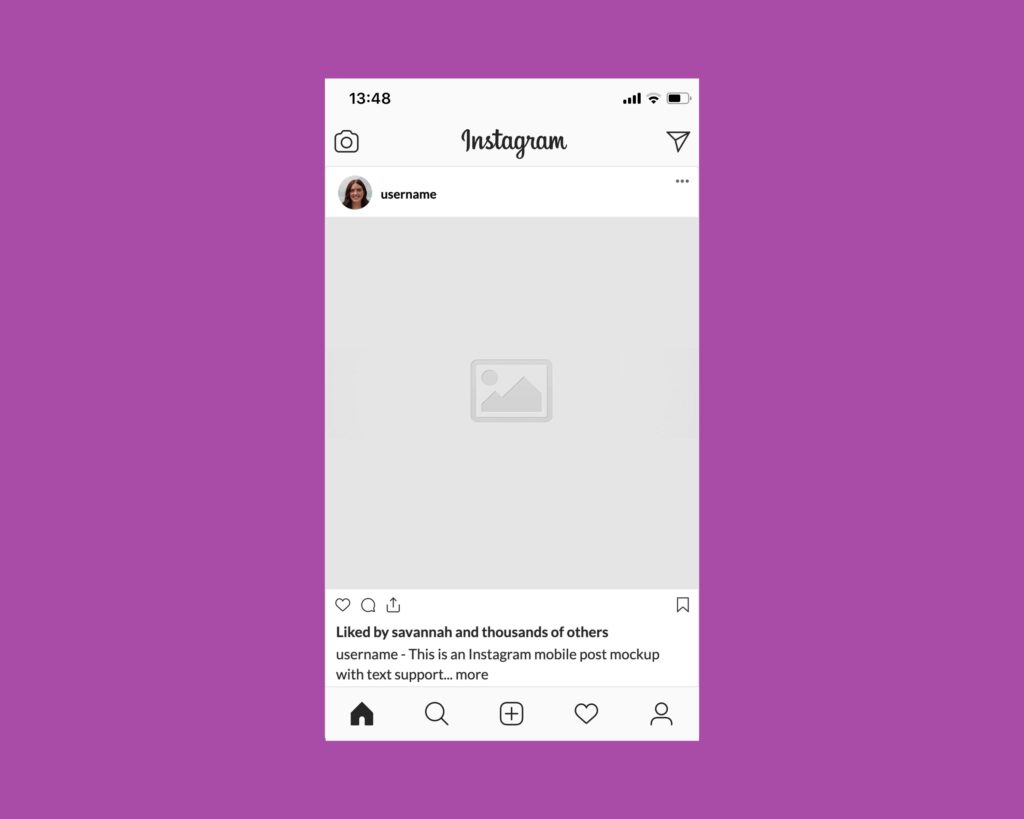 In the TOP5 we have another Instagram Mockup! This one is similar to the first one, but with text support. What's not to love?
6. Instagram Profile and Highlights Mockup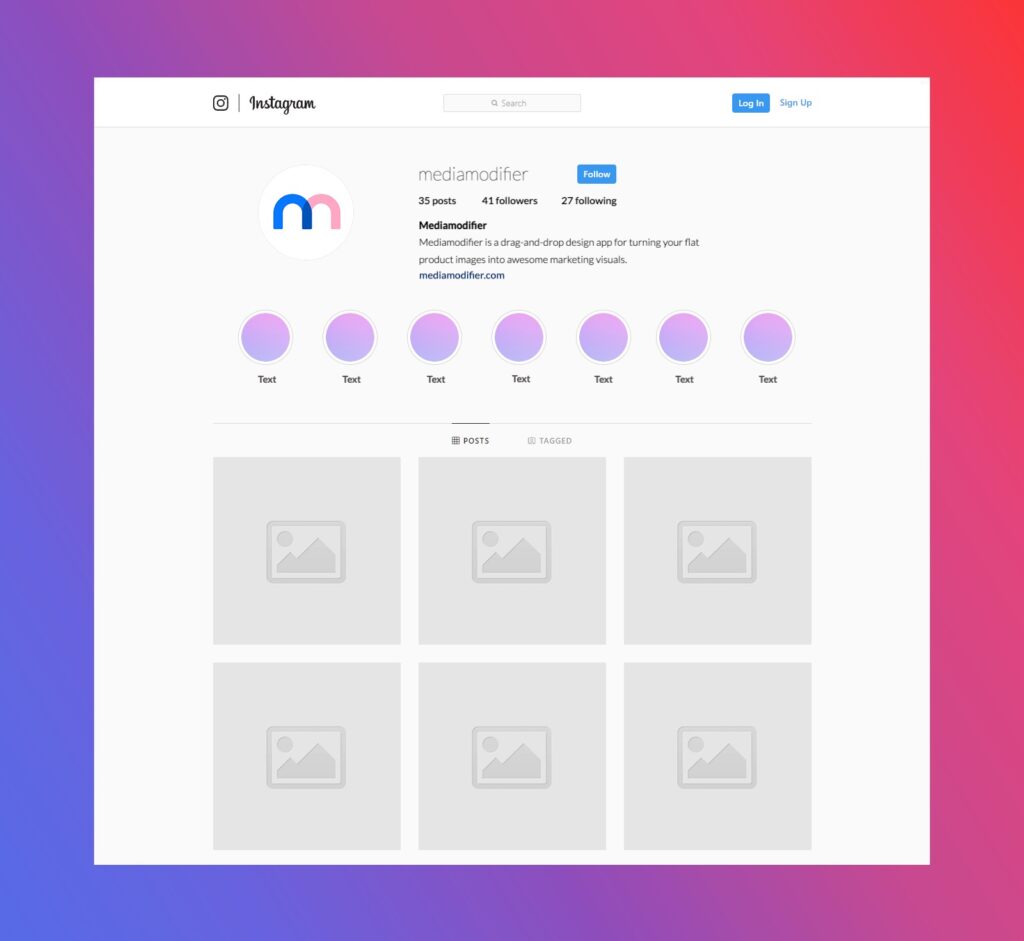 Want to showcase some highlights in addition to the feed? This mockup is the one for you! Best of all, you can edit each highlight's cover with a suitable image. Just like you would on Instagram.
7. Instagram Highlights Mockup Generator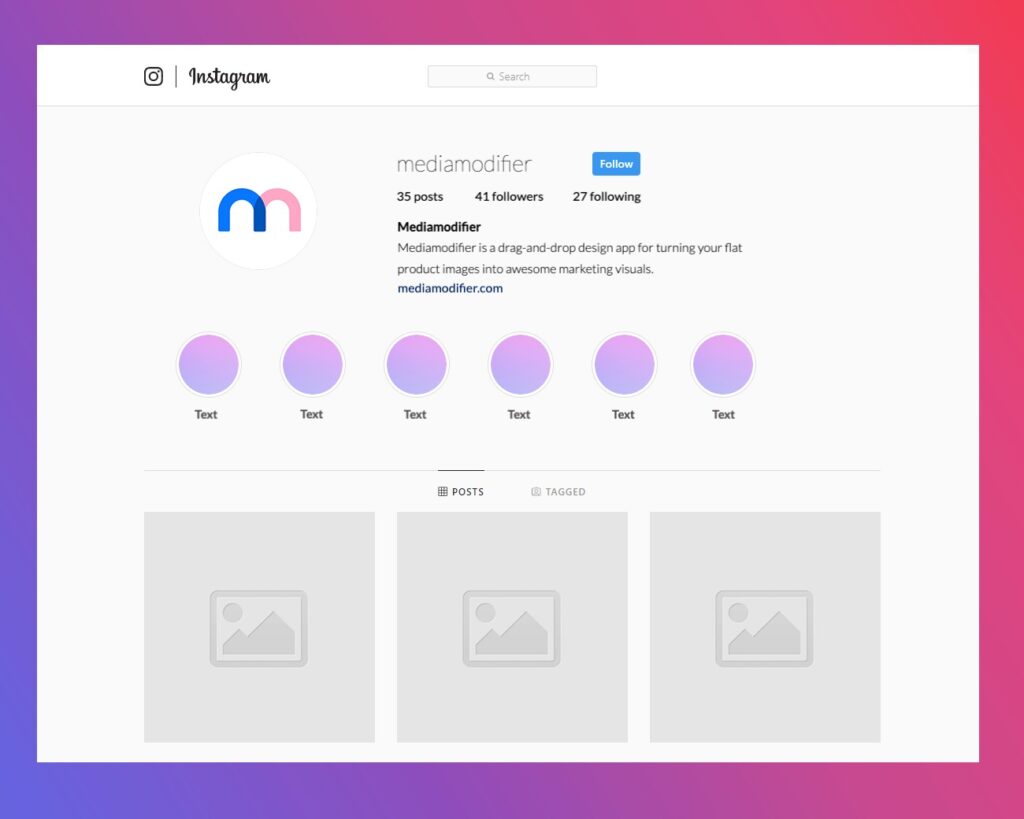 Similar to the one above, this mockup is perfect to showcase the highlights. However, instead of two rows of photos, you only have one.
8. Instagram Post and Story Mockup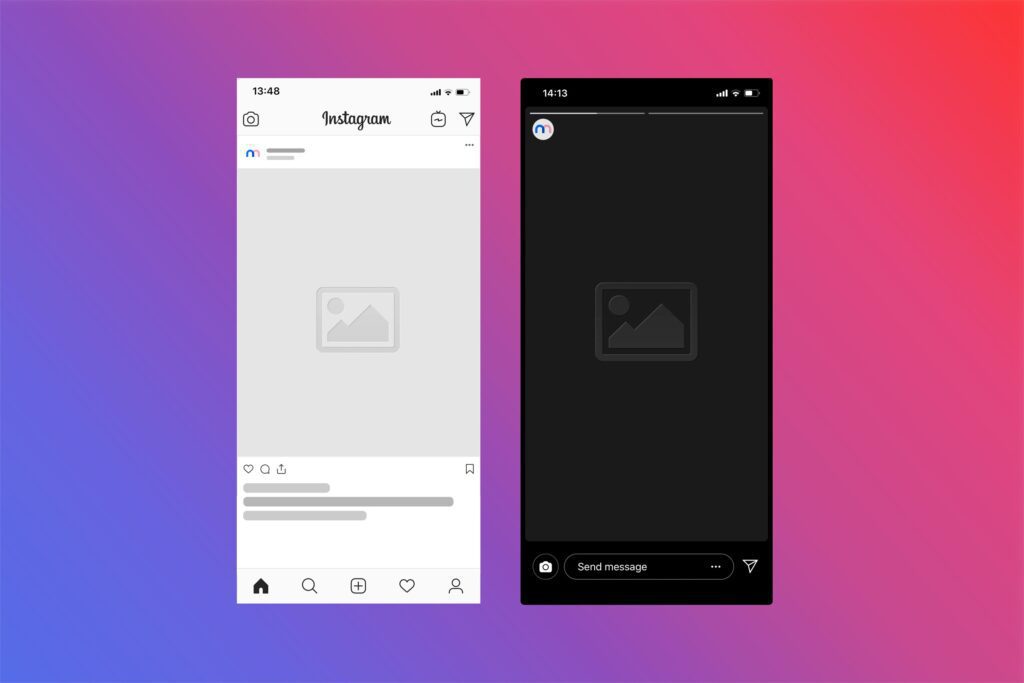 Continuing on this wave of popular Instagram Mockups, here is the perfect mockup generator to showcase a post and story side by side. After all, you want to make sure that your storys and feed look like one whole.
9. Facebook Carousel Ad Mockup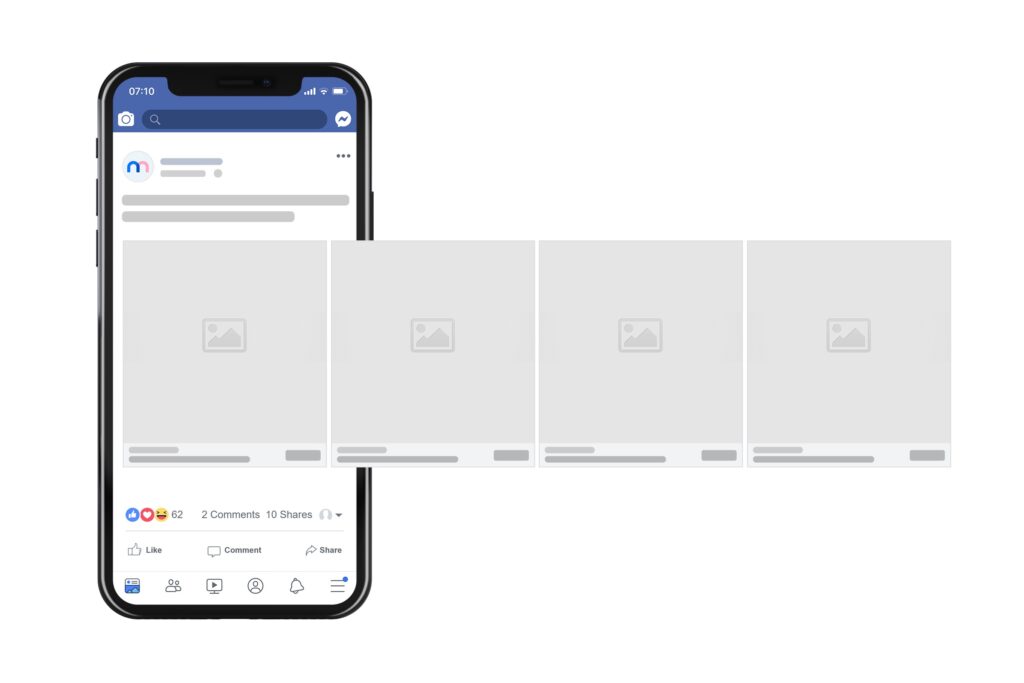 Who doesn't love a good carousel ad? We sure do! Use this mockup to visualize the carousel as a whole to ensure they all match and make people want to click on them.
10. Instagram Profile Mockup (Desktop)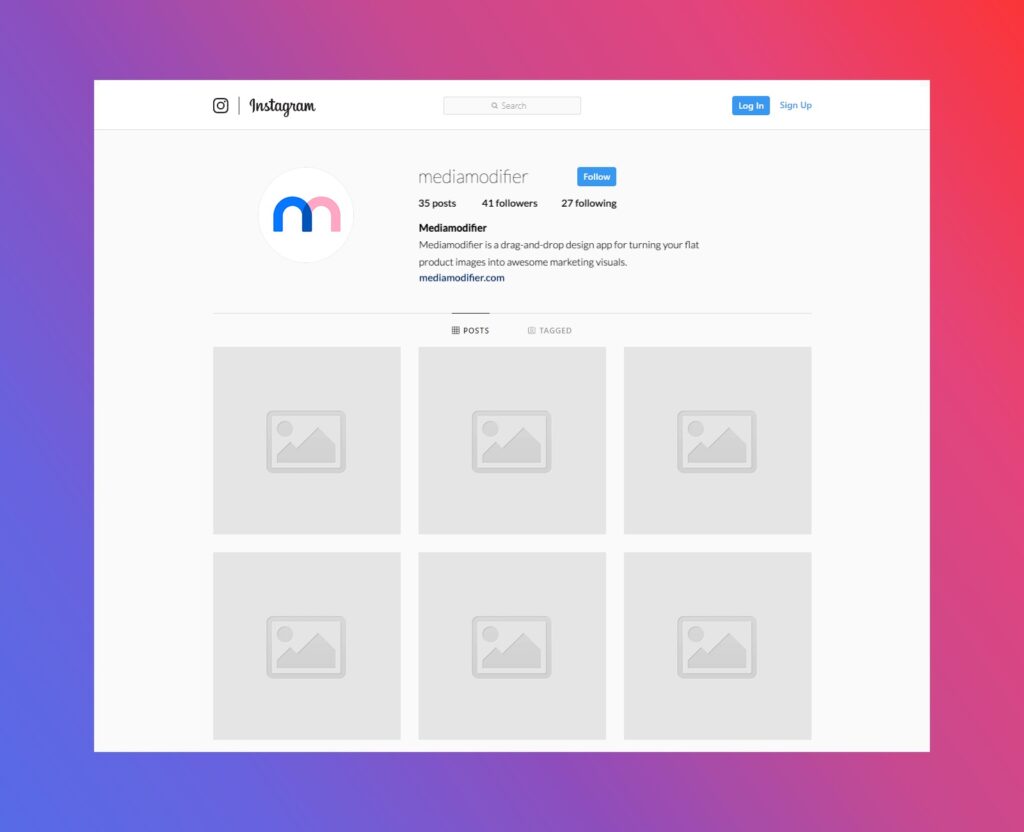 As unbelievable as it may sound, some people use Instagram on their desktops! If you're presenting an Instagram concept, why not use a desktop preview to complement a mobile one?
11. Twitter Image Tweet Mockup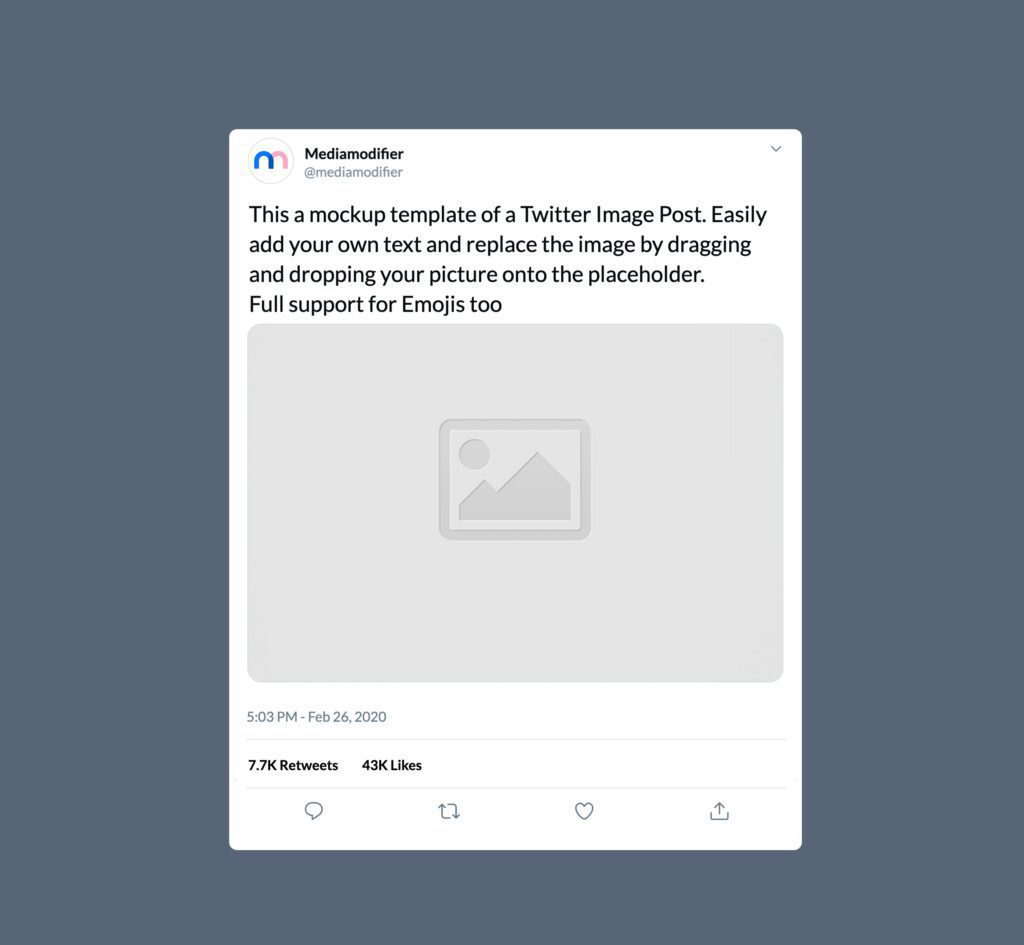 Use this Twitter Tweet mockup generator to quickly create a preview of what your image post would look like. As honored as we'd be to have you use our Twitter page as the username and profile image, remember to change it before sending it off to a client!
12. Instagram Post in iPhone Mockup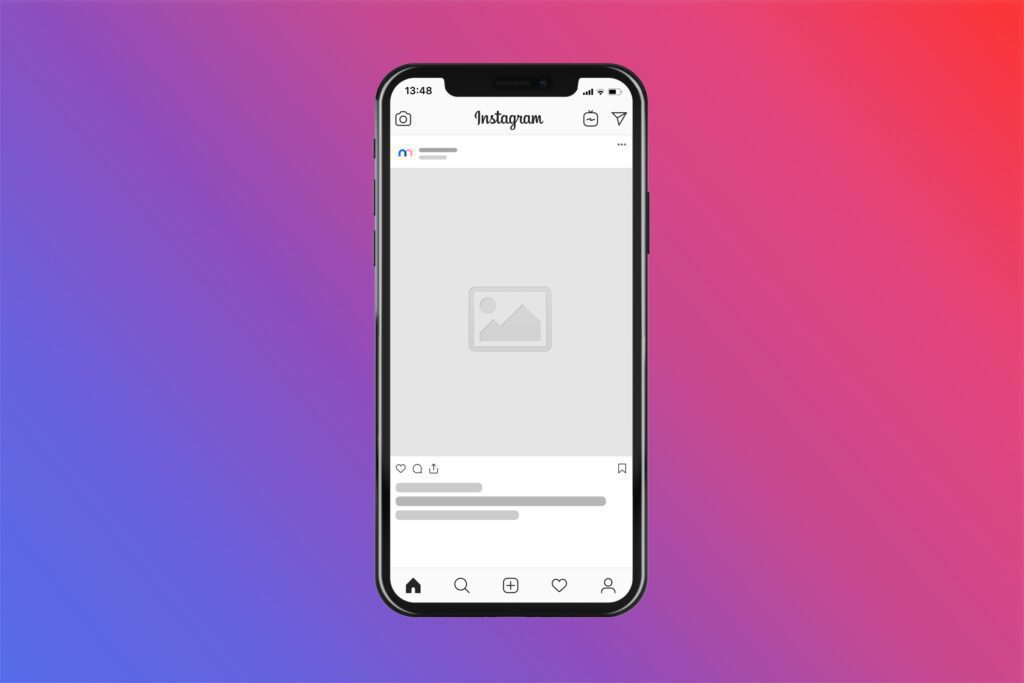 Sometimes just a visual of what a post would look like won't cut it. With this mockup, you can showcase what it would really look like on an iPhone. Thus, adding an extra layer of authenticity. You can really picture it in front of you.
13. Facebook Page and Profile Cover Mockup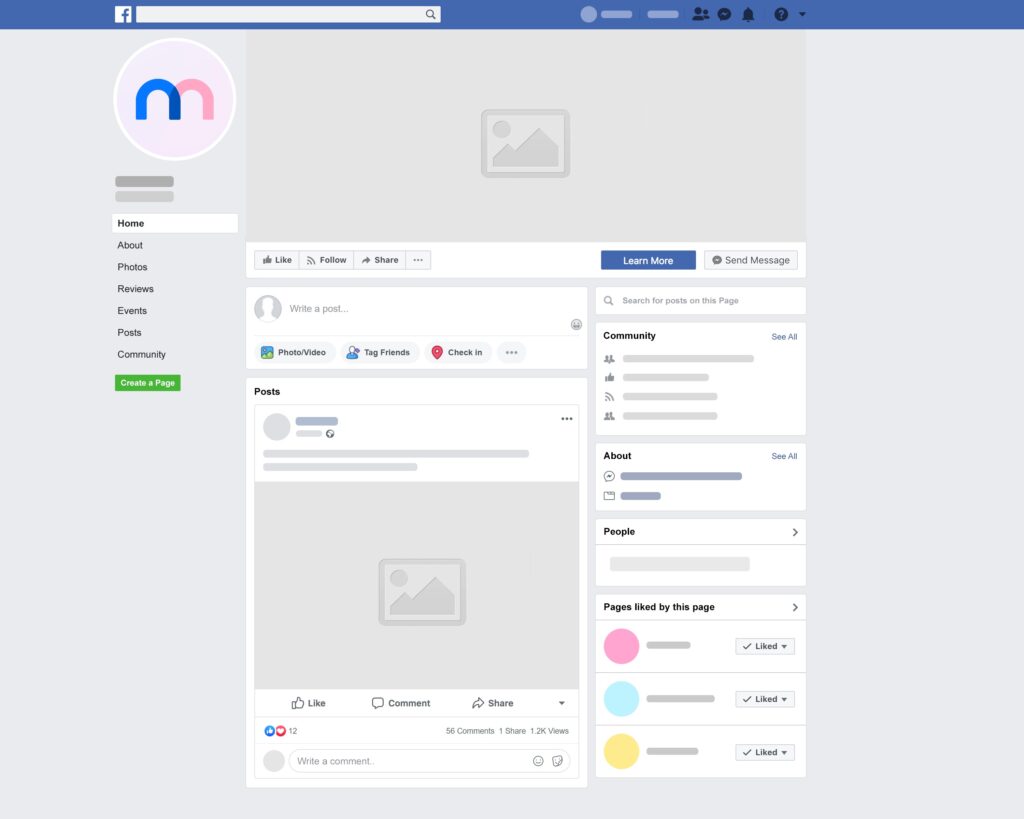 Strong brands use great visuals! Here's your chance to create and preview how your design looks like on a Facebook page without going through the real hassle of modifying your page.
14. TikTok Video Mockup (Mobile)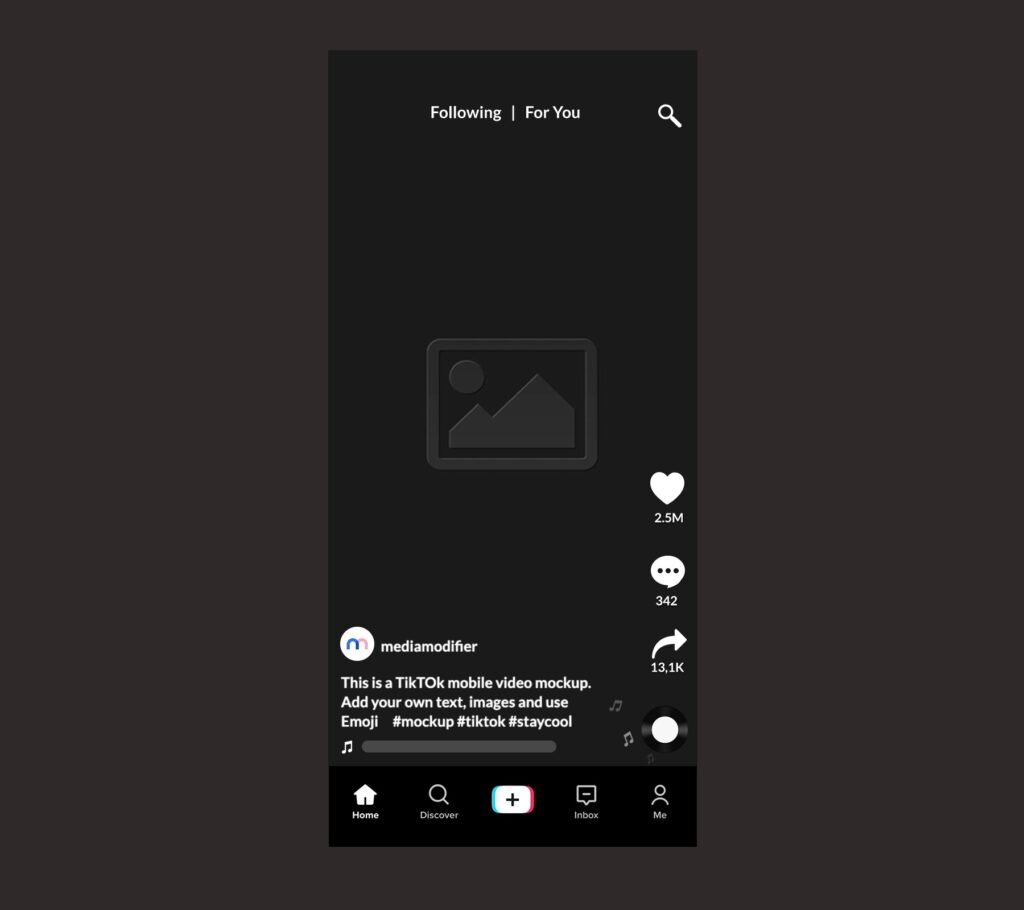 TikTok was the most visited site of 2021. So, it's no wonder a TikTok mockup is one of the most popular ones on Mediamodifier. If your brand isn't on it already, it's high time to join.
15. Round Rubber Stamp Logo Mockup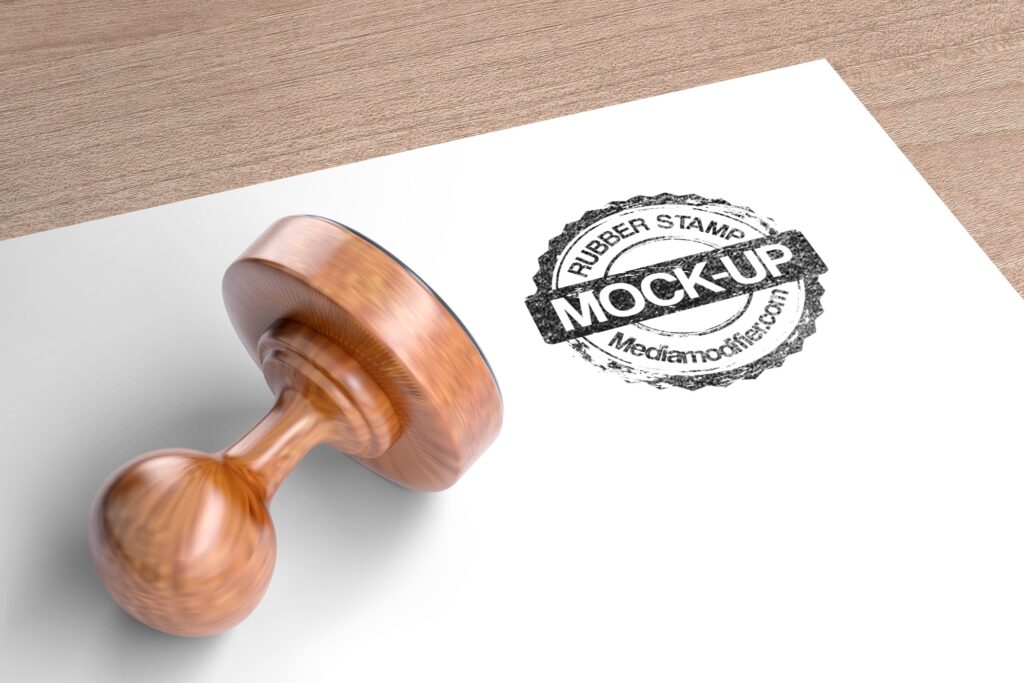 Finally, we have a non-social media mockup! I think this ink stamp logo mockup deserves a round of applause just for that. This mockup automatically adds an ink texture effect to your image (can be turned off) so you can best visualize what your logo will look like in stamp form. No wonder this mockup is so popular.
16. Round Rubber Stamp Logo Mockup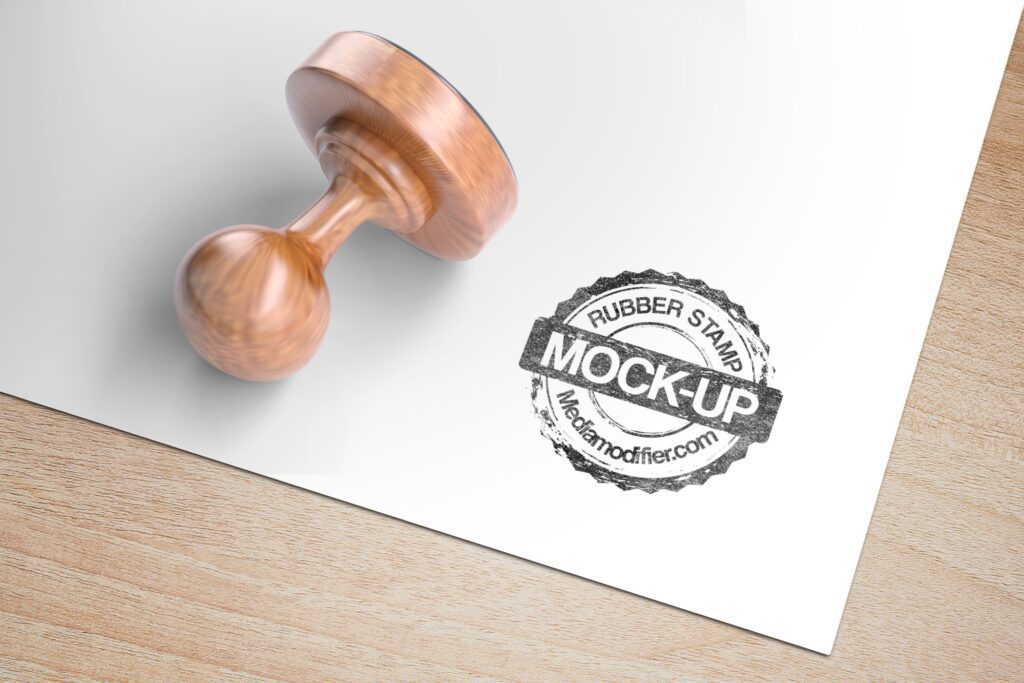 When I said this mockup was popular, I really meant it. Why else would two rubber stamp logo mockups both make it to our TOP30?
17. Instagram Story Ad Mockup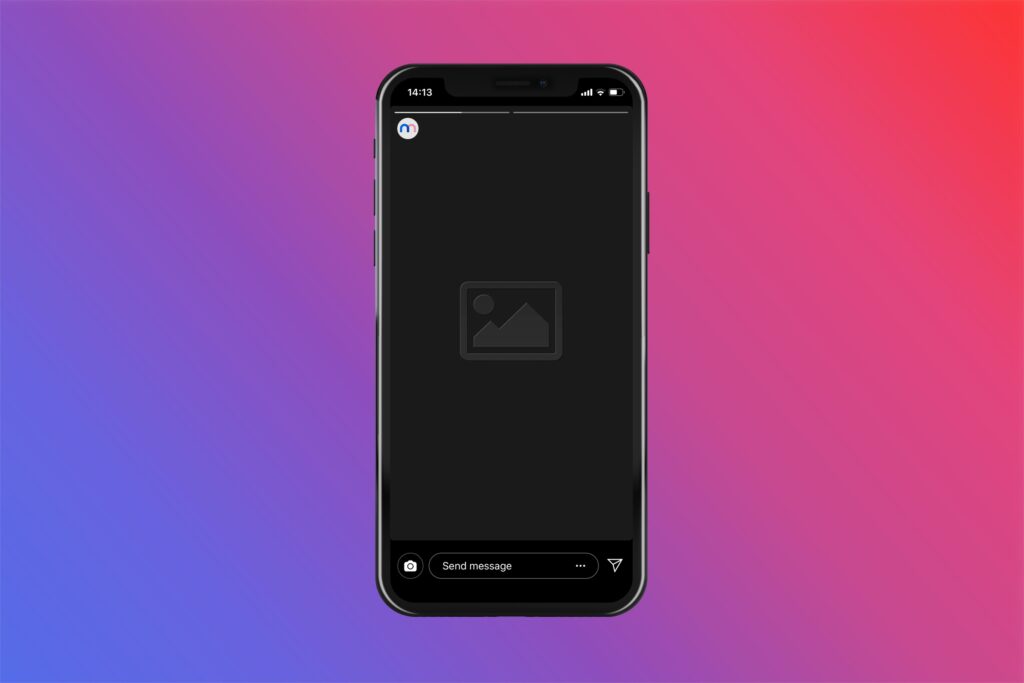 People don't read stories from books anymore, they watch them on Instagram! So stay ahead in the game and preview how your ad design would look like as an Instagram story.
18. 3D Box Mockup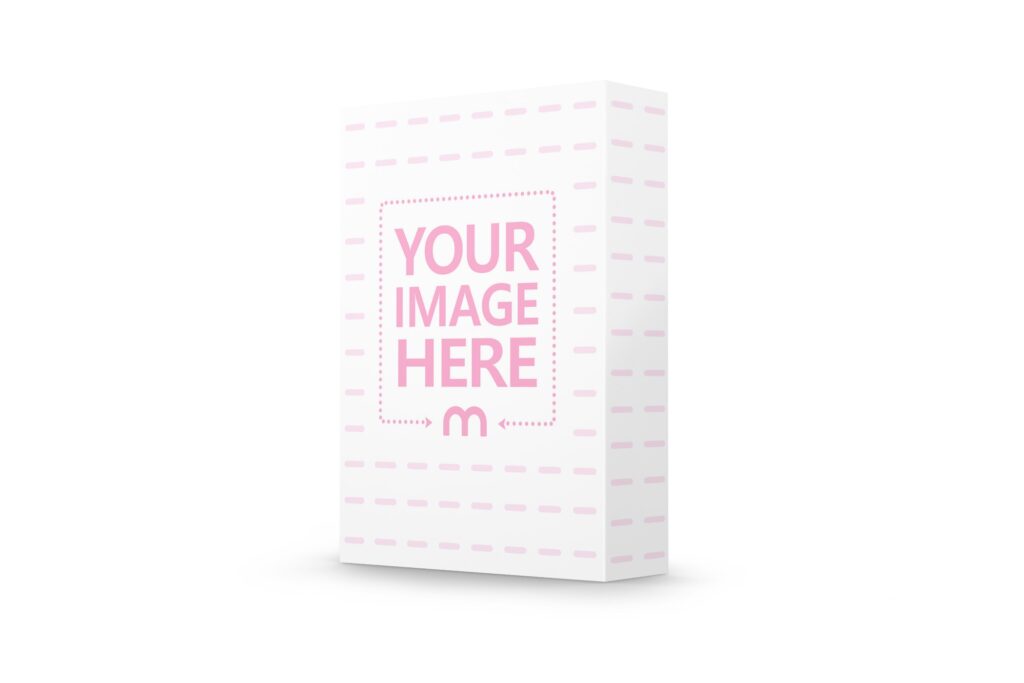 The box you package and ship your product in will be the first impression for your customer. So, to ensure that the first impression is great, use this mockup to test out designs and decide on the perfect one.
19. Facebook Mobile Ad Post Mockup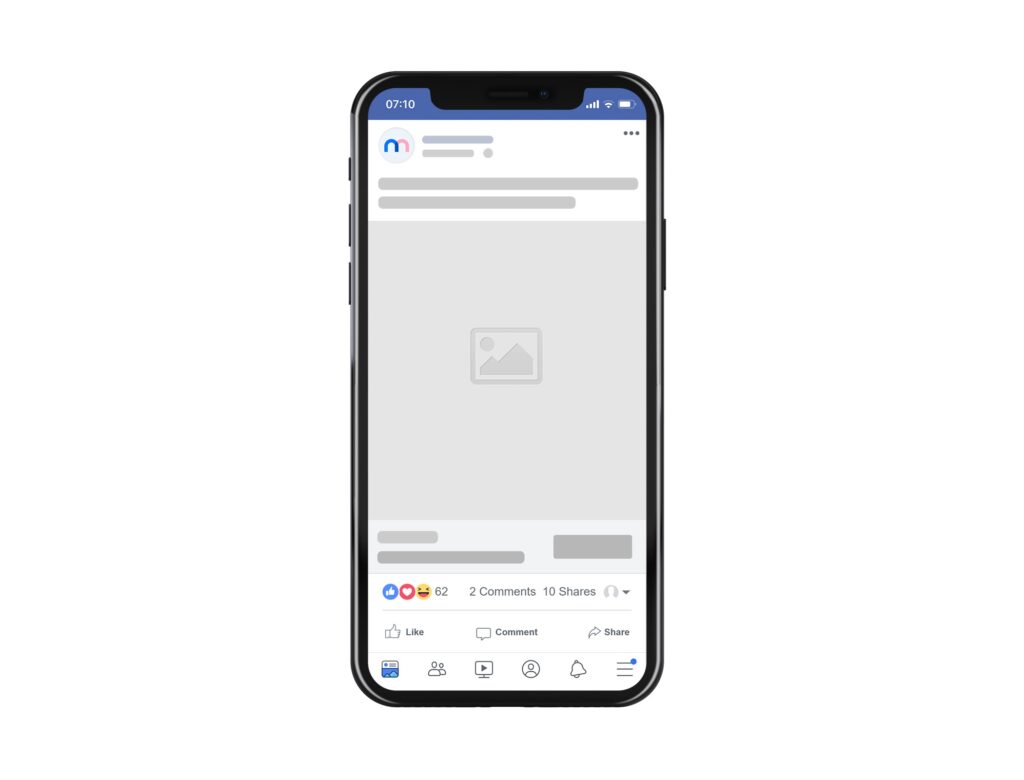 For most companies, Facebook ads will take up the majority of their advertising budget. Make sure your ads are effective and eye-catching on the mobile app with this Facebook mockup. PS! Do the same with a desktop mockup too.
20. Twitter Text Tweet Mockup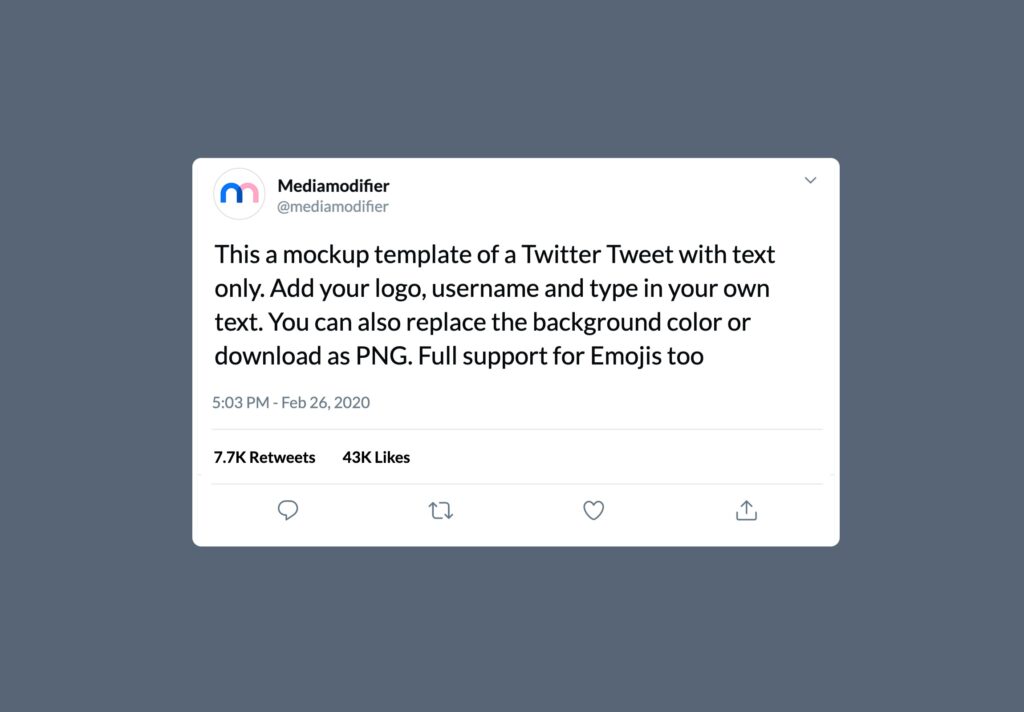 Need a quick way to mock up a Twitter post? Use this handy template for creating your very own fake Tweet within seconds. It's great for visualizing your social media ad idea and seeing how it would look like on Twitter, without actually posting.
21. LinkedIn Profile Page Mockup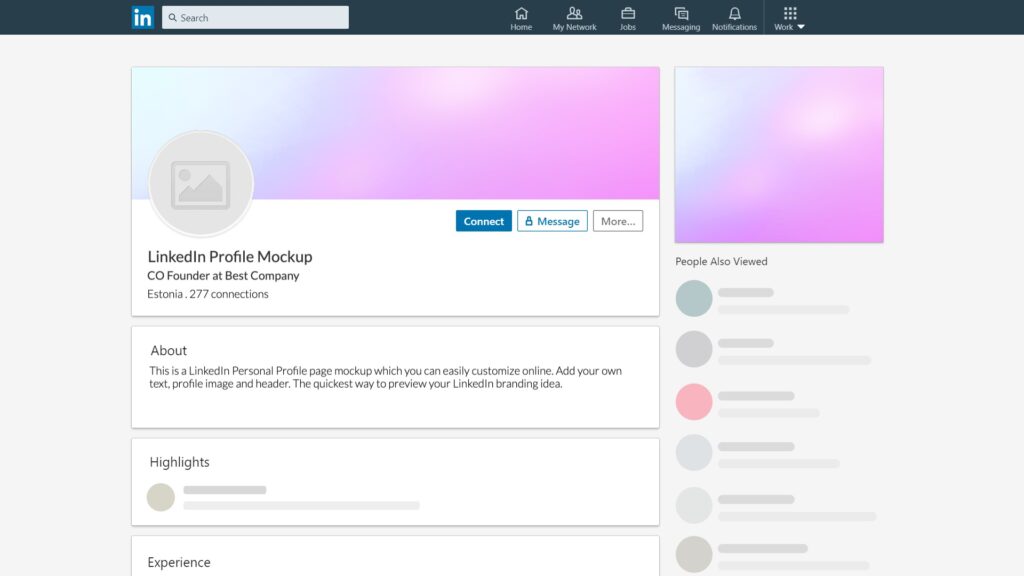 LinkedIn is the most popular professional social media site. Interestingly, the LinkedIn algorithm shows posts made on personal profiles more than on company ones. Make sure your profile is perfect and post insights on your own page. This mockup is great for visualizing what your page will look like.
22. Instagram Carousel Ad Mockup Generator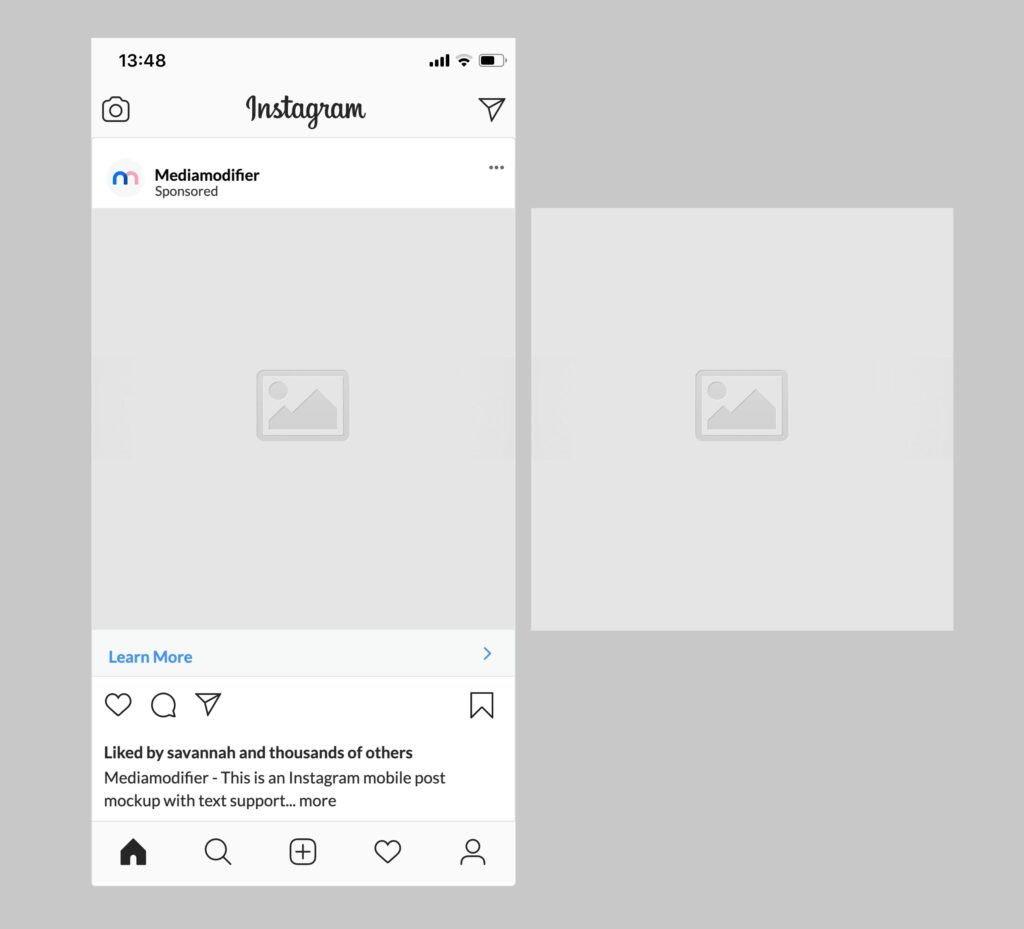 If you're creating a carousel ad, don't forget to check what it would look like on Instagram as well!
23. Instagram Profile Mockup with Highlights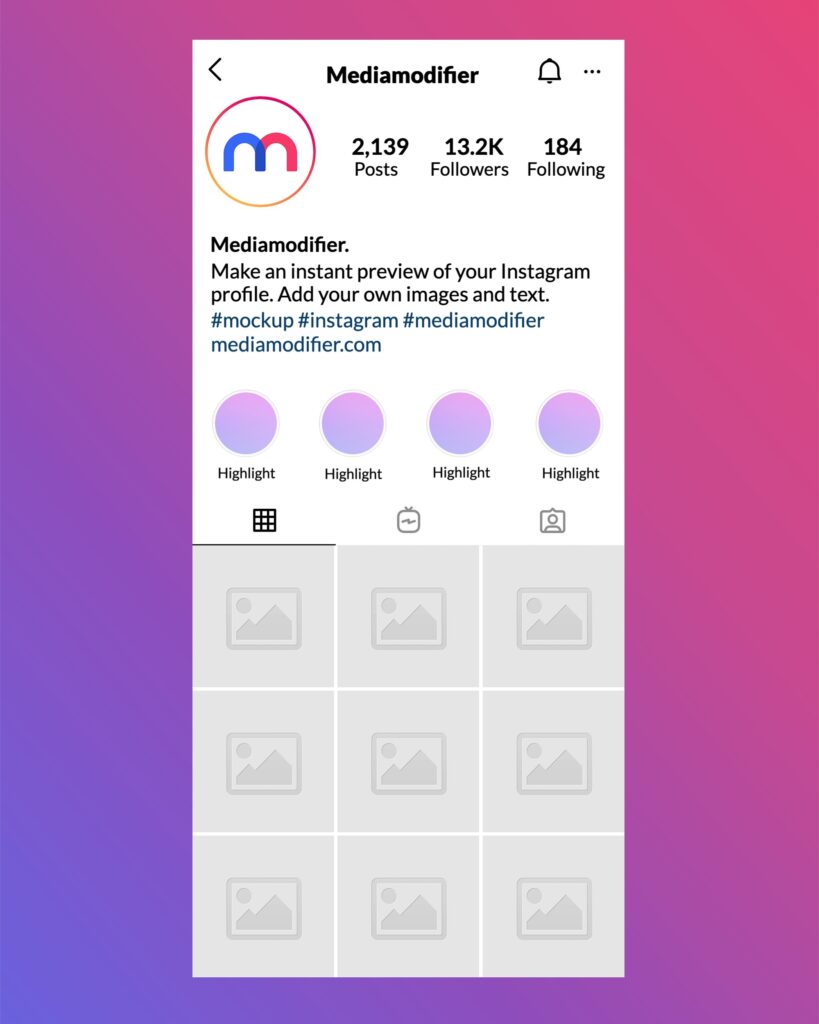 Unsurprisingly, here's another Instagram profile in our list of the most popular mockups. This time, featuring highlights on the mobile app.
24. Instagram Sponsored Ad Mockup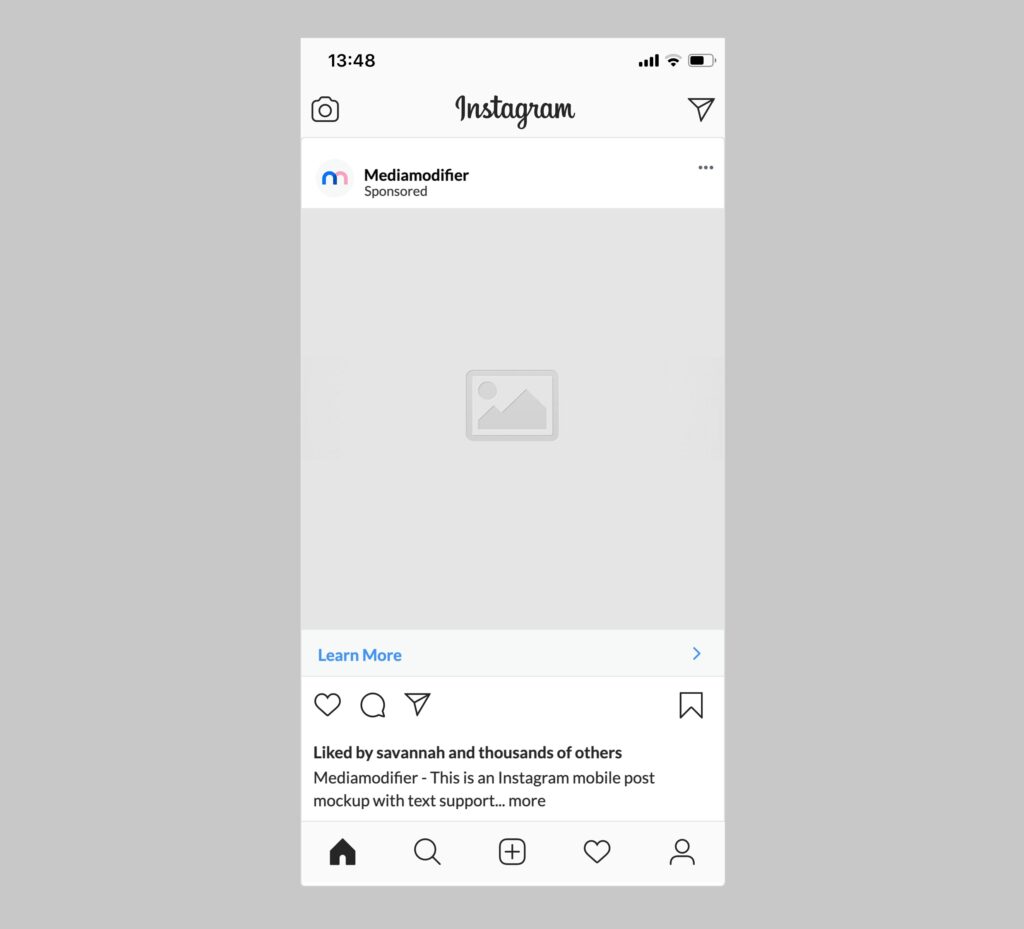 This Instagram Sponsored Ad Mockup is simple, yet effective. Honestly, it should belong to your toolkit for any presentation or moldboard that includes Instagram ads.
25. 3D Image Sphere Effect Maker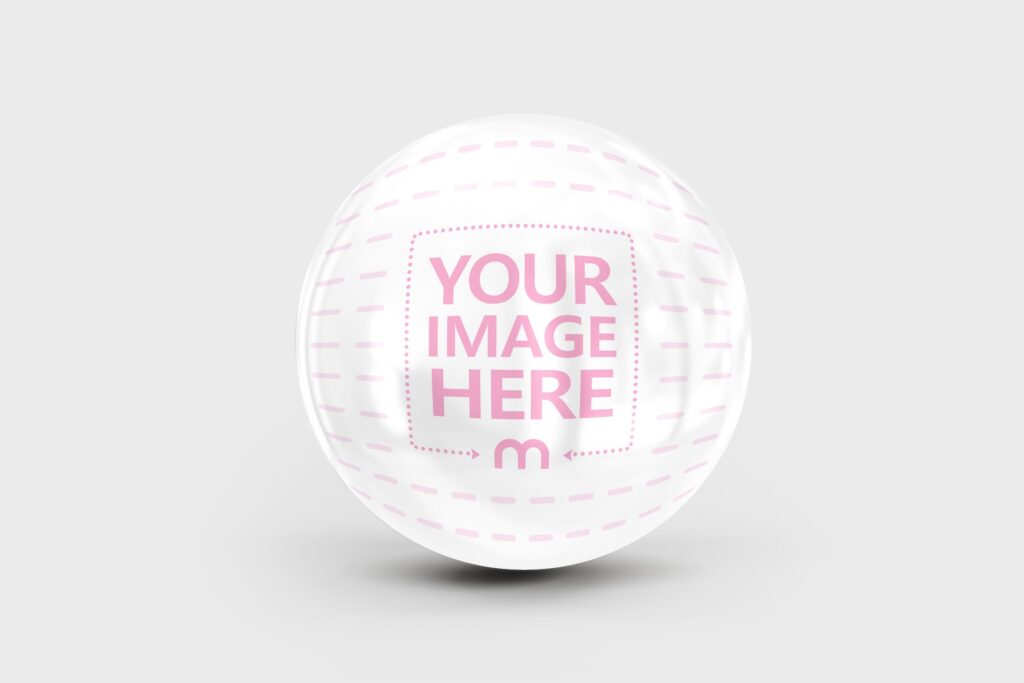 Visualizing images as a sphere is difficult. This mockup is here to save the day. Upload any image, photo or logo and we'll turn it into a ball with reflective effects. Use a full-size image to cover the entire sphere or upload a logo design and customize the color of the sphere to match your design
26. LinkedIn Company Page Mockup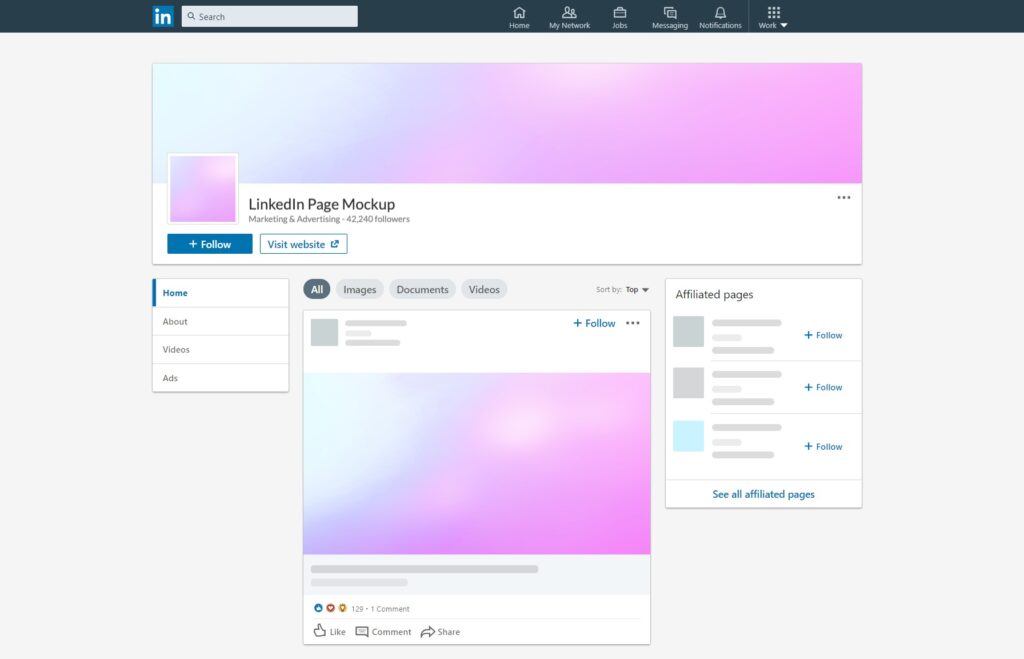 Thinking about creating a company page for your business or a client? Use this LinkedIn mockup generator for easily previewing your idea.
27. Free Book Cover Mockup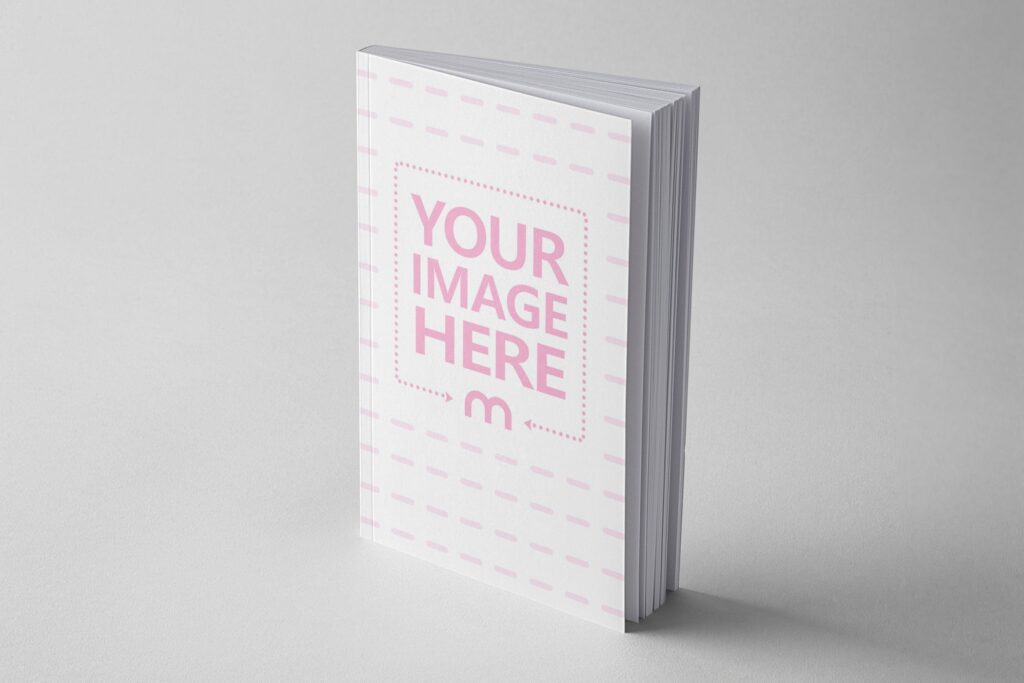 Are you publishing a book or designing a cover for one? Either way, you can't go without this high-detailed cover mockup. Best of all, it's one of our free mockups.
28. Thick Standing Product Box Mockup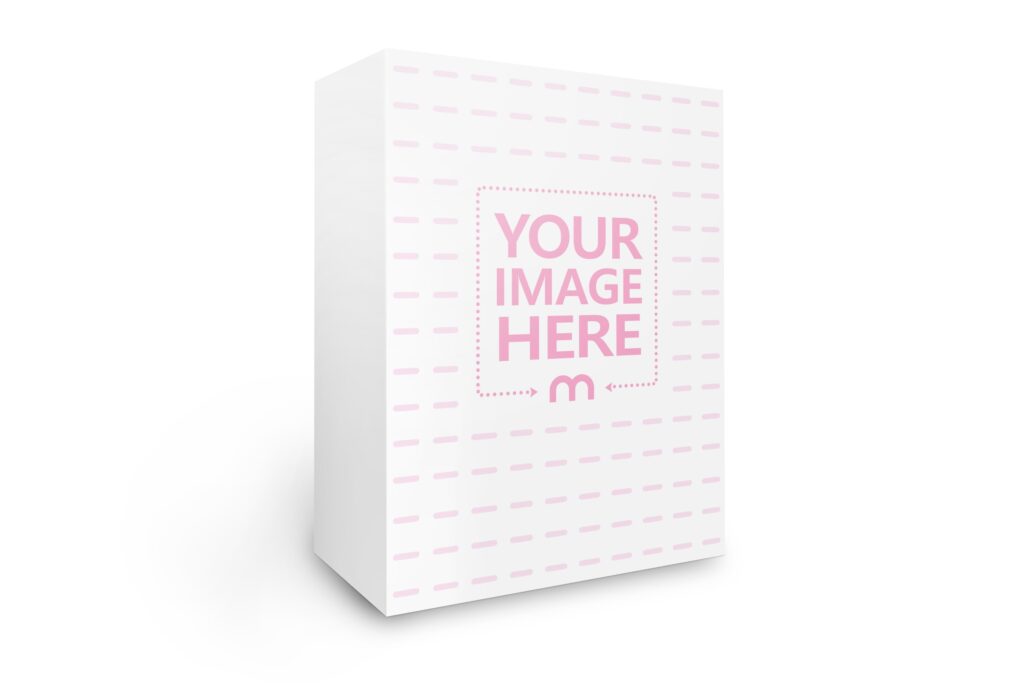 Here's another gorgeous product box design to visualize what your customers will be seeing once they receive their package!
29. LinkedIn Sponsored Post Ad Mockup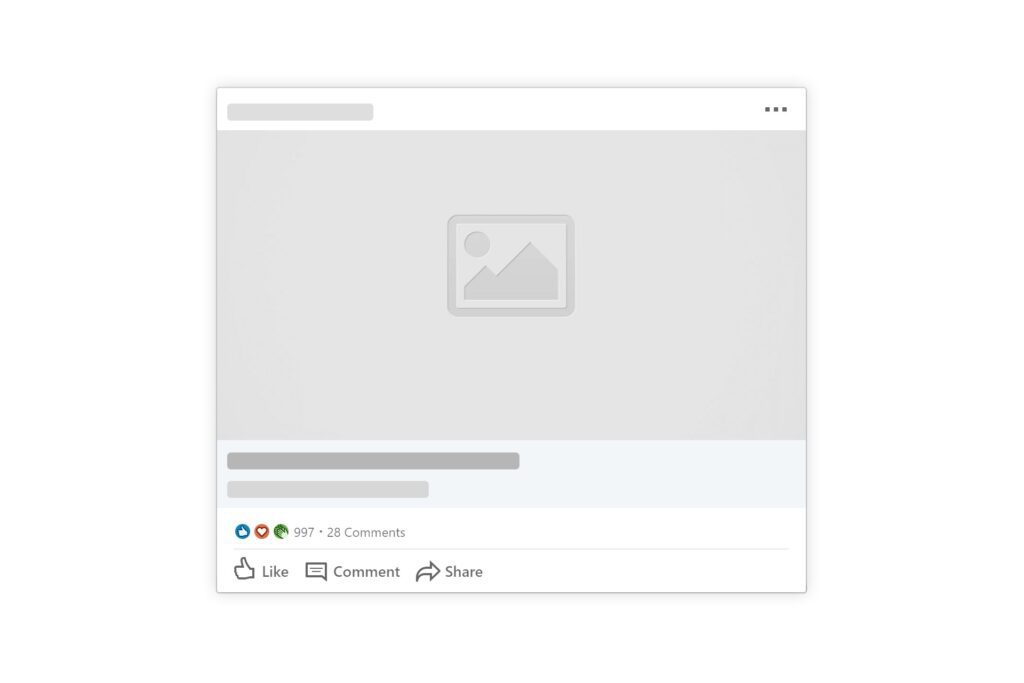 Advertising on LinkedIn is expensive but can be highly effective in catching the big fish in the pond. Thus, make sure your ad spend is worth it and that your ad visual works well on the platform with this mockup.
30. Free Realistic T-Shirt Front View Closeup Mockup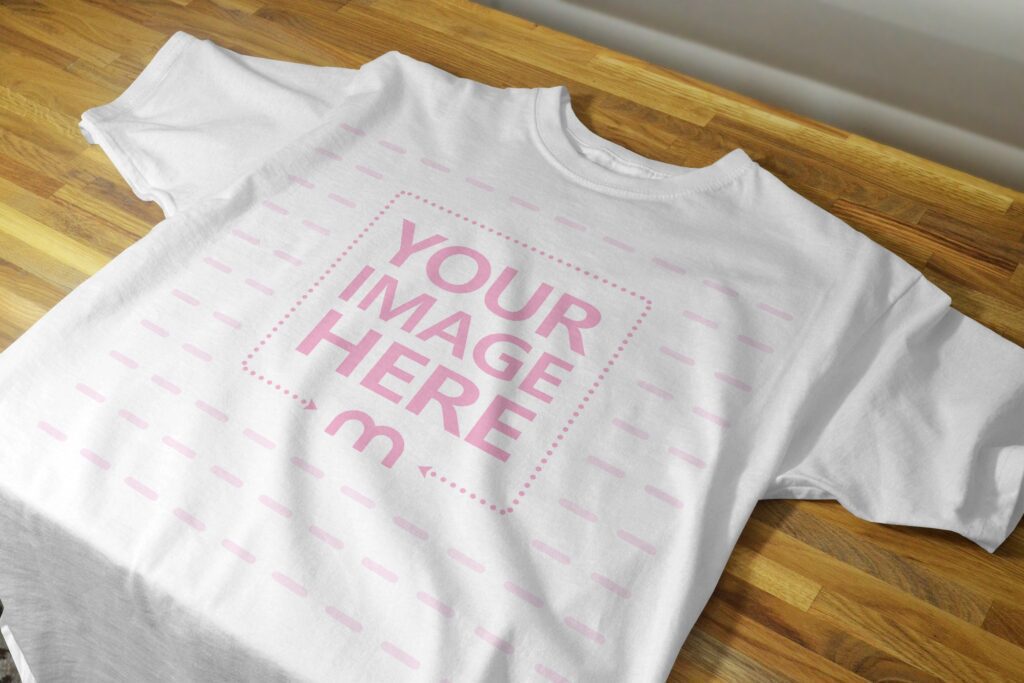 Although this is the only one to make it to the podium with the 30 most popular mockups in 2021, t-shirts are definitely some of our most popular clothing mockups. This is another free mockup that will help you realistically visualize (and advertise) your next t-shirt design.
That completes our list of the 30 most popular mockups on Mediamodifier in 2021! Did you use any of these mockups last year? If not, give them a go now. They're popular for a reason. Find even more mockups for apparel, social media, technology logos and other use cases here.
Visualize your design Use a product mockup to showcase your design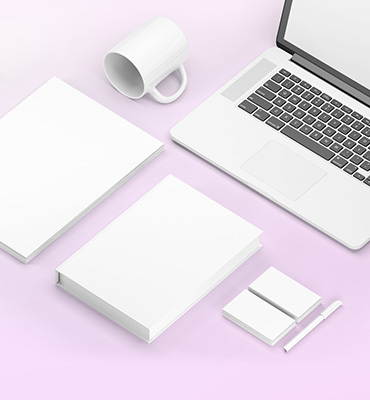 Create your design Use our templates to create delightful designs for any medium