How to Add Animated GIF to an Image
•
September 7th 2022
•
3 minute read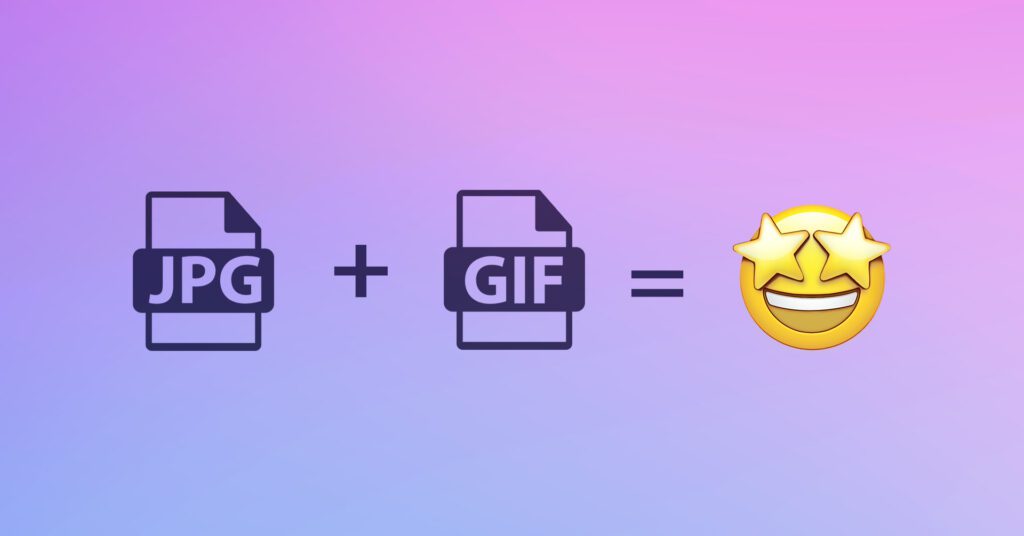 Marketing is all about grabbing attention and getting your message out there.
Animated GIFs are an ideal way to achieve this.
With the technique described below, you can turn any regular static photo into a fantastic picture with animated effects.
However, it is sometimes hard to add a GIF to a simple static image or photo, even when using the most powerful Adobe tools like Photoshop, because none of the tools are specifically made for this task.
Fortunately, there's also a brilliantly simple and free way to add an animated GIF or transparent sticker to your photo online by using the Mediamodifier Design Editor.
It's just as simple as adding a sticker to your photo on social media!
Here's how:
1) Open our Free GIF Editor
Create a free account and sign in at mediamodifier.com/design
Using the basic features like creating your designs, uploading images, and making GIFs are all included in the free forever account.
2) Upload your picture
Once you've signed in, simply:
Drag and drop your image onto the canvas to upload it;
or use the Photos tab in the sidebar to search and insert millions of high-quality and free images (provided by Unsplash)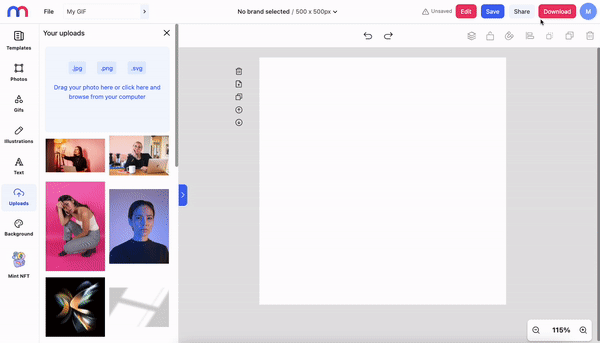 The photos you upload (and the designs you make) will be saved to your account.
3) Choose a GIF from GIPHY
Next, click the GIF tab and use the search bar to find an animated GIF or sticker you need.
GIPHY.com provides the integration, so millions of GIFs can choose from.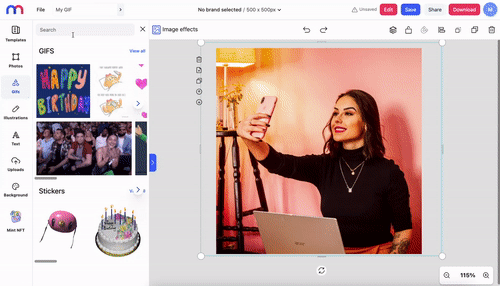 Note: currently, you can't upload your own custom GIFs.
4) Move, resize and place the GIF anywhere
You can quickly move and scale the GIF and place it anywhere on the designs.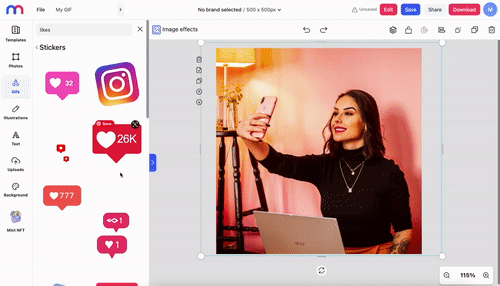 Tip: you can also send the GIF behind other objects, for example, text, by using the "Bring Forward" and "Send Backwards" commands when right-clicking on the GIF.
5) Download the picture as an animated GIF
Easy as that…
Now click the Download button and select GIF as your download option.
Depending on the size and length of your GIF, it might take a minute or less to complete, but once finished, the download will start automatically.
Hold on…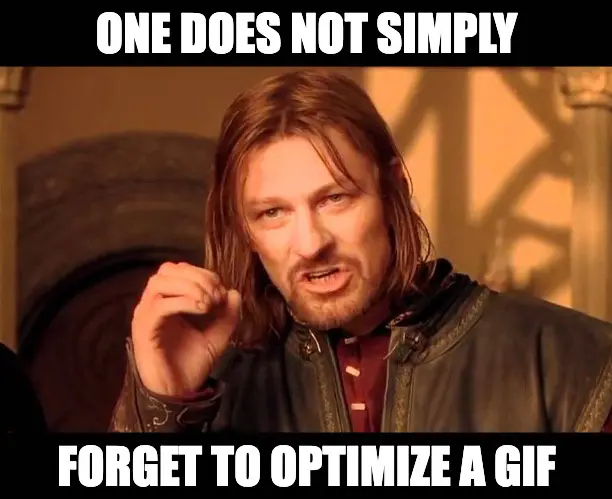 Here are some pro tips for making an animated GIF:
Check the image size – animated GIFs might become huge because of a large photo or many frames. Make sure you set the entire canvas smaller, even before you start adding a GIF to your image.

Click on the canvas size on the top -> choose Custom size -> set a smaller size. Size around 300-500px (on the longer side) is ideal for an animated GIF:
2. Optimize your GIF – even when you made a small GIF, it's still probably too big. Use the best GIF tool, ezGIF, to optimize it (30% is usually a great option).
That's it
Now you know how easy it is to add animated GIF images into any static photo by using our simple design online tools.
Have fun!
Visualize your design Use a product mockup to showcase your design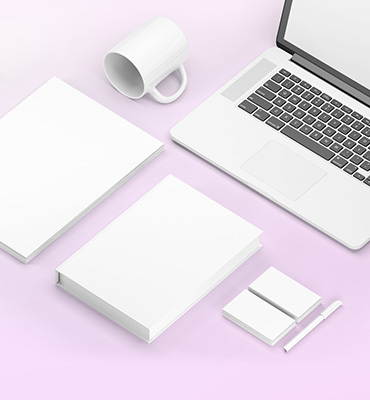 Create your design Use our templates to create delightful designs for any medium