How to Make an Online Invoice With Mediamodifier
•
May 2nd 2022
•
4 minute read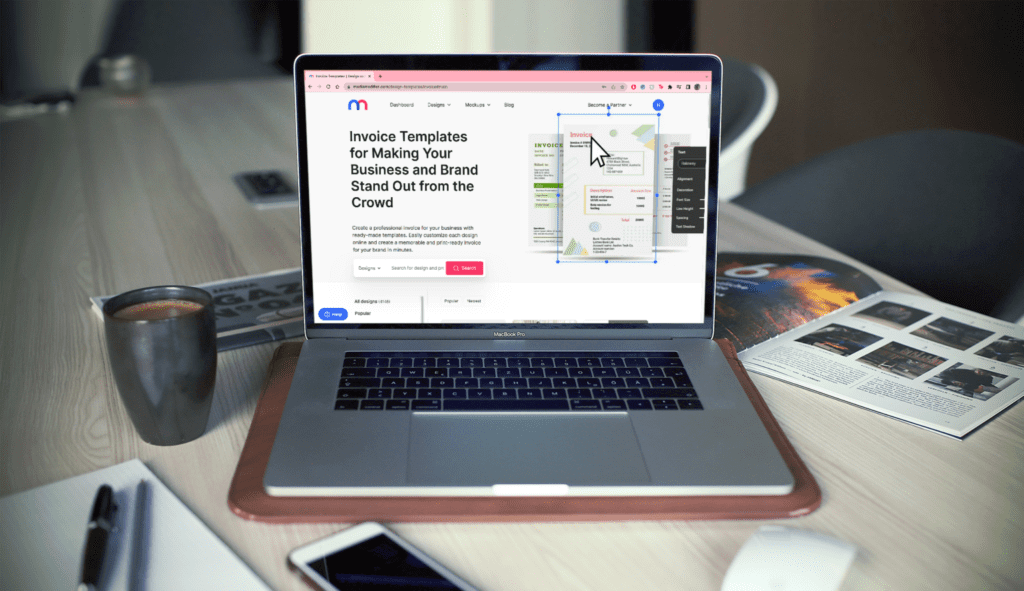 In this article, we will learn how to make an online invoice in only a few seconds.
Invoices are sometimes seen as dull. After all, it's just a piece of paper that showcases the goods/services/products that were delivered and the cost of it, right?
Yes and no! While invoices are important business documents used by businesses and individuals around the world, they certainly don't have to be boring. Invoices should be made a part of your branding. The very same visual identity you use on your website and in your marketing should be used for your invoices as well.
Consistent branding matters whether or not you invoice as a business or an individual so let's dive into how to make an online invoice with Mediamodifier with three easy steps: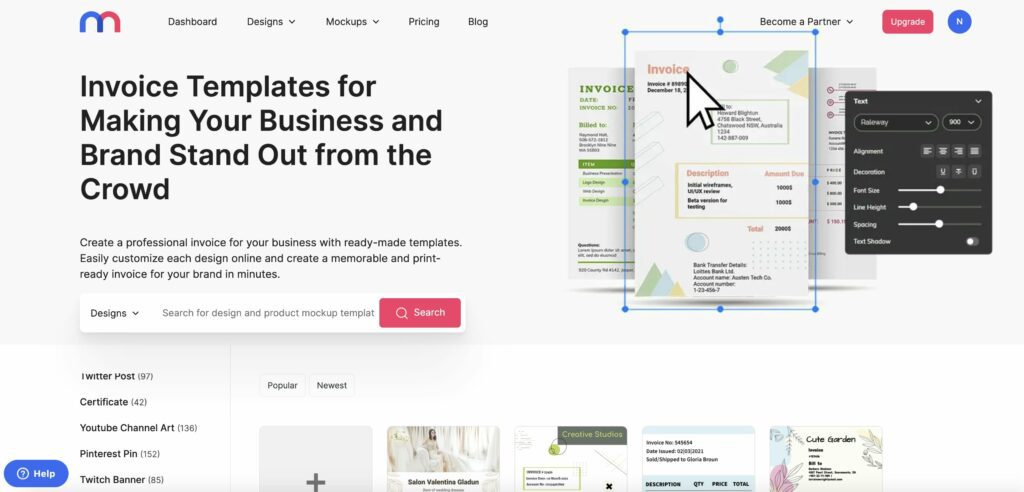 1. Choose the invoice template you want
With over 60 invoice mockup templates in our design template library, we've got you covered here at Mediamodifier! Take your pick of invoice templates from a simple sales invoice or an official invoice to a creative studio invoice and even a bakery business invoice. Choose the invoice template you want and get editing.
2. Start editing the invoice template
Click on the invoice mockup of your choice to start editing it (pssst: do make sure you're signed in so that you can save your design). Customize the header, fonts, colors, footer, and layout, add your business logo and you can even consider adding a picture that represents your business. Ultimately, you want to ensure that any design element you add goes in line with your business's visual identity.
Of course, you'd also want to add the item(s) you are invoicing, with its quantity and unit price, as well as subtotal and total prices.
3. Download your online invoice and send it
Are you all finished with creating your online invoice? Save it and download it in JPEG, PNG, SVG, or the more common PDF format so you can send it out and get paid! Alternatively, you can publish your invoice to social media if it's a generic one that showcases your prices right from our online design maker.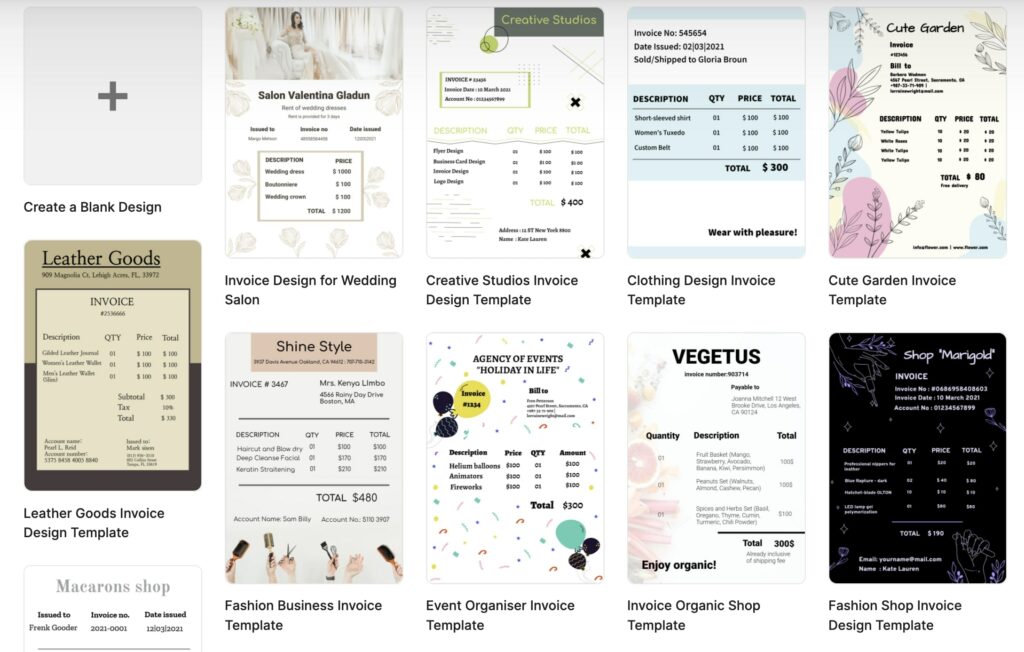 5 simple tips to help you with your online invoice design
1. Make your header stand out
Your business logo should be placed in the header of your online invoice. Be it left, right, or center position, that's up to you to decide. There's no hard and fast rule on this. You can also resize your logo so it's visible enough and not too big or small.
You may also want to add a background or even a picture in the header section to make it stand out and go in line with the rest of your visual identity.
2. Choose an appropriate font
If there is a specific font you use in your website and business documents, then you'd want to use the same font in your invoice design. If not, you can pick a generic font that looks formal enough for invoices, such as Times New Roman or Arial.
3. Add some color
Your brand's color scheme is often something that customers remember you by and associate with you. What's your brand's color scheme? Add them in the header, footer, backgrounds, and where it fits in the invoice.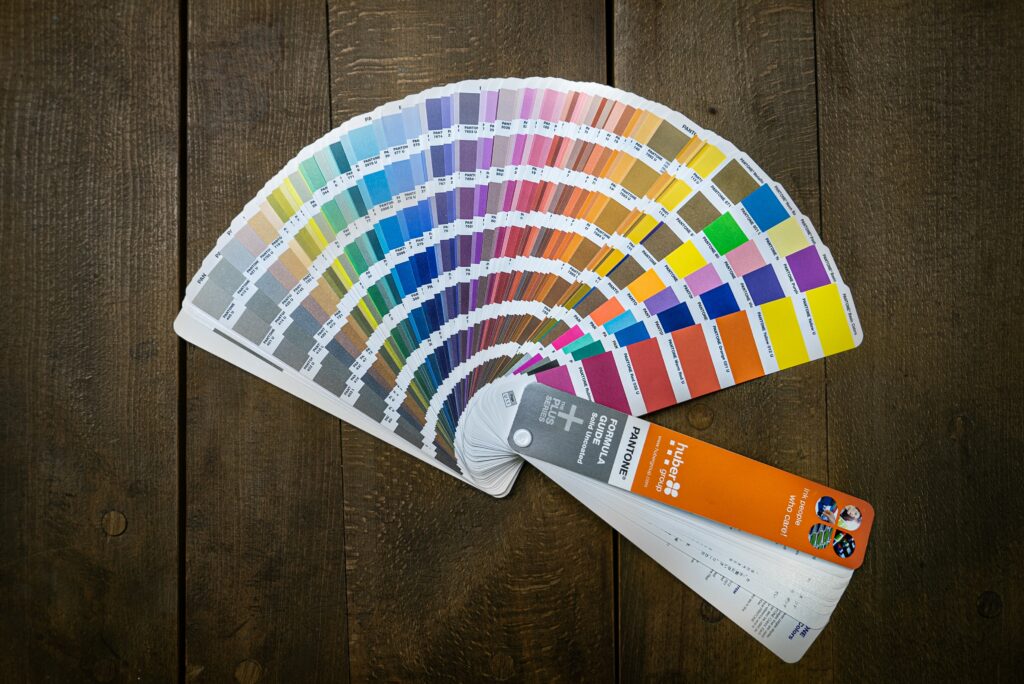 4. Don't forget the footer
At the bottom of your invoice, even if it's a few pages long, it would be good to add an element that complements the invoice header. Be it a simple design, a line followed by your contact details below it, or simply your website address – don't forget the footer!
5. Remember that the layout of an invoice matters
An invoice generally has a simple, conventional layout with invoiceable items along with its quantity and unit price on individual lines. It would be advisable not to differ from this too much. Some things you may want to consider doing to spice things up are adjusting the spacing, choosing your border – dotted, dashed, or solid and adding backgrounds where it fits.
---
A beautifully-designed invoice displays credibility and professionalism, a great way to close the sale you just made and have it be an extension of your brand. So get designing and start impressing your customers!
Also, in case you missed it, we previously shared some fun facts about invoices around the world so do check it out for a fun read.
Visualize your design Use a product mockup to showcase your design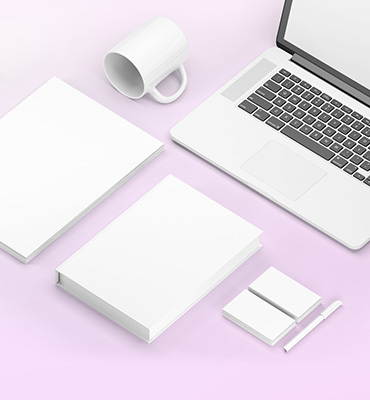 Create your design Use our templates to create delightful designs for any medium