How to Sell Digital Downloads on Etsy – The Ultimate Guide
•
February 1st 2023
•
17 minute read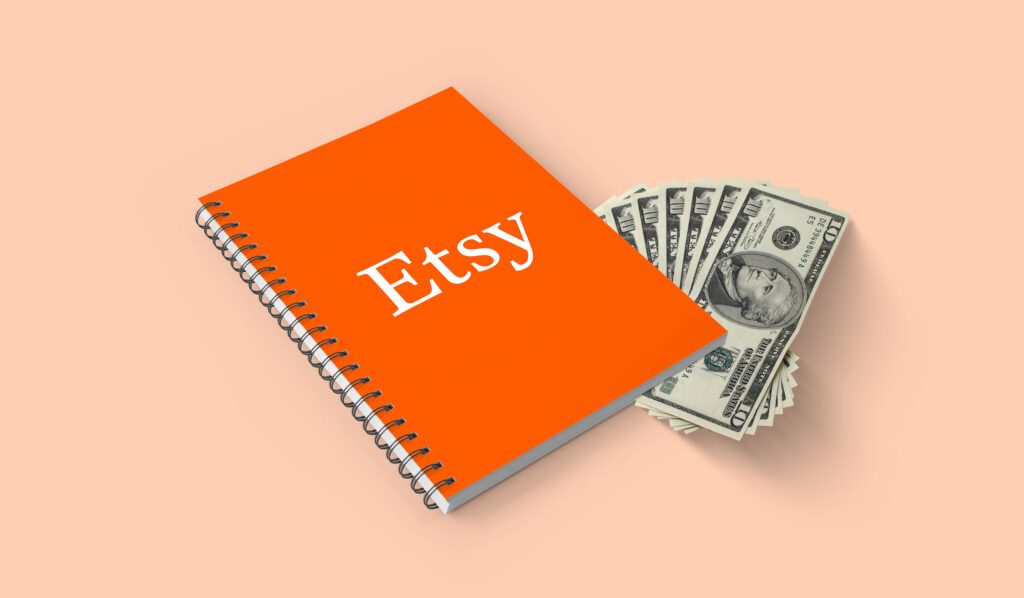 Do you want to be one of the many people worldwide who earn some passive income from selling digital products? Then, keep reading to find out how to sell digital downloads on Etsy.
In theory, digital downloads are easy to create and even easier to sell. This is because you don't need to manufacture and ship a physical product; instead, you make one file and sell it in infinite copies.
But where do you start?
This guide will provide information to help you set up your Etsy shop immediately, add the best listings, understand the fees, and more.
In this article:
What are digital downloads on Etsy?
Digital downloads are virtual files sold on Etsy or other online platforms. Customers purchase these files to download and use them virtually or print them independently from the seller. These listings can be identified on Etsy as "Instant Download" products.
These digital download products range from presentation templates to original artwork, fonts, specific patterns, and more. They can be images, documents, audio clips, or text files and come in many formats, such as PDF, PNG, JPEG, DOC, or SVG.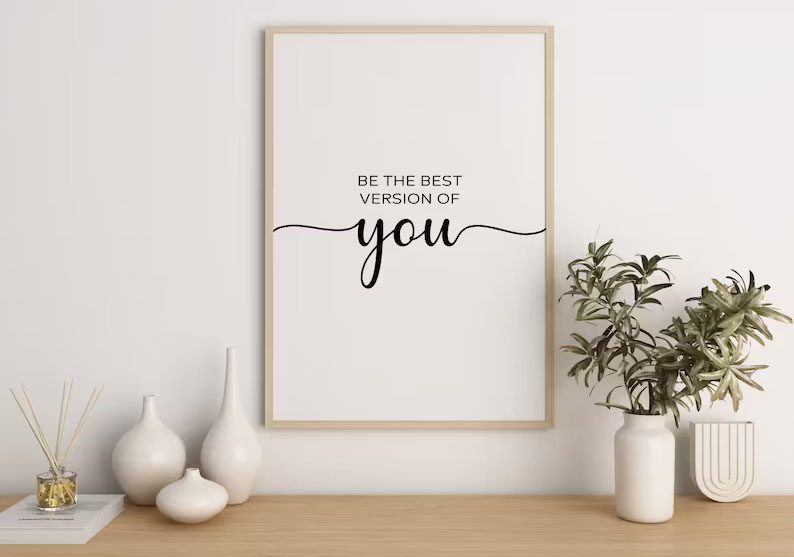 Instant digital downloads are relatively low-maintenance for both the seller and the client. All that shop runners have to do is upload the file when they create the product listing. Their clients will receive the digital purchase immediately after processing the payment.
Digital downloads are a popular category on Etsy as they offer a convenient and cost-effective option for sellers and buyers alike.
How to download digital files from Etsy?
It's important to know this information whether you're the seller or the buyer – you never know when your customers need assistance.
As of 2023, you can only download Etsy digital files from a web browser. Therefore, users cannot access their digital purchases on the iPhone or Android Etsy app. They can, however, download a file via their phone's browser – or on a computer, of course.
Using an account for a digital download is best, so users don't have to worry about downloading their files immediately.
To access their file after placing an order, users have a few different options:
Check the link sent to the email associated with their account;
Visit the "View your files" page visible in their Etsy account to preview all purchased files;
Go to the "Purchases and reviews" page in their Etsy account and select "Download files" next to the specific order they want to download;
Access the listing of the product they purchased and click on the "Instant Download" message on the images.
Why sell digital downloads on Etsy?
There are many advantages to selling digital downloads on Etsy, such as:
Low production costs
No shipping fees
Long-term passive income opportunity
Existing customer base on the platform
No stock
No risk of returns and refunds
Easy to set up shop
The most crucial advantage is the freedom to not worry about producing, stocking, shipping, or anything of that nature.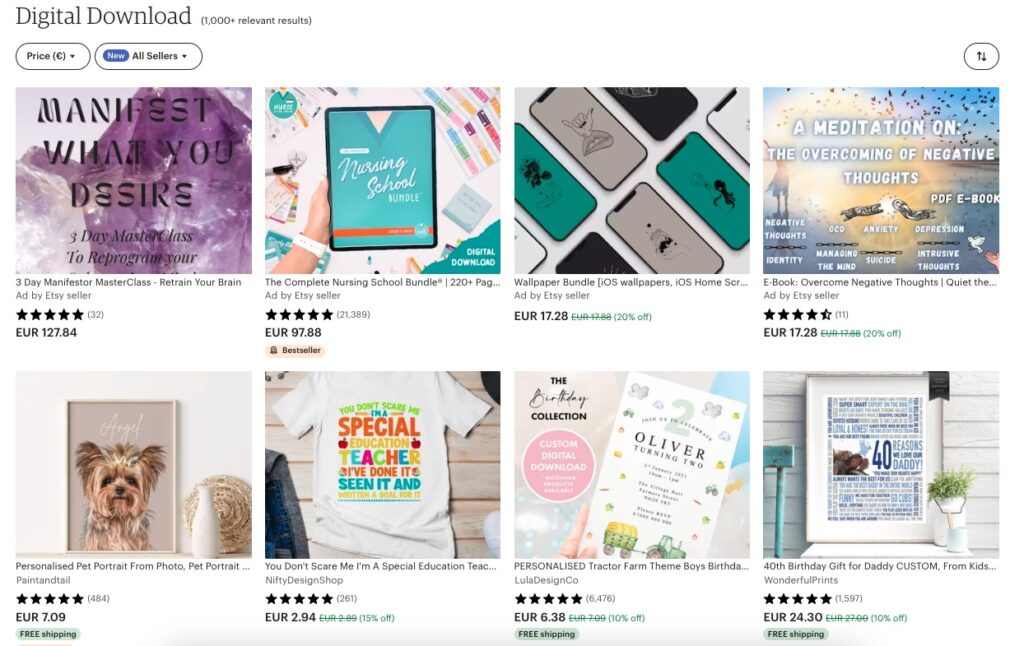 All you have to do is create the original file you will sell. Then, instead of investing in supplies and storage, you will sell infinite copies of the same product you made with no additional cost or effort.
You can create the file in any way you want – for example, some sellers make physical products such as artwork which they then sell as digitally scanned prints, and others sell wedding invitation templates that they designed online.
What is essential is that the file is digitally uploaded onto Etsy and can be used by customers without too much hassle. If you have a great idea but are worried about the execution, you can hire a freelancer to help you create the product or use software to make your work more accessible (such as a design editor).
In terms of using Etsy specifically, the main advantage comes from the fact you don't need to worry as much about finding customers. Etsy makes setting up a shop effortless, even for beginners, and has a massive customer base.
Many view the method of selling digital downloads as a passive income strategy. However, that does not mean it is completely low effort, but that once you put the initial steps in, you can reap the benefits for years.
For example, promoting your shop through all means possible, such as social media, is still essential. In addition, especially when starting, you will need to build the legitimacy of your store by getting a few orders and good reviews.
Once that ball is rolling, organic orders from people searching for items on the platform will come through. This is also where SEO plays a part – optimizing your titles and descriptions with the appropriate keywords is essential for your product to come up for various searches.
What are the steps for adding a digital product on Etsy?
Etsy allows you to sell digital downloads fairly easily. Here are the steps to follow:
Create your product: You must create the file first depending on the digital product you want to sell. This can mean designing it yourself, hiring a freelancer, or adapting your physical art to a digital file.
Prepare your file: Once you have your digital product, save it in a format accessible for customers to download and use. Popular file types include PDF, JPG, and PNG.
Create a listing: Log in to your Etsy account and create a new listing. Fill out the necessary details such as title, description, and price.
Add your digital file: Upload your digital files to the listing. Make sure that the files are clearly labeled and easy to find.
Set up instant download: Etsy allows you to sell digital downloads that customers can download instantly after purchase. To enable instant downloads, go to your shop settings.
Publish your listing: Once you've completed all the steps above, you can make your listing public. Your digital download will then be available for purchase on Etsy.
To ensure that your files open and download correctly, testing them before listing them on Etsy is a good idea. Also, please take note of Etsy's guidelines and terms of use.
What type of digital product can I sell on Etsy?
You can sell anything you want in this category!
To make it a bit easier to get an idea, these are some of the top digital downloads in the current Etsy marketplace:
Printable artwork
SVGs
Social media templates
Planners and bullet journals
Wedding invitations
Greeting cards
Logo templates
Party itineraries
E-books
Presentation templates
Knitting and sewing patterns
Custom website themes
Fonts
Email banners and signatures
Travel guides
Educational materials
Lightroom presets
Stock photos
Flashcards
Unsurprisingly, printables are the most popular. Among the lucrative Etsy digital printables, you should consider posters, coloring pages, invitations, and planner templates.
What sizes should Etsy digital downloads be?
Etsy allows you to upload five digital files per listing, each up to 20MB. Nevertheless, you can compress your files into ZIP files to upload more digital downloads.
If you are selling printable artwork, one of the most popular Etsy digital download content types, you also need to pay attention to the aspect ratios of your designs.
You can cover most ratios by offering the largest possible dimensions, which can then be scaled down. For example, you can provide the following sizes as JPG files:
20×30″ file – print onto 4×6″, 8×12″, 12×18″, 16×24″, 20×30″, 20×30 cm (2:3 ratio)
16×20″ file – print onto 4×5″, 8×10″, 2×15″, 6×20″, 40×50 cm (4:5 ratio)
A2 file – print onto A5, A4, A3, A2
Of course, it is up to you to decide if you want to sell all these sizes separately or include them all as a bundle under one purchase. However, if you're going to sell them individually, you must create separate listings of the same artwork, as digital downloads don't allow buyers to choose a dimension.
To achieve the best print quality, it is recommended to use high-resolution images of a minimum of 300 DPI (dots per inch).
How to create a digital file to sell on Etsy?
The beauty of digital items is that anyone can use their skills and knowledge to create a file related to any niche.
Suppose you have a solid idea or content you want to sell but lack the skills to design it professionally. In that case, you can commission a freelance designer to help you or use intuitive design software that eases the creative process.
This can include creating a PDF pattern, designing digital art, or writing an e-book. Once your digital product is ready, save it in a format accessible for customers to download and use. Popular file types include PDF, JPG, and PNG.
Do I need the rights to the digital downloads I sell on Etsy?
You must have the rights or proper license to sell any digital product on Etsy. This means you created the product or have obtained the rights to sell it. Ensuring you have the proper permissions and licenses is crucial if you sell items you did not make.
If the copyright owner contacts Etsy with a claim of infringement, Etsy may remove the item from its site and terminate your account. Keep this in mind, as it is not always worth the risk.
How to start a digital product Etsy store?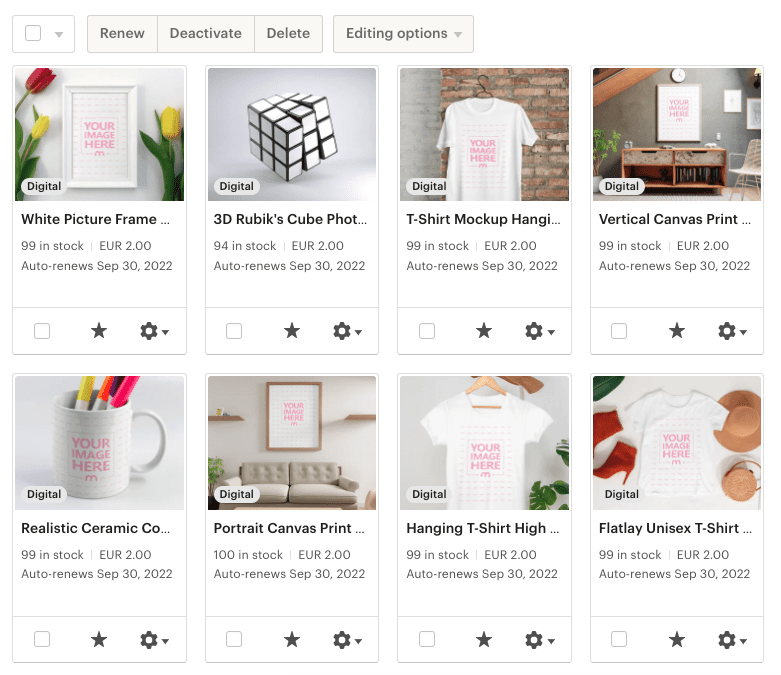 It is effortless to start your own digital Etsy store.
The first step is to create an account, and then you can create a listing for your digital product. You must provide a title, description, and photos when creating a listing. Include keywords in your title and description so potential customers can easily find your listing.
Here are the summarized steps:
Create an Etsy account.
Set up your shop by filling in the name, location, language, and currency.
Create listings for your digital products by uploading product photos and providing detailed descriptions, including information about file types and sizes.
Set up payment and shipping options.
Promote your shop by sharing it on social media and reaching potential customers.
How to easily create Etsy product images?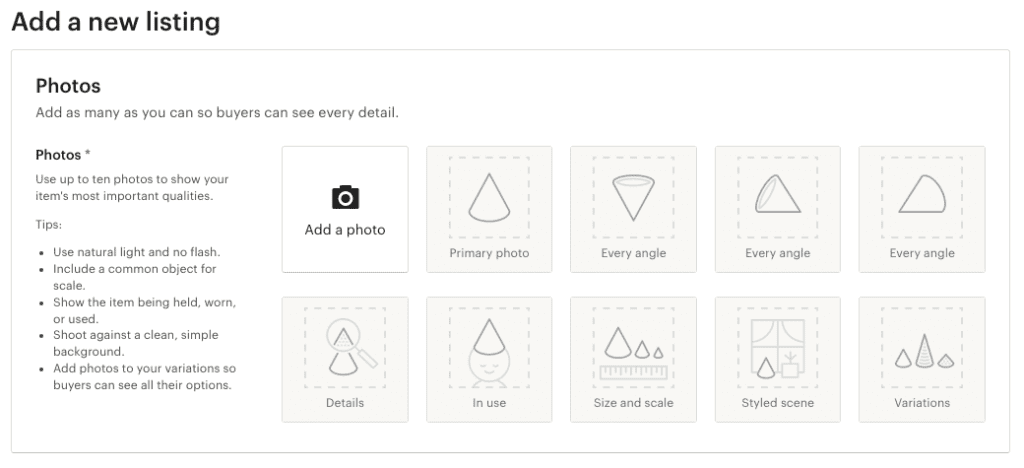 It is only possible to sell a product online by showing a picture of it – the customer must understand what they are buying. Therefore, images showing the product in action can enhance your product listings.
As an Etsy seller, one of the most important things you can do to create a good listing is to create high-quality product photos that showcase your items in the best possible light.
A quick way to do this is by using product mockups. A product mockup is a digital representation of your product that can be used to create realistic and professional-looking photos. You can use these mockups to generate listing photos, social media posts, marketing materials, and more.
Using product mockups is an easy and cost-effective way to create listing photos without needing expensive photography equipment or a photographer. In addition, with a good product mockup, you can show customers exactly what your product looks like and how it can be used.
Many different types of product mockups are available, including mockups for clothing, accessories, home decor, and more. Some popular options include mockups of t-shirts, tote bags, mugs, and phone cases.
Choosing high-quality images that accurately represent your product is essential when using product mockups. Look for mockups with clean lines, realistic textures, and plenty of room for text or branding.
Another great thing about product mockups is that you can use them to create multiple variations of your product, such as different colors or styles. This allows you to showcase your product in various ways and appeal to a broader range of customers.
How to price a digital product on Etsy?
When pricing your digital products, consider the time and effort you put into creating the product. It is a great idea to look at similar products on Etsy to understand what other sellers charge.
Remember that digital products can often be replicated and distributed easily, so pricing them too high may discourage sales. In addition, remember that Etsy takes a small percentage of each sale as a commission, so be sure to factor that into your pricing.
Ultimately, it might be smart to start with a lower price and increase it as you gain more popularity and experience.
How much money can I make with digital downloads on Etsy?
The money you can make selling digital products on Etsy will depend on various factors, such as the demand for your products, the competition in your niche, and the price you set for your products.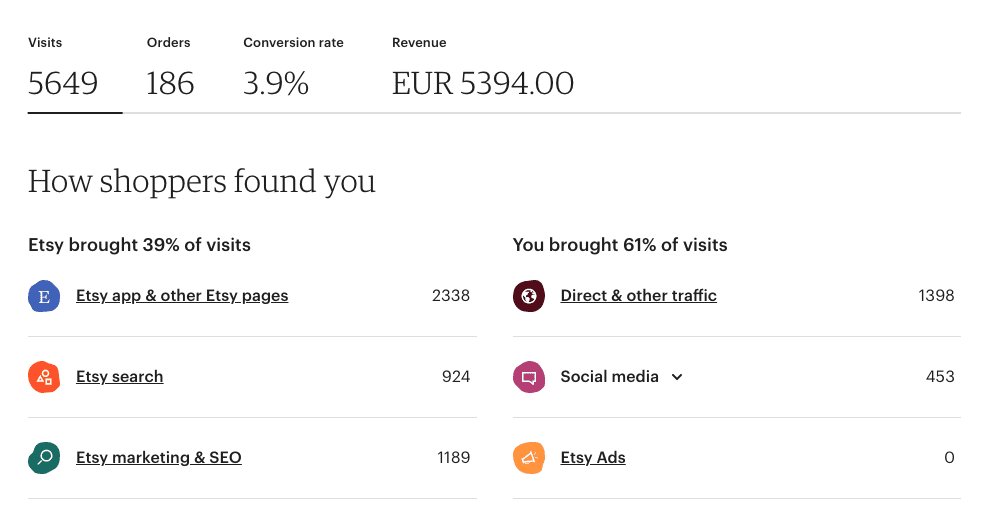 Some digital product sellers on Etsy can earn a full-time income from their sales, while others may make a more modest income. To increase your chances of success, it's essential to have a clear niche, high-quality products, and a consistent marketing strategy.
According to reports, the average US income for an arts and crafts seller was $49,120 in 2022. However, it's important to note that this average income includes all sellers, including those who may only make a few sales per year, and also the very top sellers.
Some sellers earn hundreds of dollars a year, primarily as passive income. But conversely, the top 10% of sellers on Etsy earn an average of $100,000 per year or more. Therefore, it's important to remember that the income potential on Etsy can vary greatly.
What are the fees for selling digital downloads on Etsy?
Each product or listing you place on Etsy is charged a flat fee of $0.2; this fee applies to both physical and digital products.
In addition, each time you sell one copy of your product, you will have to pay the $0.2 listing fee. So, for example, you will be charged $0.4 in listing fees if a customer buys two items from your shop.
Moreover, it's important to remember that listings expire after four months. So if you want to keep the listing active in your shop, you must renew it by paying $0.2. The listing can be renewed manually or automatically.
While twenty cents is not a hefty fee, it can add up quite a bit depending on the number of listings and sales. Therefore, it is essential to consider this aspect when deciding how many listings to start with.
This is somewhat tricky – on the one hand, starting with many listings will increase the chances of getting sales and having your shop discovered. On the other hand, you might not want to spend too many dollars on listings without anyone guaranteeing that you will sell any products. Ultimately, it is your choice, but the best strategy falls between these extremes.
Can customers ask for a refund for digital downloads on Etsy?
The risk of returns or refunds is relatively low. Etsy clients can only return used products with a good cause, which applies to digital items. Once a consumer has downloaded the purchased file, they officially "used" the product and have given up their rights to a refund or exchange.
One of the only plausible ways to be eligible for a refund is not to have downloaded the file, meaning they may have bought the item by mistake. You can check whether or not a file has been downloaded from your Etsy dashboard and choose if you would like to refund the person. Once they have been repaid, they can no longer download the file.
The other possibility is that they can claim that the item is "not as described"; however, since it is a digital download with a pretty clear preview in the listing, it is more likely that Etsy will not find this reason compelling enough. And even if they do, they will probably refund the client out of their pocket to settle the dispute and keep everyone happy.
The good news is that it is entirely up to you – if you want to refund everyone who asks, you can do just that.
At the same time, you can add a disclaimer to your listing to cover all bases and prevent unwanted disputes. Here are some examples:
You are purchasing a digital item and not a physical object. Therefore, you cannot return, exchange, or cancel your order.
This is a digital item – no physical product will be shipped. Purchases of digital listings are not eligible for refunds.
How to promote my digital Etsy store?
You can use social media platforms like Instagram and TikTok to promote your Etsy shop and products. Creating Instagram Stories, Reels, and TikTok videos to showcase your products and the behind-the-scenes creative journey will attract many new customers. Additionally, use hashtags relevant to your products and niche to increase visibility for permanent posts such as Instagram pictures or tweets.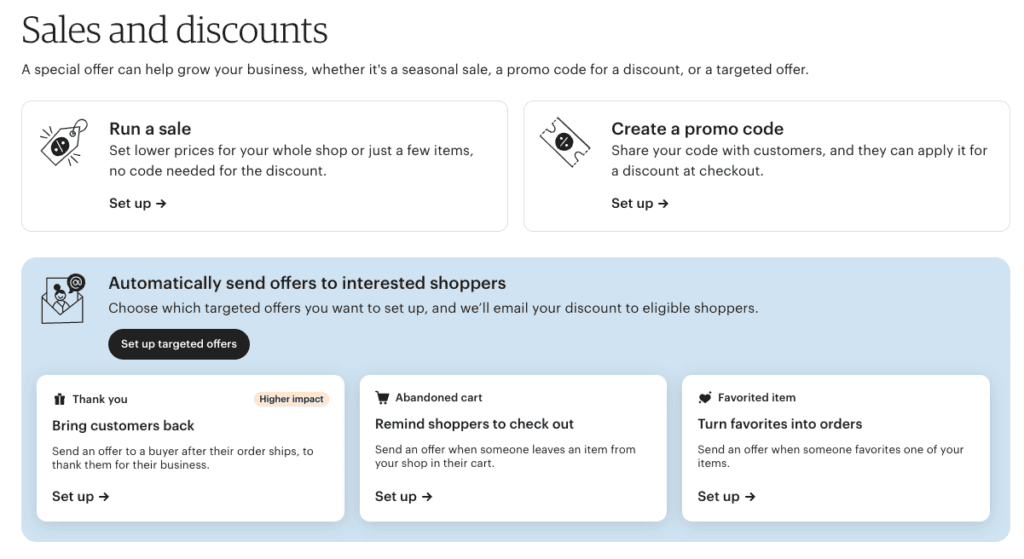 Another tip is to reach out to influencers in your industry and ask them to share your products with their followers. For example, you can collaborate with a study influencer to promote your digital planners and to-do list templates.
Influencer marketing is a powerful tool for promoting your products, as influencers have a large, engaged audience that trusts their recommendations. By partnering with an influencer, you can gain exposure to a new audience and increase your sales. However, it's important to note that this can be time-consuming, and you should be prepared to offer them compensation in exchange for their promotion efforts.
You can also use Etsy's built-in promotion features, such as its paid advertising options, to increase visibility and drive sales. Many Etsy shops also offer sales, discounts, and promotions to encourage customers to make their first purchase or to return.
To wrap up
Selling digital downloads on Etsy is a great way to monetize your creative skills and passions. Following the tips outlined in this guide, you can set up a successful digital download shop on Etsy and start earning money from your designs, illustrations, and other digital products.
Remember to keep your designs unique, use keywords in your listings, and offer excellent customer service. You can build a thriving digital download business on Etsy with little effort and patience.
Keep also in mind that using product mockups is a great way for Etsy sellers to create product photos without expensive equipment or professional photographers. They are easy to use, cost-effective, and can increase your sales and the visibility of your products.
Visualize your design Use a product mockup to showcase your design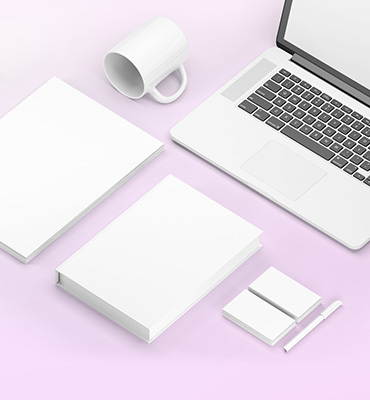 Create your design Use our templates to create delightful designs for any medium