The Complete Guide To Image Licenses In Marketing
•
December 13th 2022
•
12 minute read
Why should you care about image licenses?
Images are used everywhere today. Especially in marketing, where design is integral, photographs and illustrations are used in multiple places – blogs, websites, social media posts, newsletters, etc.
While a quick Google search will give you thousands of images, therein lies a big question: are you allowed to use these images? The answer depends on each photo, as permission to use a picture comes from its copyright or license type.
A simple definition of 'copyright': "a type of intellectual property that protects original works of authorship as soon as an author fixes the work in a tangible form of expression."
Many image licenses are out there today, and they all come with different permissions. If that sounds confusing, don't worry; you've come to the right place. Our guide is here to help you understand image licensing in marketing. Let's dive in!
What are image licenses?
Image licensing involves the owner of an image (a photograph, illustration, or design) selling a license so that others can use it in a specific way. Image licensing has become the industry-standard method for selling visual content for editorial, commercial, and advertising use.
An image license can include specific conditions such as, according to iStock:
"How the image can be used (i.e., type of use)
Whether the usage rights are exclusive or nonexclusive
The duration of the license
Where the image can or can't be used
Who may use the image
Limitations in use outlined by the specific license (e.g., no use in a logo)."
Why do you need image licenses?
Think of image licensing as asking permission to borrow something you need that you don't have. For example, say you're going on a holiday tomorrow and would like to borrow your friend's digital camera. They may share how to use it, where you can use it and when to return it. Your friend may even ask for credit if you post the photos you took with their camera on your social media.
Similarly, it would be best to have permission with image licensing because you are using someone else's property. They own the copyright as they created it, and now you need their consent to use it. This especially applies if you're using it for commercial use, like marketing.
What are the main types of image licenses?
When using images for marketing, there are a few types of image licenses you should know about. The main ones are creative commons (CC), commercial, royalty-free, and rights-managed.
Creative commons image license (CC)
A creative commons image license means you can use the image free of charge if you comply with the terms and conditions outlined in the permit. Created by Creative Commons, a non-profit organization, creative commons image licenses usually always require you to credit the image creator and may not always be available for commercial use. In addition, there are six different types of creative commons licenses, all of which you can read more about here.
The creative commons license also includes the CC0 (or CC Zero) image license. Images with a CC0 license allow you to "freely build upon, enhance and reuse the works for any purposes without restriction under copyright or database law."
Commercial image license
A commercial image license means you can use an image "with the intent and purposes of selling a product, service or idea." This would usually involve a fee, sometimes known as the licensing fee, enabling you to use the image for commercial purposes.
Royalty-free (RF) image license
Just because there's the word "free" in 'royalty-free' doesn't mean that images with a royalty-free license are free for use! Royalty-free licenses have become the default license type for many photos today. An image with a royalty-free license means you can "use the image for any amount of time" when you pay a single initial fee. While some conditions or restrictions may be tied to a royalty-free image license, images that come with this license can usually be used unlimited times. Royalty-free licenses typically come with the standard version, though there is an extended version. You can read more about it here.
Rights-managed (RM) image license
Rights-managed licenses are more restrictive and expensive image licenses, as "you need to re-license the image to use it again in a different medium." In short, a rights-managed license is one where you (the buyer) have to use the image within the terms of the license, e.g., where you use the image, how long or how many times you can use the image, size restrictions, industries you can use the image in.
Every image used is accounted for under a rights-managed license so that you can use the image exclusively. As a result, a competitor will not be able to license the exact image you are using, which "sometimes becomes a problem with royalty-free where anyone can download and use [an] image."
How much do image licenses cost?
Image licenses can cost anything from 0 to upwards of over USD 4,000. Why is there such a big difference? It all depends on which stock image or design website you use and what you are looking for; for example:
Getty Images or Shutterstock for more selection both in terms of images/videos/vectors as well as different types of licenses
Pay for an upgrade on websites like Freepik
The cost of an image license differs from website to website, and what their subscription plans offer regarding design websites. In the case of Mediamodifier, all users in all plans (including our free Starter plan) are given full commercial licenses to use the images freely for their digital marketing needs.
What image licenses do you need to use for marketing purposes?
The type of image license you need to use images in marketing would depend on what you need the visuals for and where you decide to get them. If you have a small budget, follow Hootsuite's advice for images: look for "attribution-only and CC0 1.0 public domain licenses". This means you will be able to use the images freely and use them with a small addition of credits to the creator.
What counts as commercial use of an image?
Commercial use of an image is one of two main types covered in image license agreements. The other is editorial use.
Commercial use of an image means that you will be using the image for publicity gain that may result in profit, for example, using the image in ads, product promotion/endorsement, or anything related to marketing in any medium. Should you use an image this way, you'll have to use a picture with a license that permits commercial use.
How do I know if an image is free for commercial use?
There are a few ways so let's dive into 3 of the best ways to know if an image is free for commercial use.
1. Google search to find the type of image licenses
Yes, Google search can help with this! Here are three simple steps that will help you know if an image is free for commercial use, thanks to the Next Web:
"Search for the image you want as you usually would then head to the Images section.
Click on "Tools" to expand the filter menu.
Under "Usage Rights," you'll find the option to sort images by their license — Creative Commons or commercial use."
2. Use images from free picture websites
Pexels and Unsplash are stock image websites that allow you to use any image (or even video) found on their website for free. In addition, the photos and pictures are available for personal and commercial uses with no attribution required, though it is much appreciated if you do. You can read more about Pexels' license here and Unsplash's license here.
3. Create a design website that gives you a full license
If you need a visual that you will incorporate into a design, the third option would be to use a website like Mediamodifier to create your design. Mediamodifier has a full commercial for its images so you can use it freely without any repercussions.
What is the difference between copyright and fair use?
Simply put, copyright "is used to protect an original work," and fair use is "the right to use a copyrighted work under certain conditions without permission of the copyright owner." In the United States, a few conditions determine fair use, e.g., non-commercial use of a work in the case of news reporting, teaching, research, etc. You can read more about it here.
When it comes to images, fair use allows you to use a photo protected by copyright if you don't make money off it and don't claim it as your own.
Who owns the image rights when it comes to image licenses?
First and foremost, whoever created the image (e.g., the photographer who took the photo or the designer who drew the picture) has the full copyright. The creator has full rights to copy, reproduce, share or use the image in any way they wish. Even if you commission a photo or illustration, the creator will still be the owner of it. They may "grant you an unlimited license …, but legal ownership stays" with them.
For example, Pexels' terms and conditions state that a creator who uploads their images on their platform "grant us a worldwide, non-exclusive, permanently, irrevocable, royalty-free license (with the right to sublicense) to reproduce, adapt and modify (incl. translation), distribute, publicly perform, publicly display, broadcast, make available, store and archive and otherwise use such Content (in whole or in part) on and through the Service."
The ownership of image rights will still belong to the image creator as you would be "buying a license that gives you rights to use" the image, but you would not own the rights to the picture.
Who can offer image licenses legally?
Are you the original creator of the image? If so, then you can, as the image is yours! As Pixsy explains, "you have to be either the original author of the photo or be authorized by the original creator to license their images and grant photo usage rights on their behalf." It's also possible for image platforms or licensing agencies to "grant photo usage rights on behalf of the original author if they have contractually agreed to do so."
What if a person is in the image; do you need their permission?
If a person is identifiable in an image and you want to use it for commercial use, i.e., to promote something or make money off it, then yes, you do need their permission. This is pretty much "common law" in the commercial photography industry.
What if you hire a model/person as part of a photoshoot for your image?
If you hired a model/person as part of a photoshoot for your image, the rule of thumb is always to obtain their permission for you to use the image through a model release form. Even if you're unsure whether you'd need it, always get a model's permission through a release form.
What if you want to use images with people in them?
If you want to use images with people in them, this would depend on where you get the photo from. Getting it from stock image platforms allows you to use them due to their agreements with the image creator.
If getting the image from Google, it would be advisable to check if it is free for commercial use.
If you were to use an image with models from design websites, it would depend on what license the website allows you to have. For Mediamodifier, we've obtained a model release for all pictures featuring real people. Therefore, this makes it affordable and safe for you to use our platform to create your designs with real people compared to hiring a model and doing a photoshoot yourself.
What could happen if you steal an image?
As images are protected by copyright, there may be consequences if you steal a picture. The consequences of stealing an image can range from a fine and a demand letter from a lawyer to a court order and legal action. Hence, it is always advisable to ensure you have the right to use an image (remember, this is different from ownership rights) by checking what license the image has!
What image license does Mediamodifier offer?
To put it shortly, all Mediamodifier plans (including our free Starter plan) come with full commercial licenses that allow our clients to freely use mockups, templates, and other creations for their digital marketing purposes. The freedom to use images without repercussions means that you can do whatever you like with them. Additionally, every picture featuring a real person includes a model release. Due to this, using our platform instead of hiring a model yourself makes it affordable and quick for you to create marketing images.
And there we go, our complete guide to image licensing for marketing. We hope we've helped you to learn more about image licenses, what they are and how they work.
On a final note, if you're unsure of what to do, then the best advice we can give would be to stick to places where you get full commercial licenses for using the image, like Mediamodifier's design maker.
Visualize your design Use a product mockup to showcase your design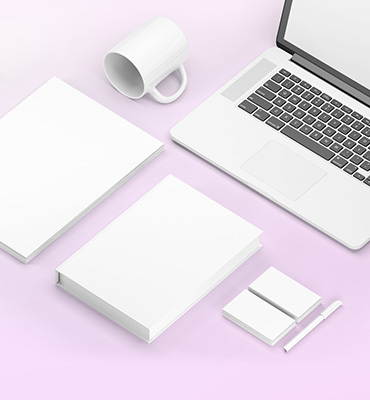 Create your design Use our templates to create delightful designs for any medium